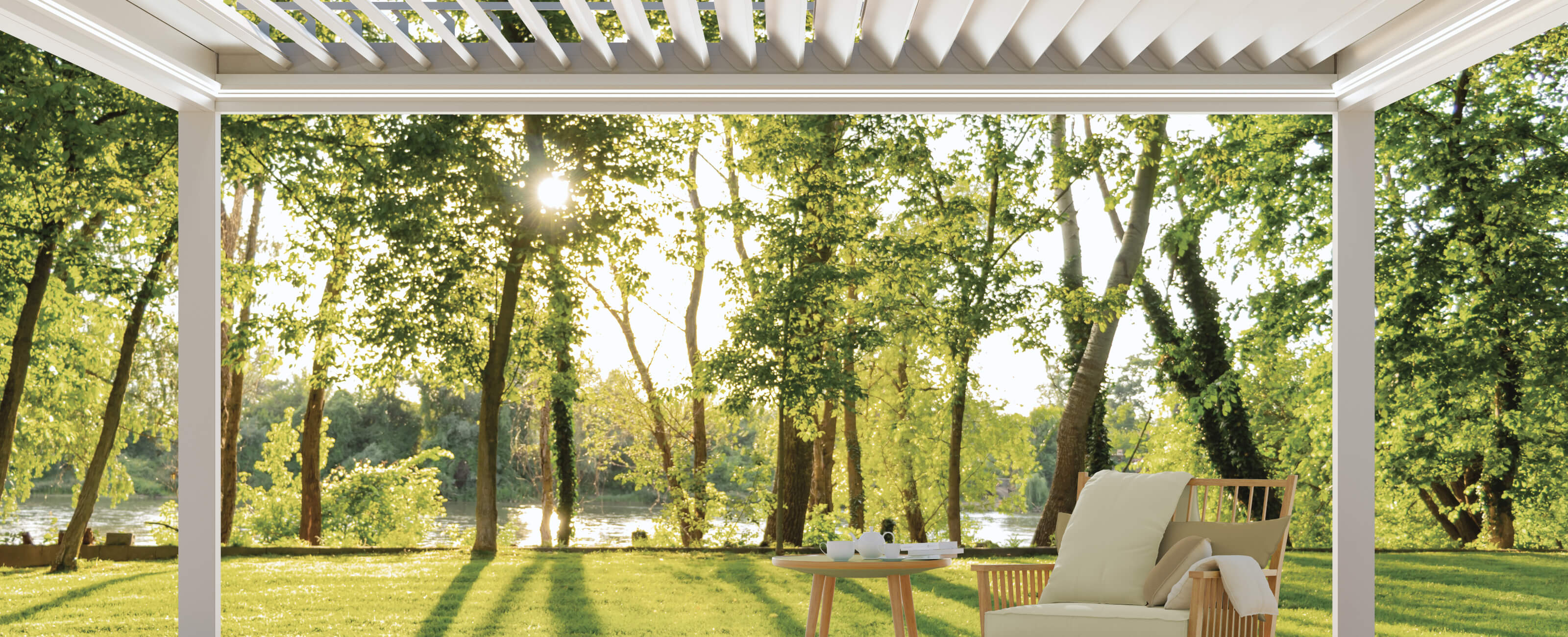 LIFE IS OUTSIDE
Bioclimatic Pergolas for All Seasons!
Elegant & minimalist design of Pirnar pergolas, the maximum number of accessories for outstanding living comfort, everything is tailored & optimised to your wishes.
Choose your pergola
Pirnar Pergola
You Deserve Your Own Space Under the Sun.
Recommended choice:
Recommended choice: Summer terrace next to the house

Recommended choice: Winter garden

Recommended choice: Poolside area
Grande version
Double the Size of Your Home
Recommended choice:
Extended terrace, living room or dining room of up to 50 m2 without pillars
Large area with fewer pillars (as an extension in hotels and restaurants)
Large outdoor multipurpose area
Static version
Create Your Perfect Shade
Recommended choice:
Carport
Functional addition to the side of your house
Extension for hotels, dining rooms, recreation areas
Discover New Dimensions of Your Home
Nowhere else will you find such a perfectly designed, solid, durable and comfortable pergola.
#1

UNIQUE CONSTRUCTION

Withstands severe gusts of wind and up to 550 kg of snow per m2
No visible fixing points or additional mounting requirements
Extremely solid internal cross construction of pillars
Huge area without pillars up to 50 m2

#2

UNSURPASSED WATERTIGHTNESS

Perfect watertightness of the entire pergola
Effective water sealing
Extremely wide gutters to prevent water overflow

#3

PATENTED LOUVERS ROTATION SYSTEM

Invisible motors, hidden inside one of the louvers
Noiseless operation
Protection against external influences and greater durability
Accessories for Absolute Enjoyment in all Seasons
You can choose from the most modern accessories for outdoor comfort like you've never seen before.
Motorised ZIP screen

Sliding Shutters

LED Lights

Large Selection of Colours

Swivelling and Electrically Adjustable Louvers

Full Automation
Perfect your outdoor living with Pirnar
In terms of design and technological innovation, everything we create at Pirnar is a masterpiece. Same goes for our pergolas. Entrance door protects the intimacy of your home while pergola opens up new dimensions of your garden. Under the Pirnar pergolas, you will experience the most fullfilling meals, the best parties and the greatest relaxation.
Trust a company with a long tradition of innovation and uncompromising solutions in the field of enjoyable living.
World's leading manufacturer of entrance doors

More than 50 years of family tradition
Internationally awarded design and patented innovations

Partner network on 30 markets worldwide
Let us inspire you!

London Showroom
Opening time:
by appointment
Sunday closed
Luton Showroom
Opening time:
by appointment
Sunday closed