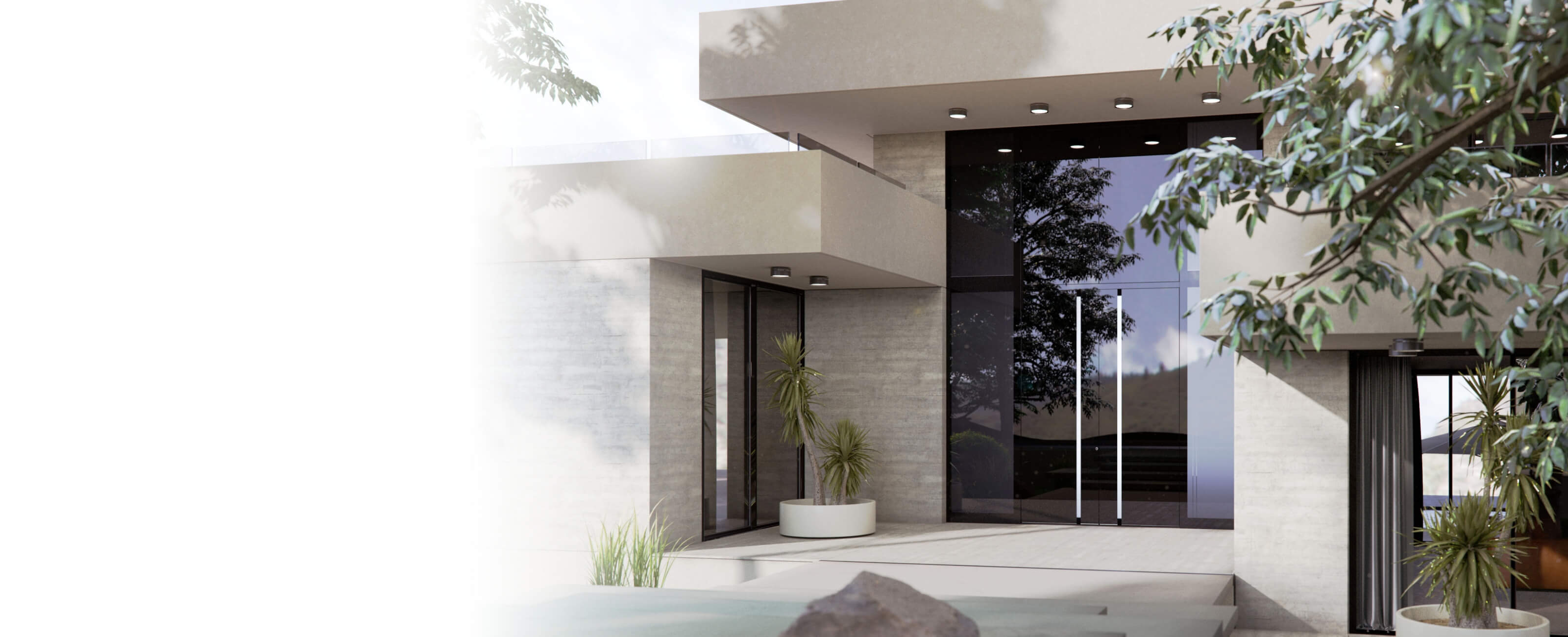 FROM TRADITIONAL TO CONTEMPORARY ENTRANCE STYLE
Styles of front doors
When choosing a front door, there are many things to consider. Our extensive range of doors leave no wish unanswered - from the overall design to decorative elements and accessories, we're sure to have what you´re looking for. But deciding on a particular door design can prove rather challenging at times. We want to help you make a satisfying decision for your new Pirnar door that works for your home´s architectural style.
From modern to traditional front doors
We believe that front doors are one of the most important pieces of a house. They reflect your style and personality while being the first thing to greet your family and guests. This is why we do not believe in a one-size-fits-all approach with doors. Instead, we want to enable you to create a front door that meets your particular tastes and your high standards.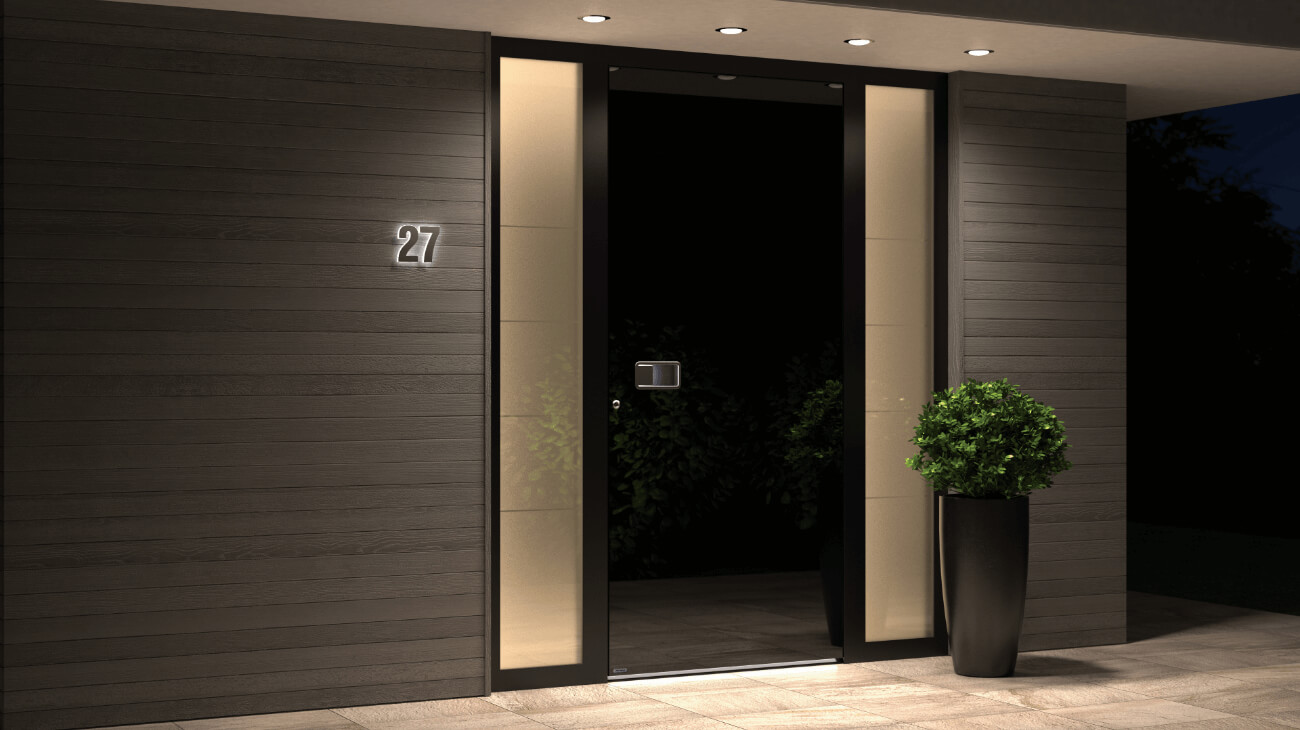 The best materials for your front door
We offer the highest quality for our customers. We create magnificent aluminium and wooden front doors that offer various options while still keeping in line with our high standards. Depending on the door you choose, there are a few things to keep in mind.
DESIGN YOUR FRONT DOOR
Traditional front doors that impress
If you own a historic townhouse or would like to create a contrast to your contemporary property, traditional front doors made from wooden or aluminium might be an option for you. Front doors have a rich tradition and have always been used as a statement of wealth and prosperity. This is why we offer historic and authentic front doors that come in a variety of different shapes and sizes.
Our Classico collection
Our Classico collection can serve as some inspiration, but we also offer custom-made and individually fitted traditional doors to suit your needs. To embellish your home´s architectural style, we have hand-selected authentic door furnishings and decorations, such as:
You can add glass sidelights or overlights to your door. Or create traditional four or six-panel doors and decorate them with ornate glazing. Regardless, if you prefer a more subtle Georgian door or want to go all out and design the Edwardian door of your dreams – use our configurator to easily compile a wooden or aluminium door for your property.
Decorative elements that take your breath away
We expect the best quality and flexibility when it comes to different styles of front doors. The Pirnar Multilevel doors impress with their 3D effect, making them stand out from any other external doors in your neighbourhood. The play with shapes and materials creates a door that will leave your guests struggling for words to say.
Add ambient lighting to your wood or aluminium door and make your door shine even brighter at night. Or use elegant door furnishings to make your front door an experience rather than a necessity. It is up to you to decide. Our configurator helps you choose the X-factor that adds that certain something to your new door.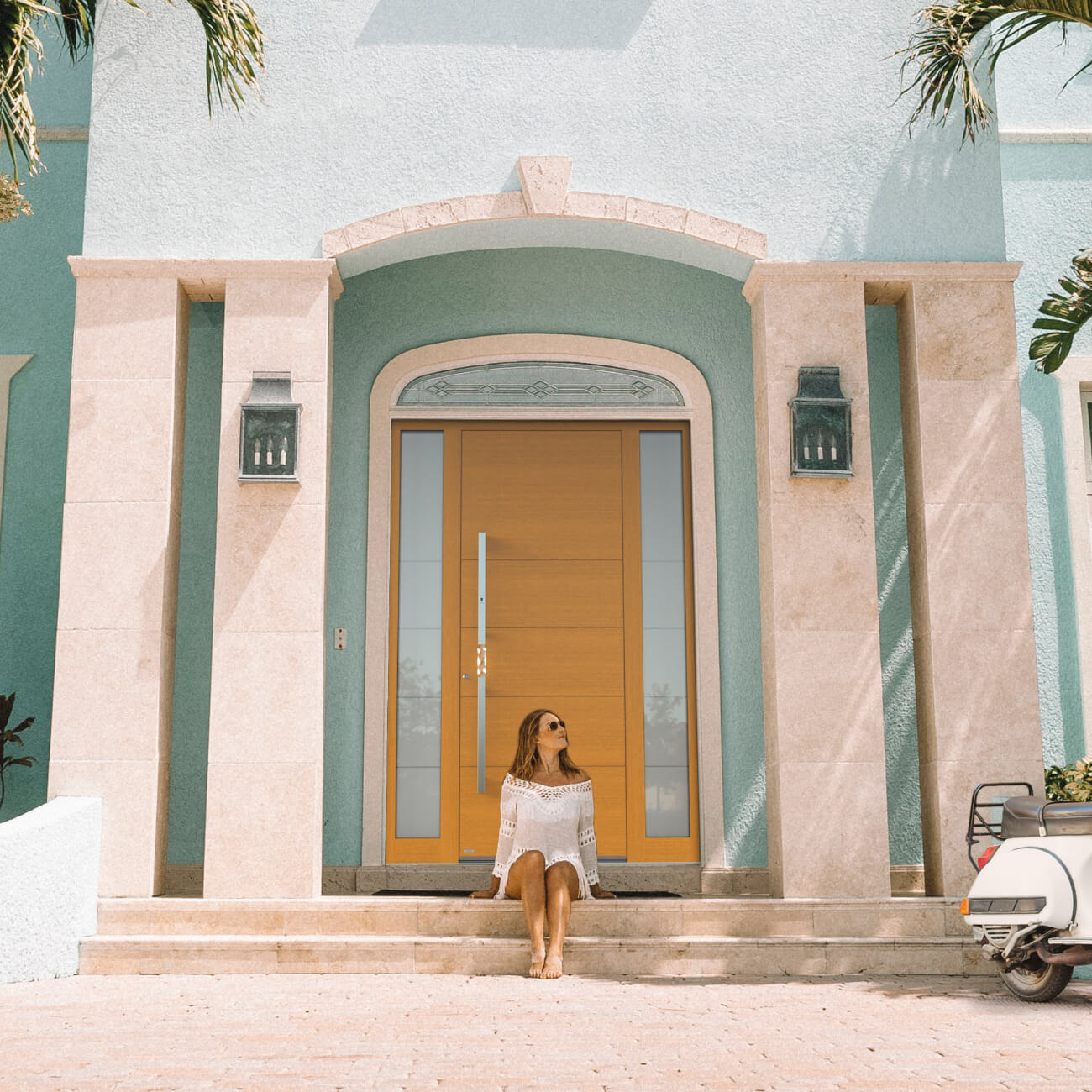 Tips for choosing different styles of doors
Door styles with ornate glazing

One of the most popular styles of front doors is achieved with the addition of glass elements. They give character to your wooden or aluminium door while allowing natural light into your home. Small entryways profit from the lightness and open feel of a glazed side panel.

Glazing often has an unfounded bad reputation when it comes to front doors. Many fear that glass is easy to break in to and does not keep their property safe. Our glazed door styles at Pirnar come with triple or quadruple glazing, making it impossible for burglars to enter quickly and unnoticed. Using multiple layers of glass also provides substantial thermal insulation, keeping your home energy efficient and more sustainable. We offer various glass options and finishes, such as:

etched
stained
patterned
sandblasted
satined

Depending on your taste, the employees in our workshop will create a handcrafted glazed door that suits your aesthetic. You can make your exterior even more compelling by choosing a metallic glazed front door and adding large windows and sidelights to give your house an impressive glass front.

DESIGN YOUR FRONT DOOR

Extraordinary dimensions for your external door

When the standard height simply won't do, you do not have to worry with Pirnar. With larger houses, villas or luxurious mansions, it seems only fitting to adapt the size of your front door. By choosing double-leaf French doors or large mixture of aluminium and wooden doors that are greater than average, you create a magnificent centrepiece for your property.

Leave a lasting impression with your entrance.

Most of our models are available in Grande dimensions, reaching up to 3000 mm in height. Our Premium and Pure collections work exceptionally well for Grande entrances. Use our configurator´s many options to your advantage and design your bespoke Grande aluminium or wooden door that meets your standard and is fit for royalty.

Door handles

Your new door handle is just as important as the rest of your entrance door. Our handles range from subtle stainless steel variations to our award-winning OneTouch door handle. Or perhaps you choose no handle at all and impress your guests with the world's first contactless entrance wall Pirnar Theatrica.

Styles of front doors: the choice is yours

From contemporary doors to traditional wooden entrances – we create luxurious, impressive masterpieces that are worthy of welcoming your family and guests into your home. Our multifaceted Pirnar door collections will leave no wish unanswered. Through our configurator, you can quickly look at the different styles of front doors and design a handcrafted entrance door that makes your vision come to life.