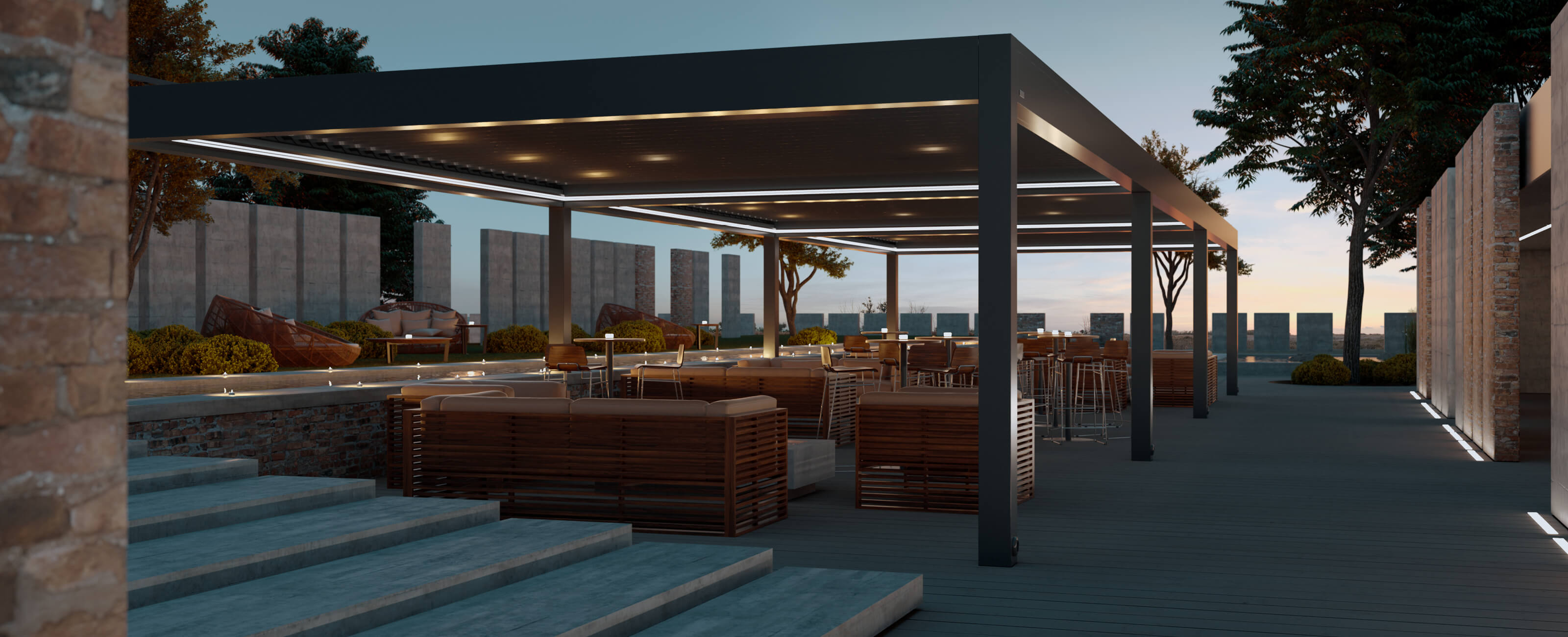 LIFE IS OUTSIDE
The Ultra bioclimatic pergola
This extra-large pergola is the perfect choice for hotel, restaurant and shopping centre patios as well as large gardens.
Amazing pergola of exceptional dimensions
The exceptional size of the Ultra bioclimatic pergola provides an unsurpassed aesthetic and functional complement to hotels, restaurants or large shopping centres, as it can cover up to 50 m² without additional columns. With the Ultra pergola, you can easily double the size of your living room or patio. Motorised control of the louvers and other accessories allows it to adapt automatically to different weather conditions.
CONSTRUCTION

REINFORCED CONSTRUCTION

The robust structure measures 160 x 160 mm and the pillars are made using an incredibly strong, internally cross structure. The prefabricated modular construction does not require additional drilling or cutting.

SEALING

SEALING

The unique drainage system ensures great watertightness. The extra-wide profiles prevent water from overflowing even during heavy downpours.

DIMENSIONS

EXCEPTIONAL DIMENSIONS

The Ultra pergola is characterised by its exceptionally large dimensions of up to 7.2 x 7.2 m without additional columns, which makes it one of the largest pergolas on the market.

MINIMALIST DESIGN

MINIMALIST DESIGN

The Ultra pergola has a minimalist design, which is even more striking because of its size. It features an elegant, clean surface with no visible accessories, so it does not require any additional installation work.

FUNCTIONALITY

FUNCTIONALITY

The Ultra pergola is equipped with a unique and patented silent rotation system. A wide choice of layouts and automated accessories are also available.
Different structural layouts
The Ultra bioclimatic pergola can be positioned in your garden or attached to your house according to your wishes. The simple assembly system with modular profiles allows for different layouts depending on the specific nature of the building and on your needs.
#1

FREE-STANDING

The Ultra freestanding pergola allows you to expand your outdoor space enormously. You can organise a wedding or any other large event under a pergola this size. If you are using the space as a garden or a large patio, use a pergola to turn it into a cinema under the stars or into your own gym.

#2

WALL-MOUNTED

A wall-mounted pergola elegantly complements the look of your home. It fits a variety of styles, so you can combine it with traditional or completely modern architecture. Extend your living room and enjoy spending your free time outside.

#3

BUILT-IN

The built-in layout blends into the architecture of your home. It can be built into the ceiling or the roof. This exceptional combination blurs the boundary between the indoor and outdoor worlds.

#4

CUSTOM-MADE

You can choose between several linked pergolas or L-shaped layouts. You can cover as much as 50 m2 with just four columns, without additional support elements.
A wide range of accessories for maximum living comfort
Choose from an extensive selection of accessories to make your outdoor living an unforgettable experience.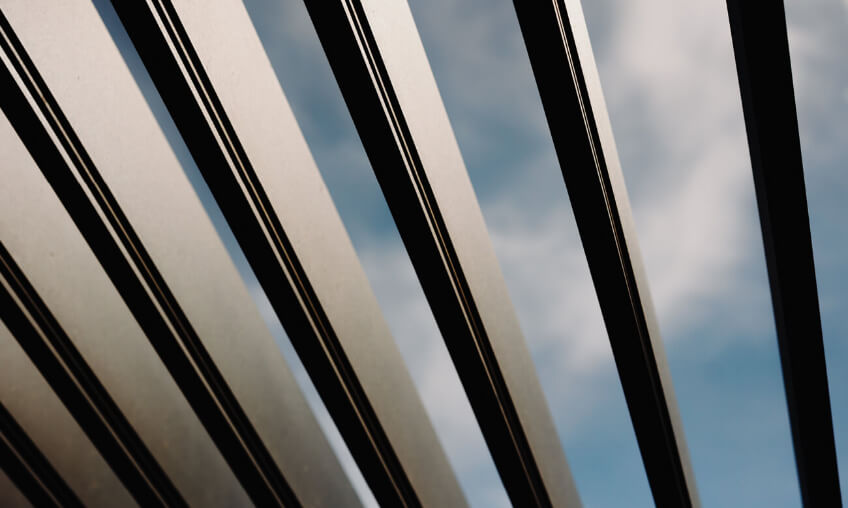 ROTATING AND ELECTRICALLY ADJUSTABLE LOUVERS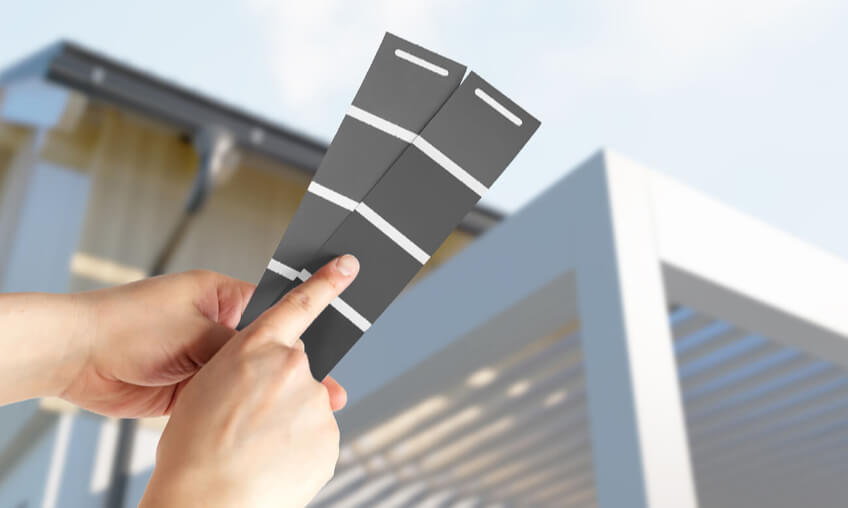 WIDE CHOICE OF COLOURS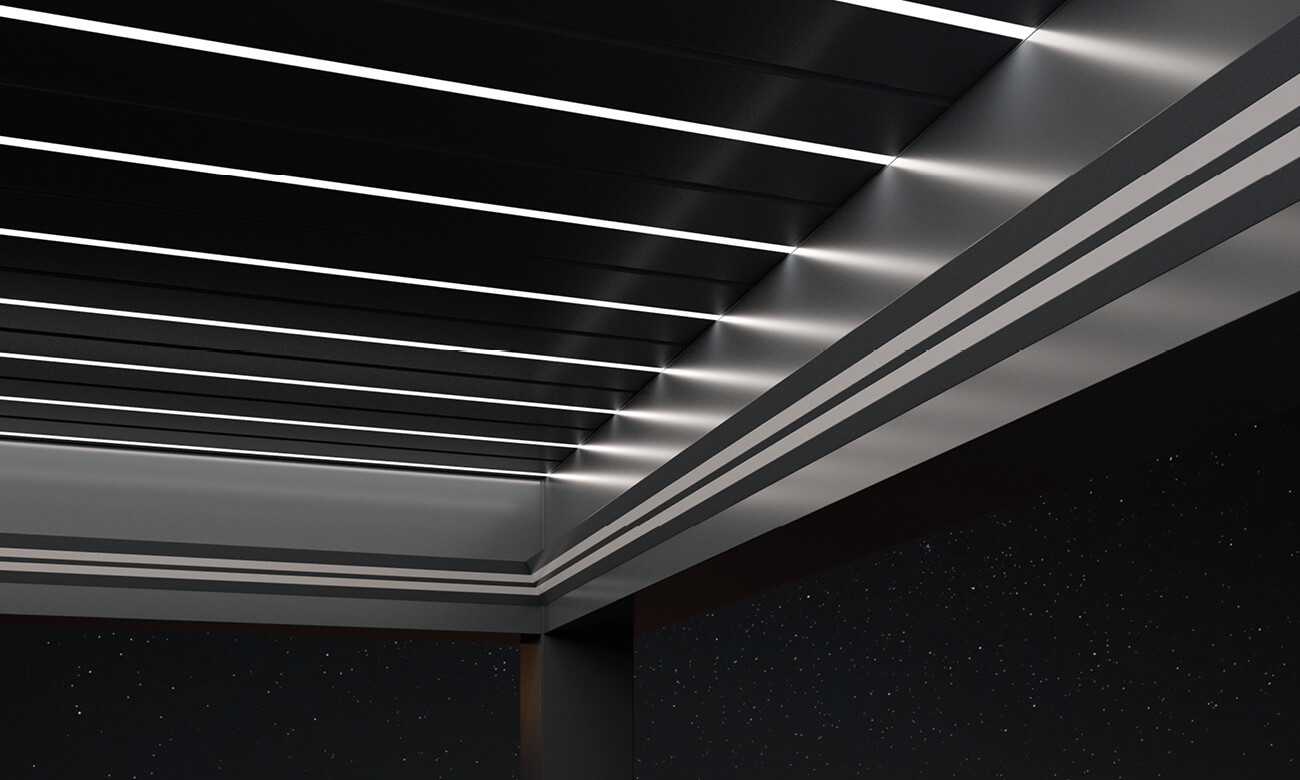 LED LIGHTING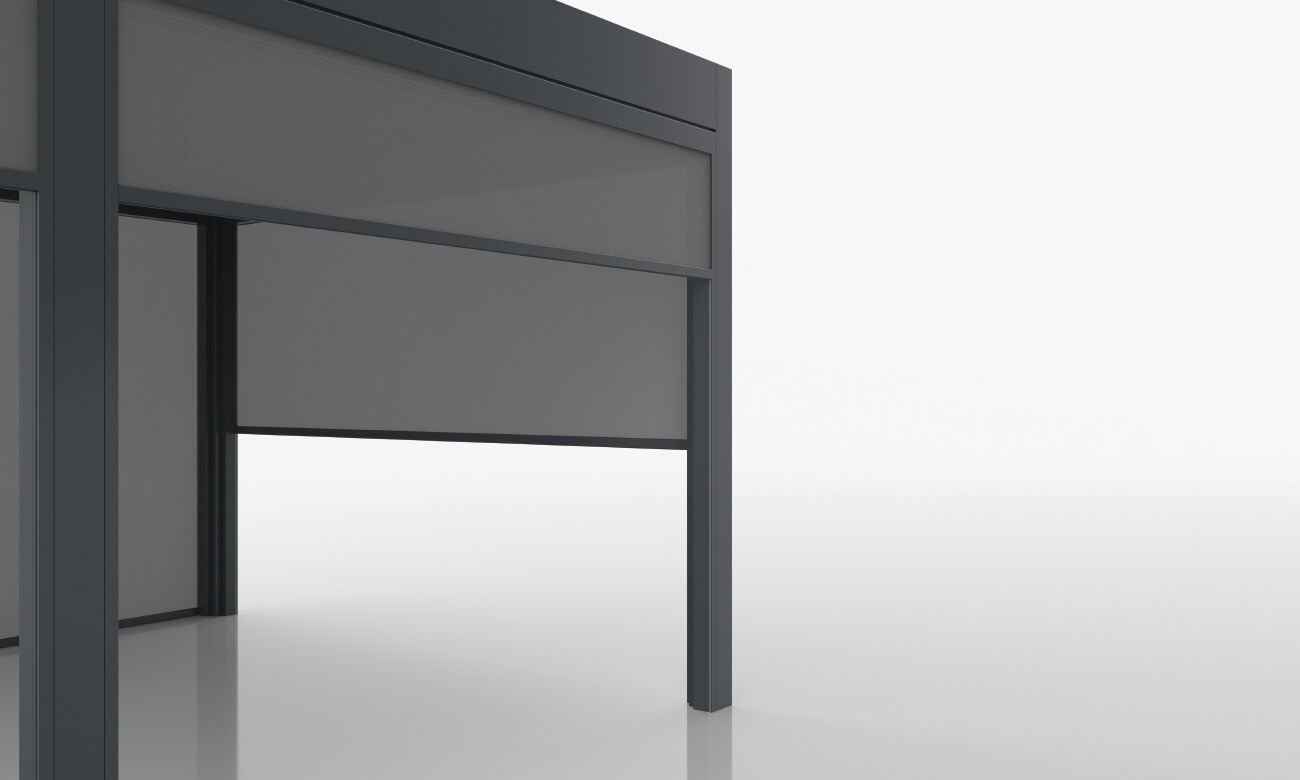 ZIP SCREENS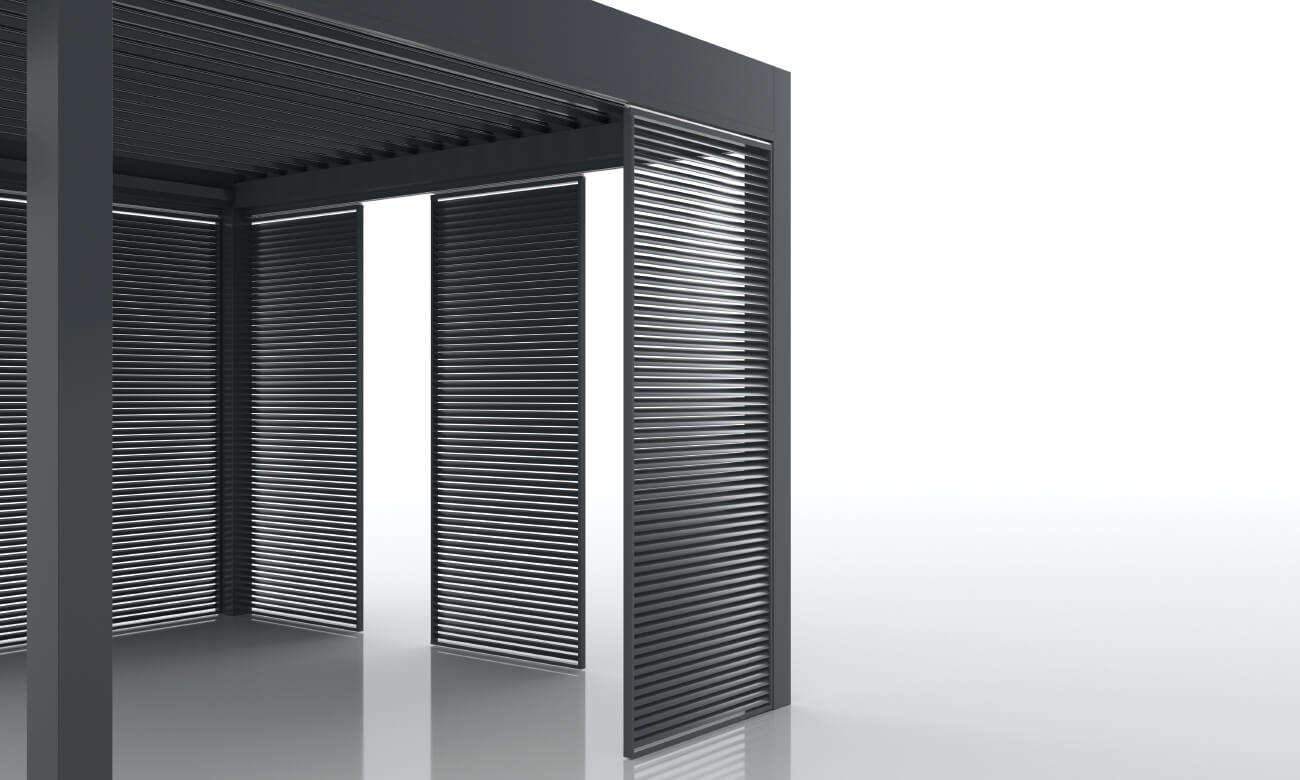 SLIDING PANELS
SLIDING GLASS PANELS
Modern automated pergola control
The Ultra pergola can be fully automated. You can pre-program and pre-regulate the protection against wind, rain, cold and sun, leaving nothing to chance.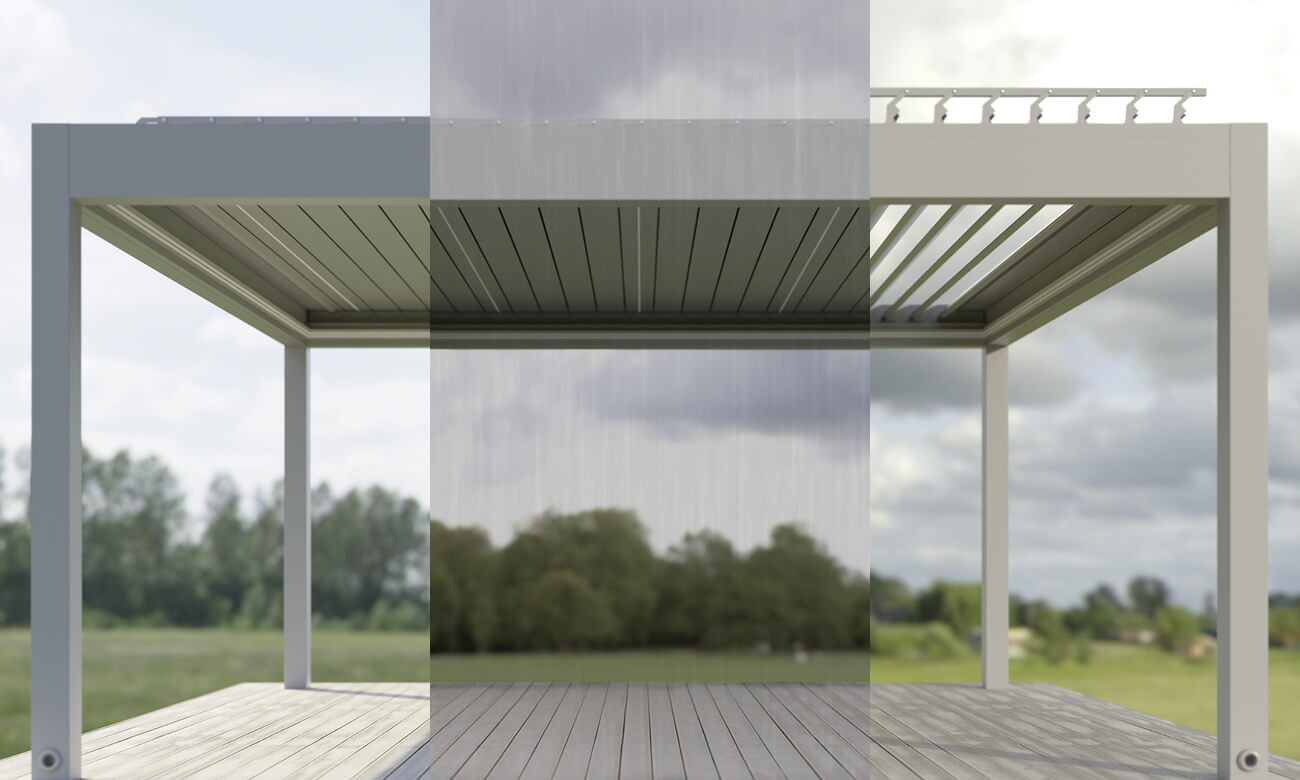 WEATHER SENSORS
The pergola's accessories are controlled automatically by state-of-the-art sensors, which allows you to program the shading and adjust the louvers up to 135°, depending on the weather. In the event of sudden rain or wind, a special sensor instantly closes the louvers.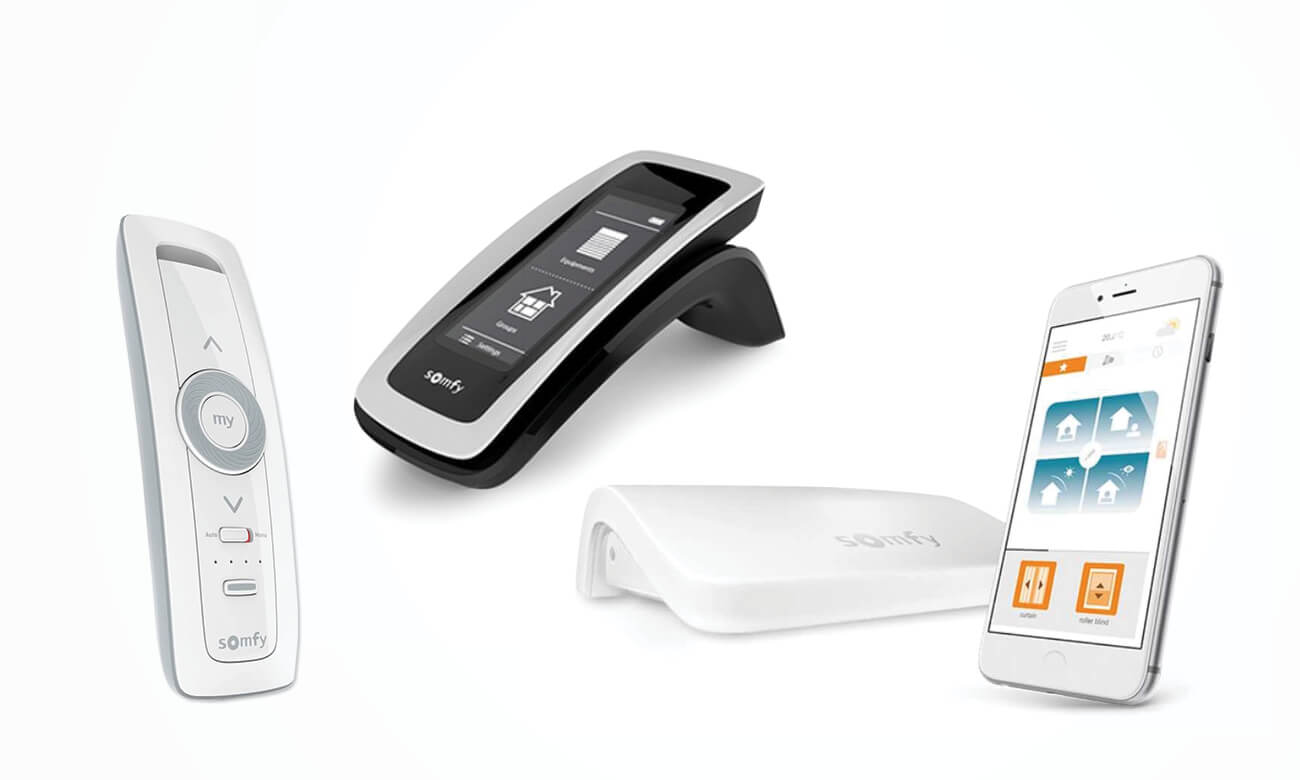 CONTROL
The modern Ultra pergola can be controlled with a single remote control or with a smartphone. It can be operated with a standard Somfy remote control, with the Somfy Nina Remote Control or with the Somfy Tahoma mobile app.
Let us be your inspiration!
Visit a Pirnar showroom today and see our pergolas in person.

London Showroom
Unit 1, The Wireless Factory
Fleming Way, Isleworth, London, TW7 6DB
E: london@pirnar.co.uk
T: 015 8224 9697
Opening hours:
By appointment
Sundays closed