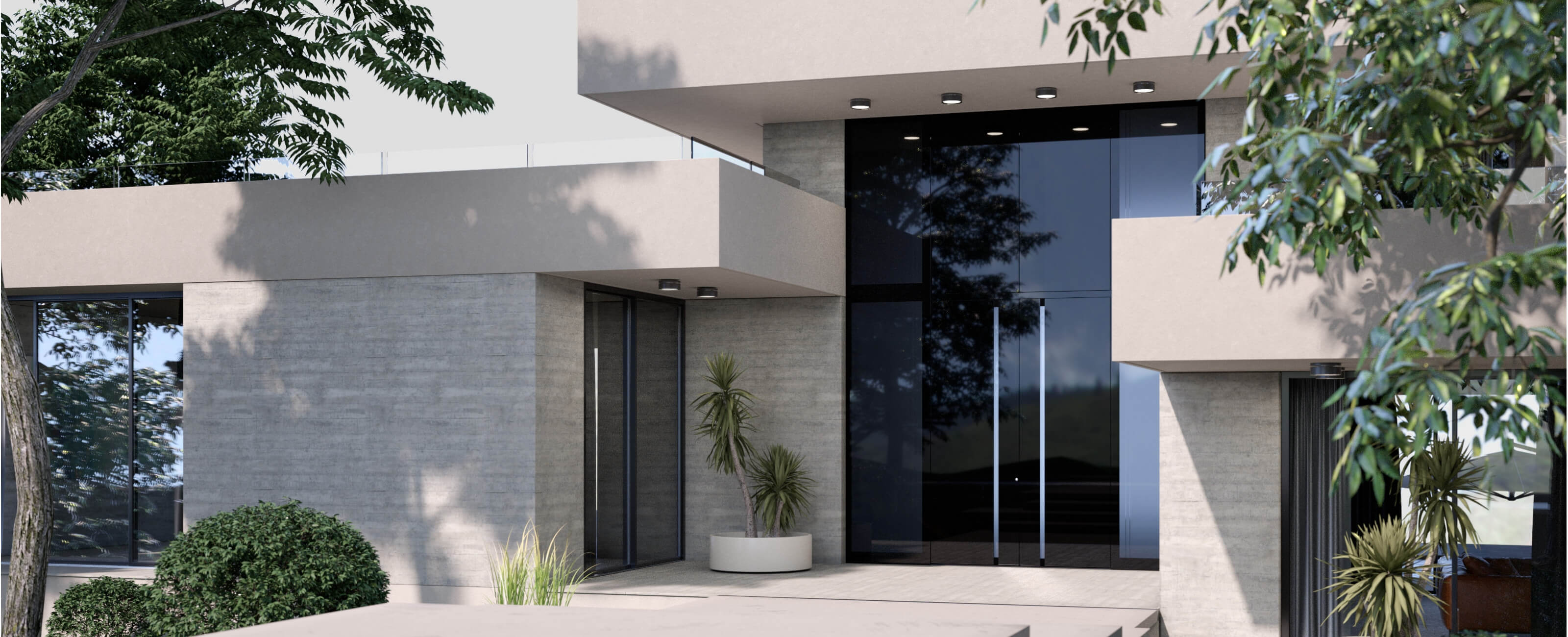 FLOOD YOUR ENTRANCE WITH DAYLIGHT
Glass front doors
Front doors with glass inserts brighten up the interior of your home and project a tastefully modern aesthetic. Are you looking for wooden or aluminium front doors, doors with glass inserts, transom lights or sidelights? There many options available for your front door. Find the perfect door design to match the modern look you're going for on Pirnar.co.uk.
Advantages of doors with glass inserts
Front doors fit with glass inserts are incredibly timeless and tasteful choices for the entrance of your home, as they allow plenty of natural daylight into your home, making even the darkest, windowless hallway feel welcoming. That's why front doors with glass inserts are a popular choice that influences both the outside and inside aesthetic of your home. Front doors with glass inserts provide numerous benefits to your home as they are:
timeless and tasteful
translucent
easy to clean
resistant to scratching
highly robust and durable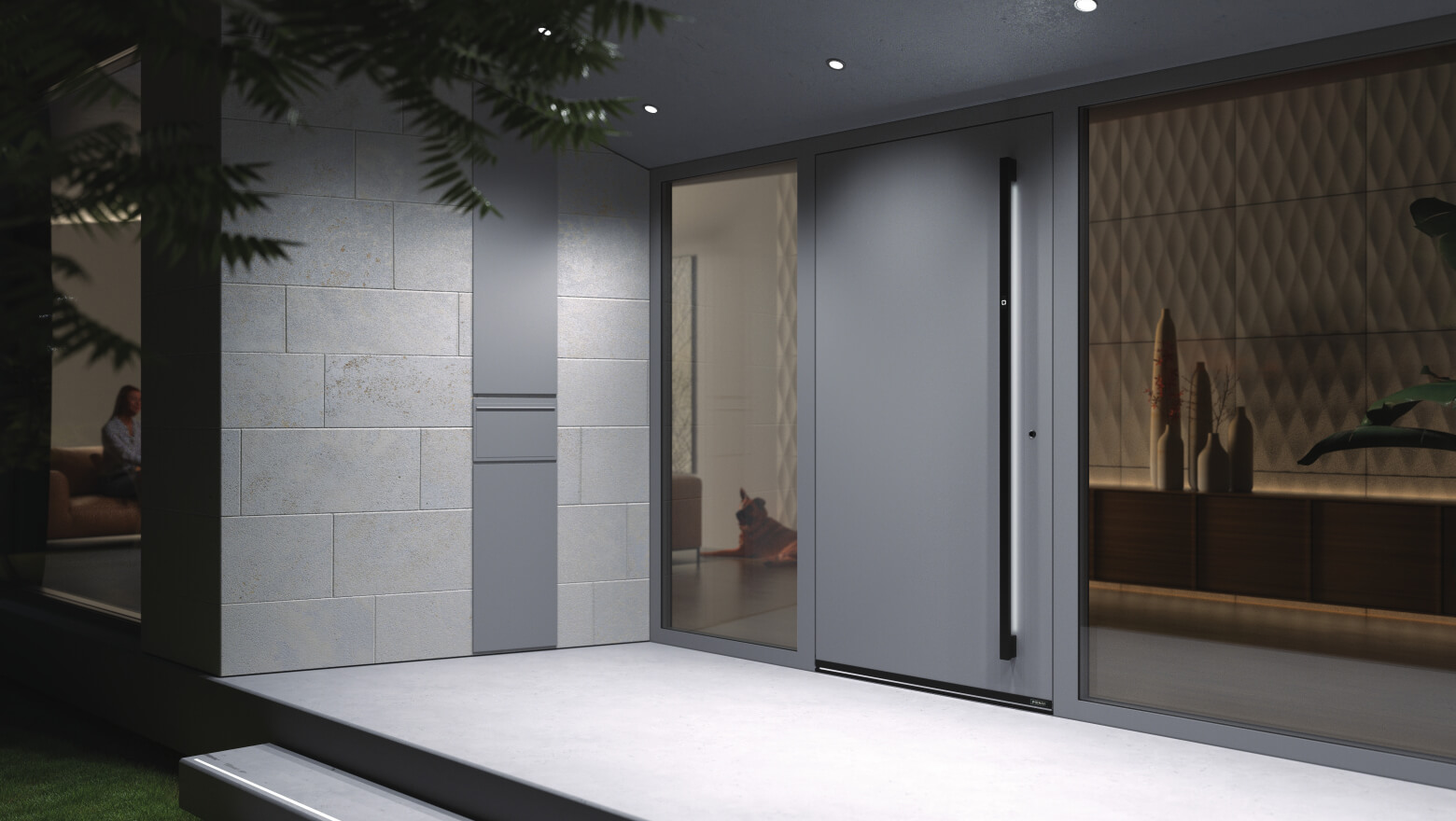 More about
glass inserts
Since the glass inserts can be made of various types of glass, you can also choose to protect yourself from prying eyes without blocking out the sunlight by using high-quality ornamented glass manufactured by Pirnar. Front doors with glass inserts are very easy to clean, the glass is resistant to scratches, and the door itself offers a high level of stability against mechanical deformation.
What's the best type of glass for a front door?
Glass inserts can be made from a variety of different glass types, which differ in terms of aesthetics and functionality. Your Pirnar.co.uk front door can have glass inserts made of the following materials, depending on the type of door and the construction details you've selected:
Clear glass
Clear, transparent glass is the standard for most front doors with glass inserts. It's low-cost and translucent enough to let in all the available sunlight. However, this also means people outside can look into your hallway. If that's not what you're looking for, you may prefer satin glass with clear glass elements instead as it provides protection against prying eyes.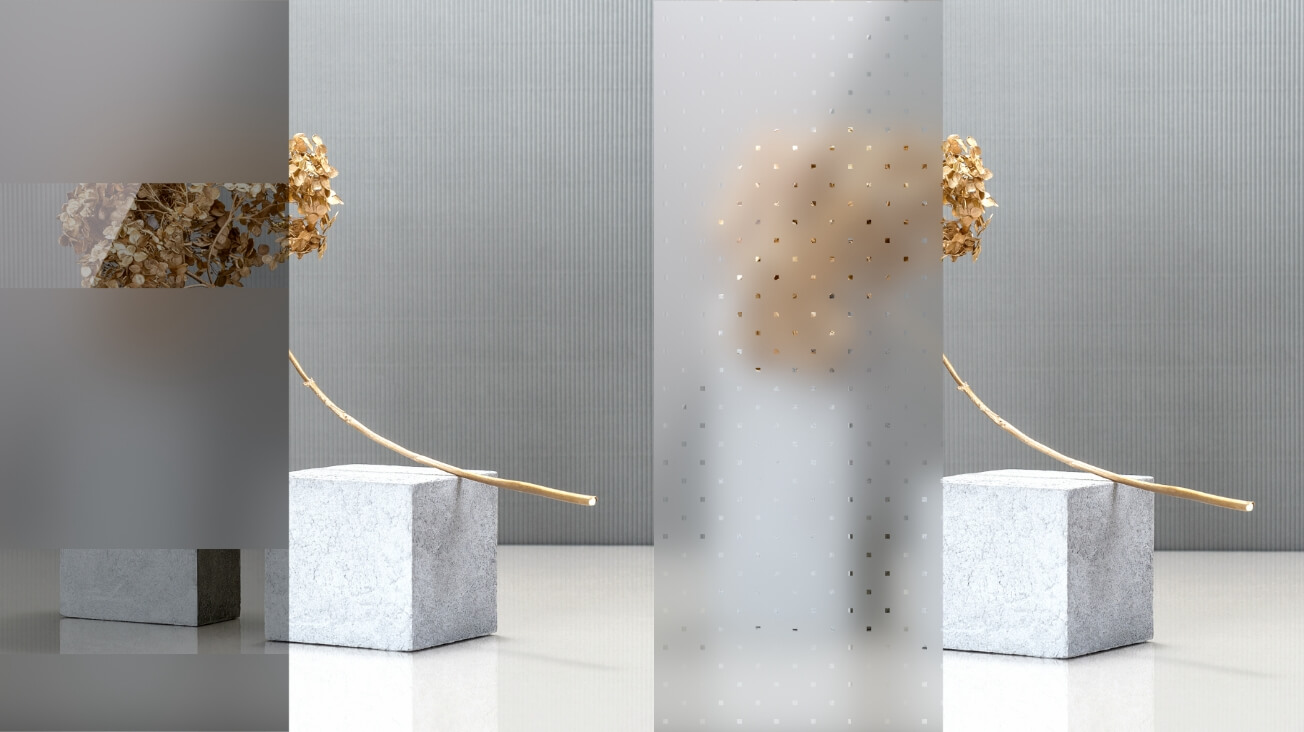 Ornamented glass
If you're looking for a type of glass that provides maximum privacy, ornamented glass is the perfect choice for your front door. Frosted glass, in particular, is a very popular choice as it completely obscures what's going on inside your home while also letting in sufficient natural light from the outside.
As a premium door manufacturer, we produce handmade glass ornaments to provide a one of a kind look for your front door.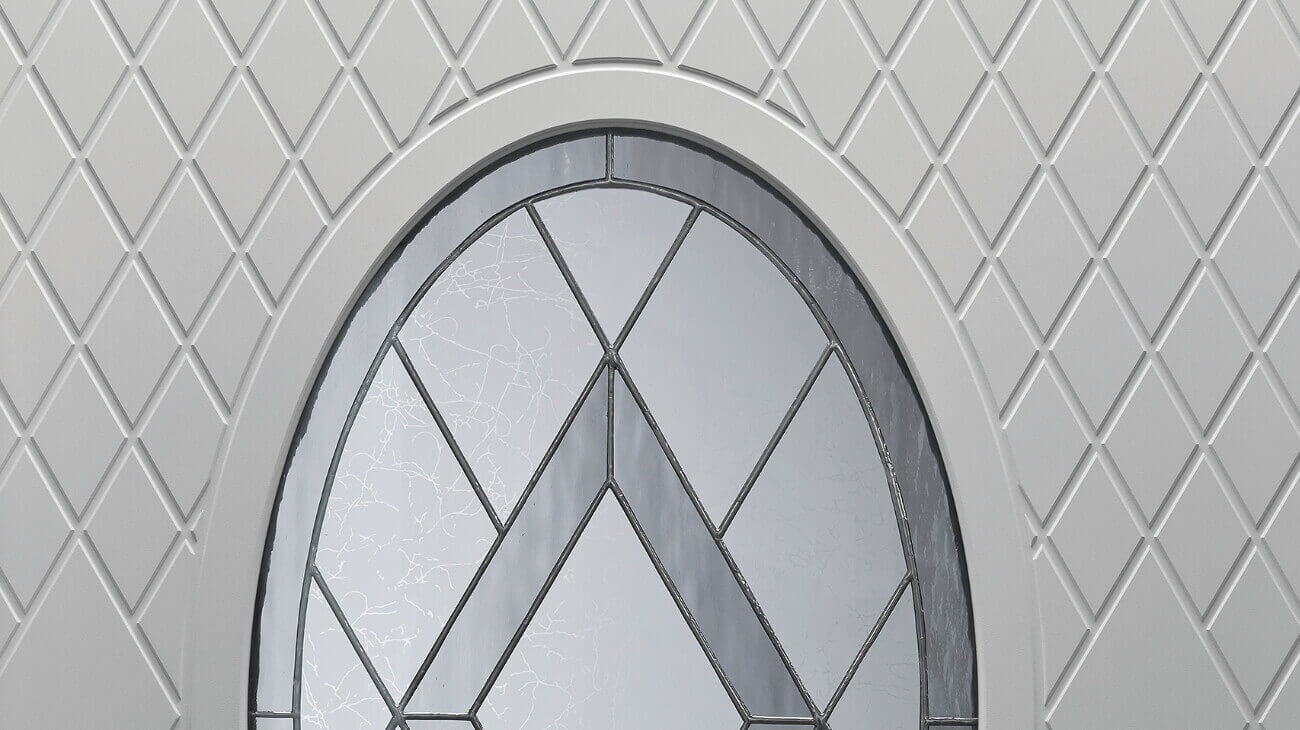 Safety glass and laminated safety glass
To increase the protective properties of front doors and side front doors, you can opt to use laminated safety glass. This is particularly useful if you live in a secluded residential area that's more prone to break-ins and burglaries. Laminated safety glass consists of panes of glass held together by a robust, transparent foil, making the glass more resistant against shattering and burglars providing a greater security level than regular glass.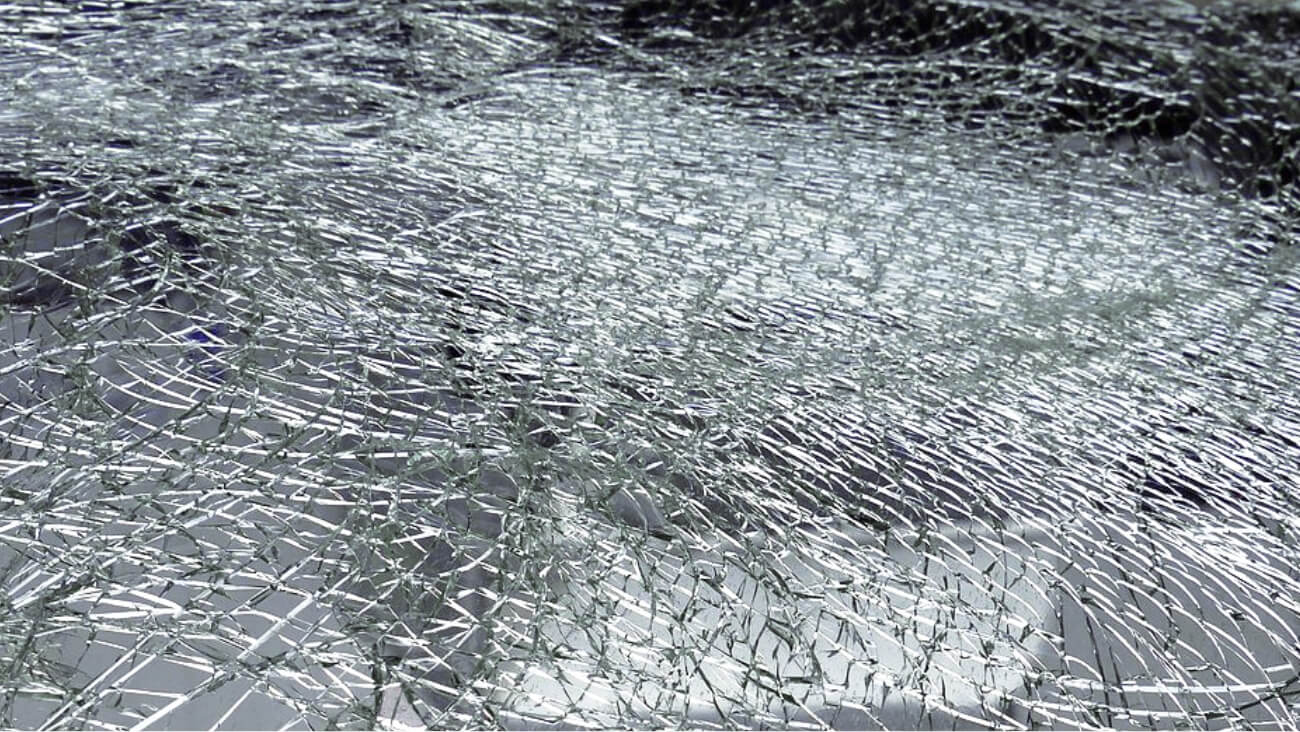 Highly functional front doors with thermal insulation glazing
Front doors with glass elements are designed to let natural daylight into your home. But to make sure that they are also properly insulated against heat diffusion, you may want to use thermal insulating glass. This makes it significantly harder for the warmth inside your home to escape to the outside, which helps keep your heating bill low. In the summertime, this type of glazing can also limit the amount of outside heat that gets inside your home.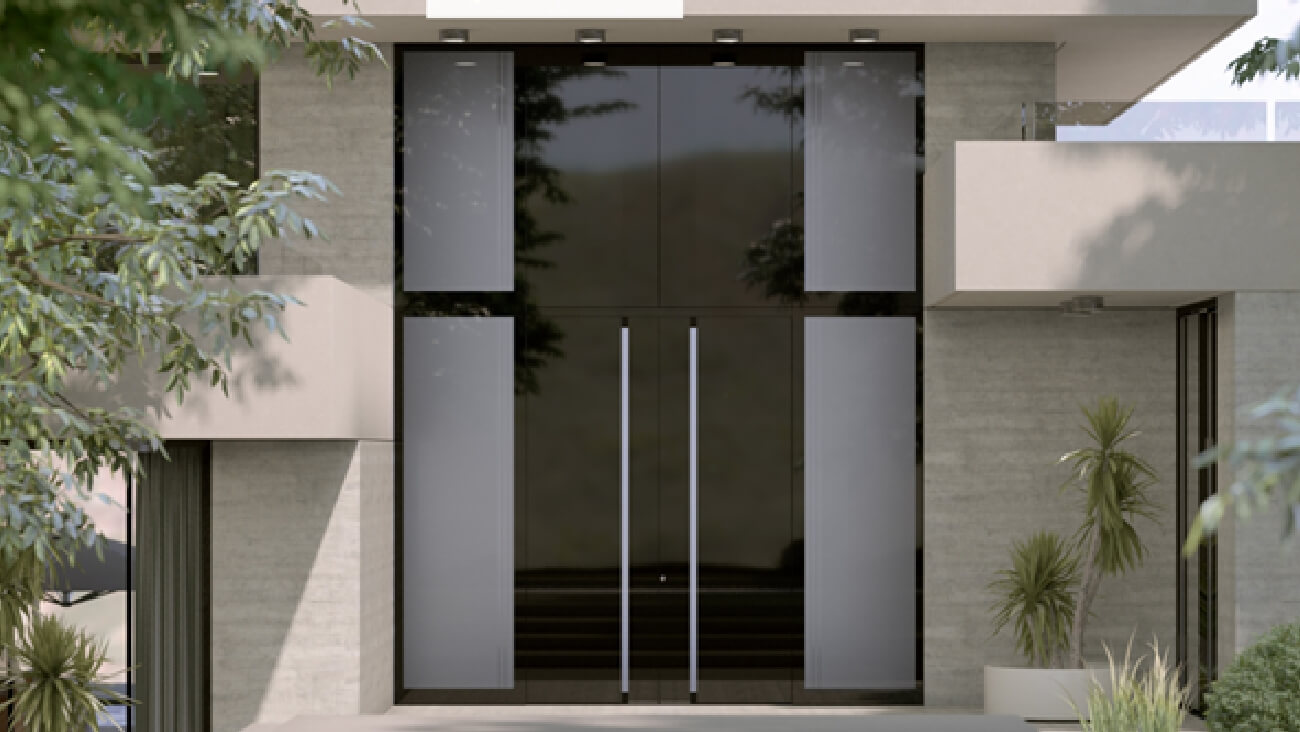 DESIGN YOUR FRONT DOOR WITH GLASS
Easy to combine: Glass and other materials
When you're making your choice between the various available doors and glass inserts, the first thing you need to do is select which material the door should be made of. You can choose between wood, aluminium, or a combination of these two materials, as both can add specific advantages to your door.
Aluminium front doors – a modern look with high durability
Aluminium front doors are an excellent choice for any house. This premium material is highly resistant against damage, similar to PVC, though much lighter than many other materials. And an aluminium surface is easy to clean as well. If you combine it with high-quality hinges and furnishings as well as a reliable locking mechanism, you'll increase the security of your home significantly.
With the Pirnar.co.uk configurator, you can customise your front door to your exact preferences.
Wooden front doors – a tasteful classic
Front doors with a wooden casement combine modern and natural aesthetics, as the environmentally friendly material looks warm and inviting. And in terms of thermal insulation, it can easily keep up with highly insulated PVC doors. Even better: You can individualise your wooden front door with various types of foils and glazings in colours such as white front doors, anthracite, grey – or any colour that fits the look you're going for.
Various ways to include glass elements in your door design
If you'd like a front door with glass elements, you don't necessarily have to choose a door with a glass insert. You could also opt for one of the following:
front door with transom light
front door with fanlight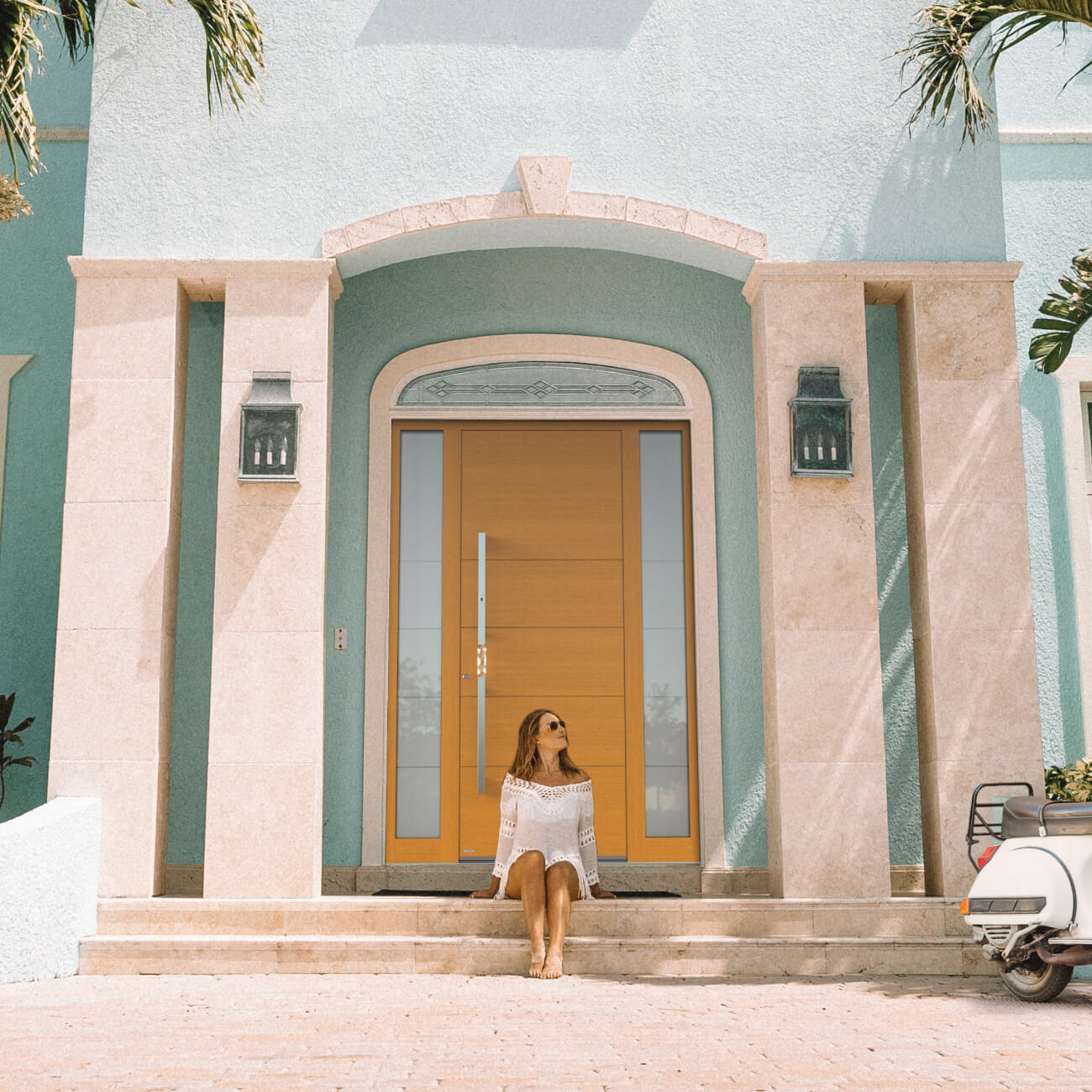 Tips for choosing the perfect front door with glass
More about ornamented glass

At Pirnar, we provide genuine craftsmanship when it comes to ornamented glass. We have our very own processes to sandblast unique and aesthetically pleasing patterns into the glass, creating high-quality glass inserts that are significantly more impressive than glued-on ornaments. Thus, our handcrafted ornamented glass is the perfect fit for your new premium front door.

DESIGN YOUR FRONT DOOR

ow is thermal insulation glazing made?

Thermal insulation glazing consists of two, three or four individual 4 or 5 mm thick glass panes. These glass panes also typically have a layer of metal applied by steam to help prevent heat from diffusing easily through the material.

The individual panes are then inserted into the door so that the spaces in-between them can be filled with air or noble gasses, further increasing the glass element's thermal insulation properties. As a side effect, this multi-layered construction also makes the glass more robust, providing additional security.

The thermal transmittance factor can indicate how well your front door is insulated against heat transmittance—the lower the number, the better the insulation.

A front door with particularly large glass inserts should feature thermal insulation glazing, and the same goes for sidelights and transom lights.

Individually designed front doors with glass inserts

Your front door is one of the most important parts of your home, and it draws the most attention. That's why you shouldn't cut corners here – from the material to the handles and from the glass inserts to the colour, your front door should be perfect! The Pirnar.co.uk configurator helps you find the exact front door you're looking for.

The configurator guides you to your perfect front door, step by step. To ensure your front door is made to measure, you can individually select the dimensions, materials, colours, types of glazing and various extra design elements.