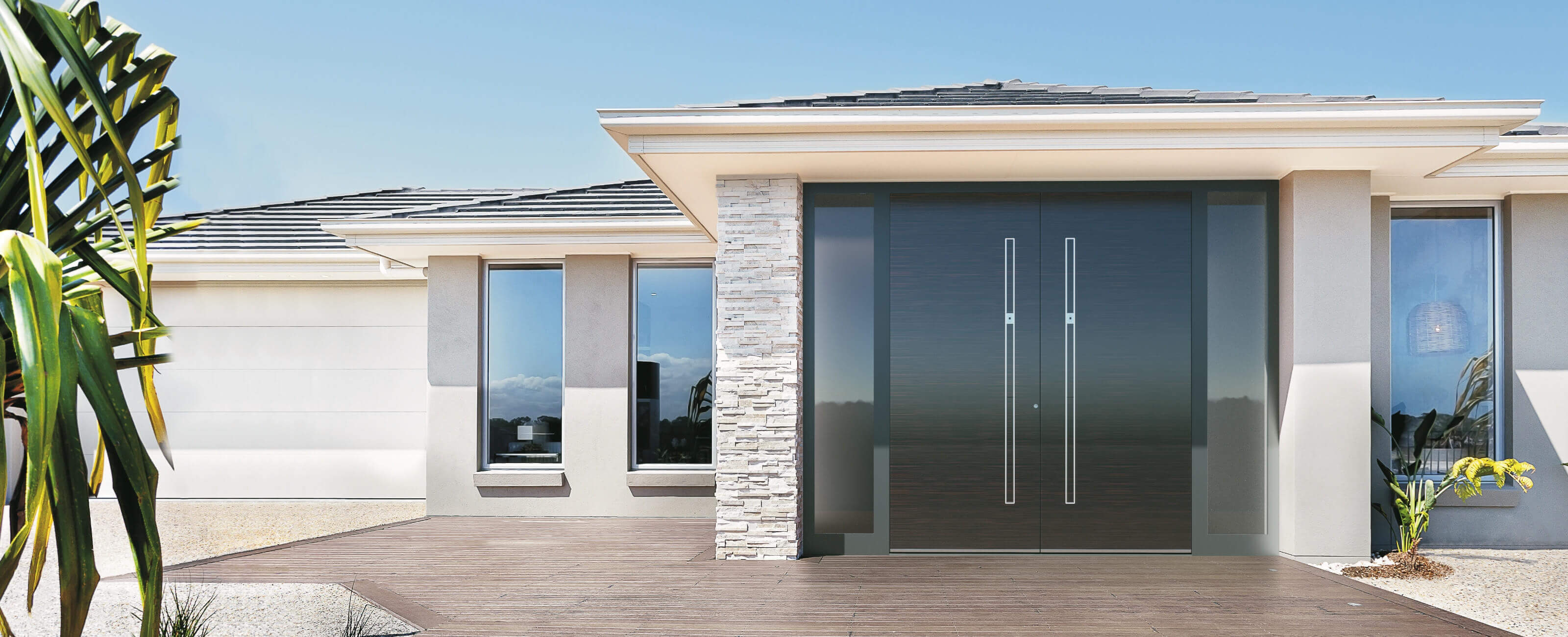 DOUBLE-LEAF FRONT DOORS MADE TO MEASURE
Double front doors
Whether you're living in an old house or a recently built one, double-leaf doors are perfect for any house front. They give your home that little extra something that makes any house look elegant and impressive. Thanks to our wide selection of doors and furnishings, our online configurator provides you with everything you need to order a double-leaf door made to measure.
The advantages of double-leaf front doors
Due to their unique construction, double-leaf front doors provide excellent thermal insulation. Depending on which door and which furnishings you choose, they may even dampen sounds or provide additional security. Since double-leaf doors are very wide, they can also offer additional ways for natural light to enter the building, either via transom lights, sidelights, or glass panels in the leaves. Ultimately, the greatest advantage to double-leaf doors may be how wide they are, though. Simply open both leaves at once, and you won't have any trouble moving furniture or other large objects through.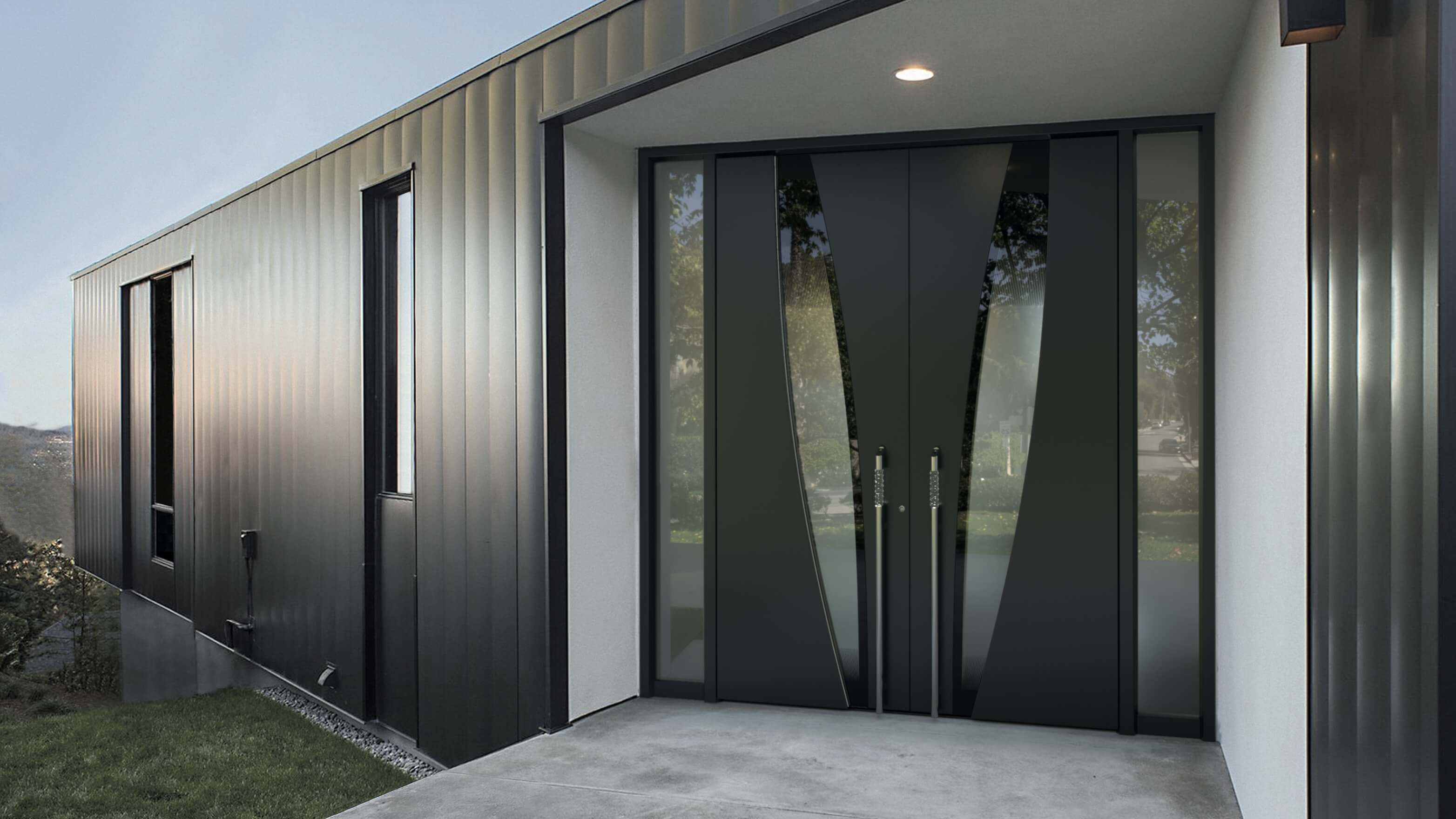 Best functionality,
design and material
All Pirnar.co.uk doors provide an impressive amount of functionality and security as well as excellent visual design. Take a look at our premium selection and let them inspire you to create your personal double-leaf front door.
Active and inactive leaf – what's the difference?
The two leaves of double-leaf doors usually open in the same direction. Due to the way they're constructed, this means that one of the leaves can only be opened when the other is also open. This Is where the distinction between active and inactive leaves comes from.
Active leaf
The active leaf is the one you'll be using most of the time, as opening it doesn't require the inactive leaf to be opened as well. The active leaf houses the door handle and the locking mechanism.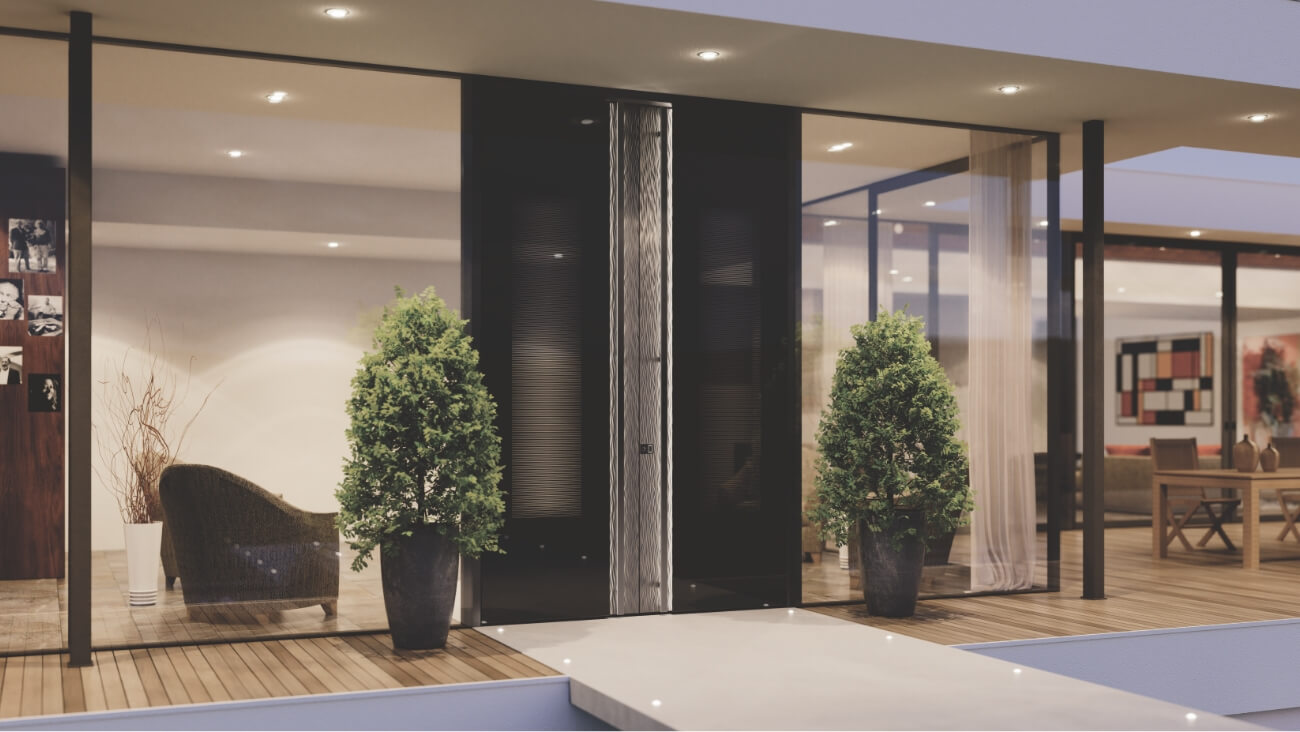 Inactive leaf
The inactive leaf will most likely be closed most of the time. It's designed to open only once the active leaf has also been opened, so it's mainly used to open the door to its full width when you're moving big objects through.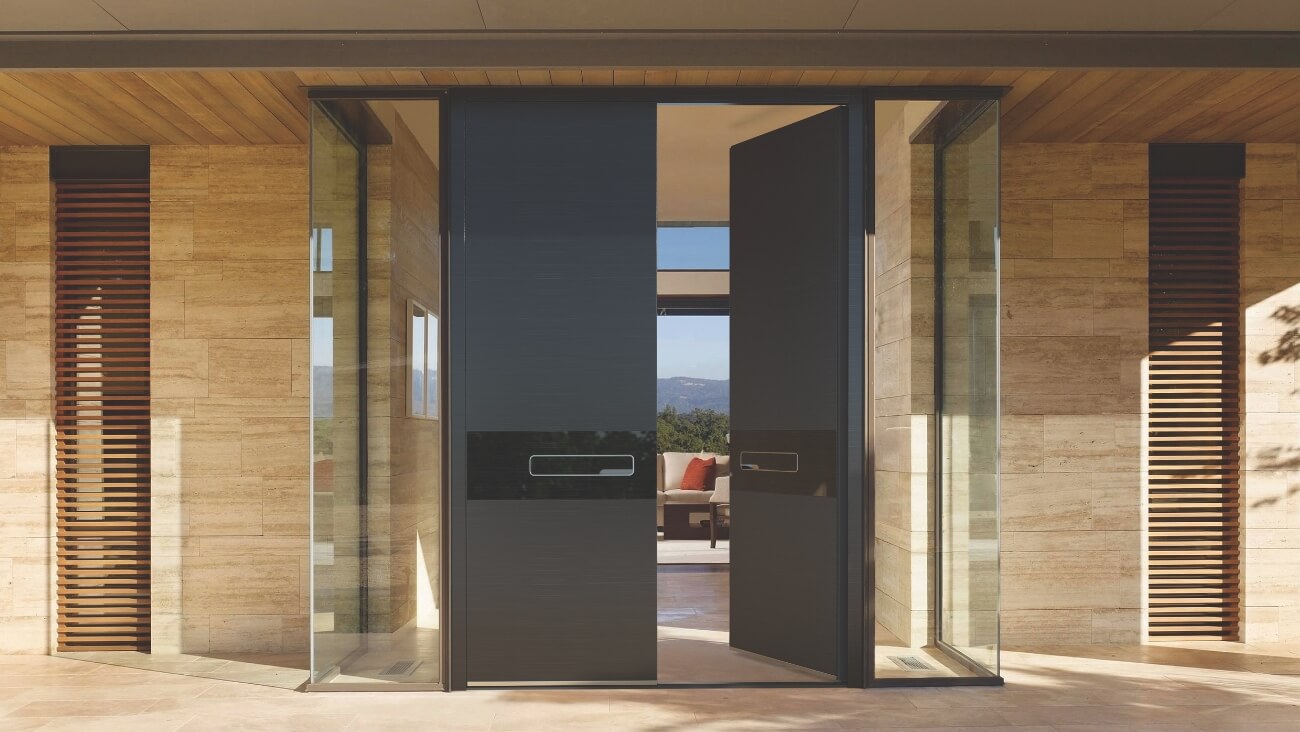 Possible construction designs for double-leaf doors
Double-leaf front doors can be designed in different ways depending on your personal living situation or the requirements of the building. For example, you may choose to have a symmetrical front door (with both active and inactive leaves being of equal size), or you may choose to go with a design with asymmetrical proportions to have a larger active leaf, for example. Effectively, this boils down to three combinations:
1/2 active leaf, 1/2 inactive leaf
2/3 active leaf, 1/3 inactive leaf
1/3 active leaf, 2/3 inactive leaf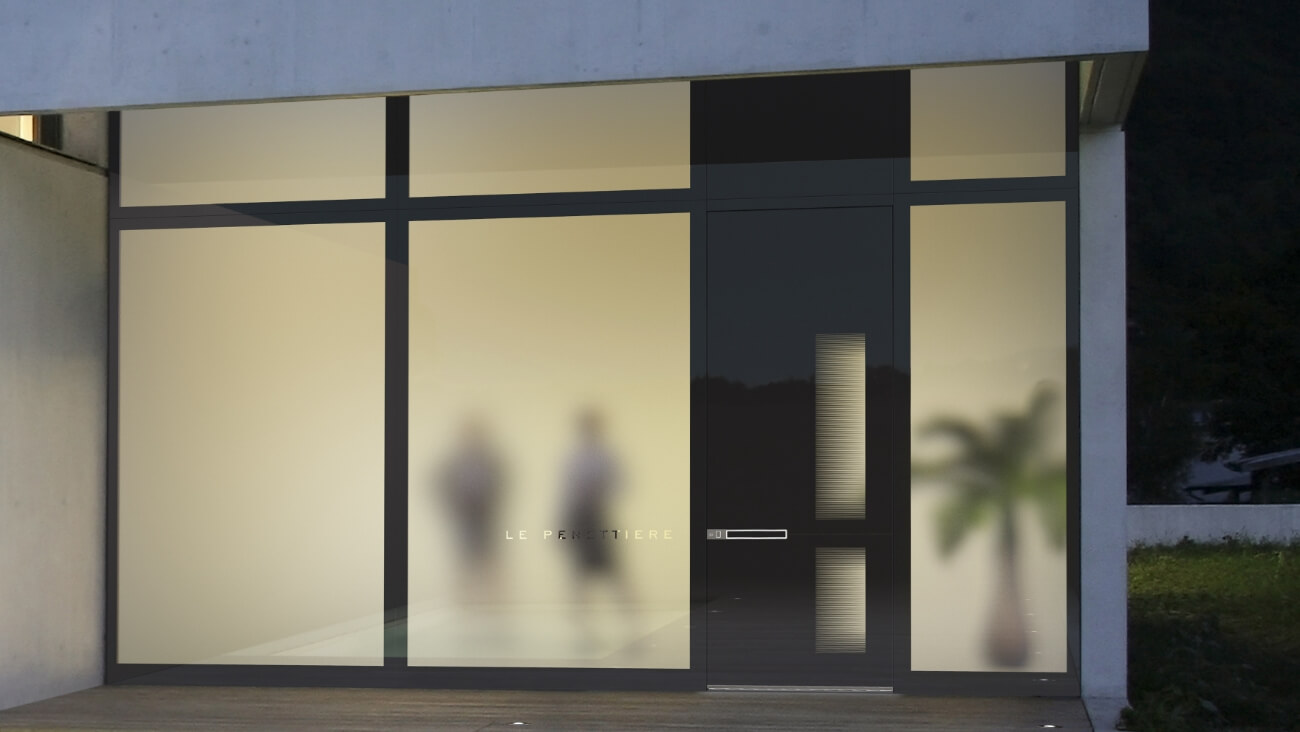 Catching more light with glass elements
Depending on the size of the reveal, you can add elements such as transom lights or sidelights to your double-leaf door. Using multiple glass elements means plenty of natural light can enter through the door, brightening up the inside while also making your entrance area look more sophisticated. Whether you'd like sidelights on the left or right, on both sides, only a transom light, or even a combination of all of the above, adding glass elements to your double-leaf door turns a simple door into a welcome source of natural light.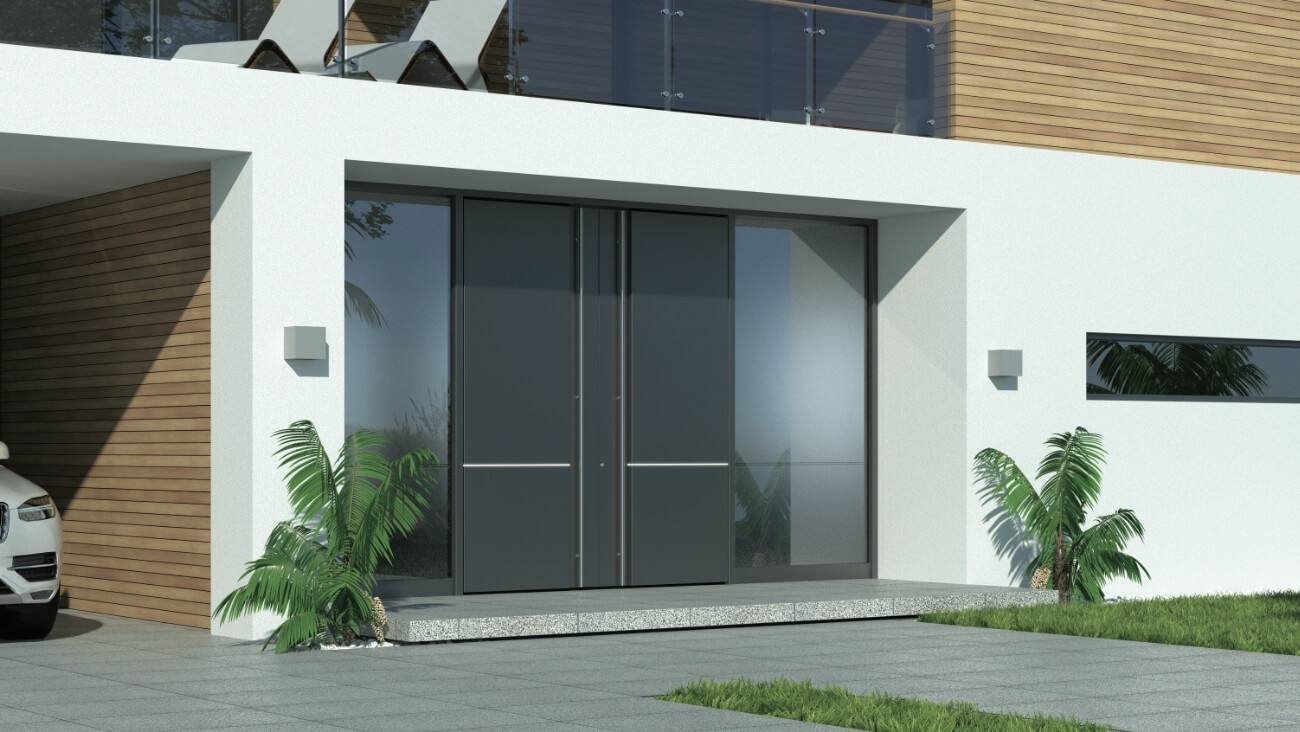 DESIGN YOUR DOUBLE DOORS
Choosing opening directions
Regardless of whether you have a PVC door, a wooden door, or an aluminium front door – if it's double-leafed, the direction in which it opens will become important at some point. You may choose to install your door either opening to the inside or outside. You can also choose which side of the door you want the active leaf to be on, so it can open either to the left or to the right. Use our powerful configurator to determine exactly how your door should open.
Enjoy a wide variety of design options for your double-leaf door
Do you prefer a classic front door look or a modern one?
One way or another, your double-leaf door will add character to your home. Using our configurator, you can use various design elements and furnishings to create the double-leaf door of your dreams.
Pirnar.co.uk offers you a choice between wood and aluminium as base materials for your door.
Both offer specific attributes in terms of insulation, secure front doors, and design. A wooden double-leaf door can be designed to look almost like a historical door, while aluminium doors typically look elegant and modern.
If you're planning to add a transom light, a sidelight, or a glass panel for the leaf itself, you can also choose between different types of glass. Clear glass is transparent, allowing the maximum amount of natural light to pass through, while ornamented glass is highly decorative but keeps out prying eyes. Meanwhile, security glass is designed primarily to resist intrusion attempts.
You can also choose a colour for your door, from classic muted colours such as grey, white doors, or anthracite front doors to the more expressive colours found on the RAL colour range. If you can imagine it, you can turn it into a reality with our door configurator.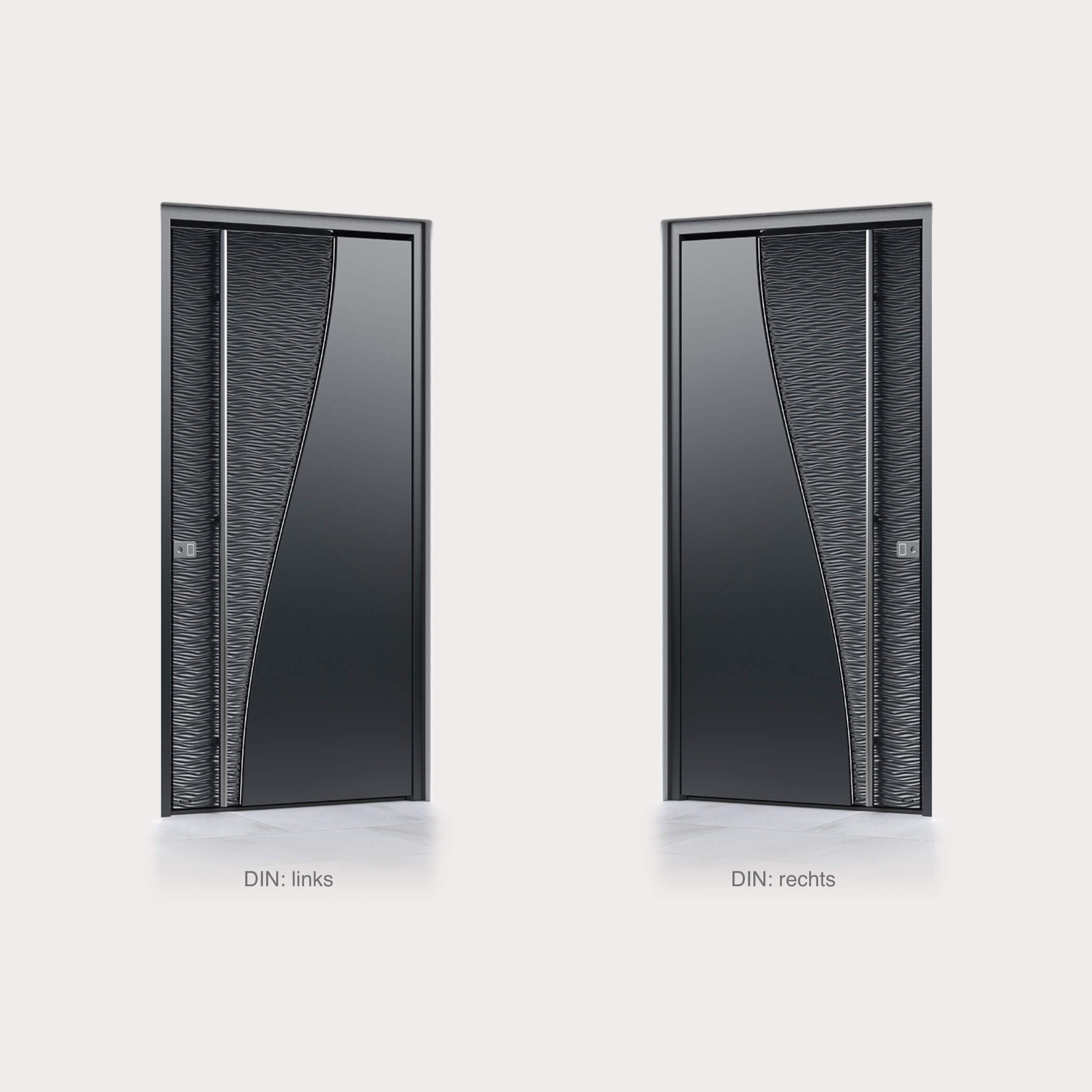 Order premium double-leaf doors
Whether you're looking for a wooden or an aluminium door, and whether you'd like it to feature a transom light or sidelights, Pirnar.co.uk provides you with premium doors fit for your home. Design your double-leaf front door exactly the way you like it, with glass inserts, various muted or vivid colour choices, we have plenty of door handles to choose from as well as numerous types of security fittings. Our online configurator will get you the double-leaf front door of your dreams!