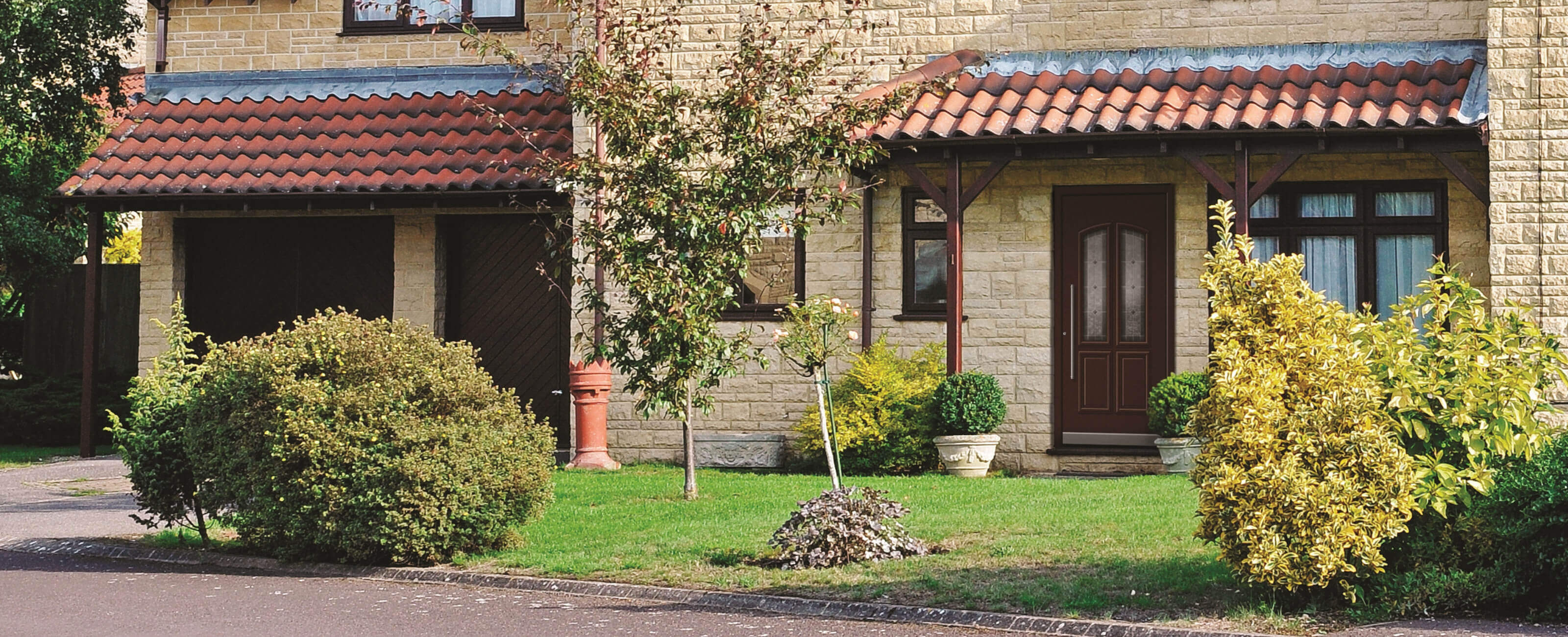 FRONT DOOR AS AN IMPRESSIVE MASTERPIECE
Front doors
With spectacular door systems, PIRNAR has climbed to the top of the premium external door segment in recent years. Our customers do not only enjoy top quality in design and manufacturing, but also patented energy efficiency and security solutions. Enjoy exclusive door models made of wood, aluminum and glass and configure your dream custom door with us.
CONFIGURE NOW
Timeless finish for the highest demands
The first impression of a house and its residents is created by the entrance door: it represents your lifestyle – beauty and perfection of form of all components are therefore just as much in our focus as world-leading technical innovations in the field of burglary protection and energy efficiency.
In times when thermal insulation and modern break-in security are top priorities for windows and doors of choice, our doors exceed current standard requirements by quite a bit: external doors from PIRNAR are created for extraordinary demands.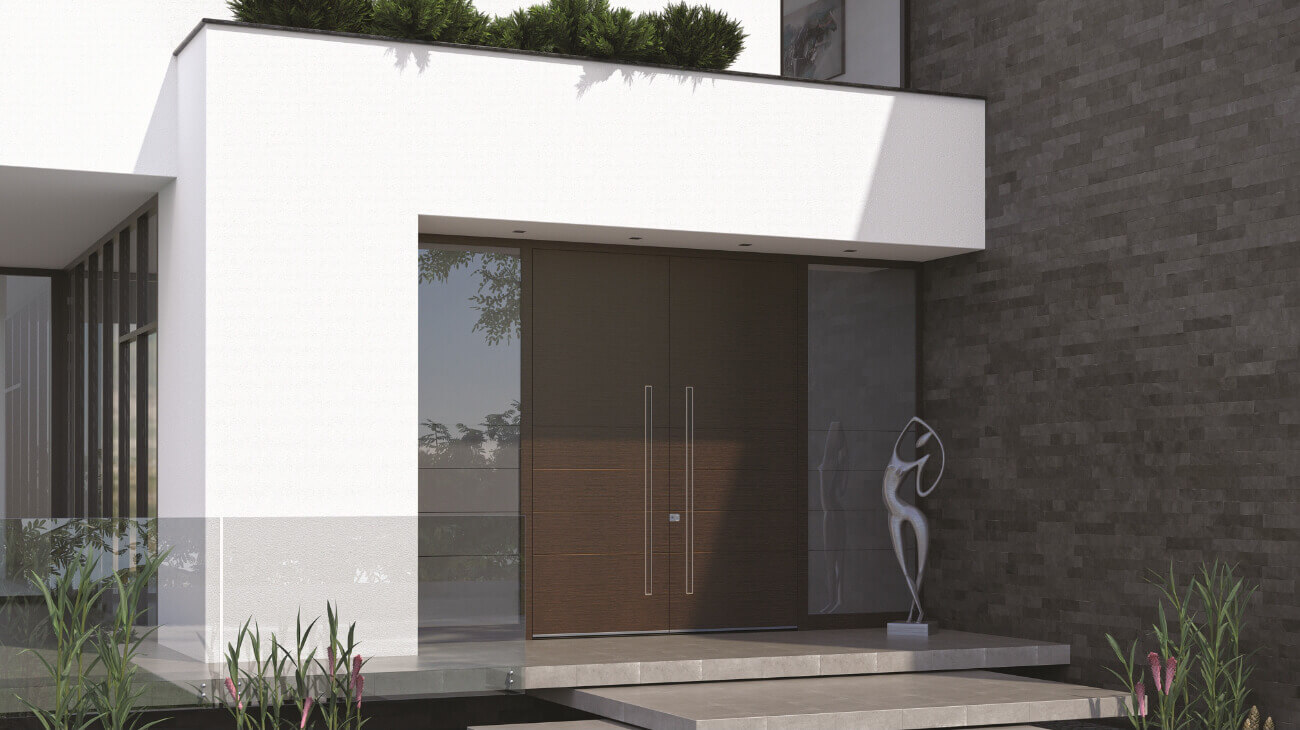 Premium entrance doors
for your stylish home
Prestige and luxury wrap around top functionality: we see external doors as a business card, an architectural statement. The elegant, eye-catching appearance of our custom-made doors makes them stand out from the crowd and creates an unforgettable first impression. You decide on all the details – from the glazing to the noble handle bars. Refined technical options and details will make your front entrance truly unique.
Perfectly shaped and modern in every detail: PIRNAR front door models with stylish glass and handle components.
Exquisite materials for a safe
and beautiful home
The first decision to high quality lies in the choice of building material. Generously glazed fronts, steel, crystal and carbon fiber elements have long been part of our contemporary entrance doors. In the beginning, you have to choose the basis of your door model: the material determines its predominant characteristics. Choose between noble solid hardwood species and futuristic aluminum. Both have specific advantages. If you prefer the timber look, but still want an aluminum door, this is of course possible with authentic decors. With a composite door, you can enjoy all the advantages.
ALUMINUM FRONT DOOR

Aluminum front doors

Aluminum has a very high stability and has long been indispensable as a building material for windows and doors. With great lightness, the material is enormously resilient, stable and dimensionally stable. Its protection level is therefore unsurpassed. Furthermore, those who like contemporary and futuristic trends will be very pleased with aluminum doors, especially since they offer many coloring options.

However, the biggest advantage of aluminum external front doors is certainly their extreme durability. They are made for several generations and create a stylish, smart impression, especially in combination with glass elements. We offer our aluminum doors in various product lines.

Advantages of aluminum front doors

Extreme durability
Weather resistance
Nearly maintenance-free
Strong break-in protection

WOODEN FRONT DOORS

Wooden front doors

Wood speaks for itself – hardly any building material has been as popular and proven historically as this naturally renewable raw material. Nature creates individual works of art – also when it comes to your door. Here, no two door leaves are alike. In addition to naturalness, liveliness, a feeling for the environment and a sense of tradition, wood has, above all, a robust strength.

Thanks to their unique woodgrain, PIRNAR hardwood front doors are very individual pieces, which are adapted to your wishes: choose from oak, spruce and larch and within a wide range of colors. In addition to their aesthetic advantages, wooden front doors make you benefit from excellent stability, sound and heat insulation.

Advantages of hardwood front doors

High sustainability
Unique traditional or contemporary finish
Excellent insulation
Natural hardness

WOOD-ALUMINIUM FRONT DOORS

Wooden Aluminium front doors

Why choose one material when you can have both? Our wooden-aluminium doors unite timber and aluminum. Thus, they are extremely durable, weather resistant and offer the best of both materials. PIRNAR's wood-aluminium doors allow for a huge range of options: Whether a contemporary smart door or a traditional model, experience wood and aluminum in a mature pairing and configure every detail to suit your needs, as with the other front doors. As with the pure wooden front door, only high-quality solid wood is used, the aluminum portion gives you great design freedom. Enjoy this perfect front door solution and its advantages.

Advantages of Wooden Aluminium doors

Beneficial combination of materials
Extreme strength
High thermal efficiency
Resistant burglary protection

SIDE ENTRANCE DOORS

Side entrance doors

There are many reasons for a side entrance to the house: separate living areas, access to a studio, garage or annex, service or secondary access next to the official main front door. Here, burglary protection plays the most important role, closely followed by the best possible thermal efficiency and functionality. What benefit you give your doors, you decide – here, too, you have a very wide range of options.

Just as with your main entrance door, specify the dimensions, structural features, RAL colors, shapes and functions and enjoy top values in all categories. Concealed, self-extending handles, fingerprint systems and complex hardware systems guarantee highly effective protection against burglary.

Advantages of side entrance doors

Good thermal insulation
Modern secondary access solution
Can be configured to match your main front door
Protection through digital components
Our top sellers - stunning external doors with high energy efficiency
PIRNAR has designed several collections of exterior doors at once: Our lines PIRNAR Optimum, Premium, Classico, Ultimum Pure and also the Ultimum Multilevel series represent different styles and focuses. For example, lovers of classic style will find their happiness in the Classico series, while the Pure series features smooth lines and a seamless, timeless finish. The Ultimum series is all about sensational architecture – most notably, our Multilevel door panels turn your front door into a 3D work of art, offering unprecedented spatial play. Choose from many equipment options!
Ultimum Pure 635

Ultimum Pure 626
Ultimum Pure 614

Ultimum Pure 637
Ultium Pure 635 - LEARN MORE

Ultium Pure 612 - LEARN MORE

Ultium Pure 638 - LEARN MORE

ULTIMUM MULTILEVEL 523A - LEARN MORE

ULTIMUM MULTILEVEL 507 - LEARN MORE
Configure your individual dream front door
Design your own front door – simply choose your desired model and design it the way you imagine it. Choose from more than 100 models.
#1

Select material and initial model

The configurator will guide you through your choices in just a few steps: First, click on the main material you want for your door. Exterior door models that serve as the design basis for your custom product will appear. Choose your favorite. Of course, you can also display all models.

#2

Enter suitable dimensions

In this step, you define the width and height of the entrance door. Here you are completely free within certain minimum and maximum values – for special dimensions, you can always contact us or our partners. The next step is to select the opening direction (DIN right stop / DIN left stop).

#3

Show your colors

Further personalize your door with a wide selection of shades: Choose the color of the door leaf as well as the inside. Many models can even be customized with another color. The range is almost limitless – whether you choose a wood décor, a quartz texture or a dark brown, ruby red, deep blue or white door – you are the artist.

#4

Multi-point locking system and security

For the secure opening and closing of your exterior door, we offer two core functions from which you can choose: the first is a classic three-point lock with two solid hooks and five keys, while the second involves a finger scanner. This allows both motorized opening without a key and automatic mechanical locking. Freely selectable locking method!

#5

Handles and weatherboard

You finalize your door model with the choice of exterior and interior handles and a weatherboard design. Here, you will be presented with different suggestions depending on the initial front door: These range from classy handle lighting to exquisite handle bars to concealed fingerprint bays in the door leaf. A weather bar drains rainwater, so your front door is better protected from the elements.

#6

Send request and / or share design

Do you like your model? Share it with your family and friends. For the ordering process, send us an inquiry via the front door configurator or our contact form. Based on your postal code, we will show you which of our German partners is located near your home and provide you with a free, no-obligation quote.
CONFIGURE NOW
Accessories and options: side panels, stop and much more
What really distinguishes PIRNAR external doors from others is the precision and exclusivity in their details. Special care is given to each element – from the design idea to the realization of the individual product. This is how we create structures that uniquely stage your facade. Our product ranges reflect aesthetic diversity as well as technical innovation: with each decision, you add another highlight to your entrance.
HANDLES

HANDLES

Filigree shapes, high-quality materials, breathtaking play of light: our front door handles leave you speechless. LED light and handcrafted glass patterns are used here as well as the individual engraving of your name or futuristic entry and exit. Our One Touch handle can do the latter: It enables entry through biometric authentication. Whether in the Lux, LabeLux, Crystalux, Magmalux or Nero editions – valuable stainless-steel handles enhance your entrance area with pure aesthetics and guarantee minimal maintenance.

SIDELIGHT / SKYLIGHT

SIDELIGHT / SKYLIGHT

Sidelights and skylights are a splendid addition: the additional glazed panels bathe your entrance area in natural daylight. Thanks to eye-catching glass variants, you can also enjoy interesting reflections, motifs and light refractions. A skylight literally "puts the crown on" your dream door – here, the whole construction is also visually stretched upwards. You can find inspiration for such attractive overall door artworks in our galleries, portfolios and under the tab "inspirations".

OPENING TO THE OUTSIDE

Opening outwards

Doors and windows can basically be opened inwards and outwards. Having specific advantages and disadvantages, both variants are possible for our models. The former variant has a higher wind tightness and is advantageous in areas with high wind load – for example, by the sea. They also save living space and provide a faster escape route. In commercial applications, they are often mandatory. Effective hinge protection and security measures provide reliable building protection. Here, too, a wide variety of finishes is available.

DIMENSIONS

DIMENSIONS

Since every house is individual, there are no limits for our customers when it comes to choosing dimensions: in the configurator, you can make entries accurate to the millimeter. While many windows and doors can only be ordered in conventional standard sizes, at PIRNAR we are prepared for all dimensions: so even oversizes are no problem. Our Grande line is created for great heights and widths. It allows the execution of double doors. Side- and skylight panels give a particularly splendid impression here.

COLORS

COLORS

The rich palette of decors and RAL colors is divided into matte, metallic and textured surfaces. Our wooden front doors are treated with glazes and oil paints, for the aluminum front doors we use powder coating methods. Here, however, you can also opt for a wood look. In addition to the visual enrichment, all colors and decors serve the longevity and durability of the material. Especially glazes and special oils support the natural wood and increase its UV resistance. Play through all color variants in the configurator and also adjust the facade tone. Which will you choose? A blue, grey, black, anthracite or white door?

GLAZING

GLAZING

Glazed panels bring openness, brightness and modernity. In order to guarantee break-through protection and thermal insulation, PIRNAR uses three- and four-layer insulating glass, which prevents heat loss and at the same time provides burglary and sound protection. It is used in door leaf designs as well as for skylights and side panels. Sandblasted patterns, elegant motifs and ornaments, engravings and leaded glazing are among the spectacular portfolio we offer our customers. Numerous shapes, thicknesses and applications are possible –choose a half-moon shaped frosted glass or a square large element made of dotted clear glass, for example. Toughened and laminated safety glass further increases the protection against burglary.

SAFETY

SAFETY

Our front doors are all awarded resistance class RC 2 and 3. Especially with a core made of carbon fibers, extreme rigidity and robustness which exceeds even that of steel is provided. Thanks to multi-point locks with massive hooks and multiple keys, the use of the SECURO fingerprint scanner, recessed handle systems, safety glazing and several other measures, high-quality comfort and burglar resistance are provided. The automatically extending OneTouch handle is also an advantage here: it only becomes a handle when your fingerprint is placed on it – otherwise, the door appears flat and virtually inaccessible to burglars. Would you like more information on break-in security? Our partners will advise you on the best solution for your home.
Many happy customers are satisfied with us
Very professional ordering and installation. Doors arrived within timescale agreed. I am the envy of my neighbours!

JENNY C

We highly recommend this Company for the excellent service we have received and the top-quality product which looks stunning. Great people to deal with.

ANON ANON

Just wanted to take a minute to say how pleased we are with our beautiful new Pirnar door. It looks stunning and feels like it can secure the Royal Mint! The finger print scanner works seamlessly - I never have to worry about being locked out again! The service from both Mark & Zan was professional and knowledgeable, Mark's advice was fair and honest and helped us make an informed and choice on our door model.

These are not the cheapest doors you will find, but they're definitely worth every penny. It's now my favourite thing in my new house. Thank you so much Mark, Pree & Kish

UZMA SHAHEEN
Door installation in just a few steps
Installing front doors requires a variety of skills; from measuring the space the door will occupy to attaching the hinges, the task must be done with precision. With attention to detail and patience, we can guarantee you a secure and sturdy front door that you can rely on for a lifetime.
#1

Find an installation partner

As a globally established brand with over 350 employees, we naturally also offer an installation service for your desired product. Professional installation ensures perfect functionality. You do not need to worry about anything else – just make sure there is a clear access road to your house and be present. Our partner will do the rest for you.

#2

Dismantling the old door

If you want to replace your old front door, it must first be disassembled and disposed of properly. Since these are large and often heavy structural elements, the use of a professional team is highly recommended.

#3

Prepare and measure the wall opening

Now, the installation of the new door is prepared by the team. Before installation, measurements are taken and the installation situation is recorded. Thus, nothing stands in the way of the professional use of your front door.

#4

Delivery of the front door

After delivery, all components of the front door require professional wedging, anchoring and screwing. To ensure that the door is as windproof, insulating and secure as possible, we recommend the installation professionals of our partners.

#5

Sealing

In a final step, the team takes care of the trouble-free opening and closing of your front door, the connection of electronically controlled modules or the activation of digital components. Now you can use your front door without hesitation.
Tipps / FAQ
What do you have to look for in front doors?

On the one hand: on a good price-performance ratio, for example through very good thermal insulation – this also includes the airtight sealing of the gaskets. On the other hand, burglar resistance. Glazing should be break-proof, fittings lever-proof. The profile cylinder should be protected against drilling, and the lock should be multi-point locked. All this can only be achieved by professional installation. Durability, weather protection and high quality of all components are essential. Plan for lighting. Accessibility is also playing an increasingly important role. Finally, the appearance should also match the surroundings.

Continue to the Configurator

Design your dream entrance today with the Configurator

Aluminum, wood or uPVC – which material is best for a front door?

The most popular building materials for front doors are wood, aluminum and uPVC. While uPVC doors still lead the market because they are insulating and low-cost, they have several disadvantages: many uPVC doors warp easily, yellow and do not offer the sturdiness and longevity of wood and aluminum. Aluminum and timber, on the other hand, are much more robust, safe and durable. They offer the best weather protection and achieve the longest life without requiring special care.

Since aluminum insulates less well than wood and uPVC, reinforcing insulation cores should be integrated. Those who like it natural are also well advised to use wood; It creates solid, thermally efficient components and a cozier atmosphere. It also has the best soundproofing properties. Meanwhile, plastic and aluminum can also receive wood cladding. Composite doors are best are suitable for the highest demands on quality and appearance. For quality reasons, we at PIRNAR have deliberately chosen not to use uPVC.

Configure your custom-made front door

A configurator is a user-oriented program that allows buyers to design a product that suits you. At PIRNAR, you can configure your dream front door online, starting with the design and ending with technical details. The quote is created based on the selected options. Simply send us your configuration and let one of our local partners advise you. Together, we will find the best solutions for your house.

What makes a door burglar-proof?

Unsecured windows and front doors have weak points that can be easily overcome by a burglar with the appropriate professionalism and equipment. If you want to feel safer in your home, retrofits make perfect sense – but it is much easier to equip your new front door with appropriate security components right away.
Modern external doors doors include complex locking systems, hinge safety, strike plates anchored to the wall, protective fittings, cross / armored bolts, cylinders with pull / drill protection and security card, security glass, alarm systems and, finally, biometric security systems.

How is a front door constructed?

It essentially consists of a (blind) frame and a movable sash that can be opened to the left or right, inside or outside, depending on the stop design. The leaf, in turn, consists of a frame and panel. Other components include hardware, door hinges, locks and accessories such as thresholds, handles and door handles.

What is the Ud value?

The thermal insulation of a building component is indicated by the so-called U-value: This stands for the degree of heat transmission. The higher the U-value, the worse the insulation – because the more heat escapes from the inside to the outside. The Ud value stands for the heat transfer coefficient of the entire door and represents the sum of all component values (glazing, infill, frame). For passive house doors, it must not exceed 0.8 W/m2K (as of 2023/01).
Become a partner
Exclusive global innovator of doors

International award winning design

Renowned 50-year family tradition

Craftsmanship