Have you ever heard of an entrance wall?
The Pirnar entrance wall will astound you with its beauty, innovation, and extraordinary technology: it sets new standards for entry doors.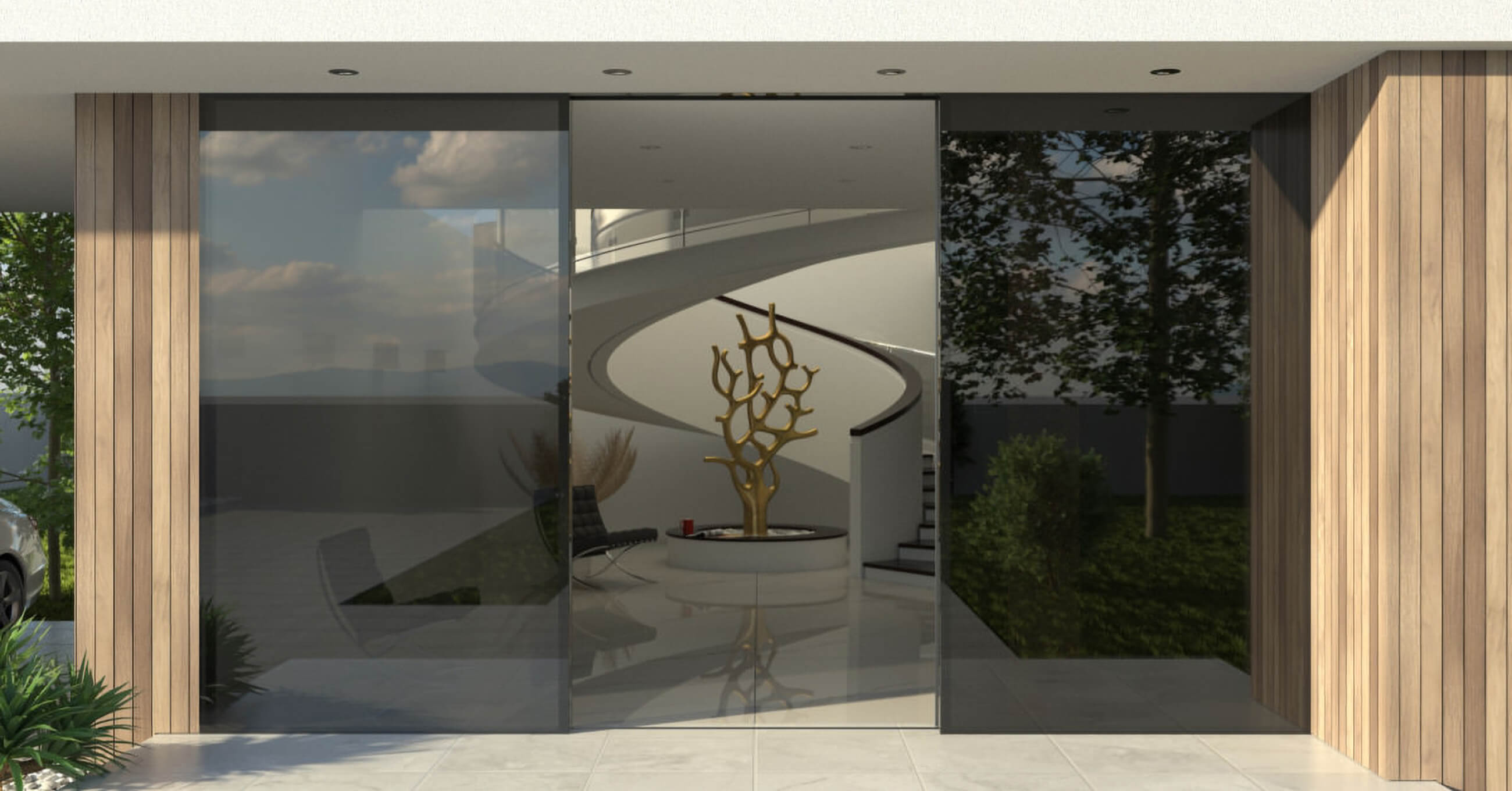 The entry doors symbolise home, a safe haven far from the rest of the world, warmth, and intimacy. They have been maintaining their functionality for centuries and are sometimes coupled with an interesting design. Just think of the traditional Slovene doors with extraordinary carvings, magnificent stone arches of medieval castles or cathedrals, world masterpieces with glass rosettes, or metal doors with filigree details. The doors represent the first contact with the house. Therefore, they should communicate the kind of people that live there. Nowadays, we are surrounded by technology at every turn. We live a fast-paced lifestyle and have managed to bring the art of creating entry doors to perfection. Therefore, the modern person deserves 21st century doors.
Awarded beauty
Nothing can compare with the Theatrica entrance wall. This is not a door. This is an experience. If you wish, it can even look like doors made from glass, wood, or aluminium. It boasts clear lines and timeless shapes. You can admire the sheen of high-end glass, touch warm wood, and be astounded by futuristic aluminium. If that is not enough for you, Theatrica can also become a mysterious wall made of stone or any other material you might wish for. It will astound you with its beauty, which has already been confirmed by the awards it has won:
Red Dot Award: Product Design Honourable Mention 2019,
German Design Award Winner 2019,
German Innovation Award 2019 Winner.
The magic of technology
Theatrica is based on smart facial recognition technology. Basically, the technology compares the facial features of a person with data in its database. Some algorithms identify a face using its characteristic features such as the size and the position of the eyes, the nose, the cheeks or the chin. Others use 3D sensors which create a relief map of the face, thus making for a more precise recognition. Others still obtain biometric data by analysing the skin. They record its texture, patterns, characteristic lines, and marks. By using a combination of these techniques and adding a thermal camera, the facial recognition method can be improved to the extent where it is not confused by different facial expressions, glasses, hats, make up or poor lighting.
Simply enter the faces of the people you wish to enable access through your smart doors, and you will no longer have to worry about keys or unwanted visitors. As you approach Theatrica, it will open for you at the right time so that you won't even need to stop. Furthermore, it will also close behind you gently and silently. Not even the slightest touch is necessary. You will receive a report about every visit, which will enable you perfect control over your home.
More than doors
In addition to various materials that can be used to manufacture Theatrica, this incredible entrance wall also boasts unbelievable dimensions. Regardless of the magnitude of your wishes, we'll be able to make them come true. Theatrica also features no levers, keys or pivots. Simply looking at it is enough. And you're going to want to do that often. This innovative, breathtaking entrance wall is an investment. Architects use it to draw inspiration for new, daring projects. It will astound your visitors and increase the added value of your home. Theatrica is an entrance wall for the exigent, the brave, and the self-confident. Allow yourself to indulge in a luxury that will take your home to the future.
The Theatrica entrance wall is the most daring project of the Pirnar company combining extraordinary knowledge, transmitted from one generation to another, and modern technologies. With a little magic dust and a lot of hard work, we have created an unprecedented product. Let Theatrica inspire you to create a special home where nothing is impossible.
"Don't think about what you could do with a regular horse. Think of what you could do if that horse had wings."