How to choose wood as material for your modern home and your doors?
Wood provides the feeling of homeliness and warmth, while expressing your loyalty to nature.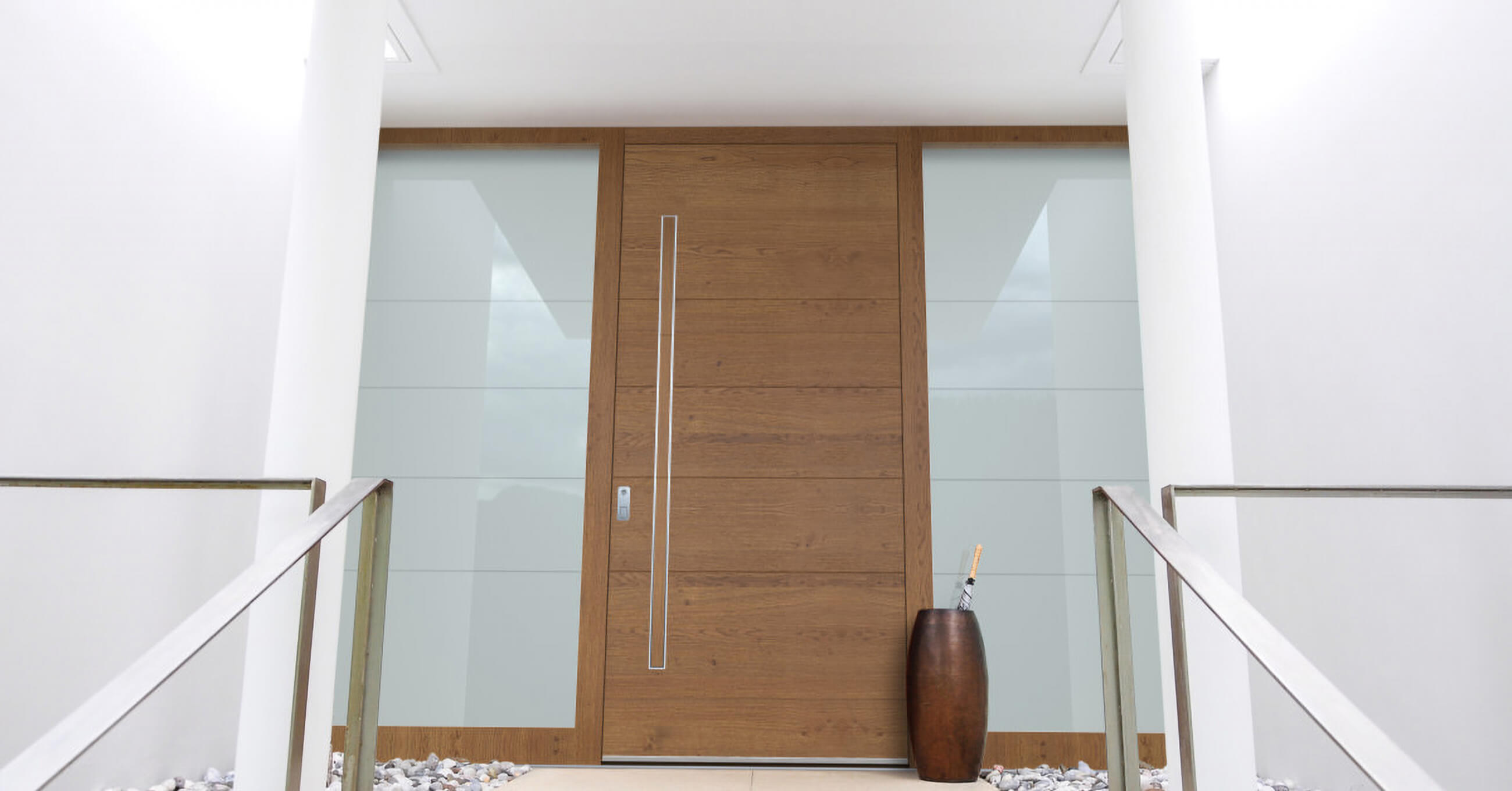 Next to choosing the perfect shape for your new front door, choosing the right material is the second most important decision that you will have to make. If you swear by the firmness, simplicity and warmth of natural materials, then wooden doors are in no doubt the perfect choice. Wood provides the feeling of homeliness and warmth, while expressing your loyalty to nature. And the best thing is that can choose any kind of surface treatment for wood and combine it with either glass or aluminium details to create different modern shapes which will enhance the beauty of your modern home.
Choosing wood is bringing a touch of nature into your modern home
Despite the growing popularity of aluminuim, wood still remains a traditional choice of material for residential front doors. Wood is a clean, warm and precious natural material that turns any space into a healthy and comfortable living space. Wooden doors require minimal upkeep and have an astonishing longevity. Wooden doors also provide great insulation, both for sound and temperature, which is a very important aspect when choosing a sustainable front door for your modern home.
Wood doors can be painted and treated with different surface treatments to achieve various structures and personalize the door in accordance with your specific wishes, needs and tastes.
Since the entrance is an extremely important part of any structure, choosing the right door has to be a well thought out decision. When choosing the model for your new front door, you will have to take into account the both the type of structure and method of construction, along with the general style of the existing outer surfaces.
Modernizing an all-time classic
When you think of wooden front doors, an image of grand traditional wood doors might form before your eyes, but you should know that wood doors can be designed in accordance with all elements of modern design as well as your personal style. The high quality of wood and prestigious craftsmanship will surely persuade you that wood doors might be the perfect choice for your contemporary home.
Contemporary wood doors can enable you to choose a variety of different surface treatments that elevate the simplicity of raw wood into a modern masterpiece. Combining wood with glass details and windows in multiple layers creates endless possibilities for astonishing patterns and colors. The highest quality glass will let light into your home, while keeping all noise, cold and heat outside.
Choose prestigious, hand-made luxury wood doors
Wood entrances are not what they used to be. Heavy, massive structures of simple shapes, decorated with rich carvings are a thing of the past. Modern wood doors follow contemporary design trends and are crafted to ensure the same amount of solidity, safety and privacy as aluminium and other materials used in modern doors. They have a built-in anti-burglary steel center and provide maximum protection against unwanted visitors.
Many homeowners, especially in multi-apartment buildings and traditional homes, prefer wood doors over more contemporary materials like aluminuim or pvc, since they exude the unique feeling of homeliness and warmth. But owners of modern homes, on the other hand, often don't realize that wood entrances can be perfectly integrated into modern architecture as well. Wood doors can be uniquely incorporated with glass, which is an especially popular combination for contemporary entrances.
Wood doors are an investment that will pay off for decades!
Your entrance is, in a way, your personal ID card that you show off to your visitors. Wood doors are naturally welcoming and emanate a sense of comfort, while a well thought out choice of shape, color and texture can elevate your entrance to a higher aesthetic level. Wood doors are hand made by order, so they can be of any desired dimension. You choose the shape and type of wood, while Pirnar provides flawless construction, valuable materials and workmanship precision that promise a prestigious result. Your new front door can be single or double leafed, with any desired additions, such as windows and glass details, LED lighting, automatic hidden handles, fingerprint locking systems, and so forth.
Choose a type of wood that charms you
Your massive wood doors can be constructed out of any desired type of wood and in combination with various modern materials such as aluminium, inox and glass. The only limitation is your imagination!
Breathtaking wood doors with a 3D effect
The most demanding homeowners choose a multilevel construction for their doors which gives a special three-dimensional effect. Because of the multilevel layout of different elements, the unique diverse surface creates a visual 3D effect that captures your attention immediately, while a further inspection of the flawless workmanship will leave you enthralled with its precision and high aesthetics.