Individualize your modern house!
The architectural solutions, windows and doors, and refined details converge into a homogeneous whole, while aluminium entry doors dot the i's in a modern home.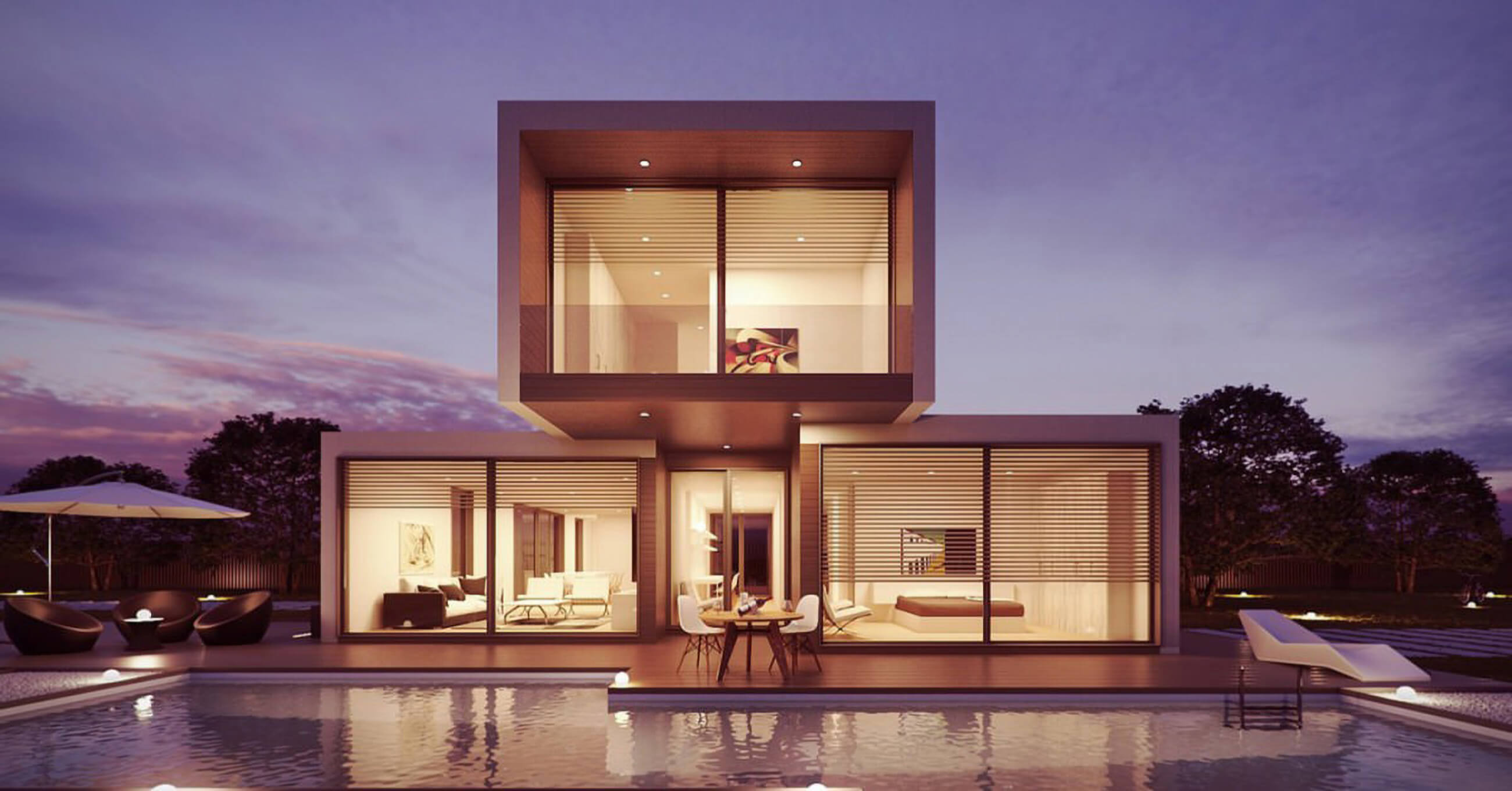 A residential building is characterized by unparalleled functionality, energy efficiency, cutting-edge technology and modern design. The architectural solutions, windows and doors, and refined details converge into a homogeneous whole, while aluminium entry doors dot the i's in a modern home.
The entry door is the key element that connects the interior and the outside. A modern aluminium door will subtly protect your privacy and at the same time tell a tale of your lifestyle while communicating your values to the exterior. An entry door is the part of the house that can easily increase the value of your real estate while making it stand out from the crowd. Alongside unparalleled aesthetics, a prestigious aluminium front door also offers a high level of security, stability and maximum thermal and acoustic insulation thanks to optimal protection from various external factors such as cold, heat, wind and moisture. Such entry doors guarantee peace and comfort, helping you relax and unwind in the comfort of your home.
An aluminium front door features extraordinary structural stiffness and deformation resistance and at the same time inspires through modern elegance and prestigious appearance. Recently, unconventional aluminium entry doors of large dimensions have become fashionable along with various elegant combinations in glass and subtle entrance lighting.
Why opting for an aluminium entry door is the smart thing to do
An aluminium front door offers effective protection from the ingress of unwanted guests like burglars, cold, heat, noise and moisture. At the same time, sleek aluminium entry doors form an integral part of the aesthetics of every modern home. When selecting an aluminium entry door, possibilities are almost limitless when it comes to colours, designs, sizes, patterns and textures. Aluminium can also be combined with other materials, such as wood, glass, stainless steel etc. The modern, innovative design of Pirnar aluminium doors from the Ultimum and Premium collections inspire owners of prestigious homes throughout the world. Without a doubt, elegant glass or metal handles with a personalized inscription round off the door. Or instead opt for the most modern handles in the world – concealed, cutting-edge retractable handles from the OneTouch collection. You will be able to select a combination that suits you perfectly and personalize your home and make it stand out. Carefully selected, modern and exquisite aluminium entry doors will bring your house to the next level and without a doubt used with pleasure on a daily basis by its residents.
An aluminium entry door will be the envy of both visitors and passers-by
Without a doubt, an aluminium entry door will make your house stand out. The design of the entry door tells a story about the owners, their way of living, personal styles and tastes, attention to details and also their attitudes to personal values, including the home.
High quality materials, perfect design, maximum functionality and cutting-edge technology are the vital elements of a modern entry door that inspire even the most demanding prestigious Pirnar aluminium entry door owners.
Why aluminium?
Aluminium is the most attractive, elegant and modern material when it comes to modern buildings and offers superior protection from every external impact. For years, aluminium retains its original appearance and function while aluminium entry doors also offer the highest level of security currently available on the market.
Aluminium entry doors are available in various colours and surface finishes as well as dimensions. Simultaneously, aluminium is environmentally friendly since it is infinitely recyclable. Responsibility to and care for the environment is becoming an unavoidable part of our everyday and without a doubt influences every aspect of our lives.
Aluminium entry doors offer the perfect balance between sustainability, energy efficiency and exclusive design. With matching and multi-layer glazing, carbon profile reinforcement and limitless surface finish options (from smooth matte shades to metallic and fine structure or wood ornaments) and aluminium doors of desired dimensions, we can create a prestigious and unique entrance.
The long service life of aluminium entry doors will convince you that you are making the perfect choice for your home
In the past, aluminium entry doors were usually the choice for large commercial buildings, while today, aluminium entry doors are selected by an increasing number of residential building owners. The biggest advantage of aluminium doors is their stability and ease of maintenance since, compared to wood doors or doors in a combination of aluminium and wood, they require minimum maintenance and appear like new even after years of use. Because of the rigidity of the material, an aluminium entry door will not sag, bend or deform, minimizing possible additional maintenance-related costs.
Aluminium is a material that easily meets high expectations associated with the aesthetics of entry door workmanship. Aluminium front doors by Pirnar, the leading European prestigious entry door producer, also offer efficient acoustic and thermal insulation (thermal transmission coefficient from U = 0.93W/m2 to U = 0.54W/m2), their exclusive design, exquisite workmanship, innovative design and cutting-edge technology the recipient of various awards and prizes in the field of design and innovation (4-time GERMAN DESIGN AWARD, RED DOT AWARD and GERMAN INNOVATION AWARD recipient).
Functionality and elegance of aluminium entry doors
Another factor for the lasting satisfaction with an entry door is its maximum functionality. Think of the possibilities and functionalities offered by an aluminium entry door that exceed the appearance. Consider the function and importance of external lighting, the practicality of fingerprint or facial recognition locking systems, the satisfaction offered by automatic opening systems... The only limit is your imagination. Whatever you can conceive, we can make into reality.
Complete noise protection offered by aluminium entry doors can prove priceless
Living in urban areas is becoming stressful. The fast pace of life dictates long and stressful workdays and at the same time obstructs the possibilities for relaxation. In the long run, it has become even more important to take advantage of the spare time that we have to truly relax and enjoy ourselves. Particularly in the sense of health preservation, it is vital that during our spare time and in the comfort of our homes, we provide for the optimal relaxing environment. Quality noise insulation is the key constituent to provide for the regular and daily retreat from the bustle of the city and the noise that it brings.
This means that your acoustic comfort also depends on the quality of the entry door that you choose. Aluminium offers excellent acoustic insulation properties.
Aluminium entry doors of various dimensions
The different individual needs in the modern era also dictate the need for entry doors of varied dimensions. At Pirnar, we know no limits. Every person knows best what door he or she may want to install into their home as well as what makes their selection so important. At Pirnar, we offer entry doors of every size imaginable as well as completely personalized design and appearance. The only aspect to consider when choosing an entry door is the type of building: stand-alone house, office building or apartment. Why, you might ask? Based on building type, the constructions, load-bearing capacities and insulation properties of a door have to be adjusted while the rest comes down to your imagination.
Comfortable opening and closing thanks to modern handles
Aesthetically pleasing handles are more than a remarkable sight. Those partial to tradition can opt for classic and elegant handles, also available in unique and unusual design, featuring soft lighting, inscriptions which sparkle elegantly in the dark, either exquisitely concealed or completely visible.
Most modern aluminium entry doors featuring cutting-edge technology
Modern technology can control your door in a number of manners. Biometric systems combined with modern electronics make entering your door using only your fingerprint a reality. Such a system is easy to use, safe and quick and has become one of the most popular choices in recent years.
The system can be upgraded further with the first contactless, completely automatic entry door in the form of a massive wall that opens and closes at a mere glance. Facial recognition technology is one of the most accurate and reliable identification methods available to homeowners today. Pirnar Theatrica, the innovative entrance wall that opens and closes completely without touch exclusively to the owner, offers the highest degree of security and at the same time maximum functionality, optimal comfort and is without a sliver of a doubt the most prestigious entrance currently available in the market. Of course, even the Theatrica entrance wall, just like other Pirnar entry doors, comes in various surface finishes, in wood, stone, glass or aluminium.
Choose the most advanced aluminium entry door in the world
We use entry doors on a daily basis for entering and exiting. We touch and use them even when returning home from work, feeling irritated. An entry door should be there to lift our mood and escort us into a new workday in the morning, spirits soaring. An entry door should continue to inspire for years and also thrill and charm our visitors. This means that making the soundest decision is vital.
Pirnar entry doors are made for the perfectionist. Alongside award-winning designs and cutting-edge innovations in technology, Pirnar offers entry doors of the highest quality. Pirnar entry doors are a synonym for quality, boldness and perfection. They are made to inspire – and we are positive that they will also inspire you!