Tips for cleaning aluminium and wooden doors of your house
Cleaning the entrance door is essential to ensure its functionality and long service life. Aluminium does not require much maintenance, while you will need to spend a little more time on wood.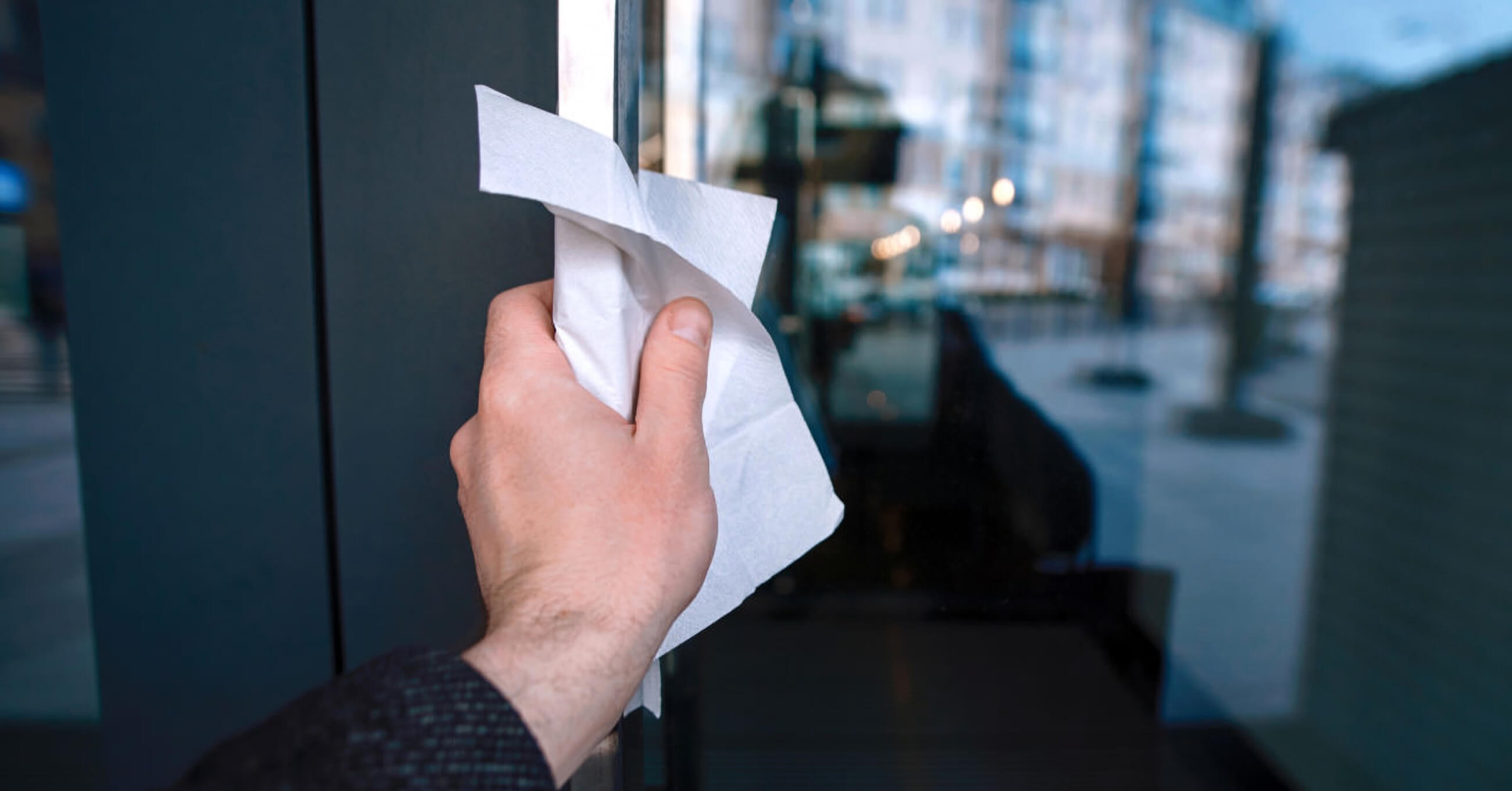 Each external door for the house, whether aluminium or wood, has to withstand many external influences, such as moisture, temperature changes and aggressive dust, which damage the door surface. Proper operation and appearance of your front door requires regular care and maintenance. Here are some tips on how to properly clean aluminium doors or wooden doors to keep their original splendour.
Entrance doors are used several times a day, but rarely we think about maintaining their moving and vital parts. In most cases, we only start thinking about front door care when locking, opening and closing becomes difficult, or when the door just starts to creak.
If you are still in the construction or renovation phase of the facility, you should be careful because the use of cement, plaster, concrete or mortar will leave dirt, which can damage the front door surface. These materials are highly alkaline and can cause oxidation of stainless steel, corrosion of surfaces or even damage to glass. If the door is soiled with building material, it must be cleaned as soon as possible with a non-aggressive cleaning agent and rinsed with lukewarm water. Pollen deposited on external surfaces can also damage the powder-coated surface of the front door, as it appears as a sticky yellow film, which can be easily rinsed off with water and cleaners.
What is the fastest way to clean aluminium doors of your home?
Aluminium front doors are very easy to maintain, which can be attributed to high quality materials. The cleaning process is quick and easy, but vital parts such as hinges and locks must not be overlooked.
To thoroughly clean your aluminium front door, do not forget to clean:
the powder-coated aluminium surfaces
the glass surfaces
the stainless steel surfaces such as hooks, grips and applications
and lubricate the seals, locks and cylinders
Cleaning the front door of the house is recommended at least once a year. For cleaning we recommend non-aggressive agents that will not damage the materials, or use a set of cleaning products, which can be ordered from an authorised dealer or from Pirnar d.o.o.
Care of powder-coated aluminium surfaces
The frame and leaf must be cleaned at least once a year, but in the event of heavy loads from the environment the cleaning should be repeated several times a year. Use cold water with some soap or mild dish detergent. For cleaning use a soft cloth or sponge. Cleaning is not suitable on direct sunlight or if the surface temperature exceeds 25 degrees celsius. Do not use harsh, abrasive, acidic or alkaline cleaners or wire sponges that can damage the surface. Do not use detergents of unknown composition. Do not polish surfaces with matte and structural paints.
Care of glass surfaces
To clean the glass, use regular glass cleaners and a soft cloth that does not cause scratches or damage to the glass. The persistent impurities must first be removed with suitable solvents (ethanol, acetone, cleaning gasoline ...) and then washed with water. When cleaning with solvents, care must be taken not to damage the edge sealing of the insulating glass, seal gaskets or other organic parts (silicone joints). Strong alkaline washes or acids, especially hydrofluoric acid and hydrofluoric based cleaning agents should not be used for cleaning. When cleaning, we recommend circular motion from the top down and from the inside out. This technique will ensure that the cleaning agent foams and cleans the glass surface well.
Care of stainless steel surfaces
Stainless steel products do not require special care, only regular cleaning is required. Dust, soot and fingerprints can be removed with a damp soft cloth, followed by a dry wipe. For stubborn dirt (concrete stains, plaster ...), use cleaning agents with a polishing additive. For traces of surface rust caused by fine metal dust in the air (proximity to roads, gravel, unfinished buildings, construction sites, longer periods without maintenance ...), use a nylon cloth with the addition of water-containing organic or mineral diluents. For removing rust in its initial surface phase it is sufficient to rub the surface with a cloth in the direction of grinding, applying sufficient pressure. Cleaning should always be done in the same direction as the grinding or machining of the product (parallel to the structure).
Care of fittings and seals
Lubricate the moving parts of the hardware at least twice a year with non-acidic grease or oil. This increases the lifetime of the fittings and makes the hook and cylinder insert easier to operate. Door lubrication is also required, which is easily done with spray lubrication oil. Use a graphite powder to lubricate the cylinder insert. Fittings require regular checks for the correct position, attachment and wear.
Seals must be cleaned with ordinary mild detergents at least once a year to maintain functionality. Cleaning with silicone sprays is also appropriate, which increases the tightness and lifetime of the seals.
What about the care of wooden surfaces?
Wood is a material that is alive and needs adequate protection. Handle your wood front door carefully to avoid damage to the surface or colour. Maintenance intervals depend on the colour hue and the mounting location. You coat the door with maintenance milk, which closes the micro cracks in the coating film and creates a new protective layer. A simple process to refresh the surface helps to extend the lifetime of the coating. It is recommended to clean and maintain the wooden surfaces at least twice a year. It is important that the damaged area is repaired immediately, otherwise there is a risk of water entering the wood, which freezes in winter, causing the coating to peel away. The damage is repairable, however, but at a higher cost. External effects can cause damage to the paint. We also recommend cleaning and maintenance once or twice a year for oiled surfaces. The surfaces must be cleaned with a damp cloth and oiled again. The surface must be dry and free of dust before oiling. Grease the surface and wait for 5 minutes until oil is absorbed, then wipe off any excess oil with a cloth in the direction of the grain. Wood is a natural material. Certain colour differences can appear on the surface even within the same wood species. Sometimes this cannot be avoided even if the wood is coated with a stain. Colour differences and deviations from colour patterns that occur as a result must be accepted.
External influences (during construction, weathering) can cause paint damage. Consult a specialist for advice and repair to resolve major damages. Minor damage, such as scratches and small cracks, can be repaired with a thin brush and a water-soluble acrylic-based coating.
Regular care will ensure the long life of your front door
No matter what kind of door you choose for your home, minor damage due to external factors is almost inevitable. However, smaller scratches on aluminium or wood are not yet a reason to replace the front door, as a special correction paint can hide smaller scratches and imperfections on the surface.
Appropriate corrective paints can be purchased from specialist front door resellers or consult our consultants, who will be happy to help you. They will restore a shine in your aluminium or wooden front door and embellish your entrance for many years to come.