WHITE GOES WITH EVERYTHING
White front doors
Classic white front doors are particularly well suited for bright facades and are very effective when combined with a strong contrast. Thus, you can easily combine these front doors with all interior and exterior designs, as white works perfectly in combination with all colours – it's that versatile! No matter which design, our Pirnar models always offer the highest quality in terms of stability, durability, insulation, and safety.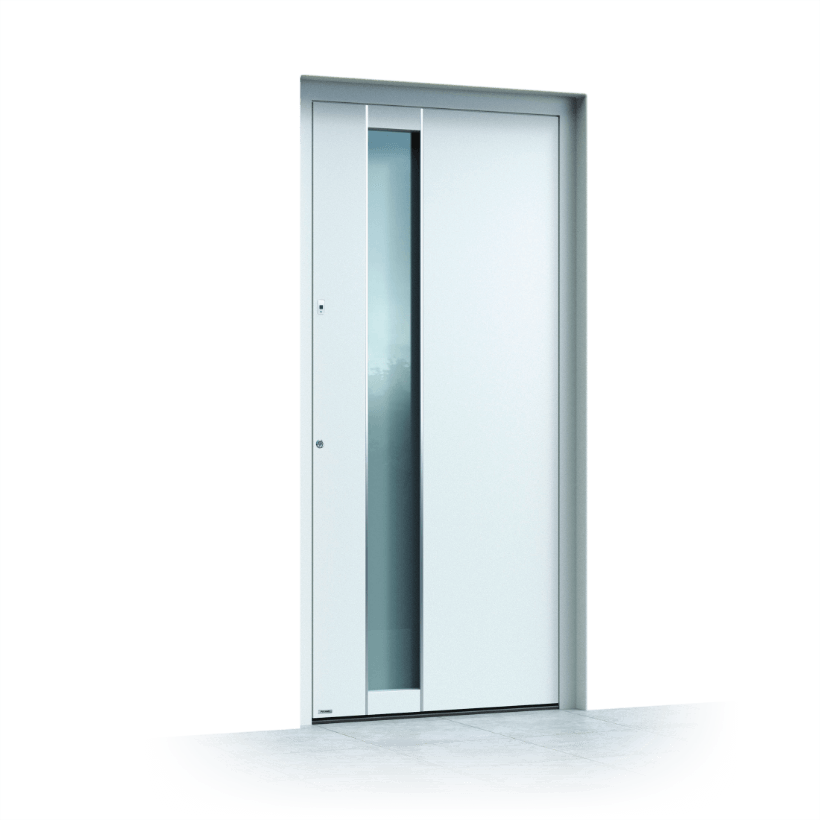 Front doors are more than just a point of entry
Front doors place a high demand on many functional aspects, including high stability against both mechanical influences such as attempted break-ins and weather conditions. Poor quality plastic and wood are likely to warp under certain weather conditions. Pirnar front doors always offer the highest durability and ideal properties with respect to safety, functionality, and thermal properties.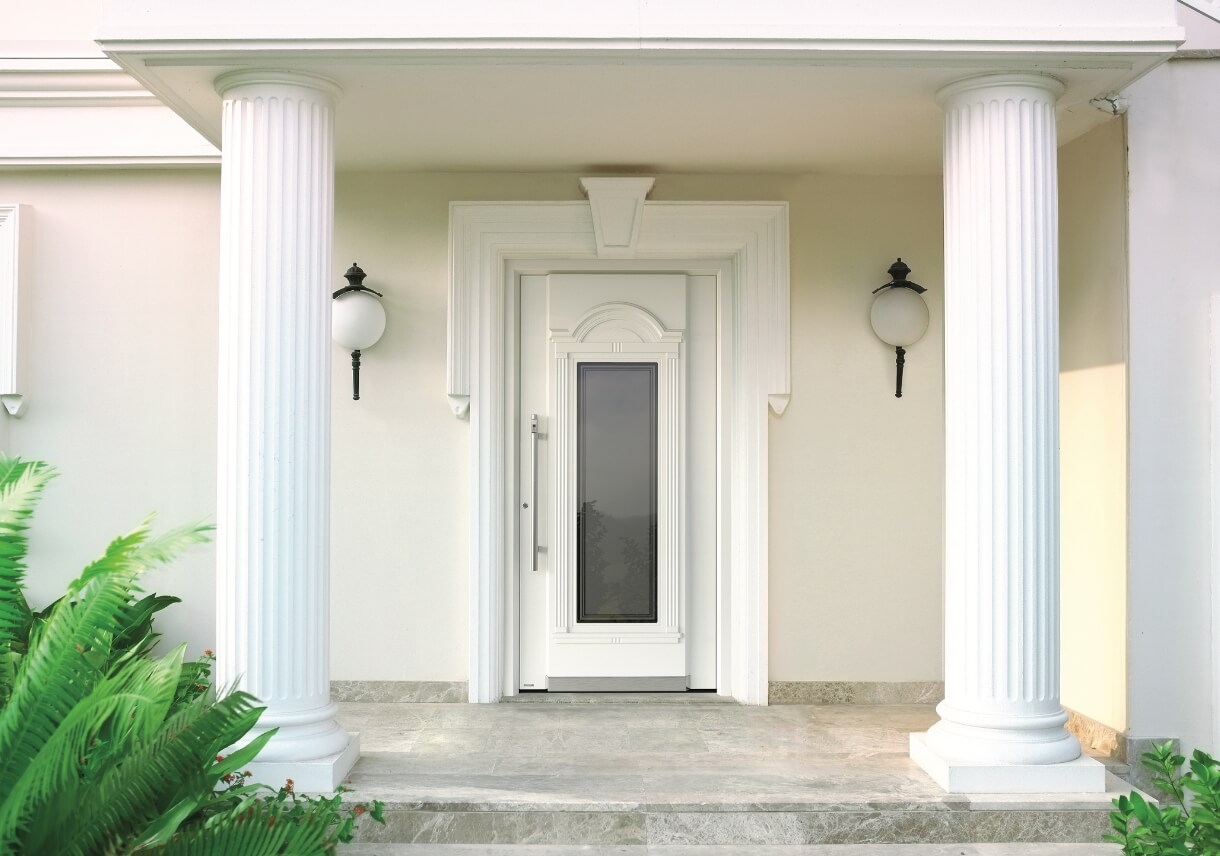 Aluminium front doors are particularly strong when it comes to stability and safety.
The front door to your home should make people feel welcome, both guests and your own family. In addition to functional aspects, your front door design also plays a vital role. It's the entryway to your house and, thus, the first thing people see when they visit you – if you want to create a warm and pleasant atmosphere you should start with the front door. White can create a broad spectrum of diverse designs.
White offers much more than just simplicity
For most, the white colour is a symbol of purity and cleanliness. However, most are unaware that, when it comes to white, the spectrum of available colour choices is very diverse, especially when taking all possible variations and combinations into account. Pure white is seldom used outdoors and indoors because it looks too sterile. Pleasant shades of white, which result from a subtle mixture of other colours, are much more inviting.
RAL 9016 is particularly well-suited for front doors and windows. Other shades of white can create a very subtle contrast on your house's facade to achieve a harmonious visual balance. This means even tone-on-tone can have an aesthetically pleasing effect. Other alternatives include warmer tones, such as cream or ivory, or shades with a yellow hue, such as eggshell or champagne.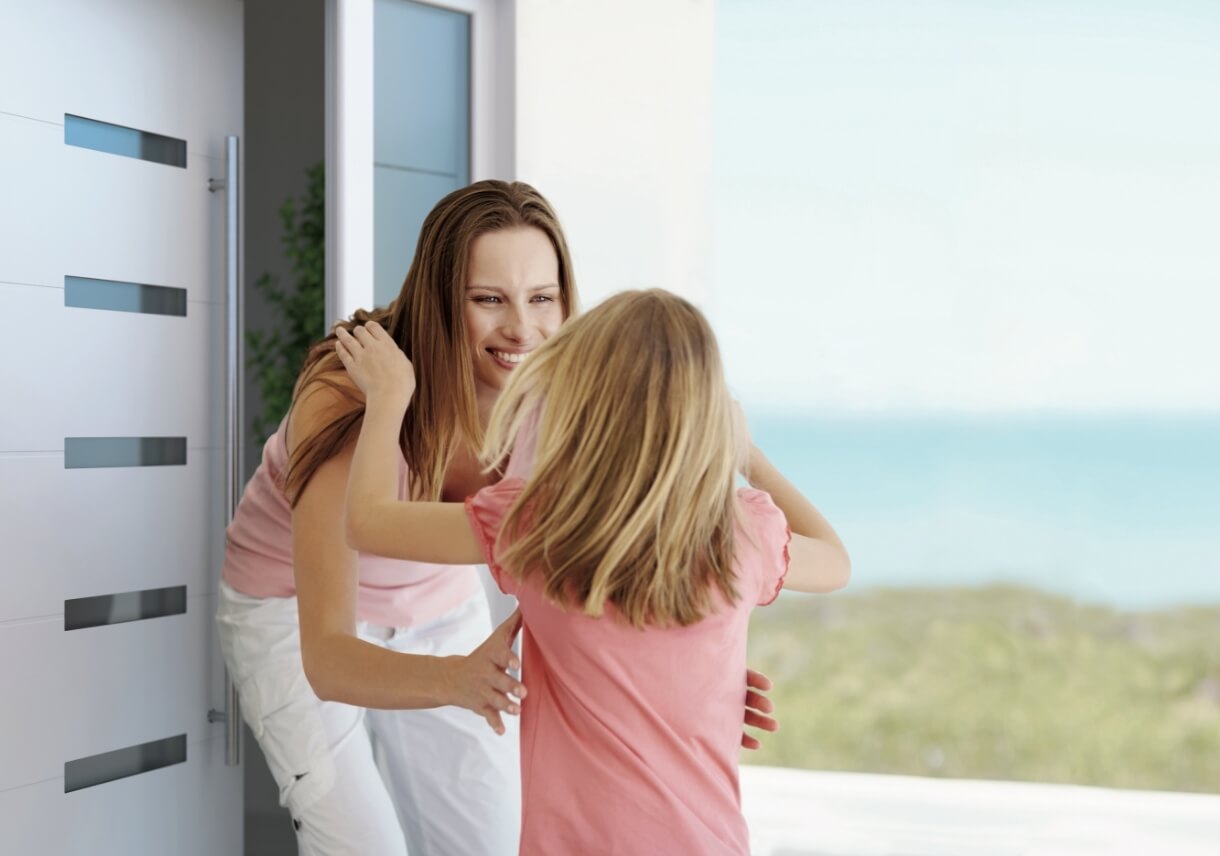 Front door models
RAL Palette offers a variety of choices
DESIGN YOUR FRONT DOORS
Various designs for your Pirnar front door
A white front door can look great in combination with many other design elements. As a comparatively neutral colour, it is especially versatile when designed with a colourful facade. Some possible solutions include: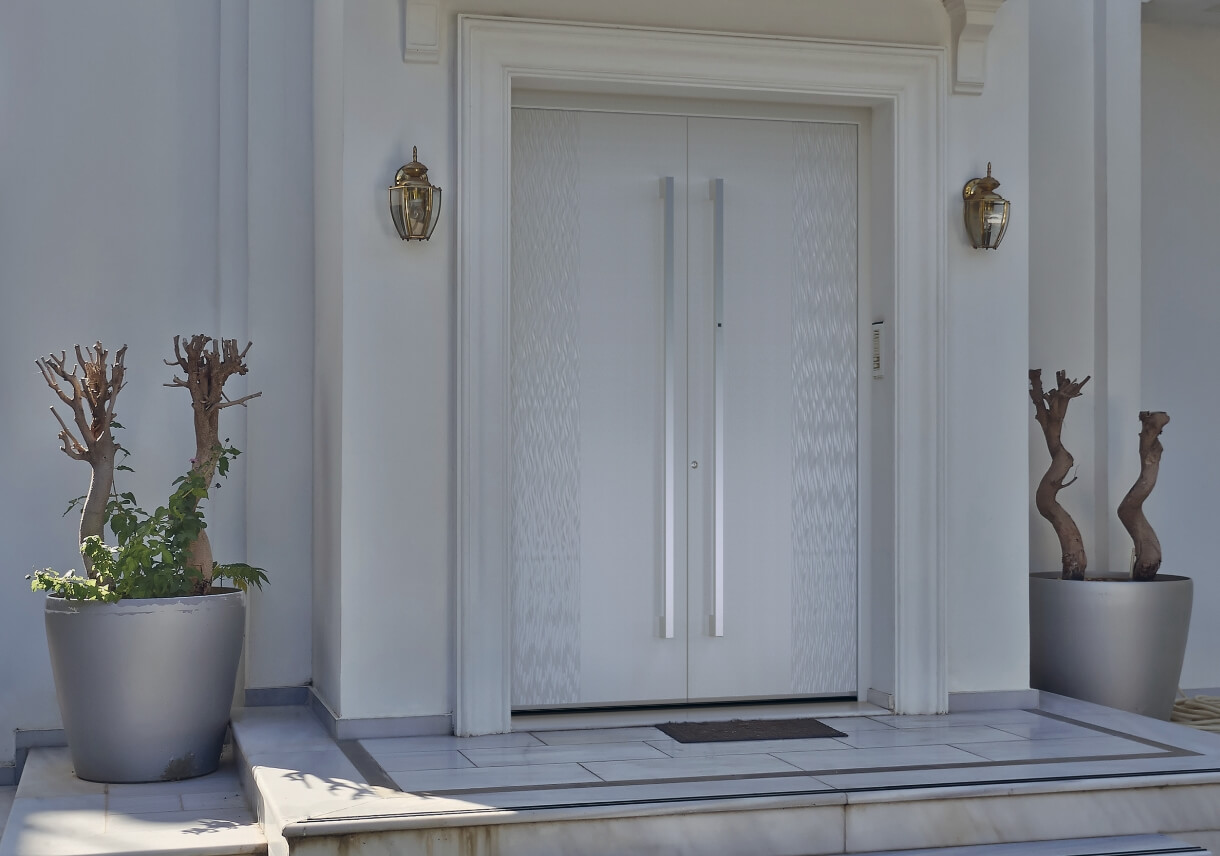 pastels
strong contrasts
clean and simple tone-in-tone
You can also use different materials to create visual accents. For example, a facade doesn't always have to be plaster. Natural stone, wood panels and large glass surfaces allow various design options. This is true for the entrance frame as well as for elements that are part of the door. Particularly, glass elements add a special touch to the overall appearance.
The interior entryway
Choosing the right colour palette is also important for what lies behind the front door. This usually includes an entryway, which contains a place to store shoes and coats. It's also a great area to display various decorative elements. If we focus on the flooring, the obvious advantage of a white front door is that it can be very easily combined with different materials and structures. Thus, it can be used to beautifully connect the stone pathway outside to the warm wooden flooring inside.
A classic: Pastels and white
To make the supposedly simple white colour more unique, you can also combine your white front door with bright pastel shades. These add a vibrant touch without appearing too flashy. This is particularly important in situations where building restrictions, for example, prohibit more intense colour options.
Pastels contain a high percentage of white. This makes them very subtle and light, but also positive and colourful, which creates a very appealing look. Combined with a white front door and windows, you can achieve a pleasant contrast that is not too harsh.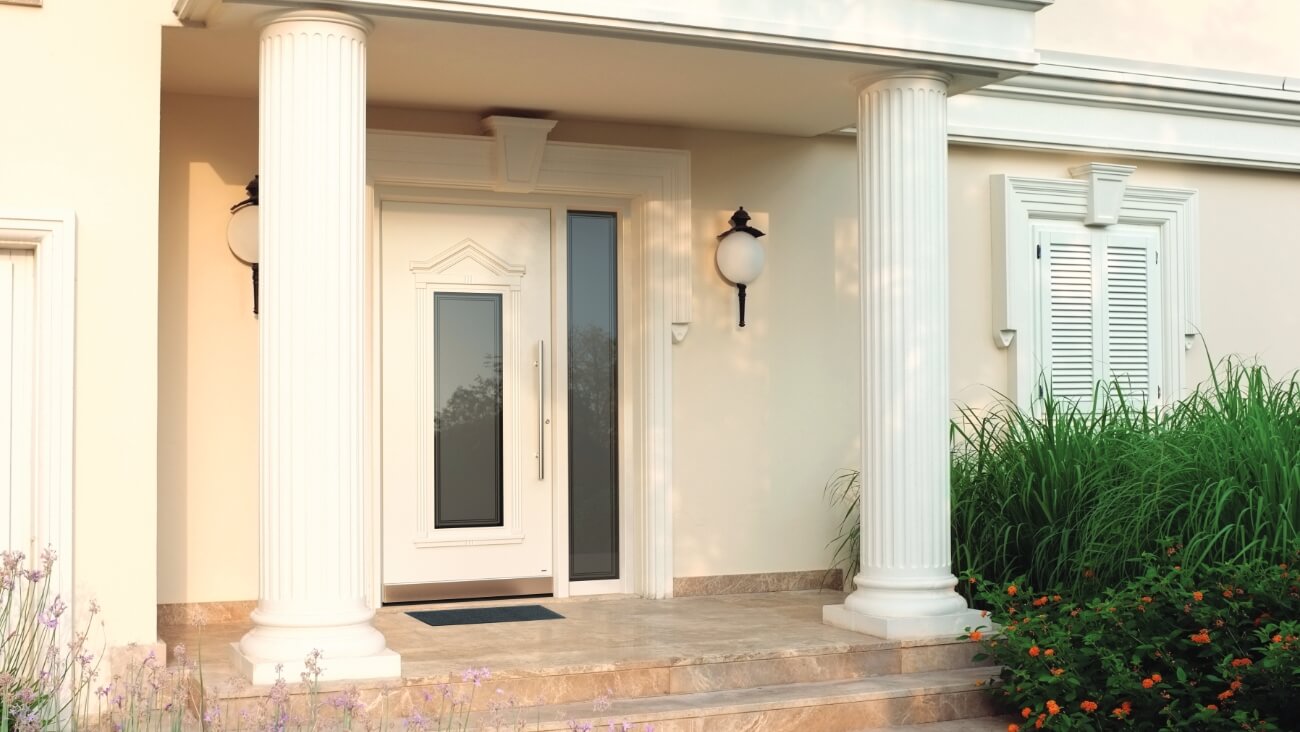 Powerful contrasts of light and dark
If you are looking for a stronger visual effect, you can choose a bold colour instead of a pastel shade to create a more powerful contrast when combined with a white front door. For example, the clean frame lines of a white door are a perfect match for a dark façade in grey or charcoal colours.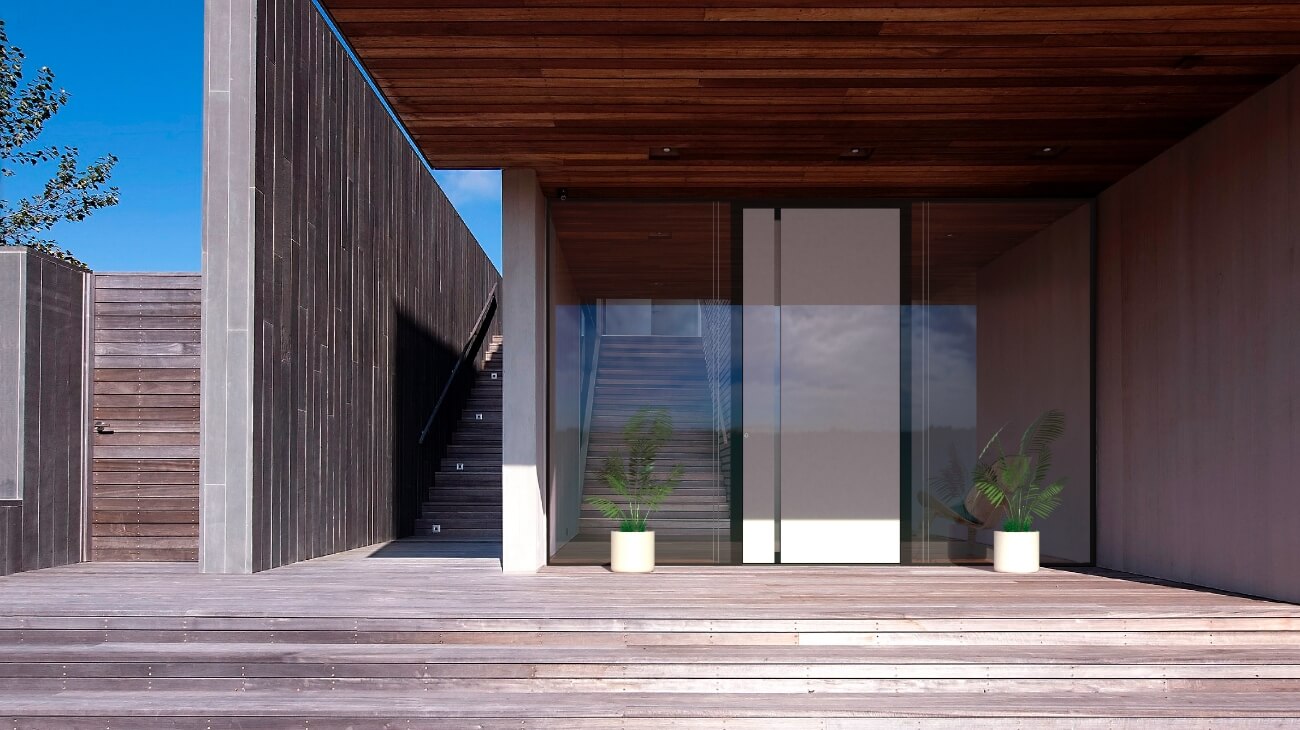 A crisp and clean white palette
Tone on tone is better suited for a front door than you think. This is due to the broad spectrum of available shades of white. Subtle touches of colour can give your front door a more interesting look than a perfect tone-on-tone design and can be used to create a very modern look. A roof in a contrasting colour adds to an overall pleasant appearance. After all, it's not necessarily the front door that needs to create the visual contrast you're hoping to achieve.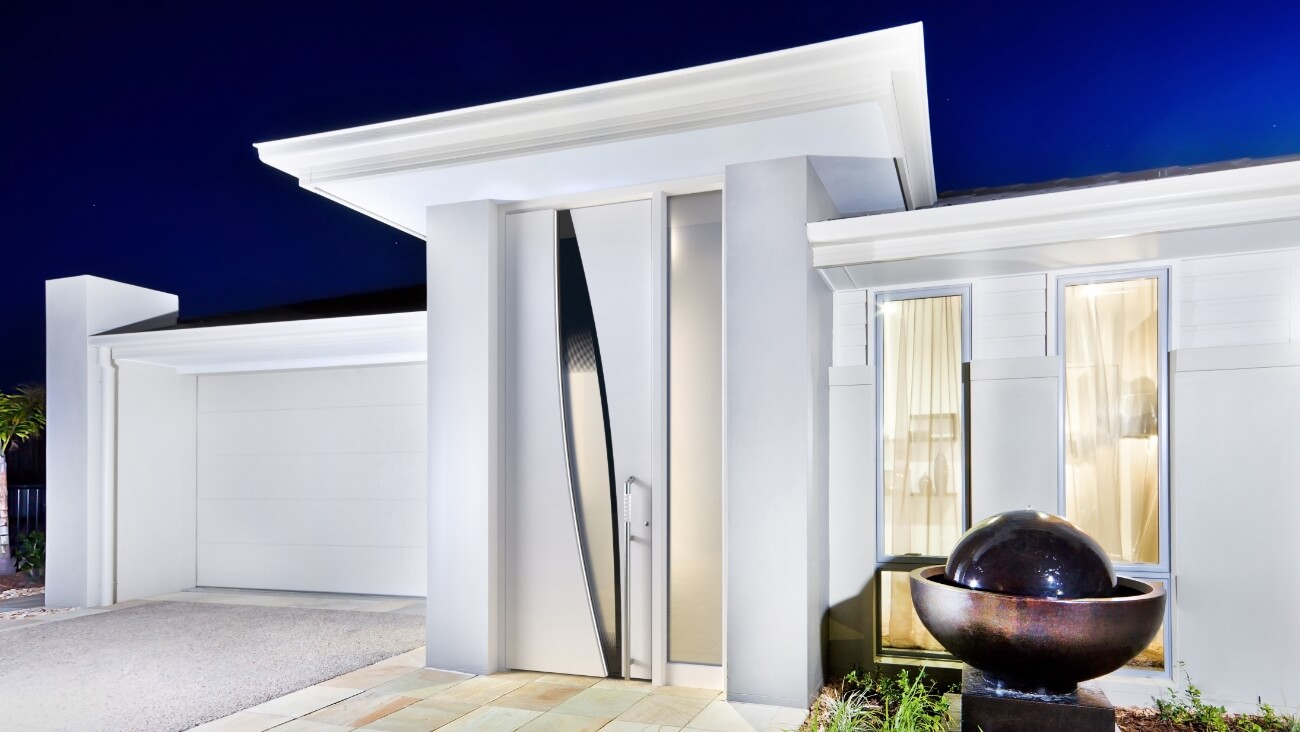 The colour white, in combination with various materials
A front door can significantly benefit from the combination of different contrasting materials. A white front door can also be appropriately framed using the right material. One example is wood panels around the door, but not across the entire facade. Natural stone panelling provides a classic accent. Front doors with glass side panels are also an interesting choice that can elevate the overall look considerably. Incidentally, glass elements can also be used as a skylight or as a custom design within the door itself. In addition to the visual impact, they also allow natural light to enter the room.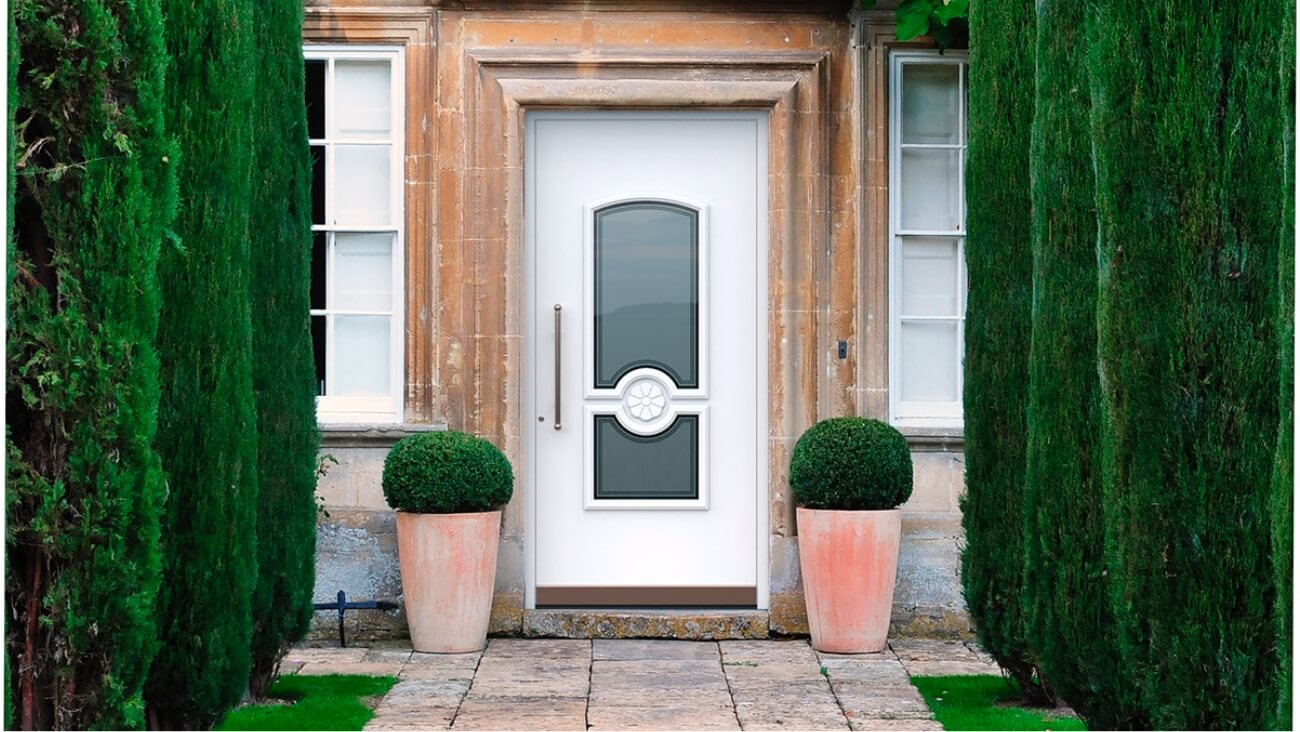 Keep in mind: Development plans and design statutes
Many communities and cities have established regulations regarding building design. The intention is not to patronise you but rather to create a uniform cityscape. For this reason, these regulations typically specify allowed colour schemes. This can also include front doors, which is why you should make sure to inform yourself in advance.
These requirements do not necessarily affect the colour of your front door. But to be on the safe side, you should make sure to inform yourself about all structural changes and renovations. Generally speaking, neutral white is often unproblematic. But it's better to be safe than sorry.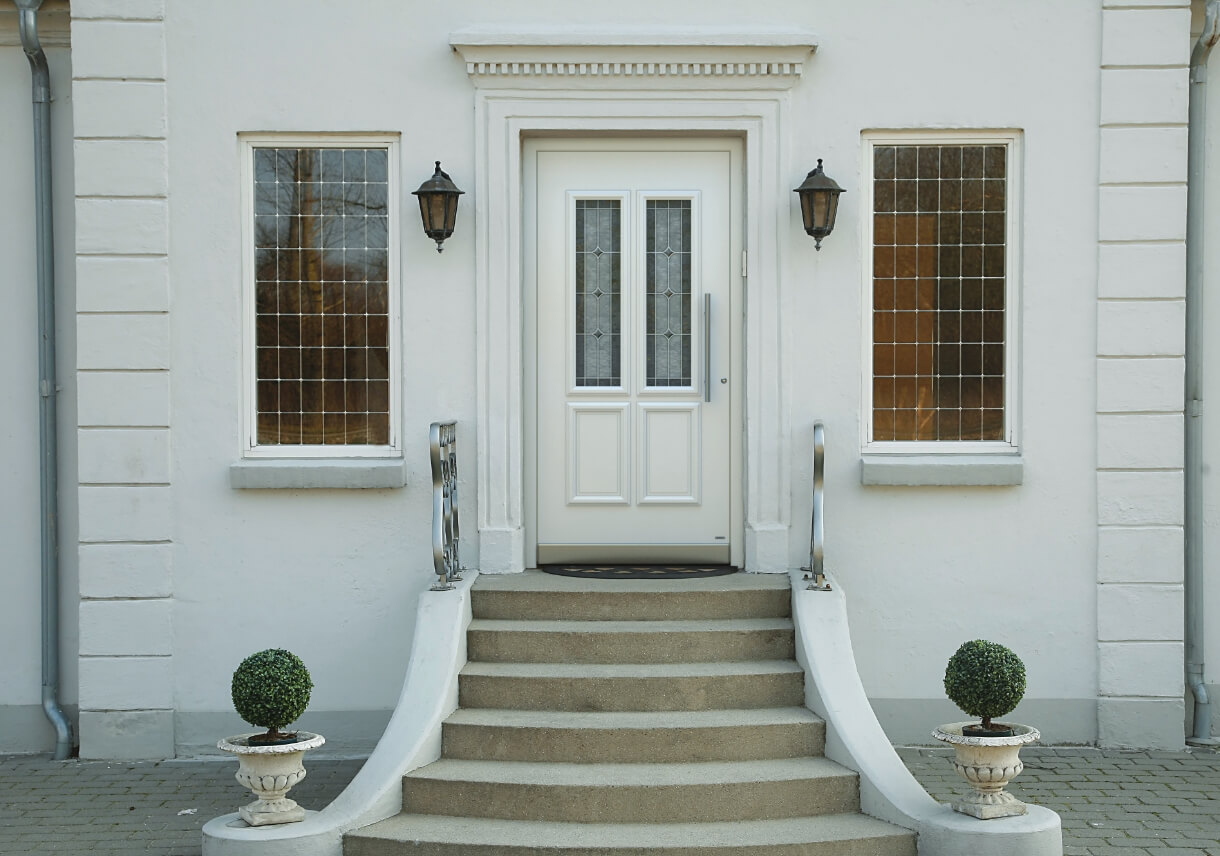 Use our configurator
to design the door
of your dreams
Our convenient configurator at Pirnar.co.uk allows you to choose from a wide range of colours, materials, and many other customisation options. In addition to a completely personalised design, Pirnar also guarantees features of the very highest quality. This is true for durability and burglary protection, as well as for low maintenance requirements guaranteeing decades of consistent functionality. Our front doors also achieve top thermal values. Our high-quality insulated aluminium options provide optimised energy efficiency, which qualifies for passive house standards in some cases.