MAXIMUM SECURITY, EXCEPTIONAL AESTHETICS
Metal front doors
When you're looking for a door that combines a great modern look with the highest possible resistance against break-in attempts, you can't go wrong with metal front doors. Aluminium, in particular, is a popular material, as it offers the durability of steel, is very lightweight and can be painted using any colour available on the RAL chart.
Increased security for front doors of any size
When burglars try to enter homes, their first point of attack, after glass panels or windows, is usually the door itself, using tools to try and break it open. This means that in addition to reliable locking mechanisms or digital security features such as fingerprint scanners, a door made of robust materials such as wood or metal is a great way of increasing passive security. While a uPVC door leaf may be bent out of shape, most burglars will not be able to break open a metal front door in the same manner.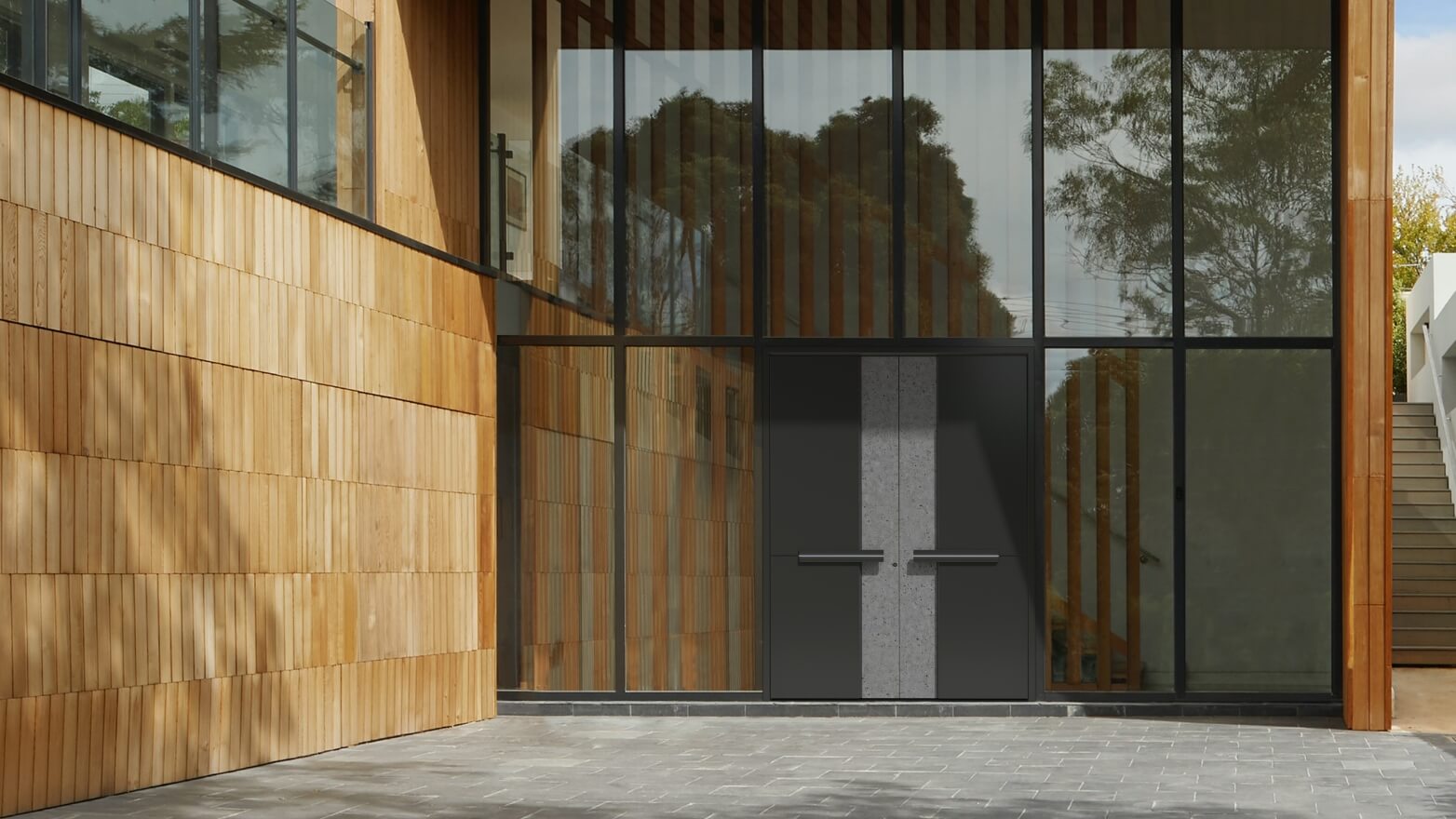 Aluminium front
door advantages
The great benefit of aluminium as a material for your door is that this metal is significantly lighter than, say, steel. Steel front doors can potentially cause damage if they're not anchored right. Also, they are slow to open and close due to their weight and inertia. Aluminium clearly is the better choice for a front door, as this metal offers nearly the same protective value as steel at a fraction of its weight and cost.
Style and substance – an attractive option for any home
Aside from being resistant to attacks, metal front doors often have an immediate deterrent effect on would-be burglars. If your entrance area is also well-lit and open, they may very well decide that it's not worth the risk of even trying.
Stylish and secure at the same time
In addition to their great value as a security feature, front doors made of metal are also a stylish addition to the overall visual design of your house. Pirnar aluminium doors are coloured with a powder coating – a technique where pigments are bonded to the metal-based on electrostatic principles.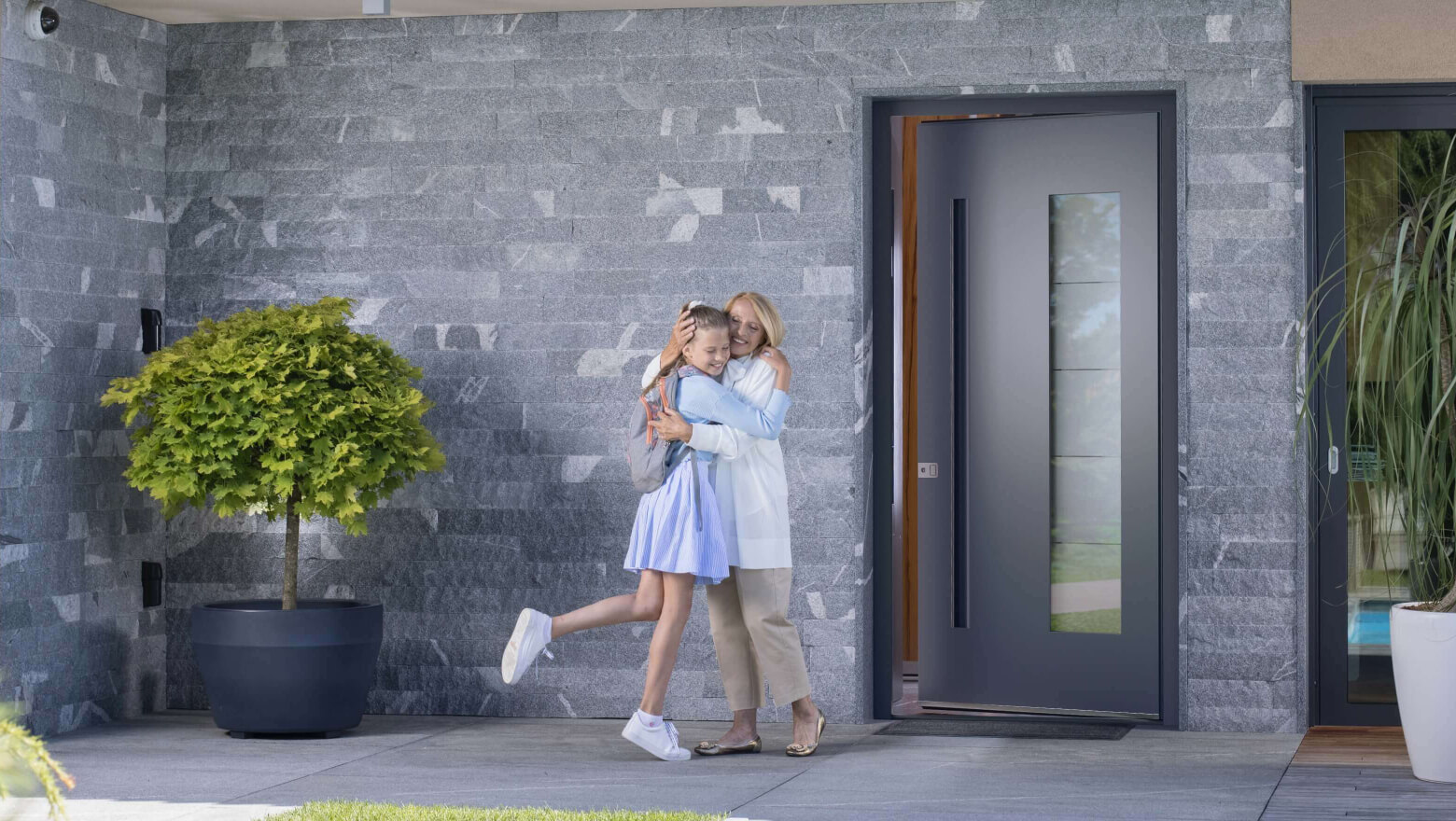 Durability of aluminium entrance door
Powder coating ensures the colour you've chosen won't bleach out quickly – the door you've bought will remain looking like new with very little maintenance required. The powder coat also increases the aluminium's resistance against scratches and oxidisation, further improving the durability of your aluminium entrance door.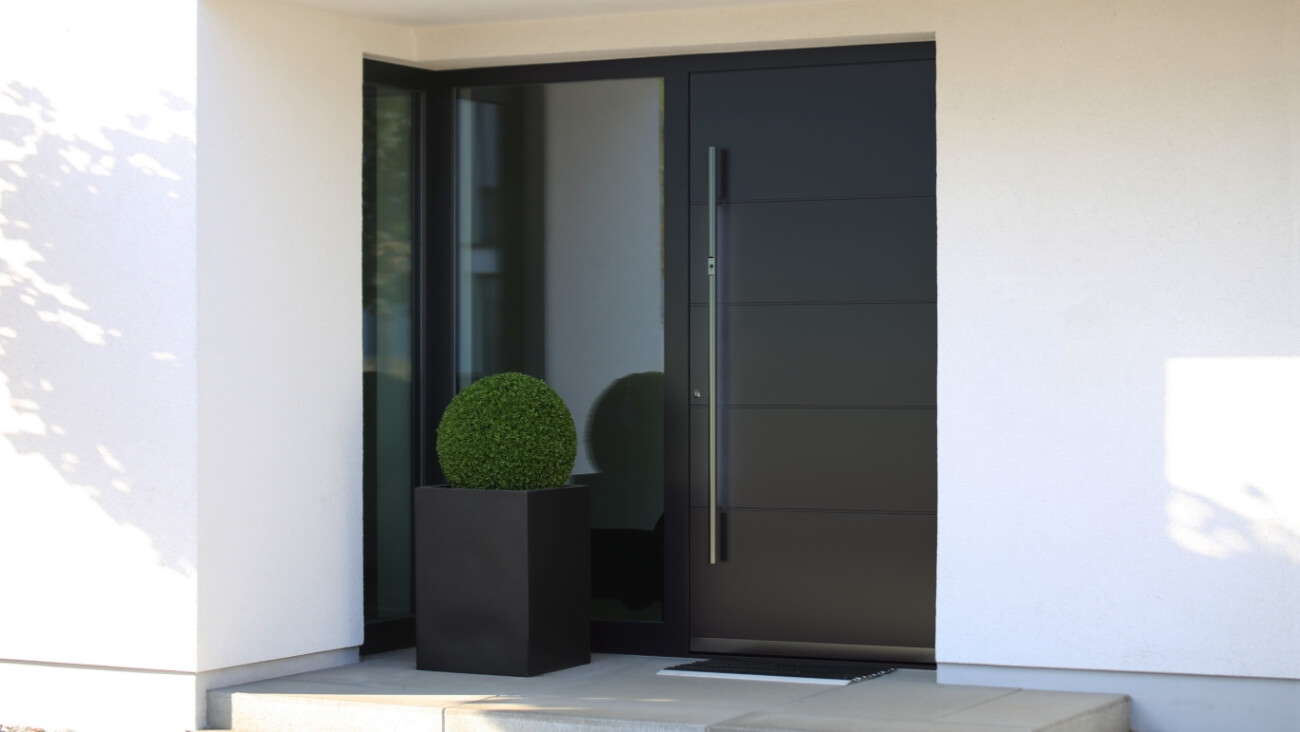 Make your aluminium door look like it's made of wood
In addition to numerous colour choices, you can also apply wood decors to your Pirnar front door. These are foils showing the typical grain of various types of wood, which can be strongly bonded to the door's surface. Combined with a wood-like colour, you can make your aluminium door look like it's made of wood. This is a perfect chance to benefit from both the durability and low-maintenance requirements of metal and the charm of wood at the same time.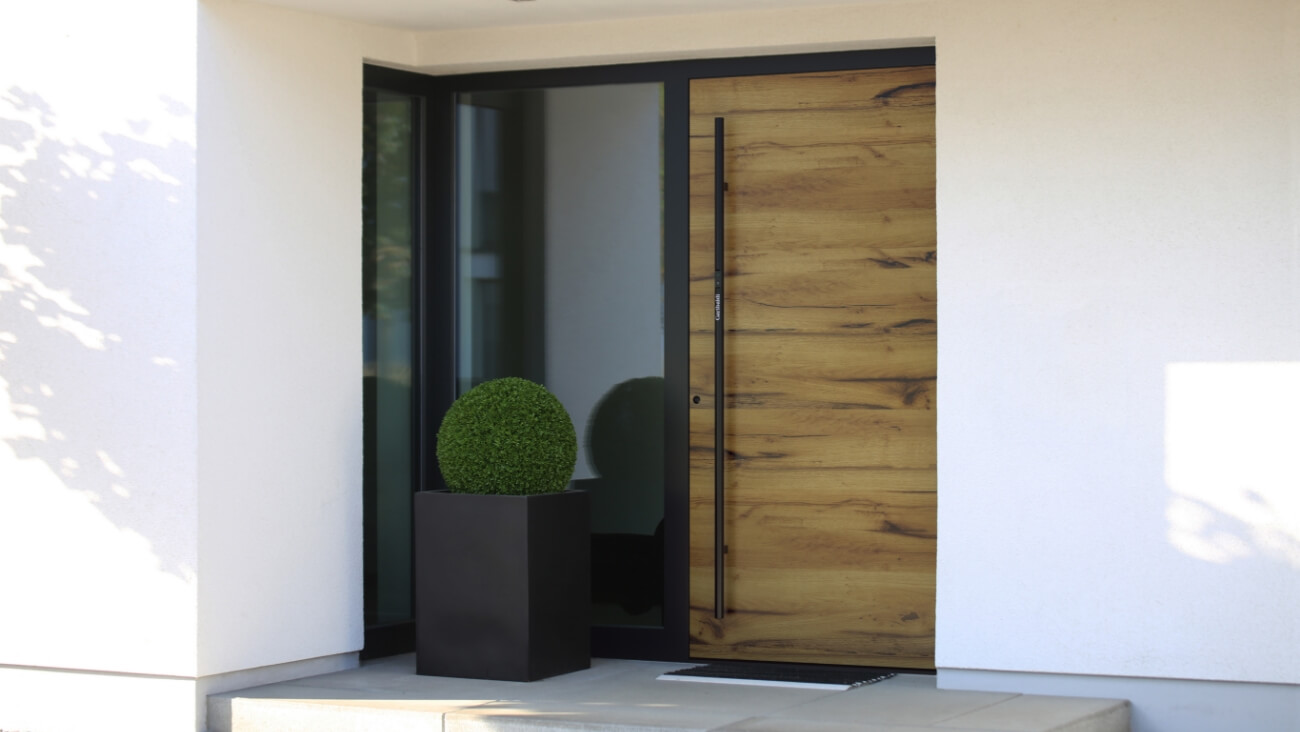 High-end front door with excellent thermal insulation
If you're thinking that a metal door must be very bad for stopping thermal diffusion, think again! Due to our production methods, Pirnar metal front doors provide excellent U values on the level of uPVC or wooden doors.
That's because the door leaf has several internal chambers filled with insulation material. Combining the advantages of a multi-chamber design and an insulating infill, Pirnar.co.uk aluminium doors offer some of the best thermal insulation values on the market.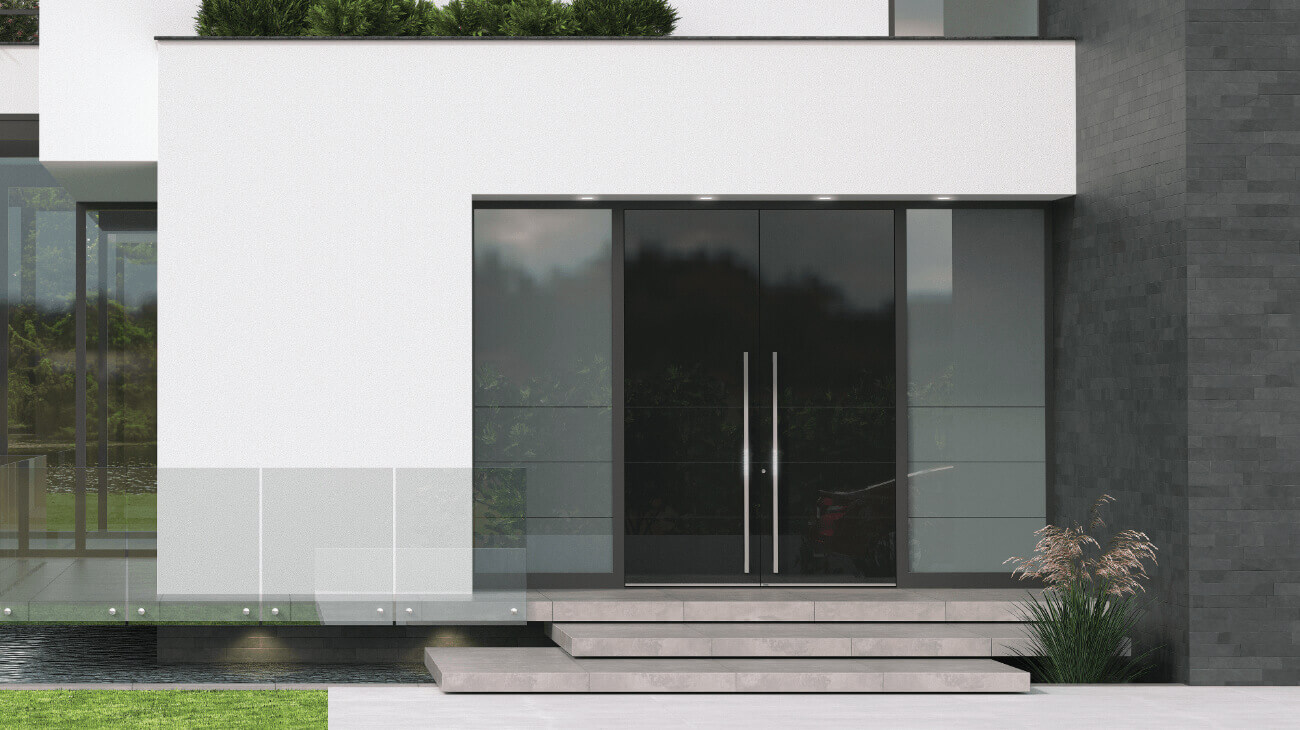 DESIGN YOUR FRONT DOOR
A wide range of extras and options
Colours and wood decors aren't the only ways to turn your front door into a truly unique part of your home. Using the configurator at Pirnar.co.uk, you can individualise every aspect of your entry door, from its overall size to details like the shape of the door handles.
Among other things, you can add:
security features such as fingerprint scanners
various types of door handles
fittings and furnishings
glass elements, sidelights or transom lights
So, for example, you can choose a clean, modern look which metal doors can pull off well. Paint your door in a single, neutral colour such as white or grey, add a sidelight, which will let natural light into the house like a window, and then apply some minimalistic furnishings and a straight door handle. This look is perfect for new buildings that will benefit from a sleek and cool style.
On the flip side, you may want to apply brown pigmentation and wood grain decors to your door as well as rounded, more organic-looking furnishings. In combination with a traditional door handle and perhaps a fan light over the door, this style is perfect for older buildings or ones designed to look charming and cosy.
If you're looking for maximum security, consider using glazing elements for sidelights, glass inserts and transom lights made from security glass.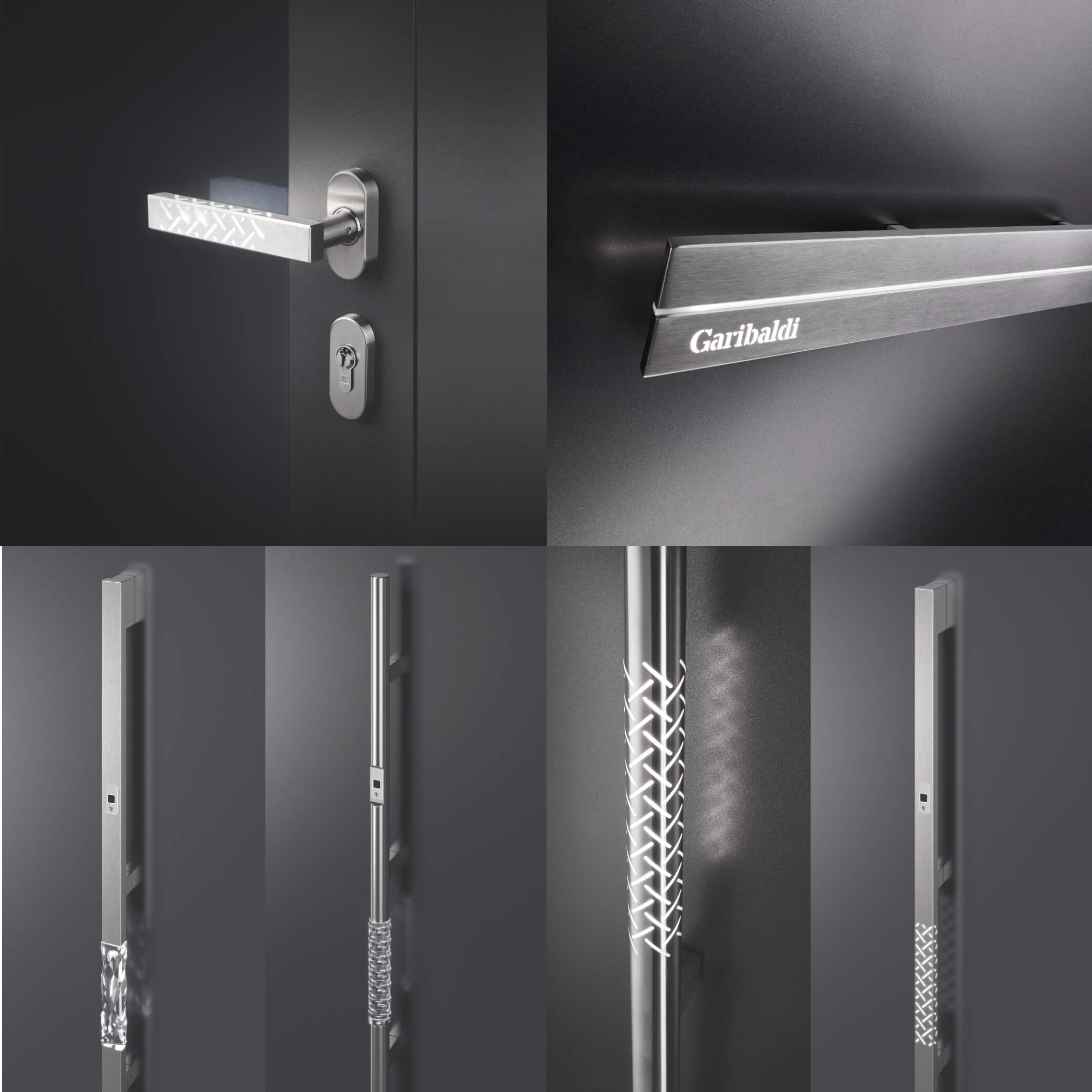 Strong as steel –
aluminium front doors
If you're looking for a low-maintenance alternative to wooden doors, aluminium is the way to go. The material is highly resistant and offers amazing security and thermal insulation properties. Use the Pirnar.co.uk configurator to build the perfect door, apply colours and decors as you see fit and create a high-quality handmade Pirnar front door that'll be a perfect part of your home´s overall design. With the numerous options and extras available for styling your front door, you're sure to find the exact combination you're looking for.