Do you know how the lighting of entry doors affects your wellbeing?
The lighting of external doors can have a strong impact on our wellbeing. Read on to learn how to upgrade your entrance to reflect the beauty of your home at night as well.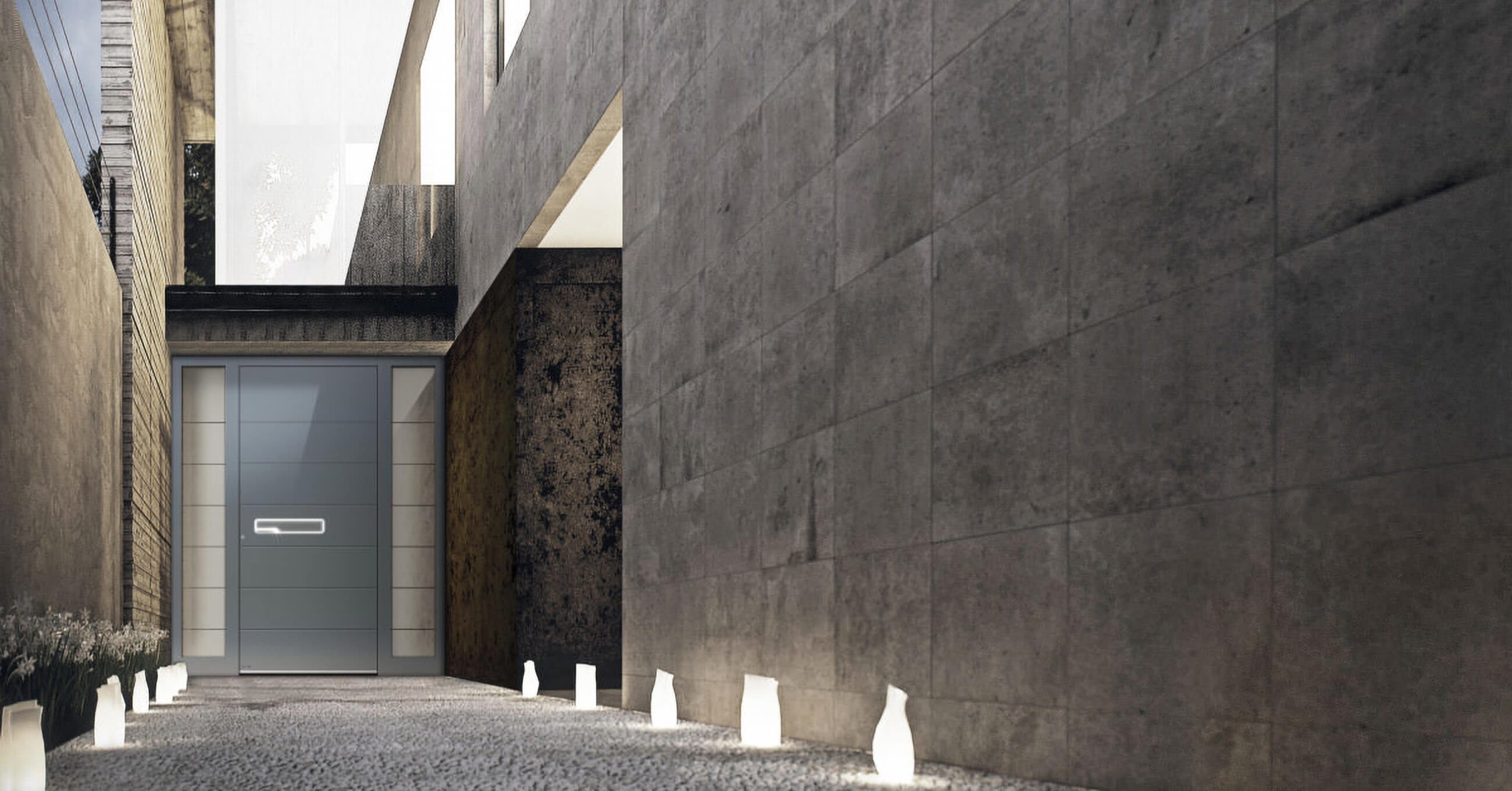 Light means life. It is therefore not uncommon to want to make the day as long as possible and evoke various emotions by means of lighting. White light invigorates us while yellow light creates a sense of peace, quiet and intimacy. Why not play with the lights around the house and especially at the entrance? External doors are a portal between the outside and the privacy we cherish so much. Even in the dark, they must be a reminder of all the beauty awaiting inside and radiate a welcoming invite. An invite to where you love to spend your time.
Inspiring beauty
May your home shine at night! Your house should not only be beautiful in the daytime because it is surrounded by flowers, greenery, shrubs and trees. It should also be beautiful at night. In the dark, all forms disappear so it is important that the pathways and driveways are illuminated with a soft glow, that a warm light awaits you at the entrance and that the entire lot gets that magical glow in the evening that makes your house the most attractive in the neighbourhood. Exterior illumination creates a new dimension of aesthetics of the real estate. It is therefore recommended to plan for the following:
spot lighting of trees, statues and architectural details,
illumination of pathways and driveways,
illumination of external doors and stairs.
Providing a sense of security
Keep lighting in mind when taking care of the security of your home. Illuminated surroundings discourages intruders and trespassers from sneaking around your house as there are fewer shadows and dark places to hide. The crucial element is automatic or motion sensor lights that are activated when movement is detected. They come handy when you arrive at home. At the same time, they also scare away uninvited visitors. It is also good to have illuminated pathways and stairs as the light will ensure a safer step in the dark. The lighting of external doors is also important. It provides an overview of the entrance at all time and makes it easier to find keys or other personal items. It is useful to use solar lamps to illuminate the garden. They are charged by sunlight during the day and do their jobs in an environmentally friendly and economical manner at night. Their installation is easy and you do not need to worry about their power supply. The most appealing solution for the entrance and its doors are LED lights that allow us to choose the desired colour of the light. If the entrance lights are to be on constantly, it is important that they are also economical. LED lights also tick that window. With exterior door lighting, you will definitely feel peace and safety once again.
The impression of homeliness
After a long day, you return home in the dark. Could there be anything more inviting than the homey glow of lights luring you to finally find some relaxation in the safe shelter of your home? A subtly lit exterior door welcomes you and you can already see interior lights glowing through the sidelights revealing that someone is at home waiting for you. At Pirnar, the choice of glass for sidelights is truly vast. You can choose between transparent, satin and coloured glass as well as stained glass and different patterns. With this range of glass varieties, you can create a completely unique play of light at night so your return back home will be even more delightful. Pirnar never ceases to amaze. You can even opt for an illuminated threshold of the entry doors. Once inside, the homely feeling will be even sweeter.
Creating a sense of luxury
If the surroundings of the house are illuminated, the value of the property is increased as its most beautiful features are highlighted in the darkness. If you ever put your home for sale, it is worth the effort to install external lights because each and every buyer will be enchanted. At night, your home will no longer be wrapped in darkness. It will stand out and radiate a sense of luxury. Illuminated external doors also look astonishing in the dark because every detail stands out. This is the home of someone who knows what they want. Someone who sets high goals and does not compromise at home either. The Pirnar entry doors recognise the owner even in the dark and welcome them by lighting up as they open. Not everyone gets such a welcome.
Inspiring confidence
The owners of Pirnar doors should be proud as they witness an astonishing beauty of the fusion between crafts and modern technologies every day. When it gets dark, a very special show awaits: the attractive crystal details on the external door pull handles illuminate making various inscriptions come to life. Imagine reaching for the door in the dark to open it and suddenly your name appears on the pull handle. Now you know you are certainly home. This magic only happens for you and gives you confidence. You have found your footing again, know what you want and where you are headed. The whole world lies before you. Right now, it might be the illuminated threshold of the entry doors, but tomorrow… tomorrow the entire world will be at your feet.
Visit us in Pirnar showrooms to experience the range of emotions that will take you over when seeing our entry doors. Trust us, they will not leave you cold.