Locking doors with fingerprint system – the new standard of security in modern homes
Fingerprint locking is secure, reliable and extremely practical. It's slowly becoming the standard of security in modern homes.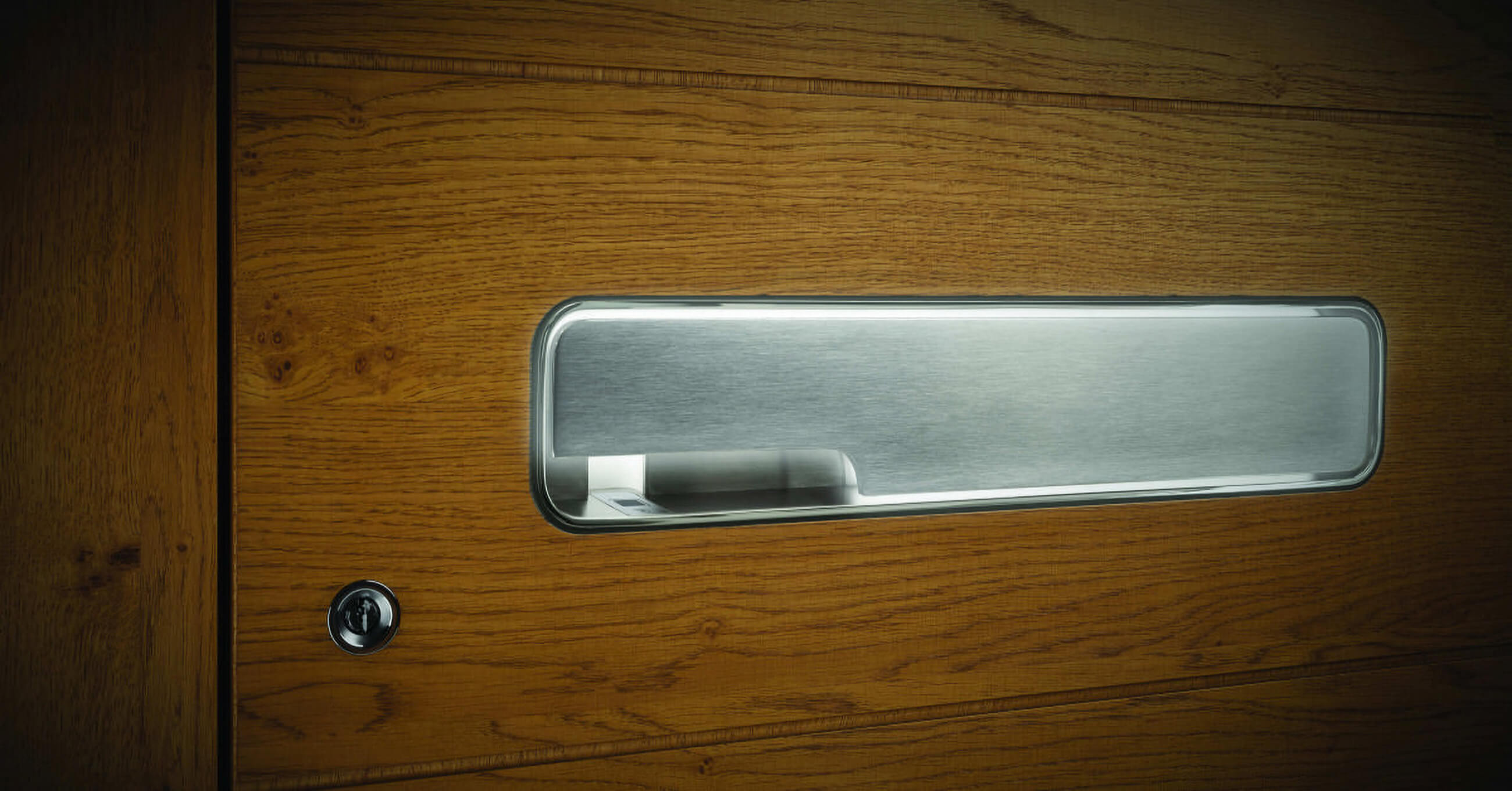 The future has arrived. Biometric data, such as facial and gait recognition, finger vein recognition, iris recognition and fingerprint recognition, are becoming invaluable identification tools. This technology is slowly replacing the traditional key and lock that have been the symbols of security for millennia.
Safe from unwanted visitors
Fingerprint locking is a secure alternative to traditional locking methods. Not only that, but such doors are safer because they're more difficult to manipulate. Smart locks prevent break ins while the smooth surface of the door fitted e.g. with the OneTouch system has no weak points that could be exploited to enter your home. Theatrica entrance wall offers a similar level of security and is also available in materials not usual in entrances, completely concealing the entrance to your home. Reliable fingerprint readers are virtually impossible to exploit while the sensors automatically close the door almost instantly. This way, you won't have to worry whether you've actually closed your door or not.
Increased reliability
Your home contains your biggest treasures, so getting a secure entrance door makes all the sense in the world. Fingerprint doors only give access to your home to specific persons whose fingerprints are recorded in the scanner in advance. Pirnar doors are meticulously crafted, meaning they're perfectly reliable. Even in case of a power outage, you'll still be able to control your door since they are operated independently from your home. What is more, you'll experience no issues even if your hands are dirty, injured or if you've recently applied hand cream. Modern fingerprint readers will eliminate all of these issues. Finally, you're able to get a door that will remain perfectly functional and reliable for decades.
Peace and quiet
Pirnar doors offer excellent acoustic and thermal insulation. This way, you'll be able to reliably protect your home from noise. While thanks to the fingerprint reader and magnetic locking, you'll finally be able to relax. Your home will become the haven that you've always dreamed of. Your entrance door will protect you from unwanted visitors day and night, ensuring you a good night's sleep. A Pirnar door will keep you and your family safe, not to mention safeguarding your property and privacy.
Complete control when you're away
If your home is protected by a smart lock, you will have complete control over when your door opens and who gets to enter. This way, you will be able to keep abreast of what's happening if you're at work or vacationing. Generally, a smart lock can store up to 1000 fingerprints. For each user, it's possible to set up access rights, restricting the user's movement, if necessary. Simultaneously, the smart lock logs the entry dates and times, giving you complete control over entrance users.
The future of biometric locking systems
Today, fingerprint locking system are no longer uncommon and are used in both smart phones as well as entrance doors. However, smart lock technology doesn't stop here. In the near future, the offer of available biometrics solutions is expected to bloom:
Smart lock voice control
Just like a fingerprint, your voice is associated with specific characteristics that make it completely unique. Voice recognition technology focuses on the voice texture and pronunciation and is used, alongside entrance doors, in smart phones, cars and ATMs.
Iris recognition system
The human iris is just as unique as a fingerprint. We believe that iris recognition technology, which is still more common in sci-fi films than in real life, will soon be introduced into our everyday lives. Even into entrance doors.
Facial recognition
If a smart phone can do it, the task should be no match for a Pirnar door. Theatrica entrance wall only opens once it recognizes the owner's face. Try it out in person until the end of 2019.
Entrance doors have remained more or less unchanged for centuries. However, we can now create revolutionary entrances fitted with modern technology that are exquisitely aesthetic as well as extremely functional and practical. Doors with fingerprint locking systems set new security standards in contemporary as well as future entrances. At Pirnar, we accept the responsibility associated with the innovation, which is why we're blending technology with tradition to create secure and state-of-the-art products that'll raise the bar in the entrance door sector.
Visit us at your nearest Pirnar showroom, check out our entrance doors and see that, when it comes to aesthetics, functionality and security, we're not prepared to compromise. We only make the most secure entrance doors.