LOCKS FOR THE COMPLETE SECURITY AND COMFORT OF YOUR HOME
Front door locks set
We make your home safe and warm at Pirnar with top-quality locks.
Mechanical and
electronic locks
At Pirnar we offer the most convenient and secure locking systems. High-quality locks provide worry-free motorised keyless unlocking, automatic locking, customised settings, maximum security and longer life. Depending on the desired level of security, they offer multi-point locking systems. The security components installed in Pirnar doors comply with the high-security class RC2 but can be upgraded to RC3 if you require additional burglary protection.
#1

ARMO mechanical locks

ARMO offer three-point unlocking with a modern cylinder lock with two massive hooks and five keys. An upgrade to a secure five-point lock and four solid ARMO MAX hooks is also possible.

#2

ARMO COMFORT automatic locks

ARMO COMFORT is an upgrade of the standard version of the ARMO lock, with three-points and two massive hooks. It has an automatic mechanical lock with convenient opening of the door by pressure from the outside and an anti-self-locking setting.

#3

ARMO ELECTRO COMFORT electromechanical locks

ARMO ELECTRO COMFORT is an electric automatic three-point lock with solid hooks that are automatically released when the door is closed. The door is unlocked by an electric motor and also has an electric insert with day/night function as well as the option of connecting to an intercom.
Easy keyless opening with fingerprint scanner and SecuroSmart smart system
You've probably found yourself searching for the front door keys with your hands full, which seem to keep getting further and further out of reach, testing your patience. Or the kids have lost the keys and can't get into the house while you're still at work. With a keyless fingerprint scanner, you can forget about these worries.The SecuroSmart smart system with scanner, controlled via the Pirnar mobile app, boasts outstanding functionality for the ultimate in modern living comfort. Even if you're on the other side of the world, you'll be able to lock and unlock your doors with ease.
Remote locking
SecuroSmart allows you to control your front door remotely, wherever you happen to be. Even if you are on the other side of the world.
Monitoring
Use the app to control who enters your home and when, and also to monitor their activity.
Record and log front door usage
Use the app to keep a record of who went in and out of your front door.
Emergency access
The app allows you to set a specific fingerprint for use in an emergency, e.g. and intruder forces you or a member of your family to open the door.
Time-limited access
The Pirnar mobile app allows you to set time parameters so you can limit when someone gain access to your home using their fingerprint.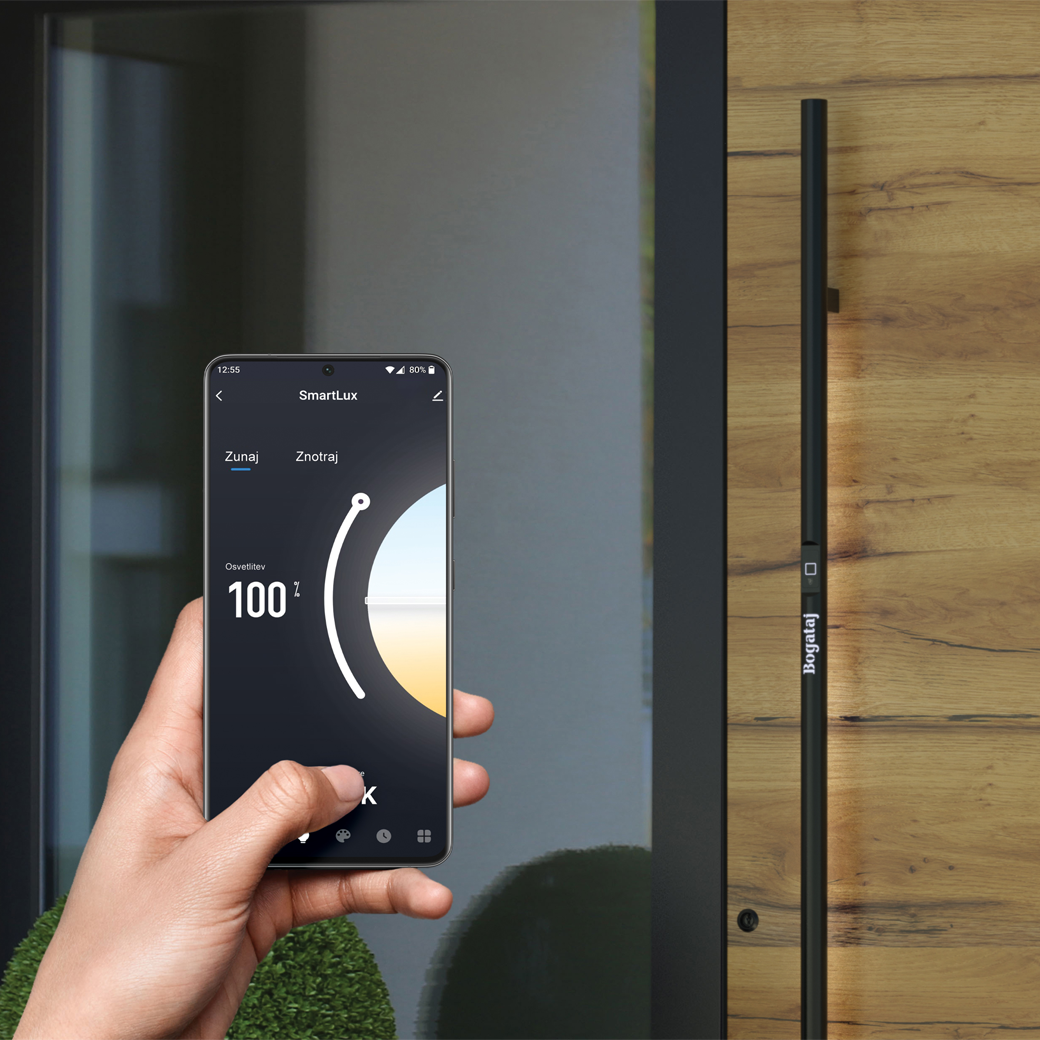 Quality cylinder, more secure door
But even the best lock cannot provide a secure system without a quality cylinder. For maximum security, you need a top-notch cylindrical insert that prevents it from being tampered with in any way. It cannot be drilled, pulled out or broken. Top-quality cylinders have more active pins and additional fixed pins. The higher security class cylinder profiles are protected and patented. Lost keys or copies can only be made in authorised workshops upon presentation of a security card.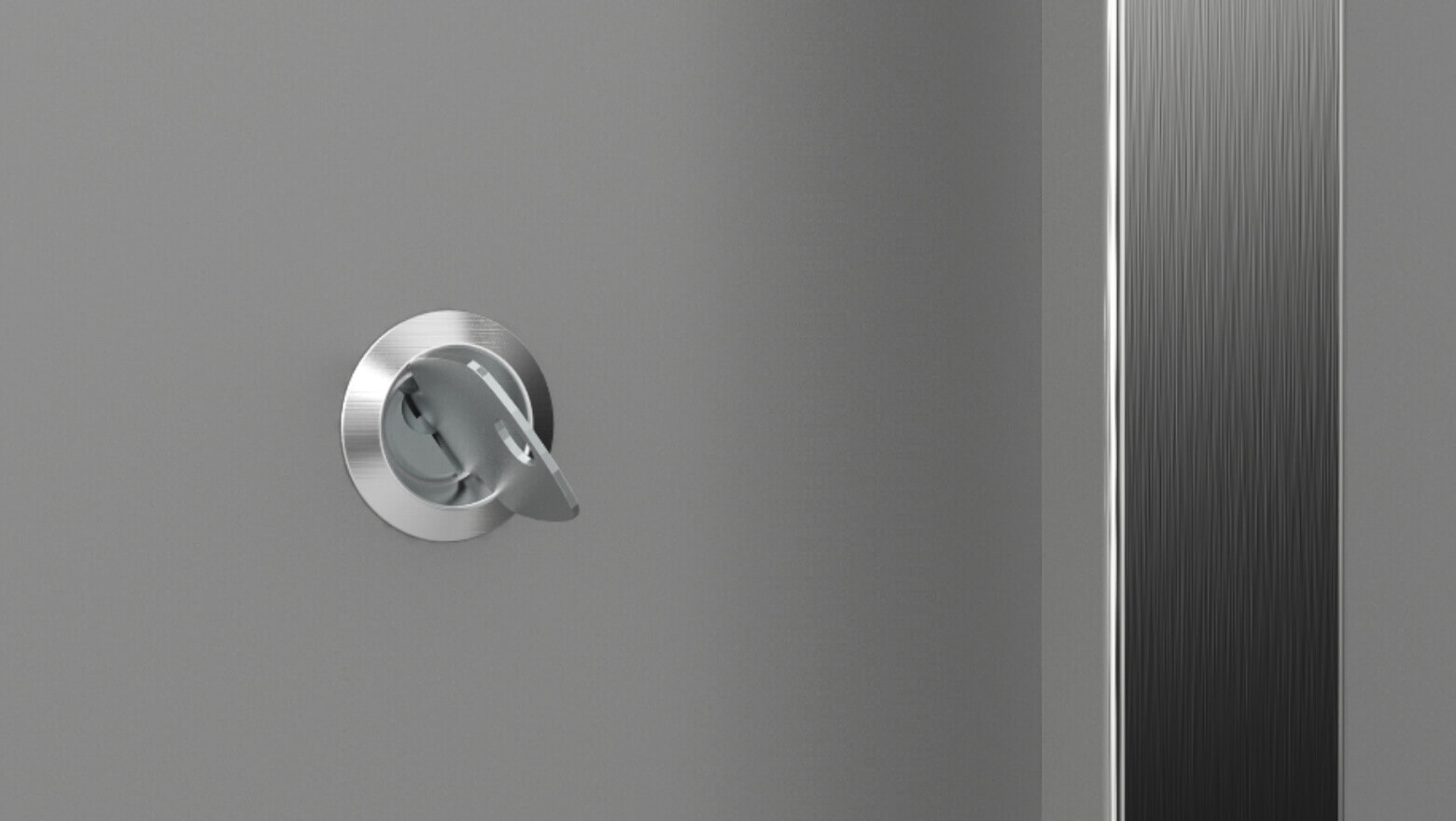 Tips for increasing the security of your door
We expect our door to protect us from street noise, the weather and unwanted glances. But above all, we want it to keep us safe. Besides a quality lock and cylinder, what do we need to look out for if we want a really solid and secure front door?
Solid door leaf
By choosing a solid door leaf, you ensure a truly secure entrance. Solid wood doors consist of several layers, with the layers running in different directions, which gives the door leaves extra strength. They can also be made of veneered plywood, but with metal reinforcement to prevent bending. Aluminium doors can also be combined with wood or even carbon, which gives them exceptional rigidity and strength that you can rely on. It goes without saying that the security of the door depends on the elements and profiles from which it is built. Aluminium or steel profiles with five chambers and additional centre profiles form the basis for the Pirnar door, from which visually appealing, safe and solid doors are created.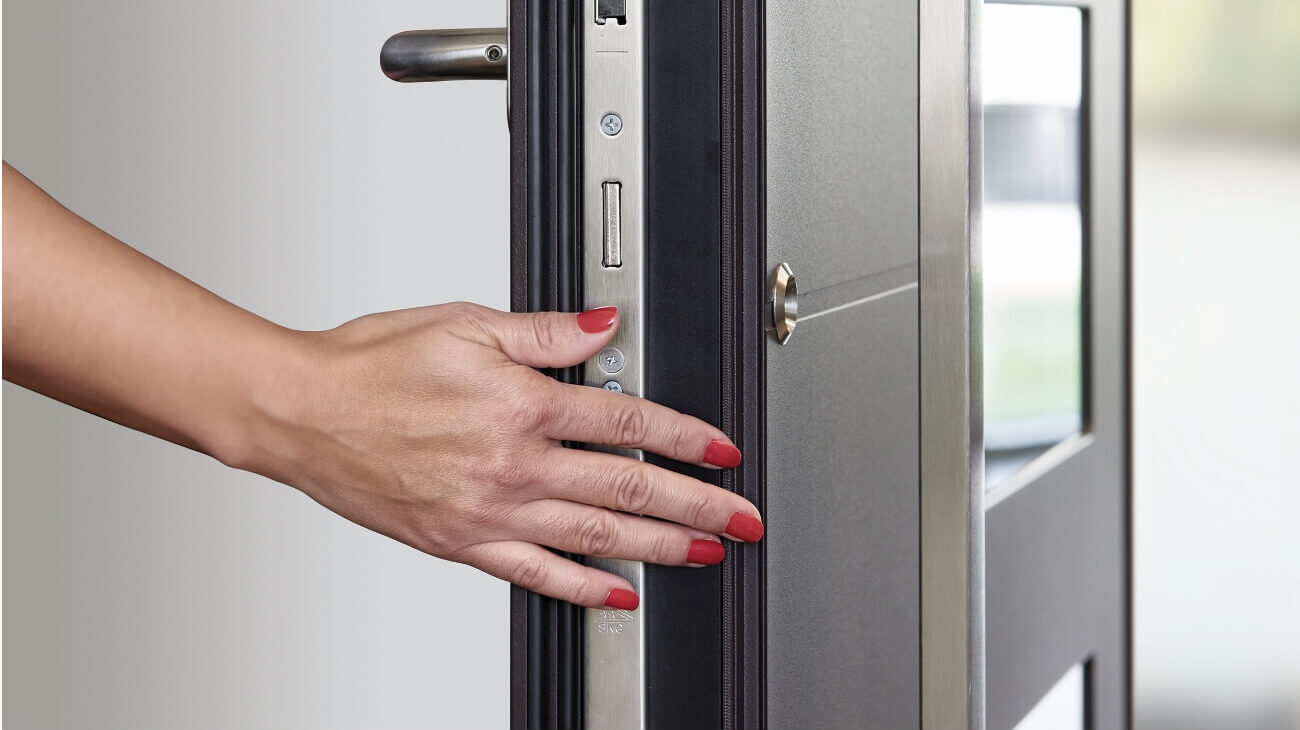 Lighting
Houses whose entrances are well lit are less likely to be targeted by burglars. This is a tell-tale sign that someone is at home and the area surveilled. With good lighting, it is more likely that someone will notice uninvited visitors. Therefore, driveways and paths to the front door should always be lit and the lights at the entrance should always be on. Sensor lamps, which are especially effective when you are not at home, also most certainly contribute to security.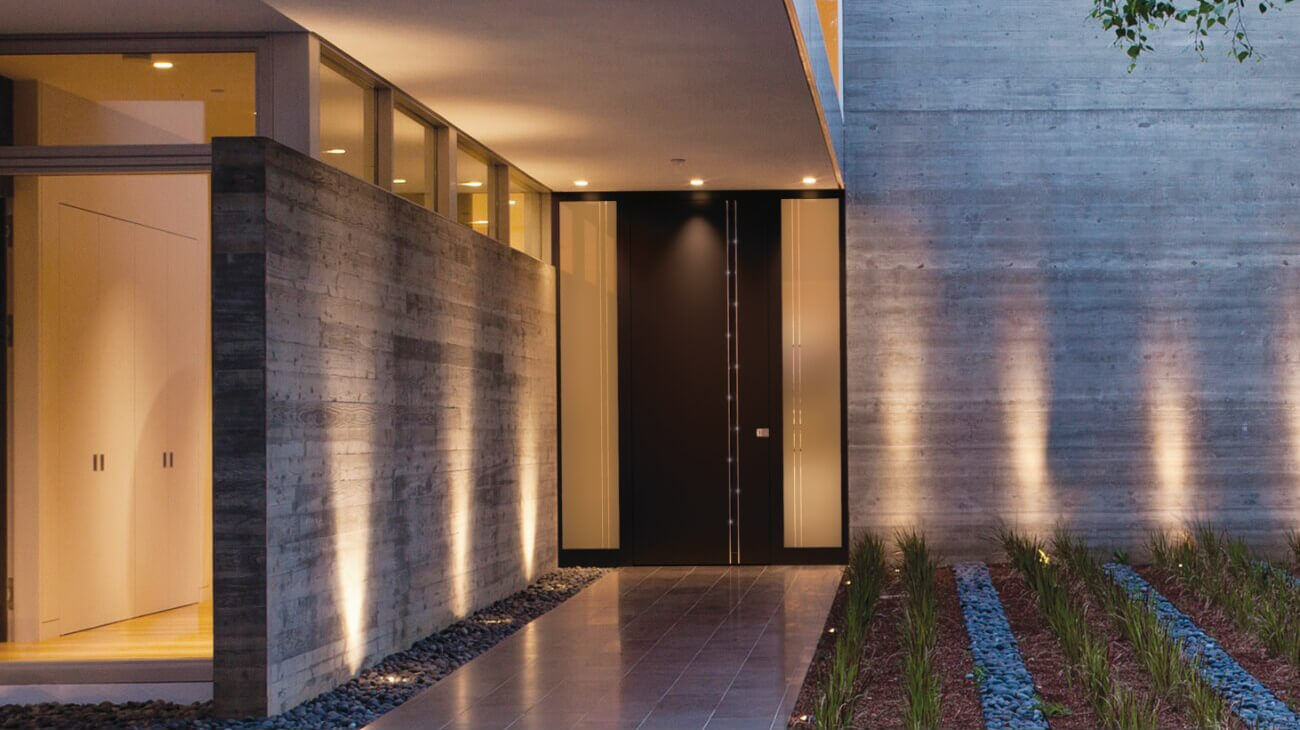 Use of glass
Glass is also an extremely popular material for front doors. Lighting, top lighting, large expanses of glass or tiny crystal details on the handles never fail to enchant with their beauty. Although glass is essentially a very fragile material, we know how to strengthen it with modern production processes to make it extremely resistant. Three- or four-layer thermal glazing will not let you down, as tempered and laminated glass are strong enough to prevent unauthorised entry into the interior.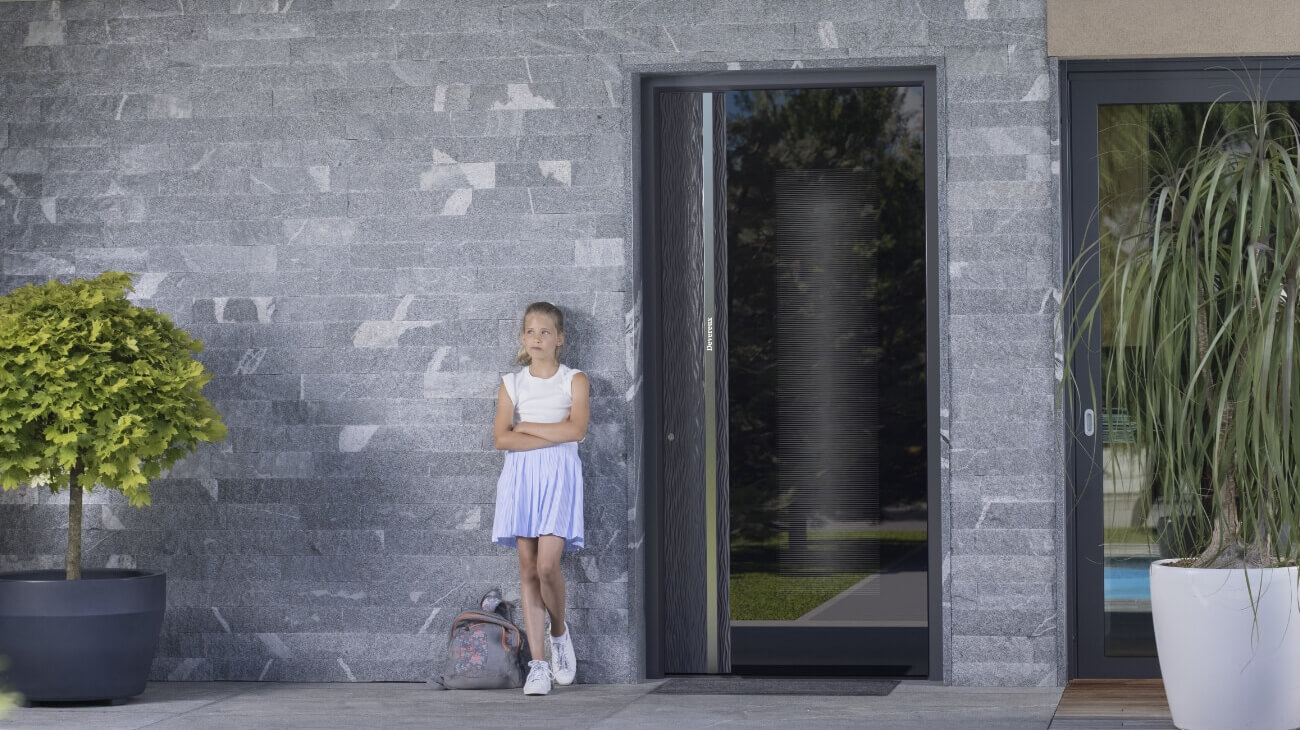 Hidden handles
A door without a handle? But of course. Pirnar Ultimum Pure with the OneTouch system is a door with an invisible handle. Only when the door recognises its owner via the fingerprint scanner, an elegant and automatic pull handle emerges, which illuminates the surroundings and the door unlocks. When you enter, the door locks behind you, the pull handle disappears and strangers are faced with a smooth surface that prevents anyone uninvited from possibly entering. Even from a distance, you can tell that this house is secure. This is a new generation of smart front doors that are part of all modern smart homes and business premises.