How to check if the door you are buying for your house is really secure?
Have you ever wondered if the door you are buying is really secure? Here are some guidelines to help you determine whether your entry door is sufficiently secure and properly equipped.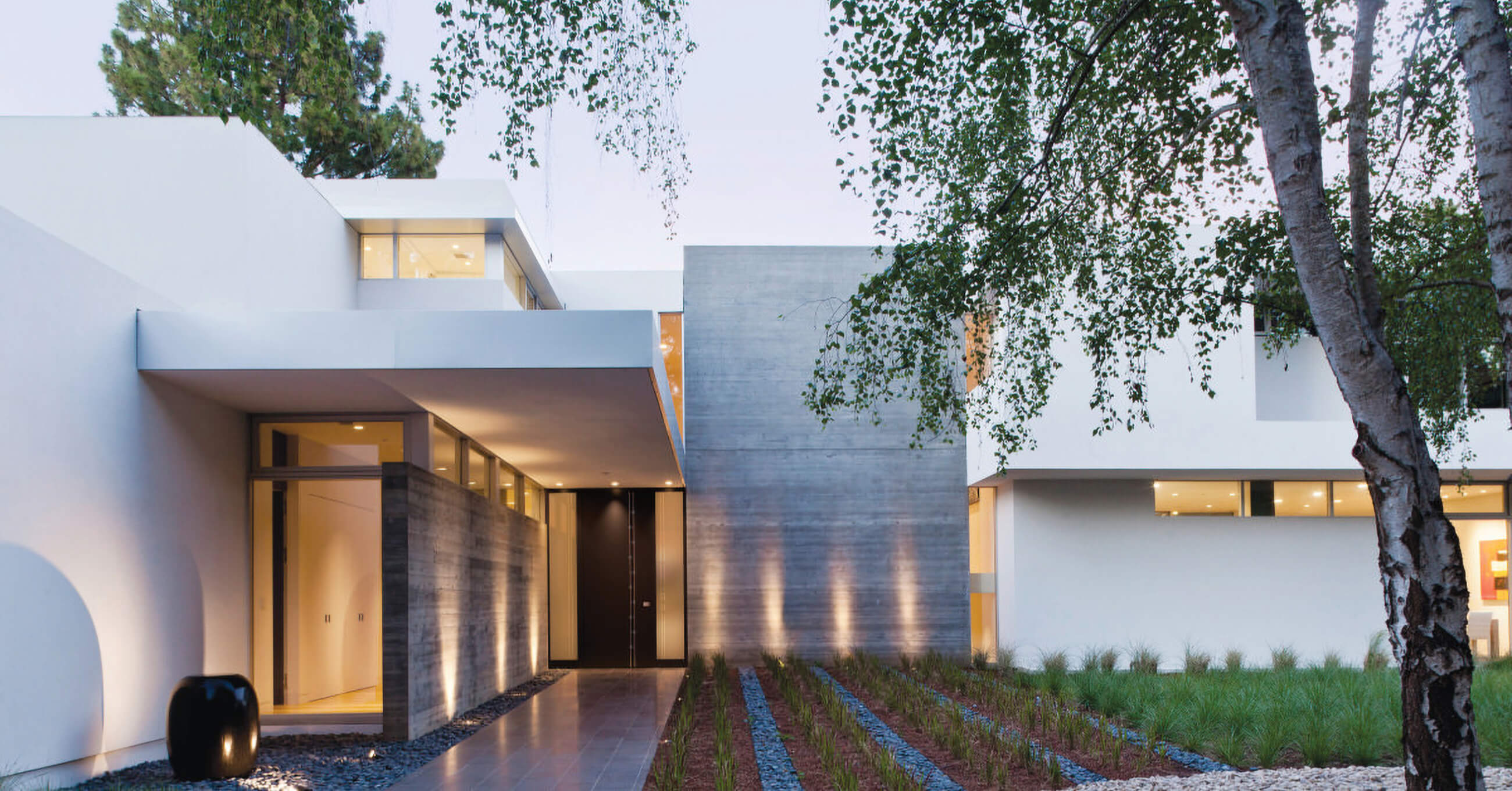 Ultimum Pure
The front door protects you and your possessions
Have you ever wondered if the front door you are buying is really secure?
Did any of your relatives or friends return home to see their house had been broken into? Did you? Attention is not superfluous, as experienced burglars are not deterred by twice locked front doors. They must be equipped with adequate anti-theft protection. This is the only way to protect your home and property from burglars.
Here are some guidelines to help you determine whether your front door is sufficiently secure and properly equipped.
Only safe and quality front doors can prevent a burglary
They protect you from the cold, rain, heat, noise and even uninvited guests. They protect your house from the outside world and protect your property. Burglary can have serious consequences. Apart from material damage, you may also lose the sense of security, which can have serious psychological consequences.
Thieves quickly notice houses with worn out windows or weak doors. Statistics show that burglars in 77% of cases enter the building through doors or windows. Therefore, make sure that the front door leading to the house closes well and has as little space as possible for burglars to jam in a screwdriver or metal rod. A poorly guarded front door can allow a burglar to break into your house quickly and unnoticeably.
7 general tips on how to keep your house safe
Have good relations with your neighbours.
Therefore, be in good relations with your neighbours so that they will also be alert to any suspicious events in the surroundings of your house while you are away.
Make sure that mail is not accumulating in front of the door.
Make sure the house and its surroundings give signs of life even when you are away from home. Have your neighbours or friends pick you up mail, water your flowers, open and close the curtains, park your car and the like. This way it will seem that there is someone home.
Install motion sensors.
Motion sensors that turn on the lights and illuminate your house often deter burglars. The light should be strong enough to illuminate a large part of the house.
Install alarm systems.
Alarms are certainly welcome, but if you can't afford them, we recommend installing dummy cameras, or at least stickers that indicate the house secured by an alarm system.
Don't reveal your absence on social media.
Post about how wonderful your vacation was when you're already home. While you are away, do not announce online that your house is completely empty.
Always make sure that the door is locked and the windows closed before going to bed.
Poorly secured doors and windows are one of the risk factors for burglary. How can you avoid this? During renovation or new construction pay attention to the safety components of the doors and windows when purchasing them.
What does burglary statistics show?
Statistics show that the number of burglaries in Europe has been on the decline in recent years, but there are still many burglary attempts. People's safety awareness is increasing, so those with less secure front doors are more exposed to the risk. Your burglary exposure is even greater if your first neighbour lives a kilometre or more away. That is why it is important that your house is protected by a safe and quality front door.
How can you increase the security of your front door?
Below, we present key information to help you navigate the sea of different providers and technologies and to identify the best solutions for the security of your front door.
When choosing the front door, pay attention to the security equipment:
the thickness and composition of the front door profile,
the thickness of the glass, which should be safety glass,
Hinges - these should include safety pins,
a quality safety cylinder,
a lock that must be multi-point,
safety rosette,
security can be further improved with fingerprint readers.
These elements are essential for burglary prevention and for increasing the time it takes to successfully enter a facility. The security components will make it so difficult for a burglar to break into the house that it is very likely that they will give up and choose an easier target.
Choose the safest alu front door
What levels of the front door security exist?
Burglar resistance classification
Burglar resistance classes that have been defined for windows and front doors are the result of cooperation between window and door manufacturers, the police and insurance companies. The burglar resistance classes for burglary protection are defined in DIN V ENV 1627/2011. There are 6 classes defined, which determine both the resistance and the type of intrusion. The higher the class, the greater the security.
The following is a brief overview of what particular security classes are most relevant for private facilities.
RC1 CLASS - protection against vandalism and fast burglary:

Protection against acts of vandalism using physical force (kicking, pushing, banging).
RC2 CLASS - protection against vandalism and burglary:

Breaking in using smaller tools, such as pliers, screwdriver, hammer, etc. The safety components must hold an experienced burglar for at least 3 minutes before breaking into the house.
RC3 CLASS - High level of security:

Breaking in using bigger tools, such as bigger hammers, steel breakers, mechanical drilling tools. The security components must hold an experienced burglar for at least 5 minutes before breaking into the building.
What do safety classes mean in practice?
The time needed to break in the RC2 class can be 2 to 3 times longer than usual, which means that the entrance door will surprise the burglar and will, in all likelihood, deter them from trying to break in.
The RC3 security door is virtually unbreakable for random burglars, since they would need extremely good tools and, above all, a lot of time, which could already attract the attention of neighbours.
In order for the front door to fully fulfil its anti-theft function, they must be installed properly and in accordance with the manufacturer's instructions.
Learn more about the correct installation of entrance doors
What is the best material for the most secure entrance door?
An excellent choice for secure exterior doors in a variety of facilities. They are extremely rigid, stable and offer many options for upgrading security equipment. They can be upgraded with safety fittings, safety glass or a special cylinder. Today's advanced technology also provides the maximum level of security for glass doors.
Stainless steel front doors
They consist of a steel frame construction and leaves, but are less insulating. Therefore, they are recommended primarily as residential doors in blocks of flats.
Wood front doors
The wood front doors can be upgraded with safety equipment just like the rest. Whether it's a safety fitting, safety glass or a special safety cylinder.
Which components for door security are the most important?
When it comes to front door security, you should not overlook the following security components:
door leaf material,
fittings,
glass,
other safety accessories (magnetic switch, etc.).
We will describe each of these security components in detail below.
Choose glass that is safe
Glass certainly has important aesthetic and functional properties. It plays an important role in insulation of the front door and the security. We know the following types of glass:
tempered,
laminated,
fire resistant,
glass with security film.
Tempered glass
Tempered glass has been heat treated. It is four to five times more impact resistant, is overall stronger and is more resistant to temperature changes than ordinary glass. Its main advantage is that if the glass breaks, sharp particles do not explode, but the glass gets the pattern of a cobweb, exposing only small and dull particles which do not pose a risk.
Lami­nated glass
Laminated glass offers anti-theft protection. The adhesive layer between the layers of glass ensures that, in the event of breaking, the glass particles remain in place and do not fly apart. The inner foil holds the particles together. They stick to the foil, which means protection against damage and burglary. This makes the glass more difficult to break as it does not collapse to allow the burglar to enter immediately.
Laminated glass is available in different thicknesses and specifications, namely VSG 6 mm, VSG 8 mm, VSG 10 mm, P4A and P5A.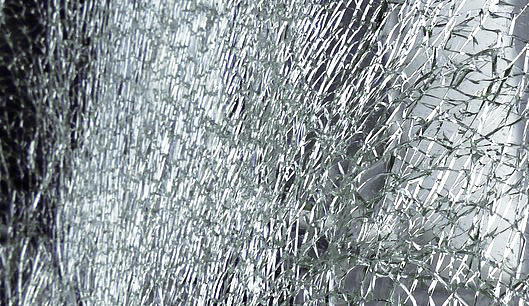 Safety glass
The smart choice of the locking system and the cylinder can be crucial
High-quality doors, for the most part, already provide a high level of security. What does that mean?
They are equipped with a quality multi-point lock with massive security hooks that lock the door at multiple points.
The entrance door construction is solid.
They feature a high-quality safety cylinder insert with several fixed and active pins that protect the front door against drilling out the cylinder. A security card that comes with the cylinder prevents an unauthorised person from copying the keys.
They contain a security rosette.
Massive hooks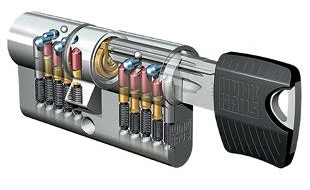 Cylinder ARMO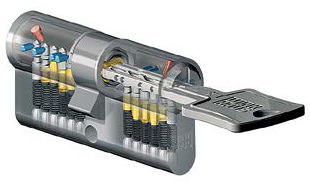 Cylinder ARMO
Burglars usually try to break through the front door with a simple screwdriver by disassembling the fittings and opening the door. The elements listed above are enough for the burglar to abandon their intention.
The PIRNAR Alu front door provides an extremely high level of anti-theft security. To ensure even greater security of aluminium or wood entrance doors, you should also opt for an additional upgrade with the RC2 or RC3 class safety requirements. However, the front door can be equipped with a safety cylinder with an anti-counterfeiting ID card, additional safety HD pins on the side of the hinges, or a safety glass.

ARMO COMFORT lock

ARMO MAX lock
Convenient and secure locking system - PIRNAR SECURO
More and more customers are opting for electronic locking systems for their convenience, safety and practicality.
The most popular systems are keypads and fingerprint readers PIRNAR SECURO. Why? Because the multi-point motorised lock provides the highest level of security.
Here are some reasons why customers choose the SECURO fingerprint reader:
your key will always be with you so you will never stay outside,
the fear of lost or stolen keys is gone,
a practical solution for families with children,
non-transferable access,
exceptional protection against counterfeiting,
your front door will never remain unlocked, as the power lock will always lock behind you.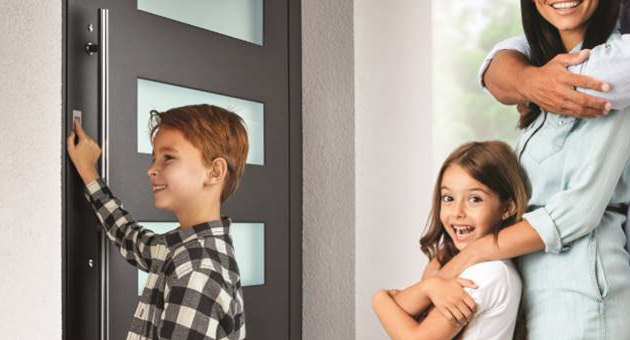 SECURO fingerprint reader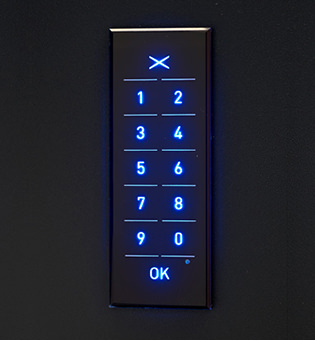 SECURO keypad
What about additional security options?
For additional protection of your windows and doors you can use a special switch or an electronic sensor to notify you of any open doors and windows. Seamlessly mount them on windows or doors, and your sensors will reliably report which doors and windows are left open or closed. You can also connect electronic sensors to your security alarm system.
PIRNAR: The key to your safety and the security of your property
The exclusive PIRNAR front door is the perfect answer to the question of how to protect your loved ones and your property from burglars.
In addition to the many international awards for aesthetic excellence and innovation, quality workmanship and safety equipment will ensure the highest level of safety. You can personally see the new generation of front doors in our showrooms.