Why is an exterior door made from aluminium the right choice for you?
The aluminium material of any doors are known for their durability, sound and thermal insulation, safety and unlimited design options.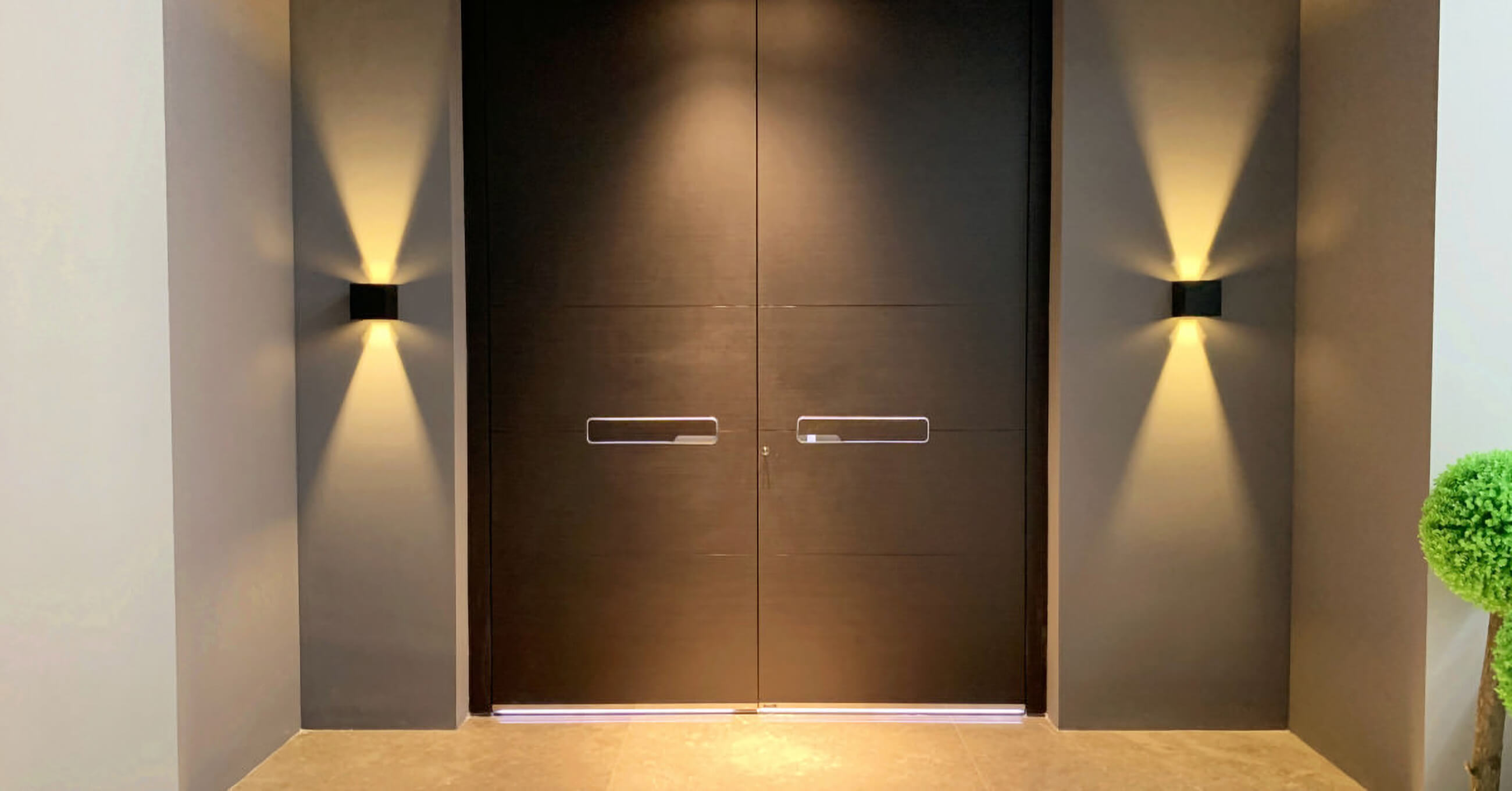 Excellent weather resistance, and excellent thermal and sound insulation, are the main advantages of aluminium front doors. It is also important that it is a recyclable and environmentally friendly material which is easy to maintain. Combining all of these features with cutting-edge craftsmanship and outstanding design, we get the perfect entrance that will thrill you every time you are at your door.
So what are the main advantages of an aluminium front door?
high durability
structural stability
outstanding thermal and acoustic insulation
long lifetime
uncompromising security
almost unlimited options for adjusting to the size and style of buildings
The aluminium door offers you uncompromising security and endless design options
Modern processing enables us to tailor all wishes and accessories in a variety of ways. Our experienced craftsmen can fully adapt to your unique requirements and make the dream unique door to order.
The endless selection of colours depends on the style and design of your home. With PIRNAR you can choose between one-colour or two-colour version of the door.
You can liven up the door with different colour combinations, since you can choose from:
matt or gloss colour tones according to the RAL scale
structural and metallic colour tones
wooden and decorative decors
The choice of the right colour combinations depends on the architectural style of the house, the colour of the facade and the rest of the building's furniture. You can also show your boldness and opt for colour combinations that will make your front door stand out.
Alu front door protects us from heat, cold and other external influences, as well as from uninvited guests. The home is our refuge, so the security of the front door is very important.
So what determines the security of the front door?
When choosing security equipment for your front door, you should first and foremost consider:
the thickness and composition of the profile
hinges - these must include safety features
a quality safety cylinder
glass thickness
a multi-point lock
All of these elements are essential when thinking about burglary prevention. The choice of glass is also important. Glass is a material that doesn't only have decorative and functional properties, but is also a very important factor in thermal and sound insulation. Contemporary alu entrance doors provide us with protection against the outside noise, and the thermal insulation of the door prevents greater heat loss, thus saving on heating and cooling costs. Glass also helps us with good thermal and sound insulation when properly treated.
There are several types of safety glass:
Tempered glass is heat-treated glass that is resistant to temperature changes and external mechanical influences such as shocks.
Laminated glass consists of two or more layers of glass, between which there is one or more adhesive layers, which prevent the particles from bursting when broken.
Both types of glass offer us unlimited possibilities for combinations and patterns, so you can take care of safety and aesthetics of your entrance.
Design your alu door with a modern locking method
An important security aspect for any front door is the locking method. More and more customers buying a front door choose a more modern approach to lock and unlock the door.
There are different systems that allow you to unlock and lock the front door safely.
Unlocking by voice
Iris scanners
Face recognition
Fingerprint reader
Unlocking with a card or a keypad password
You can upgrade the Pirnar front doors with a locking system, such as a fingerprint reader and a keypad that, in combination with a motorised multi-point lock, provides the highest level of security.
You can choose to take a personal approach with our system OneTouch with a hidden door pull and a fingerprint reader. We were also the first to develop an internationally-acclaimed smart entrance wall that inspires with modern design, quality materials and cutting-edge technology. You can also play around with suitable lighting at the side of the door or on the pulls. Pulls are available with prestigious crystal accessories or even your name, which to illuminate your unique pull.
Fingerprint or face recognition doors are safe, reliable and extremely practical to use, becoming the safety standard for a modern home. The future is here! If your home is guarded by a smart lock, you can have full control of your entrance. That way, you can be anywhere in the world and still know that your house is safe from unwanted visitors.
Pirnar door is the perfect answer for all your needs
With its high quality workmanship and sophisticated design, the Pirnar front door is the perfect answer to the question of "which front door to choose?". It will protect both your family and your property, while giving your home a special touch and unique personality.
Browse our catalogues with the latest collections of front doors and visit us in our showroom, where you will be able to see and touch the superb craftsmanship and uncompromising quality that only Pirnar can offer you.