COLORFULLY ELEGANT
Yellow front doors
Yellow front doors radiate warmth and happiness. They instantly make any house look more inviting and are an excellent choice for houses with a darker architectural design. Painting your door yellow has a significant meaning and reflects a content and outgoing personality.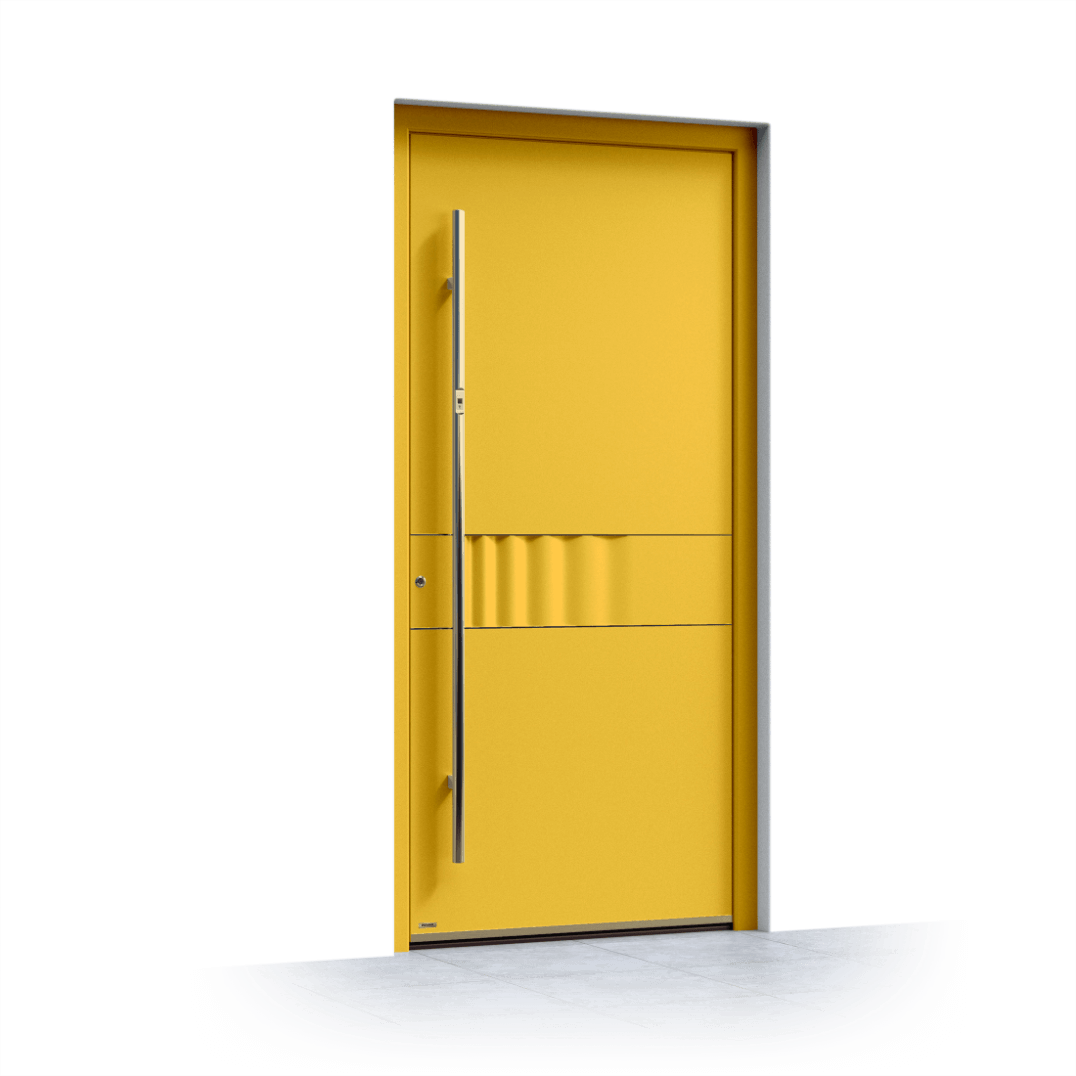 Tips on how to stage your yellow front door
Many people are wary of bold colour choices. They fear that their elegant, luxurious home may look tacky and too swanky. At Pirnar, we want to give you the option of creating your own bespoke front door that ties in completely with your aesthetic.
We offer yellow doors that come in a variety of different styles and shapes.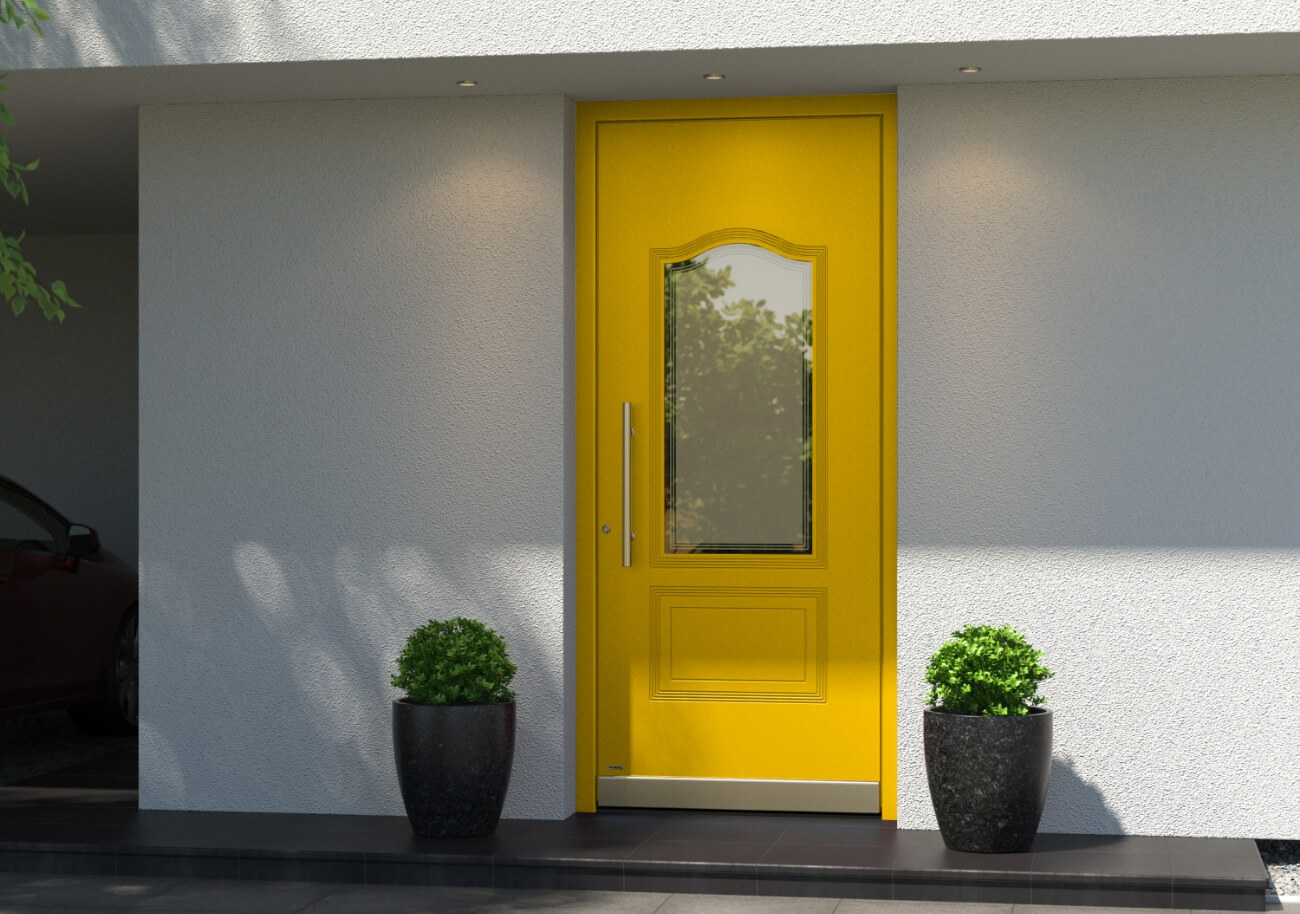 Front door models
RAL Palette offers a variety of choices
DESIGN YOUR FRONT DOOR
Vibrant front door colours to impress
You may choose between traditional wooden or elaborate modern doors with intricate glazing and contemporary, state-of-the-art design. Bold coloured doors undoubtedly originate in the Georgian and Victorian period, but our modern French doors and glazed entrances look equally grand with bright yellow paint.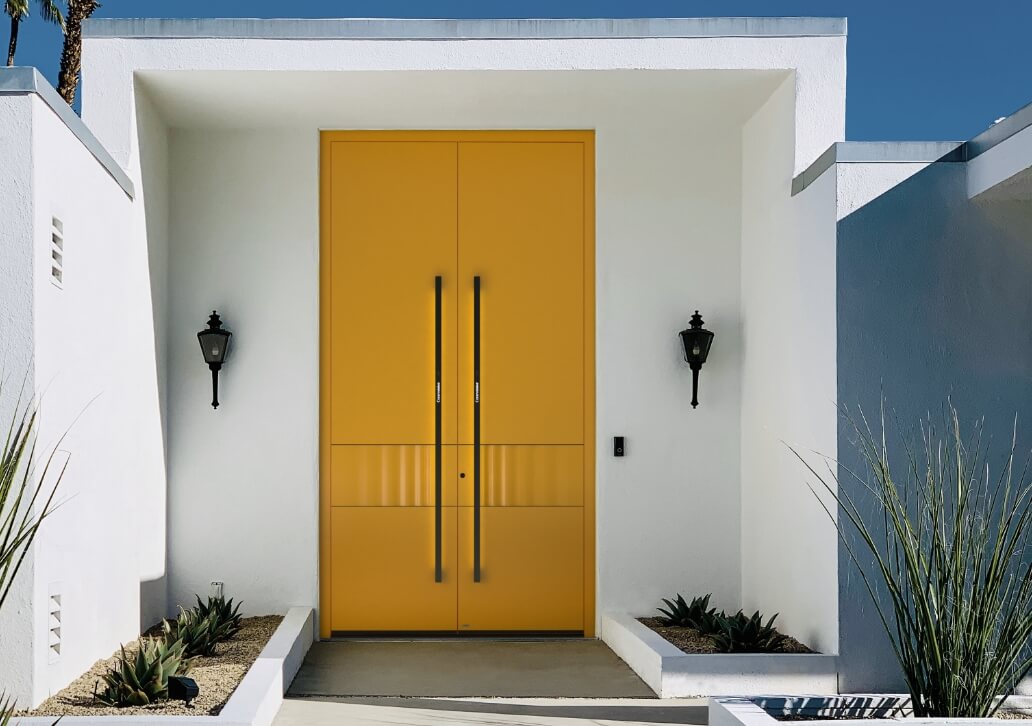 Pirnar aluminium doors are exceptionally colour-persistent and treated with special electrostatic powder-coating on a chromated basis. This allows us to paint your door with any RAL colour you desire. Our yellow tones range from bright neon yellow to earthy mustard shades.
Many appreciate a bright yellow front door but want to keep their entrance simple from the inside. If you want to tone it down a notch, you can create your ideal front door to be painted yellow on the outside but has an elegant neutral or even wooden decor on the inside.
What does a yellow front door symbolize?
Yellow front doors have been around long before they became fashionable during the Georgian period. The strictness and rectilinear style of Georgian style front doors profited from this vibrant colour. Red, purple and blue doors were equally popular, but none come close to the cheerful vibe of yellow front doors.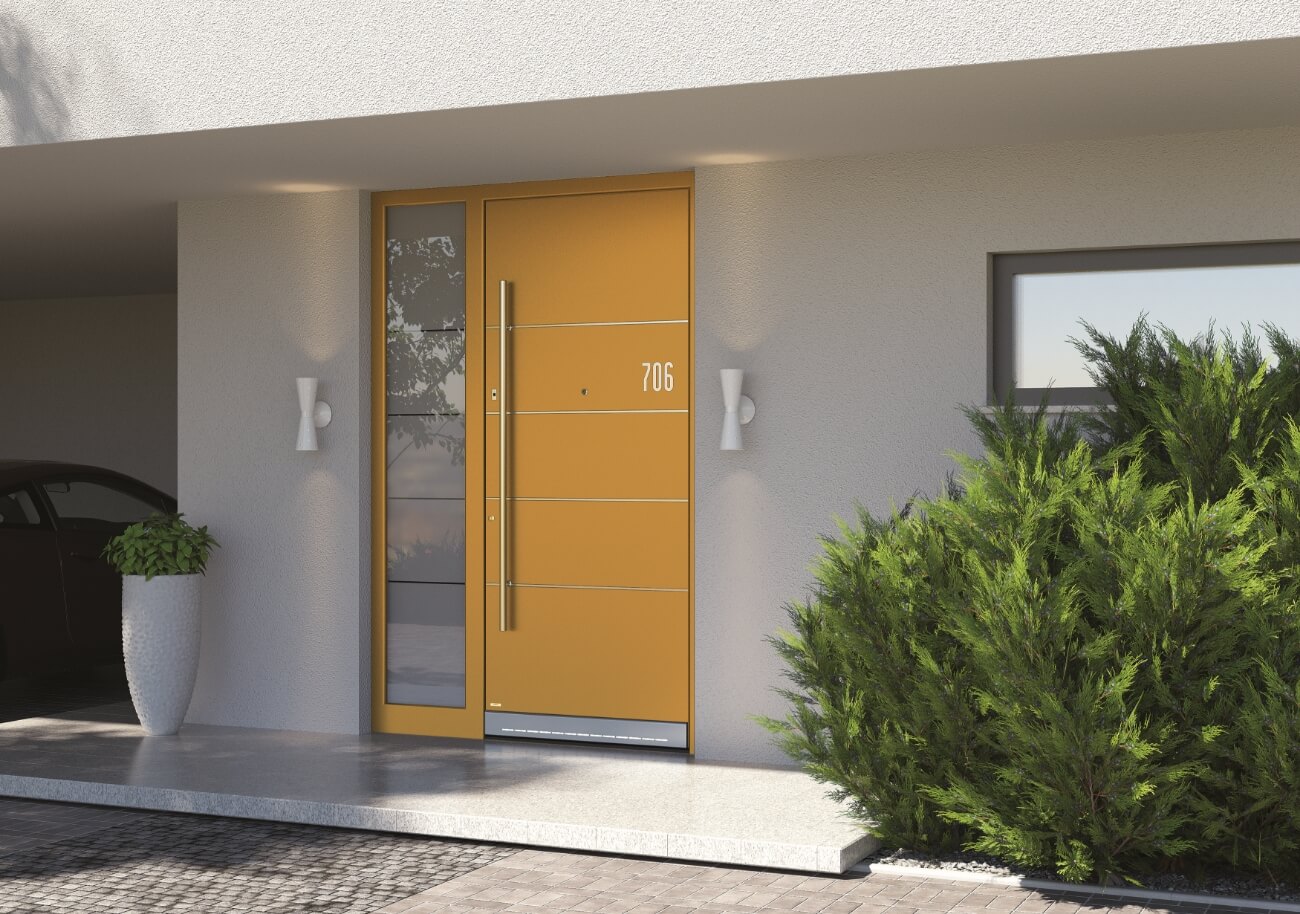 Yellow stands out

The colour yellow is linked to feelings of happiness and optimism. It adds curb appeal to your property and makes it stand out among all the other houses in your neighbourhood. A yellow door suggests extroversion and welcomes guests with open arms. Homes with yellow front doors also reflect the hospitality of the homeowner. Other meanings include:

wealth
well-being
cheerfulness
peace

In Feng Shui, yellow also represents the strength of earth and fire, making it a very expressive colour. In Hinduism, bold yellow stands for knowledge and learning.

Yellow door is aesthetic

Aside from the meanings and symbols attached to it, a yellow front door is simply nice to look at. It adds a splash of colour to your house and radiates happiness and warmth. As yellow is also a very intense colour, it is best combined with neutral hues and shades of brown, white front doors or grey.

Yellow door in different styles

To ensure your door is perceived in the best possible light, we recommend making your front door the single colourful centrepiece on your facade. Yellow doors work incredibly well with brick exteriors or neutral colours and stand out well against darker shades of brown, grey or black.

Similarly, you're free to choose any door furnishing to go along with your bespoke yellow front door. Keep it simple and elegant with our OneTouch door handle or perhaps you prefer elaborate furnishings and traditional knockers. In our configurator, you can easily select the optimal style, furnishings and decor for your new Pirnar front door.
DESIGN YOUR FRONT DOOR
Choosing a yellow Pirnar front door
Whether you have an appreciation for traditional doors or want to make sure that your property is the highlight of your neighbourhood – our yellow front doors incorporate the colour´s meaningful symbolisms while adding modern and elegant touches. Create your own intricate entrance and be sure to impress!