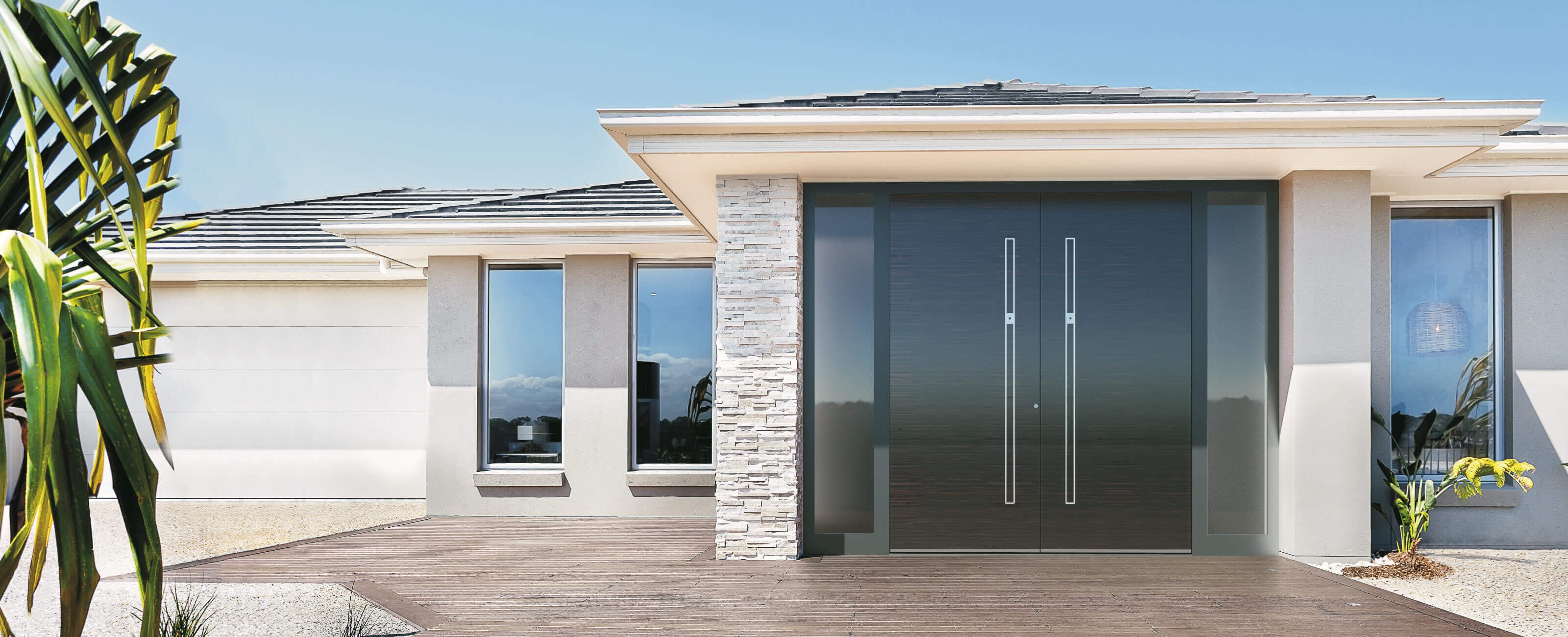 BEAUTIFUL NATURAL STYLE
Double wooden front doors
Double doors create a sophisticated exterior worthy of a grand estate. That's especially true for wooden double front doors, which add the natural charm of oak, spruce or larch wood to the ensemble. Whether you're looking for a way to add to the exterior visuals of your home or you're hoping to give visitors a first impression of the tasteful interior design of your home, Pirnar wooden double front doors are the way to go.
Great visuals with double entry doors
Transform your home into an airy mediterranean villa with light pastel windowsills and a wide double front door made of spruce or larch wood – or turn it into a stately manor house with large double-leaf doors made of dark oak. There are plenty of ways to design wooden front doors, fitting all design concepts perfectly. Even contemporary styles such as tasteful minimalism can benefit from front doors made of wood. Simply add glass panels, paint your door leaves and frames in a solid colour and your double entry doors start exuding tasteful simplicity and understatement.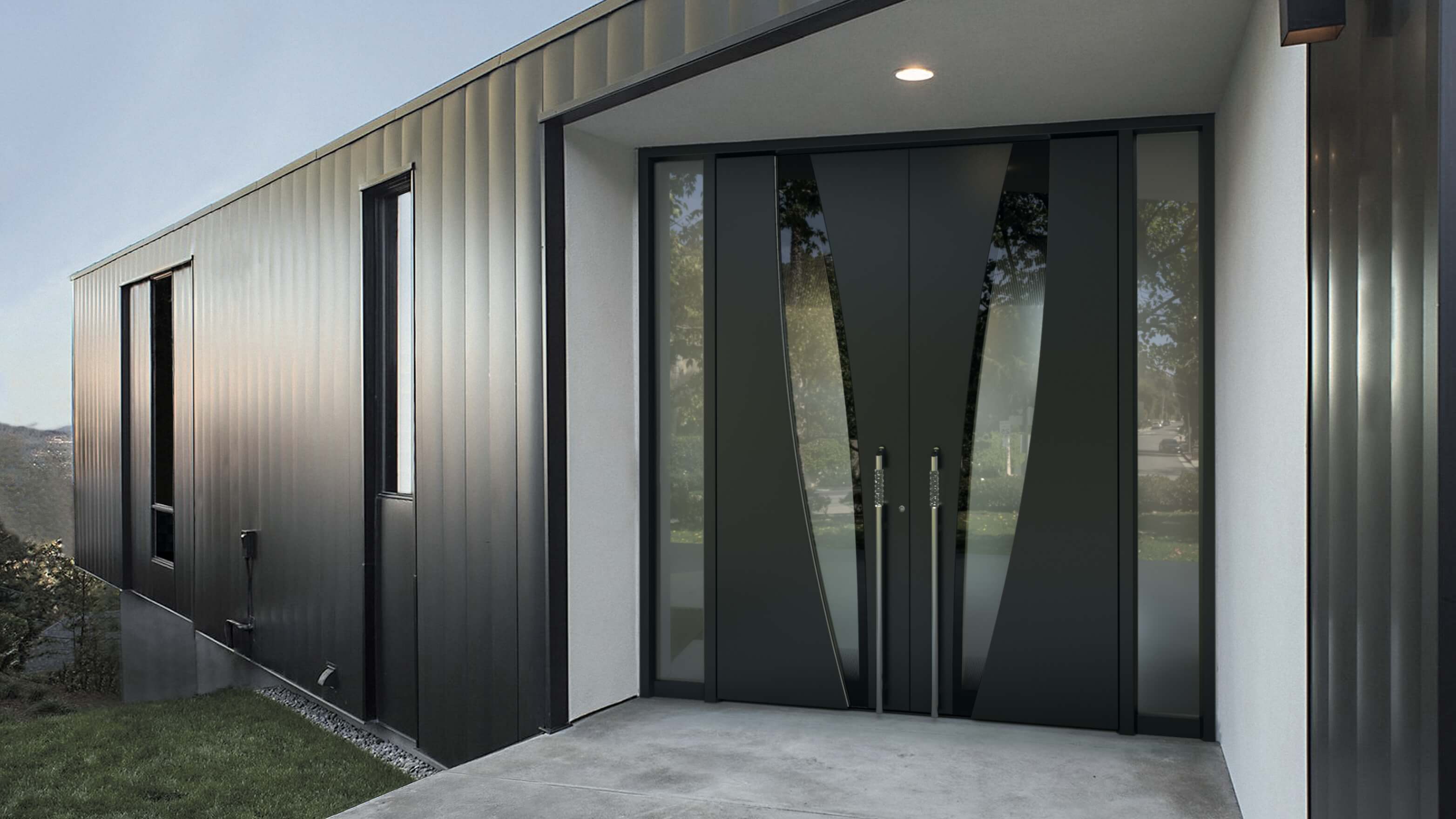 Practical benefits of wooden double front doors
Double doors are unique, just like your home. They're also typically associated with high-class living, which adds a certain je ne sais quoi to your home. A front door made of wood, perhaps with glass elements or other ornamentations, is a design statement in itself, but make it a double, and your neighbours are sure to take notice.
DESIGN YOUR FRONT DOOR
Add side panels to your wooden front door
Depending on how much space you have to work with, you can also add side panels made of oak, larch or spruce or glass sidelights or a transom window to your double exterior door. There are almost no limits to defining your style using the Pirnar front door configurator.
Double exterior doors with glass inserts
A front door with two leaves requires a lot of space, making this design decision tenable only if your entryway has enough room for such a wide door. You may have to decide between installing a double door or a single door with sidelights. You can combine the benefits of glazing elements with those of a double door by applying glass inserts to your door. These let in plenty of natural sunlight into your home's entrance area.
If you're worried about security or privacy, you can have the glass panels made from security glass to protect against burglars or frosted glass to protect against prying eyes. There are also ornamented glass panels that protect your privacy and look great doing it, too. Having a wooden double front door with decorative glass inserts is sure to draw your neighbour's eyes, as well.
Active and passive leaves
When you're finalising your new front door design with the Pirnar configurator, you should also note which direction you want your door to open. Double doors usually feature a passive leaf and an active one – the active leaf is the one you'll be opening and closing most of the time. The passive leaf can be opened, but it will be fixed in place most of the time, sometimes with a central mullion.
Your door's passive leaf can be opened after the active leaf has already been opened, allowing you to take advantage of the entire width of your doorway. When designing your door, you should determine which side of your double door you want to be the active leaf. Or in other words: Which side of your door do you want to be using most frequently in your day-to-day life.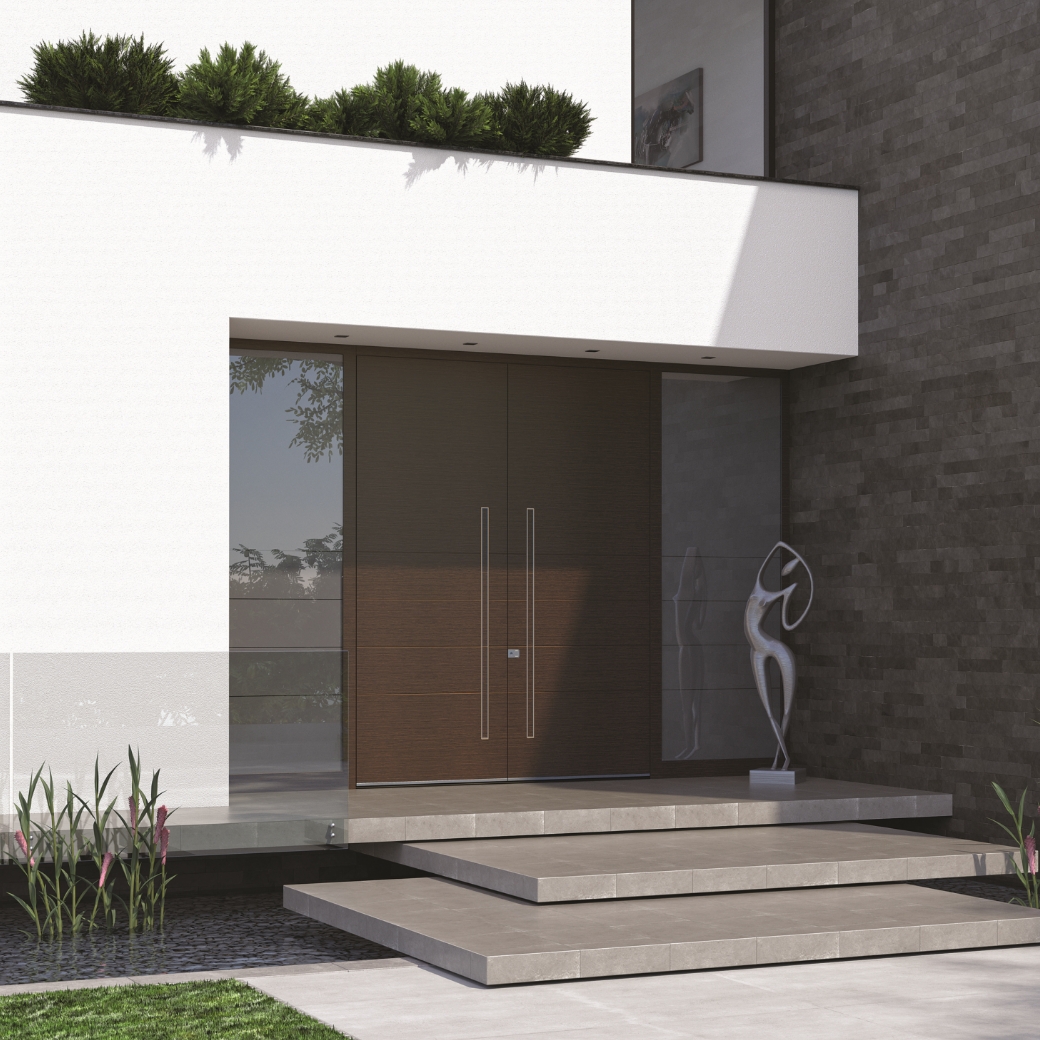 Find the wooden double
front doors of your dreams
Looking for an exterior door that'll have your visitors marvel at your sense of style? Then a Pirnar front door with double leaves is the way to go. Use our configurator to choose between a plethora of design elements and practical add-ons such as burglary-proof glazing to find the perfect double front door for your home.