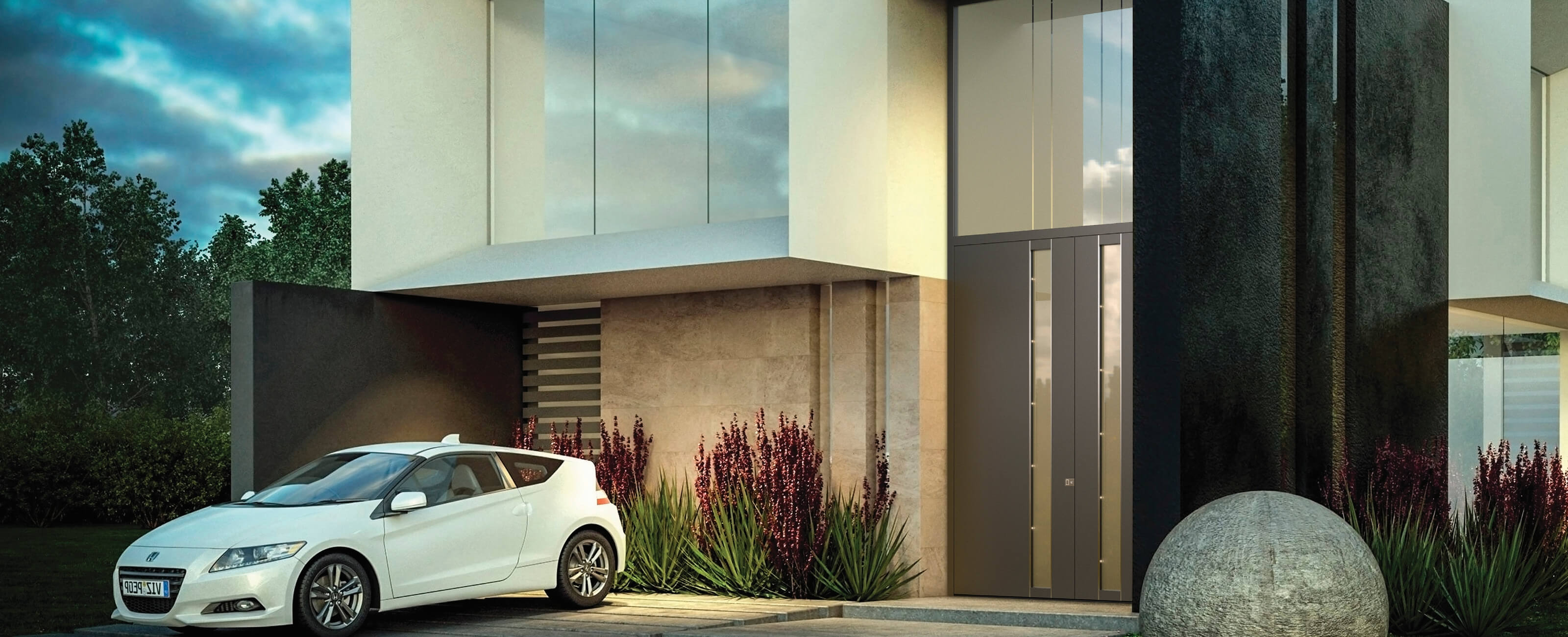 EXTERNAL DOOR SIZING - STANDARD & AVERAGE DIMENSIONS
Door sizes for all home types
The dimensions of Pirnar's entrances are only limited by your imagination. Together we can design and adjust any size of your external front door.
We create made-to-measure front doors
The dimensions of exterior doors are most often limited by space availability and, above all, by your own imagination. They have a significant impact on the functionality and aesthetic impression they create. A smaller door conveys a different message to its surroundings than a large, monumental entrance. In recent years, there has been an increasing demand for oversized front doors, which is why Pirnar was the first company in the world to successfully develop a manufacturing process that allows us to produce GRANDE sized doors. This innovative technical approach enables us to realise projects such as museums, modern villas and large office complexes.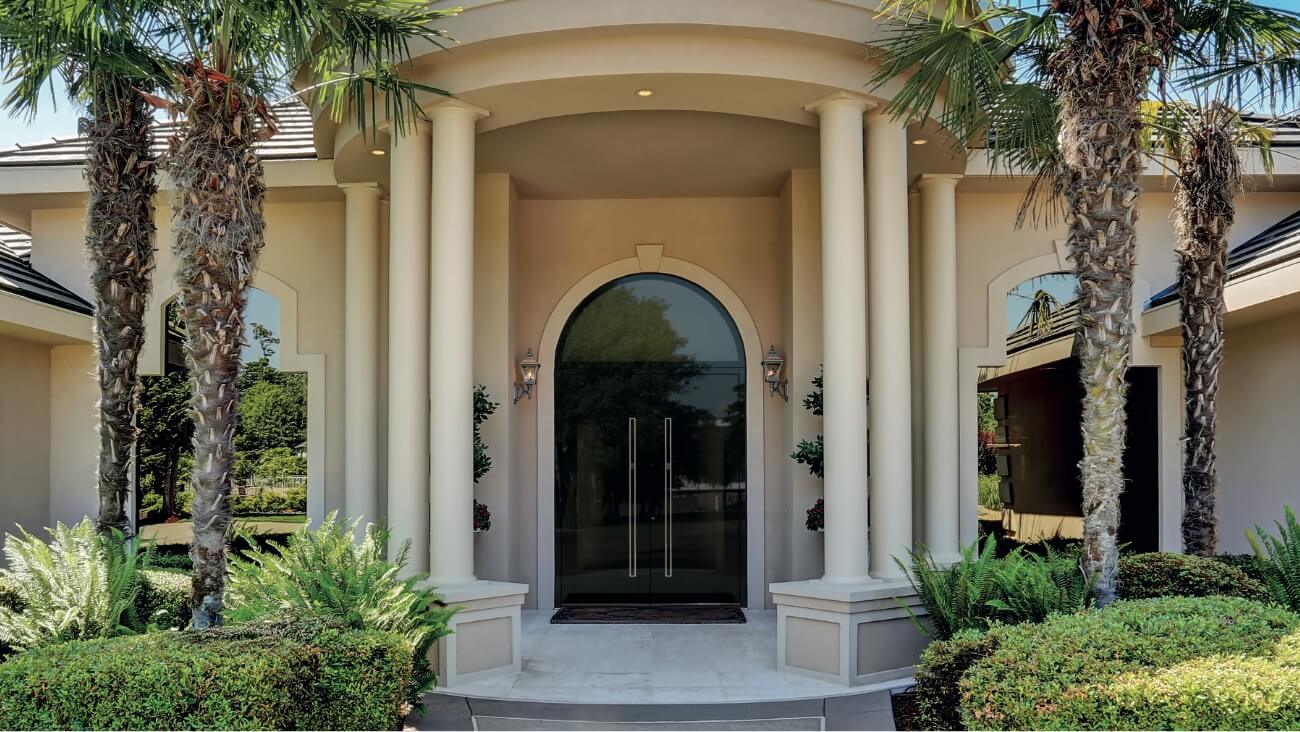 Single-leaf front doors
Single-leaf front doors are the most common choice for an entrance. They can come in different sizes with any swing direction, from standard to large, and are suitable for both small and large homes. If you have more space, install one or two sidelights next to your single door, which will make your entrance feel grander and allow more natural light to flood in.
STANDARD DIMENSIONS

STANDARD DIMENSIONS

The most common sizes for single-leaf door openings are from 950 mm (37,4 inches) to 1135 mm (44,7 inches) wide and from 2000 mm (78,7 inches) to 2200 mm (86,6 inches) high. These are standard dimensions or average front door sizes in UK.

COMBINING SIDELIGHTS

COMBINING SIDELIGHTS

Sidelights adds decorative value to your home as the door glows gently with the dim evening light. It also makes your home more secure.

WOOD OR ALUMINIUM

WOOD OR ALUMINIUM

A standard-sized single front door can be made of aluminium or wood; both materials will perfectly complement the overall look of your entrance.

STAINLESS STEEL

STAINLESS STEEL

Stainless steel or inox is the perfect material for making classic or modern front door handles due to rust resistance and minimal maintenance. We spend a lot of time making handles at Pirnar, as they require masterful surface treatment and precise sanding of surfaces to achieve a unique and elegant look.
Double doors – for a grand entrance
Contemporary architectural trends are all about opening up spaces, and modern oversized doors bring grandeur, spaciousness and timeless elegance to homes. They also reduce the feeling of being cramped and closed in and give a sense of freedom to the home. At Pirnar, we go one step further and create a magical rite of passage from the noise of the outside world to the tranquillity and security of your home.
Convenient practicality
One of the most important advantages of double doors is the increase in size. Moving house or changing furniture are just two practical reasons why you will appreciate the ease of carrying large items through double doors, instead of having to manoeuvre them through a single entrance. Another important practical aspect is the increased visibility, especially if you have children who play in the front yard.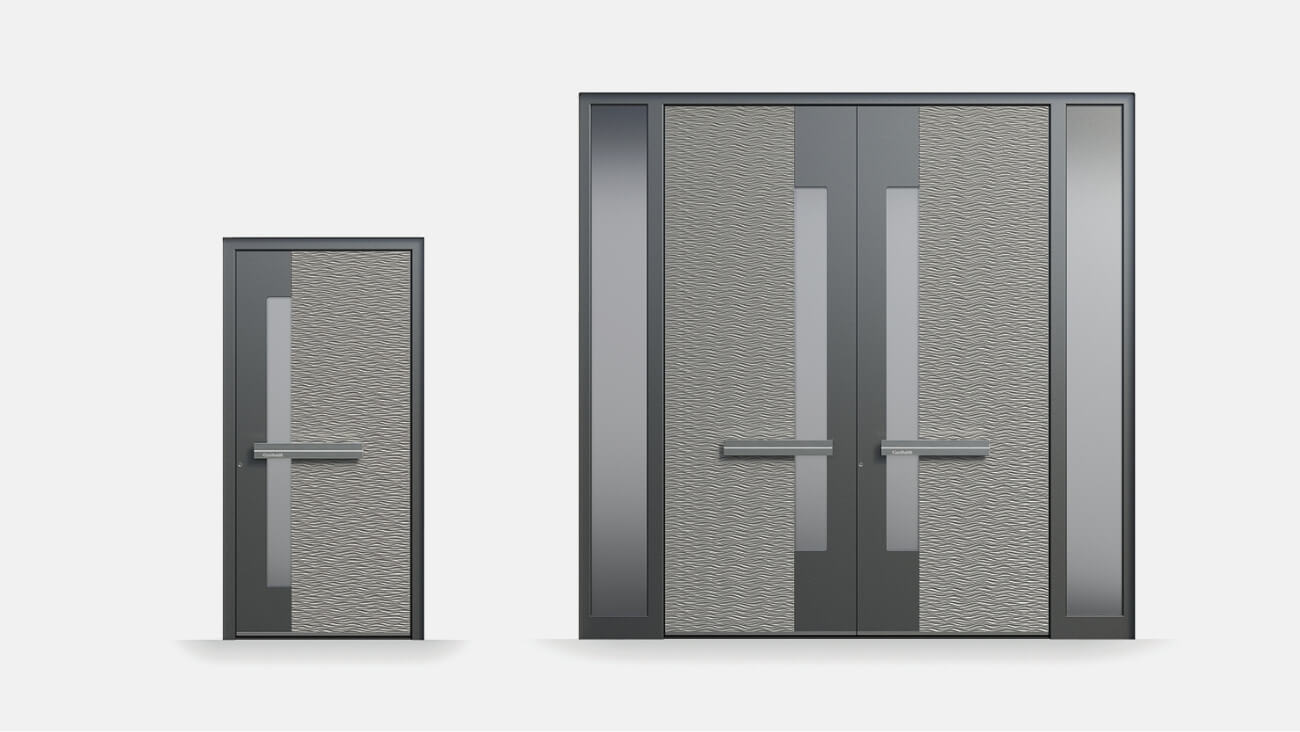 Stunning views of the interior
If you like holding parties at home and are a host at heart, then a double front door will create an unforgettable welcome. These external doors are particularly aesthetically pleasing when they open onto a larger terrace or conservatory. They can come in any swing direction.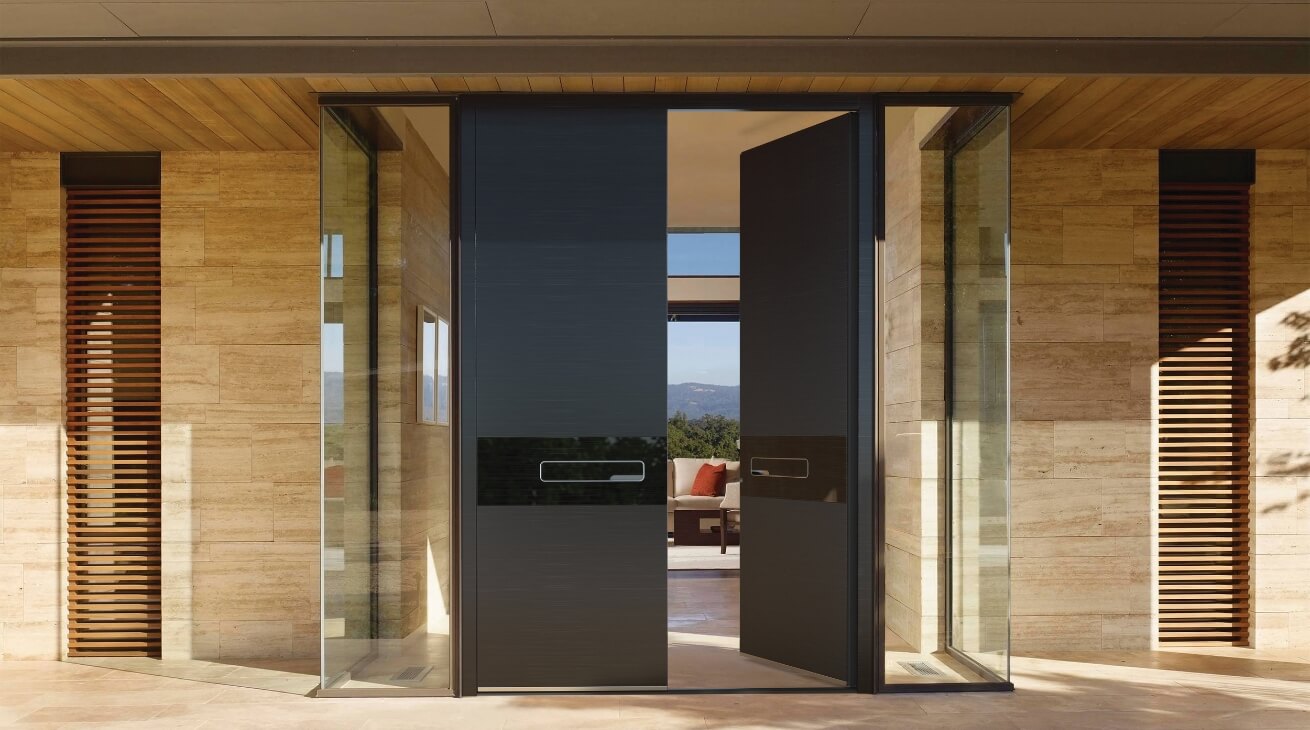 Wonderful design
At Pirnar, we have gone one step further and taken the monumentality of the double door into the future with the most advanced technological innovations and accessories such as glass overlays or front doors with sidelights.
The grand dimensions
of Grande
Large rooms with high ceilings, grand villas, castles and modern architectural masterpieces need something more than standard. That is why we carefully manufacture select Pirnar front doors in the Grande size, which - with virtually no size restrictions - creates an impression of grandeur with its exceptional height and width. The largest front door to date was installed in the United Arab Emirates - a magnificent 7.4 m high aluminium entrance door, which adorns a villa in Dubai.
#1

GRAND DIMENSIONS

If you are creating a truly majestic home, you should also choose a grand front door. At Pirnar, we can create doors in staggering sizes of up to 3 m in height and 1.3 m in width, to make your modern villa a true thing of beauty.

#2

MORE NATURAL LIGHT

An additional advantage of a GRANDE door is that they create more natural light. Combined with glass, they will light up your entranceway, while accentuating the beautiful, modern design feature. If you choose sidelights on both sides, you will achieve the impression of a larger and even more imposing entrance, while allowing even more light to stream into your entrance hall.

#3

VERSATILE ALUMINIUM

Aluminium is the most common choice of material for modern oversized models as it provides the highest structural stability, deformation strength, the best thermal insulation, a wide range of surface treatments and readily combines with other materials.
Useful information
What are the dimensions of a standard door?

The most common sizes for single-leaf doors are: width from 950 to 1135 mm and height from 2000 to 2200 mm.

DESIGN YOUR FRONT DOOR

How can I measure our entrance?

Door measuring is a complex task that is best left to experienced professionals. In a new building, it is easier to determine the dimensions of the door, as they are usually already included in the architectural drawings or building plans.

If you are renovating, the approximate measurements of the current door or wall opening are sufficient for an informative quote. Later, however, accurate measurements are best left to Pirnar's highly-skilled professionals to take precise measurements.

How can I ensure the security of oversized doors?

Even if your front door is oversized, you must not compromise on safety, design and workmanship. Therefore, choose a proven manufacturer that constantly upgrades and improves its product range, especially in regard to safety.

In recent years, Pirnar has developed two secure opening systems with automatic owner recognition, which prevent any tampering with the front door and ensure the highest level of security currently available, while providing the highest possible level of convenience.

DESIGN YOUR FRONT DOOR

Which material should I choose for an oversized front door?

There are several materials to choose from for doors of different sizes; however, aluminium is the optimal choice for a large-sized door in a number of respects:

Maximum structural stability and deformation strength. Aluminium is the most common choice of material for modern oversized external doors as it provides the greatest structural stability and deformation strength. This is very important for large-sized doors.
Best thermal insulation. Aluminium provides exceptional thermal insulation, an important factor for larger-sized doors, as heat loss can lead to additional energy costs.
Surface treatment options. Aluminium offers countless surface treatment possibilities. With minimal maintenance, it retains its original shape and appearance for many years, making it an extremely rewarding material for double front doors.
Combination with other materials. An aluminium door can be combined with wood, glass and even stone, depending on the door model and design selected.