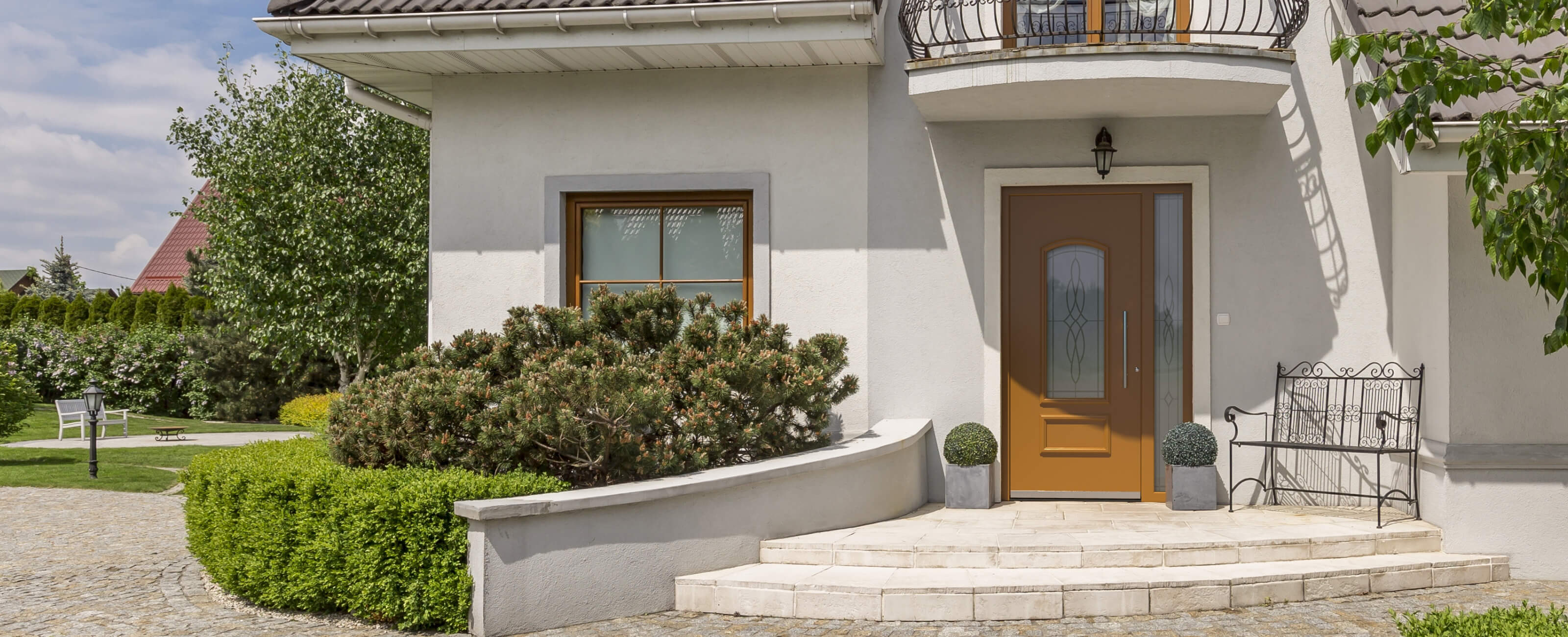 A MODERN CLASSIC
Wooden front doors with sidelights
You might imagine a very traditional, classic look when you think of wooden front doors. With glazing elements, your front door can become the architectural highlight of your home while also providing a lot of natural light for your home. If you're looking for a wooden front door and you'd like it to also feature attractive sidelights, you'll find your ideal front door at Pirnar.co.uk. Individualise your bespoke front door and order it from one of our partners.
The advantages of front doors with sidelights
Sidelights are similar to small windows next to the door, increasing the perceived width of the entrance. In addition, they allow daylight to pass into the house, making electric lights in the hallway unnecessary on sunny days. The glass elements are easy to clean and provide a welcome change from all the similar-looking doors around town.
It's up to you whether you'd like your sidelight to be made of clear translucent glass, patterned glass that protects you against prying eyes, safety glass or whichever type of glass you prefer. For example, if your main goal is privacy protection, you can opt for sidelights made from matte or textured glass.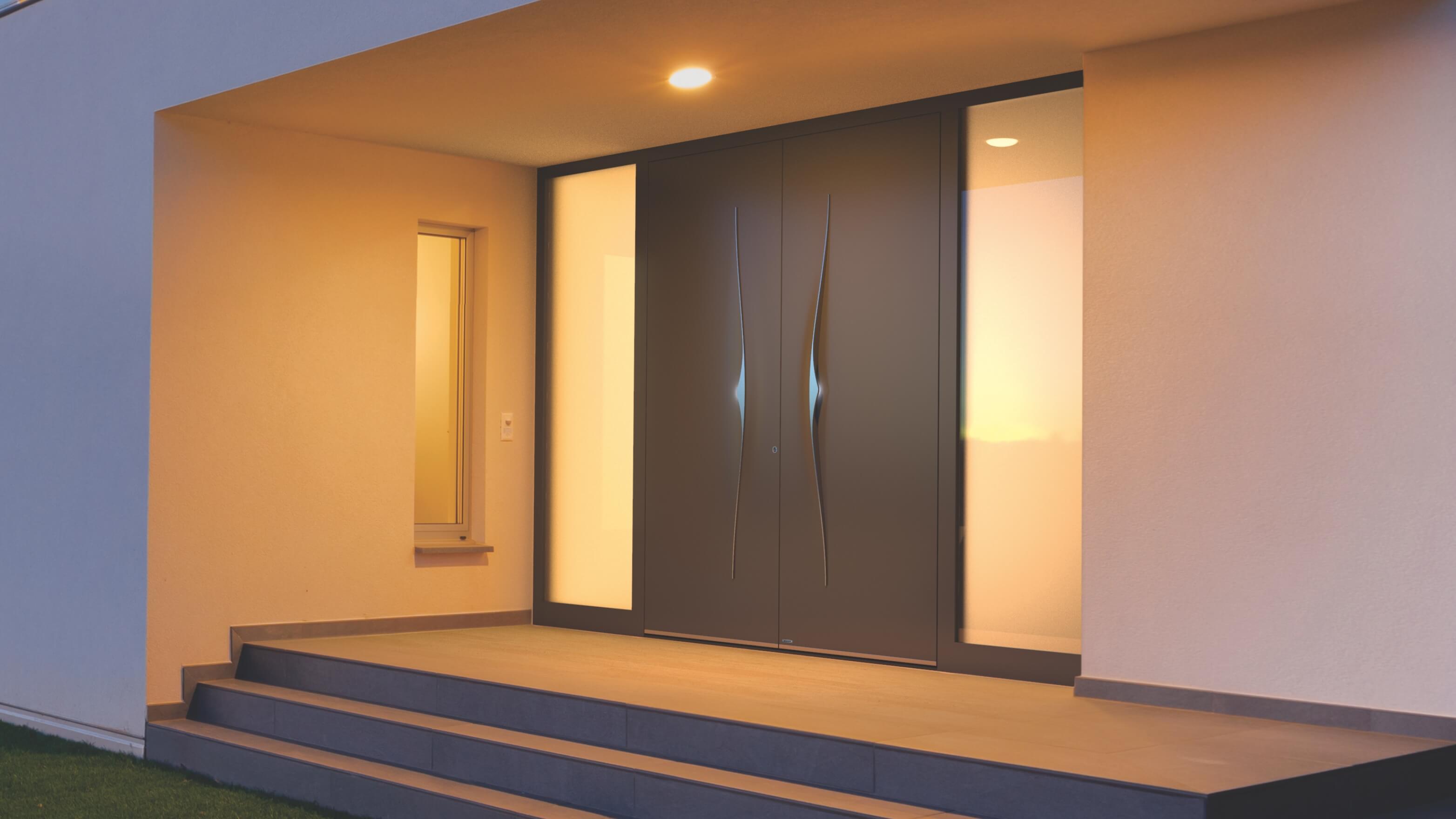 Front doors with
glass inserts
Pirnar front doors with a glass insert, a sidelight or a transom light also allow you to use safety glass or glazing types adapted for maximum thermal insulation, noise protection or burglary protection. Also, you can freely choose the dimensions of your sidelights or transom lights—a perfect combination of great design and reliable protection.
Tasteful front doors that stand out
Windows and doors are essential parts of any house. Front doors, in particular, need to ensure the highest levels of security as well as resistance against the weather and burglary protection. They also need to provide good noise and thermal insulation. In short: your front door needs to look welcoming to guests while providing ample protection against a myriad of outside influences. And that's exactly the kind of door Pirnar.co.uk specialise in. Our doors satisfy every demand while giving you the ability to further individualise them to ensure you get the exact front door you're looking for.
The perfect combination
For example, you can individualise your very own front door by combining oak wood and a fixed sidelight with Satinato glass – the perfect combination for a front door that lets natural daylight in while keeping prying eyes out. Wooden or aluminium front doors with sidelights can be tastefully traditional and modern at the same time.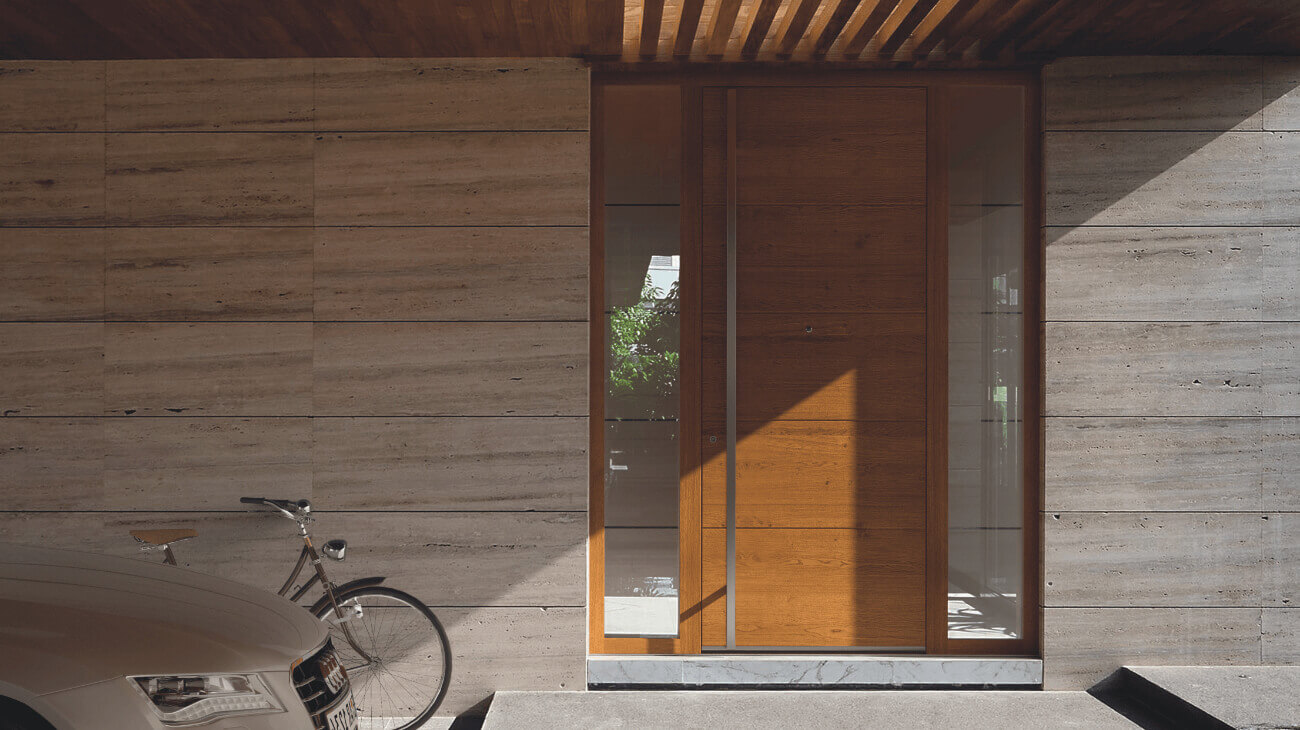 A large choice of options
Since no two houses are exactly alike and your personal preferences are unique as well, Pirnar.co.uk offers you everything from a classic country-style door to modern, extravagant variants, so you can pick the exact style and design you're looking for. Pirnar also gives you the opportunity to pick and choose from among a variety of components to build the front door of your dreams, from choosing the type of wood to the glazing style, the colours, door handles, locking mechanisms and the overall construction method.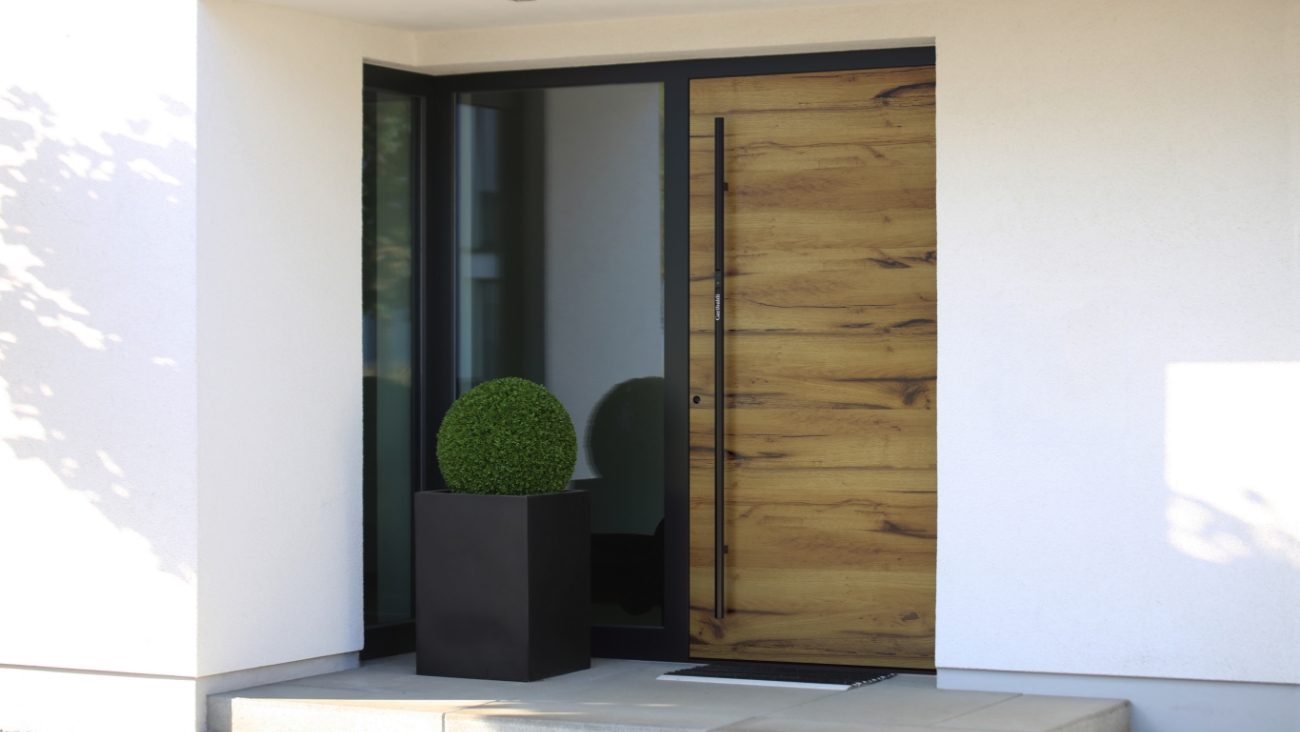 Choose between various materials
Just in terms of material, you can choose between various options, from a pure wooden front door to aluminium doors or even a combination of both materials. All of our doors have full-surface leaves with no visible casement, and if you choose a glazing, sidelight or transom light, we use a three-pane insulation glass as a standard. This minimises the U value, significantly improving your new front door's thermal insulation properties.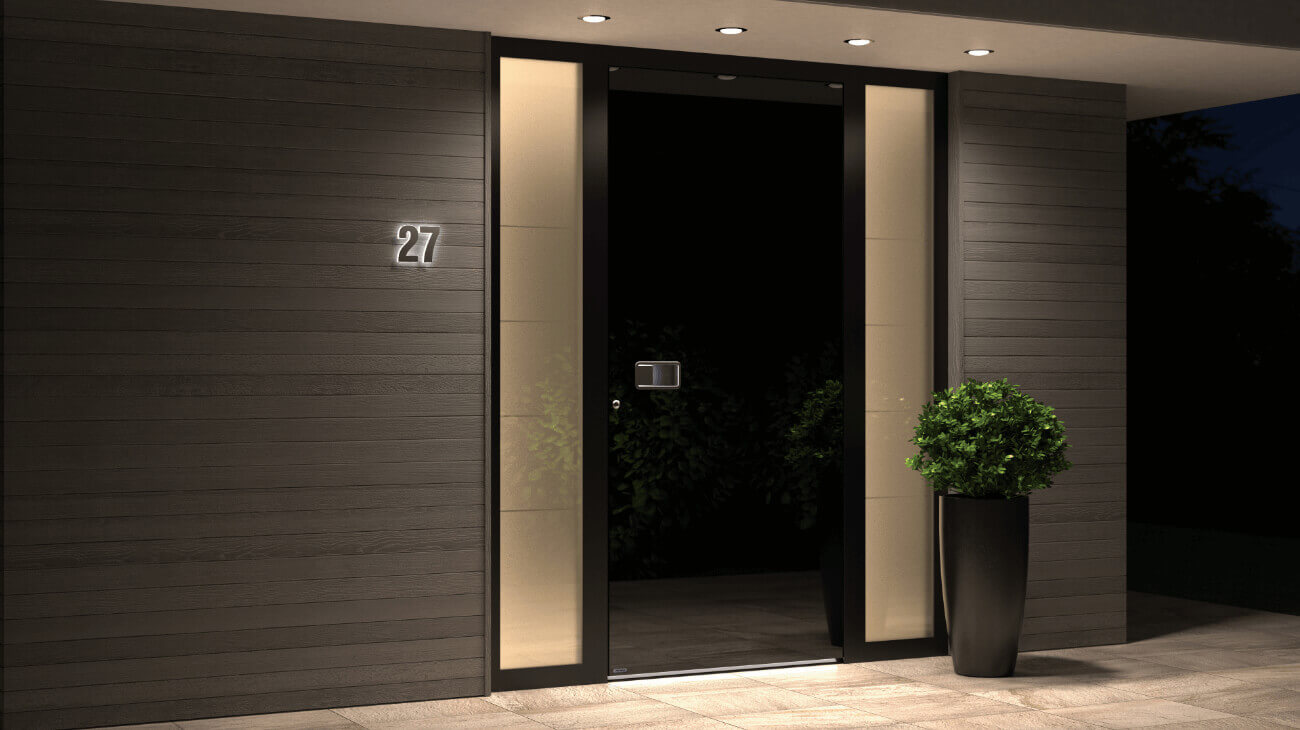 Create interesting visual contrasts
You can also choose one or two primary colours for your front door, such as white or anthracite grey, as well as high-quality wooden decors and glazes to protect the natural grain of the wood. Meanwhile, you may want to create interesting visual contrasts by combining wooden door leaves with metal, stainless steel or aluminium furnishings and handles.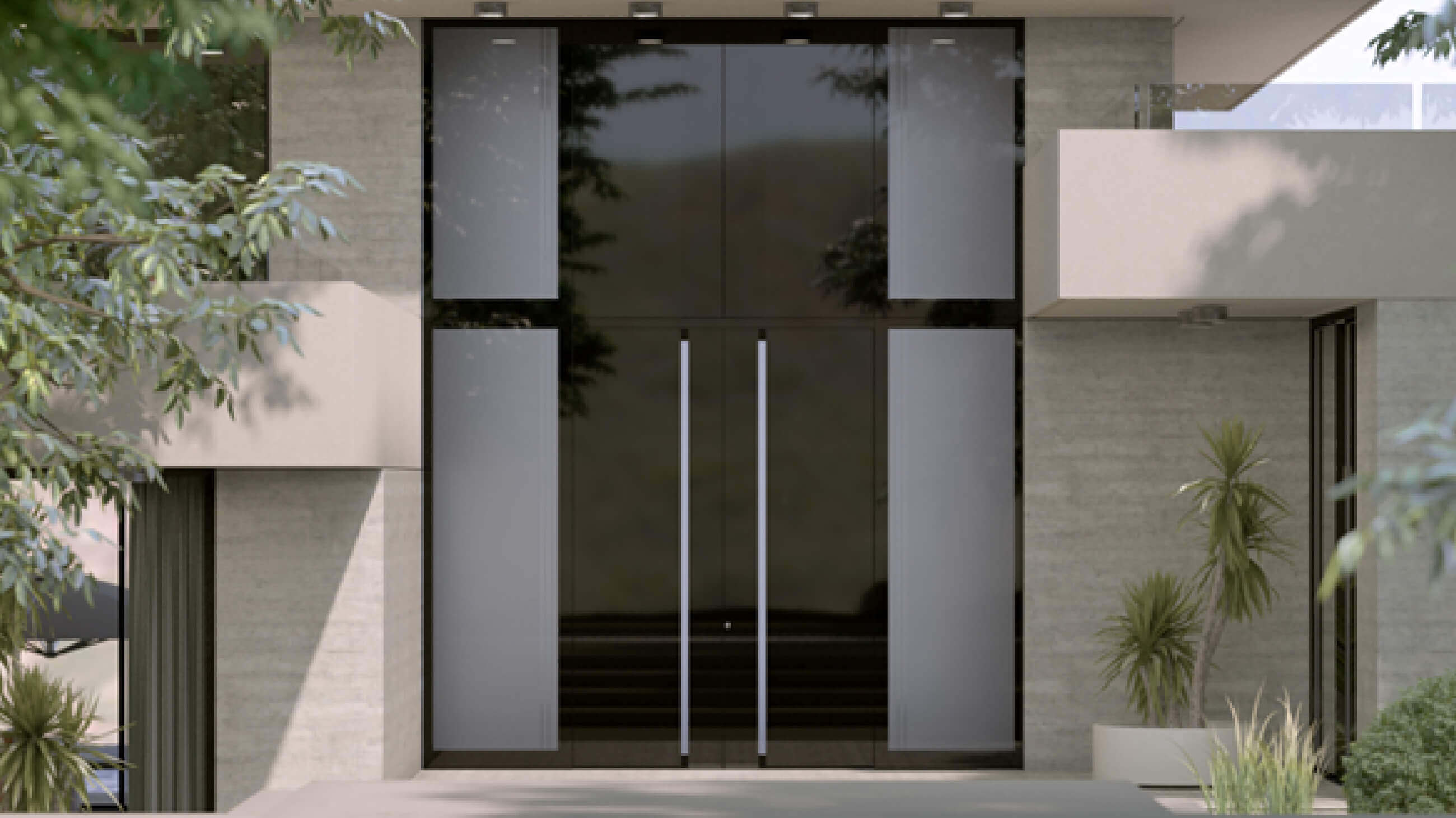 DESIGN YOUR FRONT DOOR
Your bespoke wooden or wood-aluminium front door
Modern front doors are typically made of PVC, wood or aluminium. Pirnar specialises in wooden, wood-aluminium or aluminium front doors, which are not only highly robust and durable but can be individualised with various colours and designs as well.
Quality front doors
Pirnar doors excel in terms of
Durability
Stability
Thermal insulation
Noise protection
Adaptability
High-quality wooden and aluminium front doors are more robust compared to PVC doors. All our front doors offer a high level of comfort and reliable security thanks to individualised high-quality components such as electronic locking mechanisms.
At Pirnar, we focus not only on the looks of your front door but on functionality as well. Our front doors are made with no visible casement and highly insulating fillings. This applies to both aluminium front doors with wooden decors and our wooden front doors with glass inserts.
Whether you prefer natural oak wood or white aluminium, both materials provide maximum durability, stability insulation and long-term reliability – this makes our doors perfect for double door designs as well.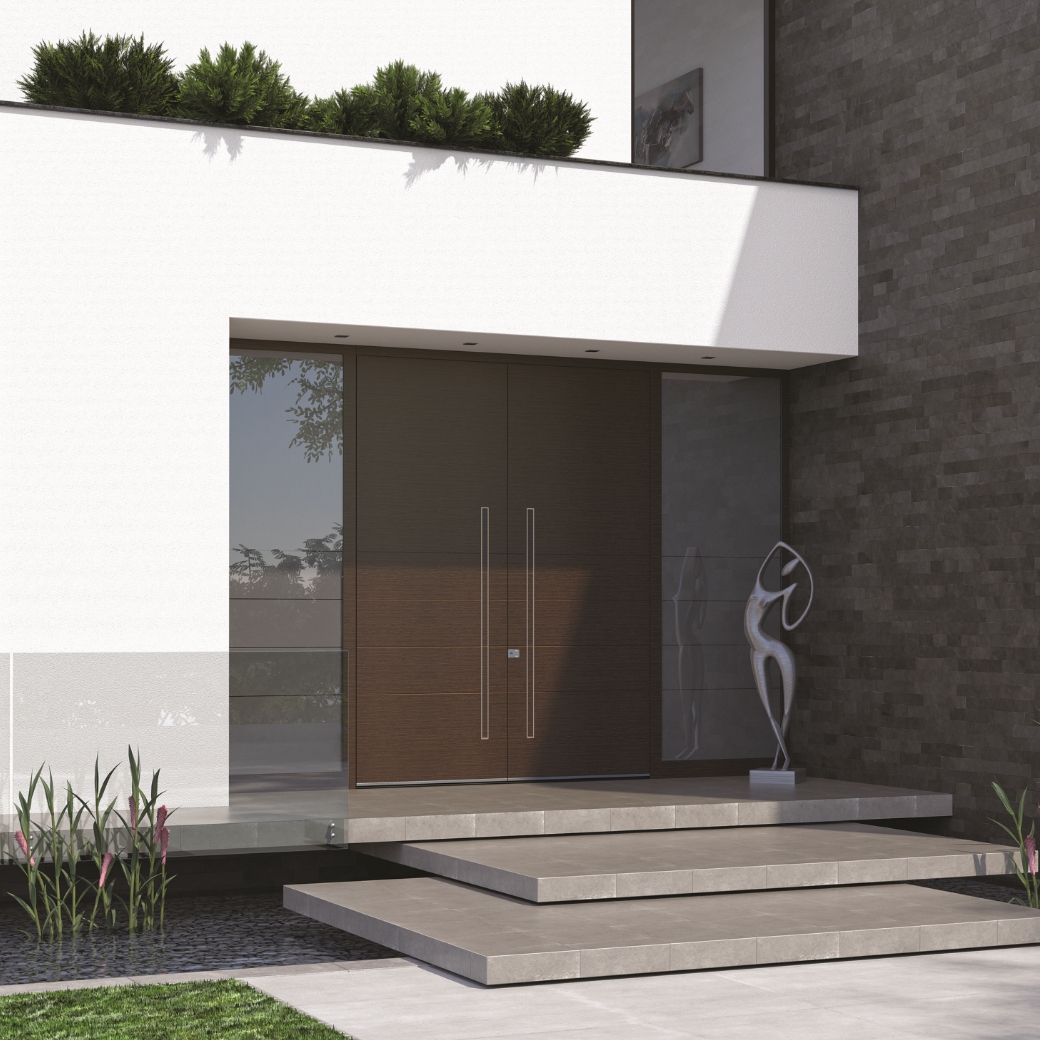 Maximum front door
security even at night
There are many advantages to determining the exact shape and construction of your front door with Pirnar. Not only will you get a front door made to measure, but you can also apply all fittings and furnishings immediately. This includes additional glazing elements such as transom lights and sidelights, digital security systems, door handles, fittings and locking mechanisms.
To ensure your front door is well-lit and visible during the night – which is vital to prevent break-ins – you can add lights that illuminate the ground before the door and its handle. This makes your entrance look very modern while increasing your home's security as well.