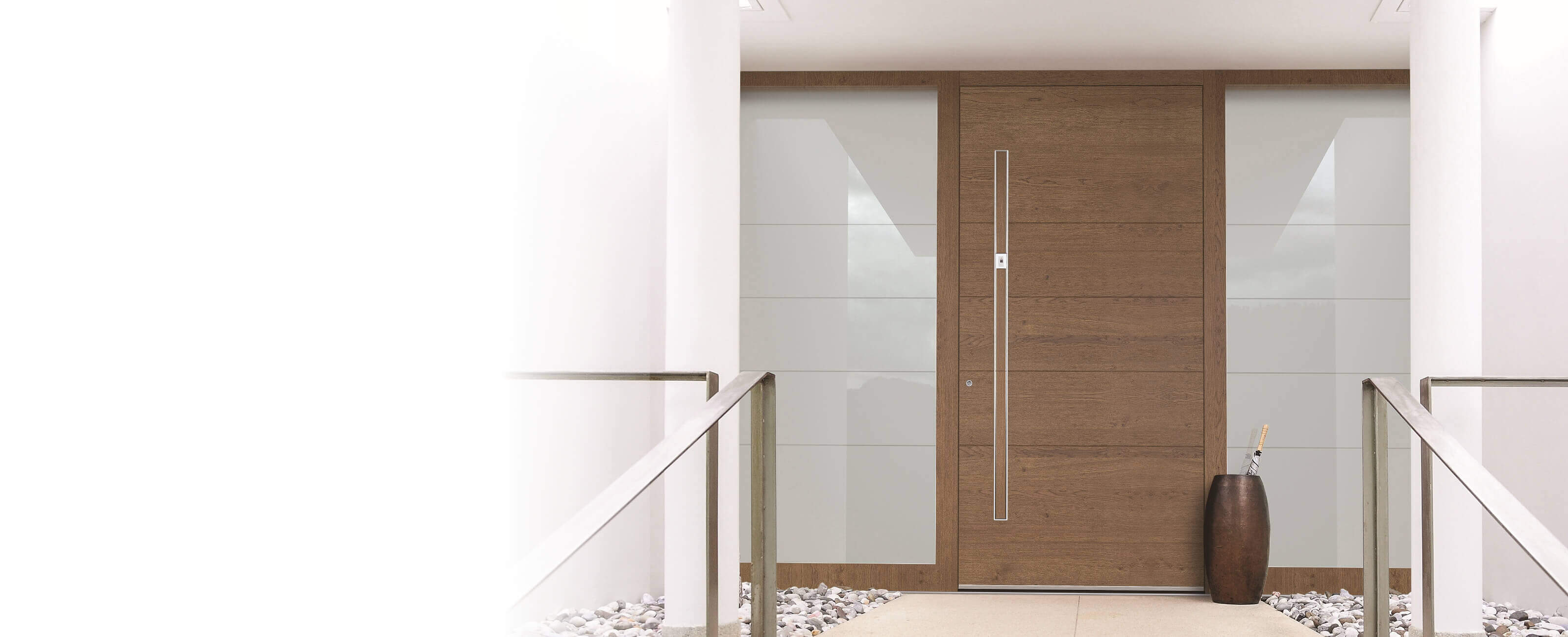 MAGNIFICENT OAK DOORS FOR A SAFE AND WARM HOME
Oak front doors
Monumental oak front doors wonderfully accentuate the entrance to your home.
Wooden oak entrances for the perfection of living
The oak tree is a symbol of solidity, endurance and strength. The mightiness it embodies is truly inspiring. The best wines and whiskeys in the world are aged in oak barrels, the Vikings conquered the world with oak ships, and at Pirnar we make the strongest and most durable doors out of oak. Do not hesitate if you want to add a sense of security and cosiness to your home. These entrances successfully defy the odds of time and all kinds of weather conditions.
Door frames made of glued wood
The heart of any good door is a sturdy frame. The oak frame is made of laminated glued wood, which has a higher load-bearing capacity compared to solid wood, offers high fire safety and is dimensionally stable.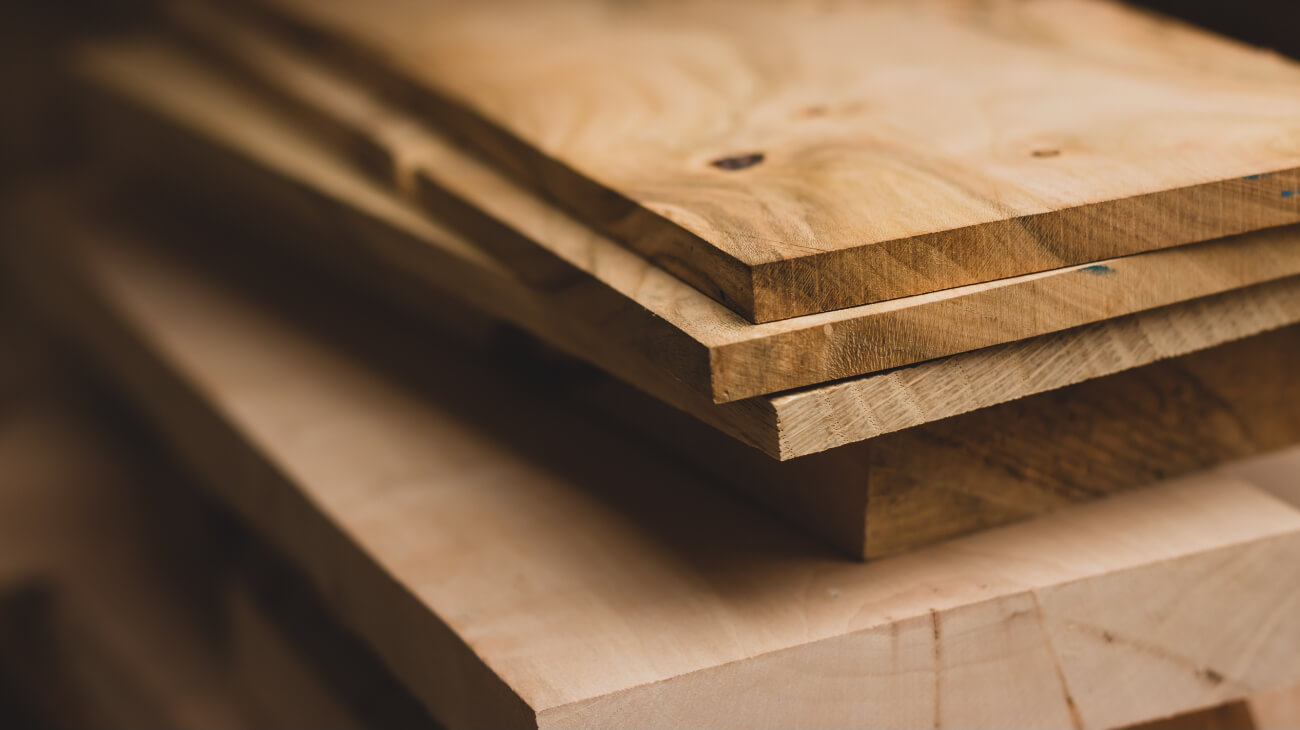 Real wood veneer
At Pirnar, we use high-quality real wood veneer for our oak models as opposed to artificially produced veneer. This adds that natural look to the entrance.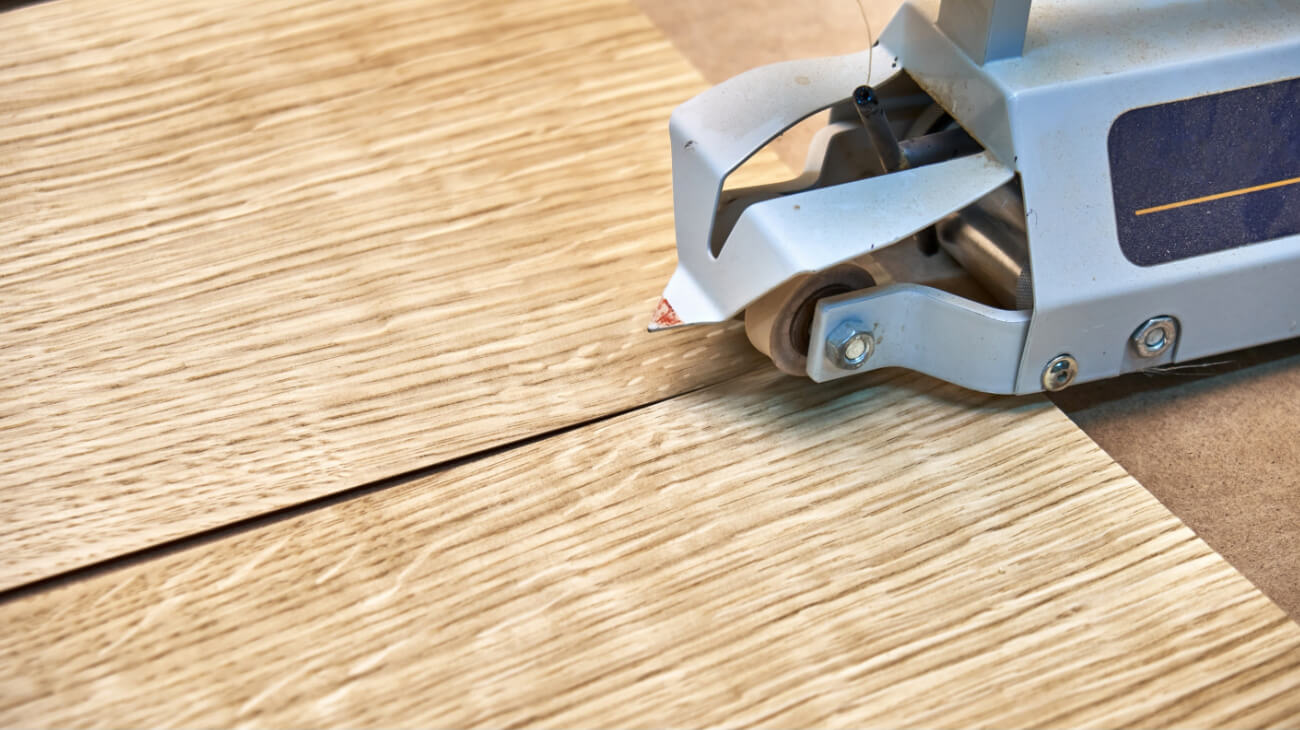 Healthy knot holes for a more natural look
Oak wood has a harmonious, lively structure with knot holes of different sizes that run in different directions and are randomly numerous. This gives the door an even more natural appearance.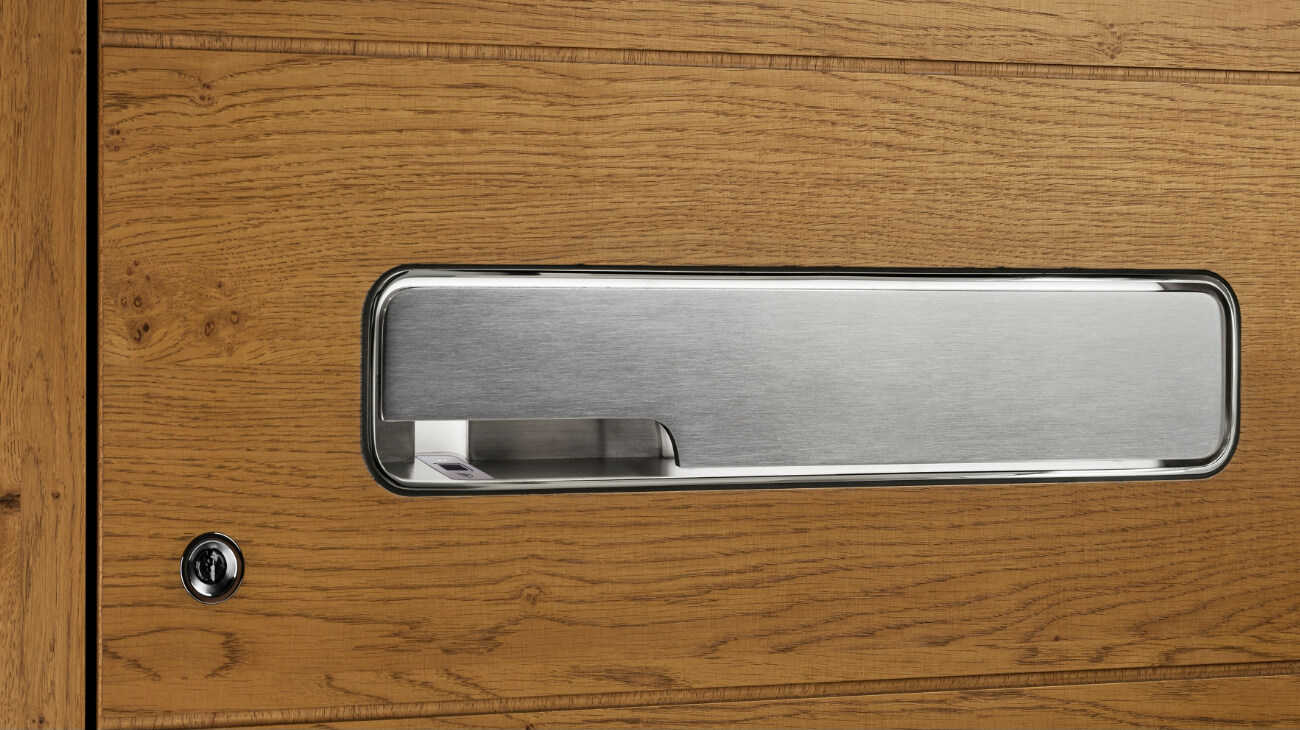 Density of oak
Density depends on the width of the tree rings: the wider the tree rings, the higher the density and therefore better mechanical properties. Oak wood is very elastic and has exceptional natural durability, which is particularly noticeable underwater.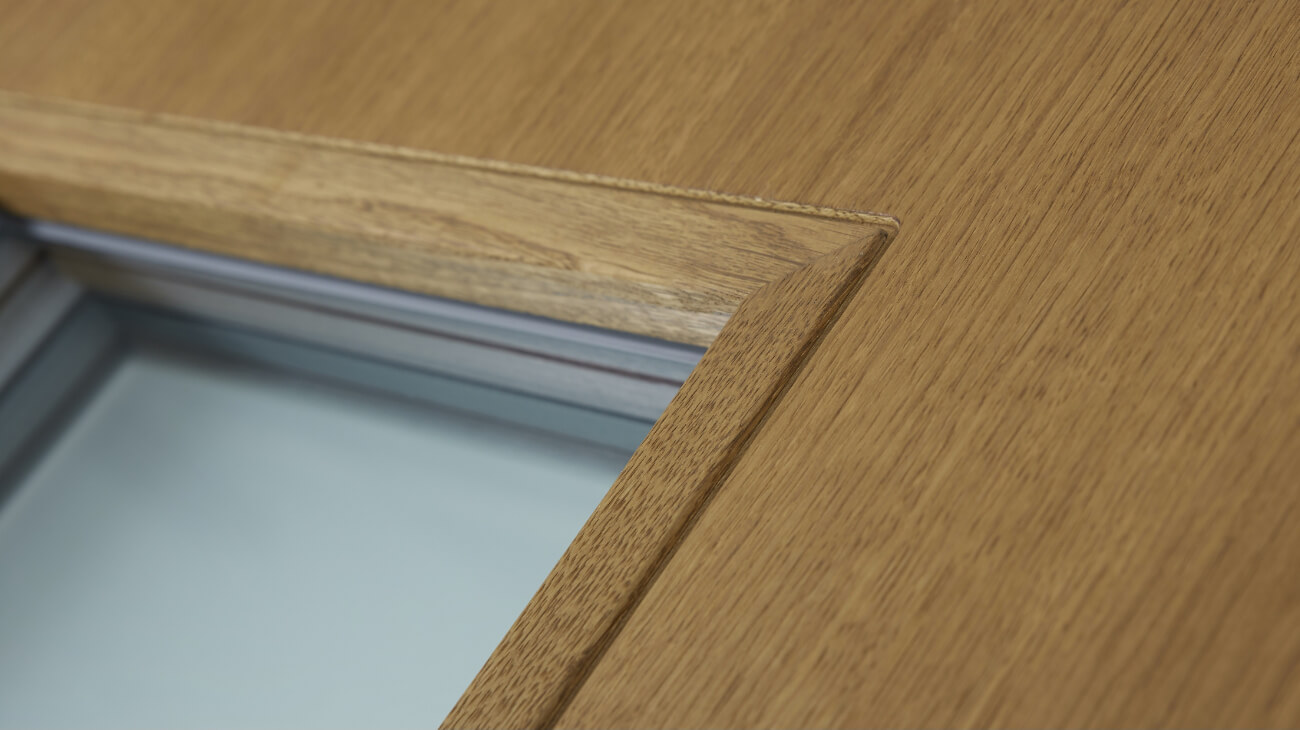 Wood texture
The sapwood (i.e. young wood in the making) of oak is narrow or greyish white, and the heartwood is yellowish-brown or brown, which can darken considerably. The tracheae or pores in the wood are large in young wood and smaller in older wood and are often arranged in radial lines.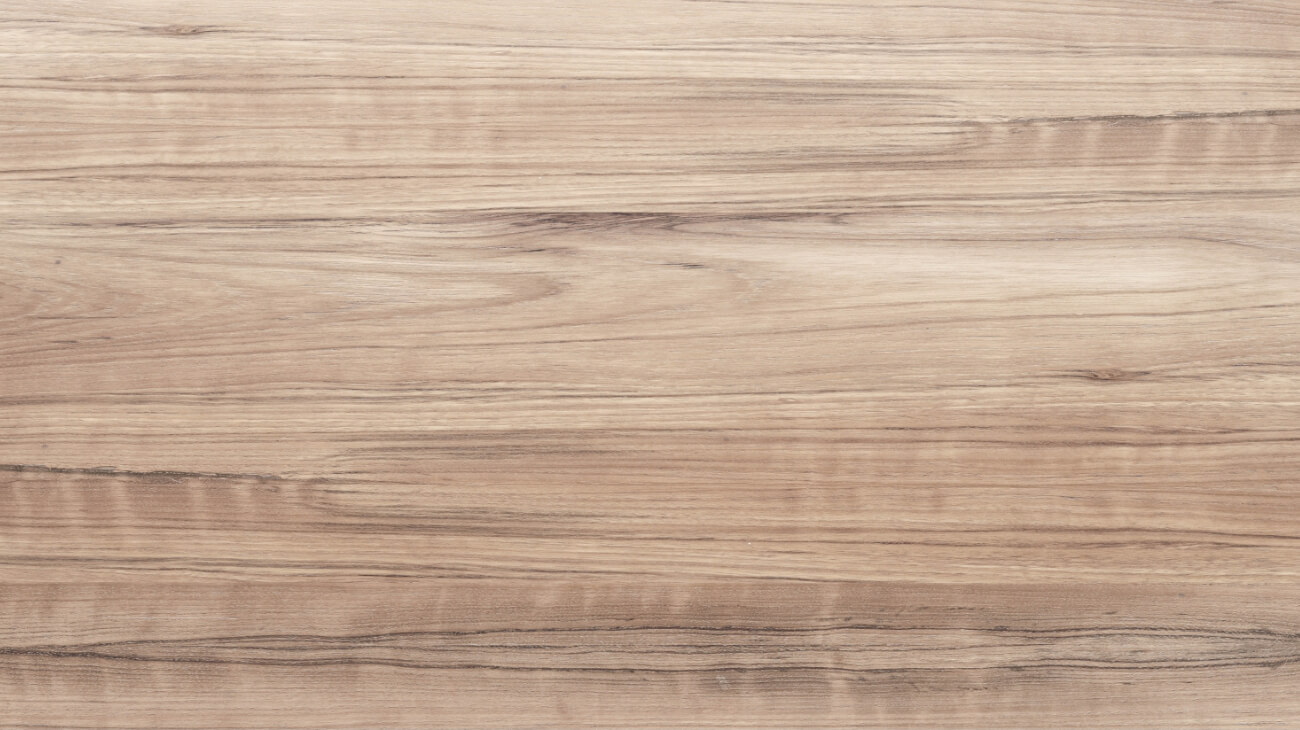 Take a look at a selection of the most beautiful oak front doors
Oak is suitable for both modern and classical external doors. At Pirnar, we produce the most modern of entrances with state-of-the-art design, but also beautiful traditional front doors that give a feeling of homeliness and timelessness.
Take a look at the best pick of Pirnar doors in mighty oak.
A wide array of colour choices for oak front doors
Oak is in its essence a versatile material that adds to the vibrant and dynamic look of your home. It has a richness of hue, ranging from grey-white to brown, and can darken considerably. This characteristic is exploited when applying glazes and coating with oils to achieve rich shades reminiscent of exotic wood species. Depending on the architectural style of your home, you can choose from a variety of glaze and oil colours that will give your dream home a stunning entrance.
GLAZES

GLAZES

Glazes are resistant to non-abrasive cleaning agents and chemicals and are easy to renovate. Despite the coatings, the wood gradually releases the moisture it binds back into the environment. This prevents cracking and peeling despite severe temperature fluctuations. They offer improved protection and are UV-resistant but mask the natural features of the wood more.

Exterior view:

Interior view:

OILS

OILS

If you opt for the natural look of wood, characterised by a grey patina, you can use an oil finish instead of a glaze. Oil finishes do not alter the beneficial properties of the wood, so they breathe, expand and shrink with the wood. They penetrate deep into the wood and thus prevent the penetration of moisture. The addition of natural pigments significantly increases the resistance to UV rays.
NOTE:The colours are symbolic and differ from the actual shades due to screen particularities. Always match the final shade with a valid colour chart.
Own superior production of wooden doors
At Pirnar we pride ourselves on carrying out the entire manufacturing process in our own production facility. We have adapted all processes for our purposes, which guarantees the highest quality, a more beautiful appearance and shorter delivery times. We supply wood from different parts of Europe and work with the most recognised and highest quality European suppliers.
European wood
Highest quality
Improved appearance
Shorter delivery time
What are the advantages of a wooden front door?
Structural strength

Wood is durable and offers reliable stability. It offers exceptional structural strength, surpassing even steel construction. This applies to both single-leaf and double-leaf models of larger dimensions. Elements made of solid wood remain load-bearing even in very unfavourable weather conditions.

DESIGN YOUR WOODEN FRONT DOORS

Optimum insulation

Entrance doors made of wood have great insulative properties for sound and heat. Solid wood in itself provides very good sound and heat insulation. Pirnar's design models are further refined by the addition of various insulating materials.

Environmentally friendly

Models made of wood are sustainable because they have a minimal impact on the environment during manufacture and use, and wood is also an important renewable raw material. They can be effectively renovated and maintained.

Higher quality of living

Wood is a hypoallergenic material and wooden doors have a positive effect on the human respiratory system, which increases the quality of living. They effectively regulate the humidity in living spaces as wood is a living, breathing material.

Excellent security

Pirnar's wooden entrances feature a solid and reliable construction, which we have equipped with multi-point locks with solid hooks. When you close the door, you can be sure that it will stay that way.

Variety of shapes

With all the natural colours in a variety of woods, you can create a modern or classical design that blends in with the architectural style of the house or any other property and enhances your personal style. Wooden entrances can also be combined with solid aluminium, where the inner wooden frames merge with the outer aluminium shell.