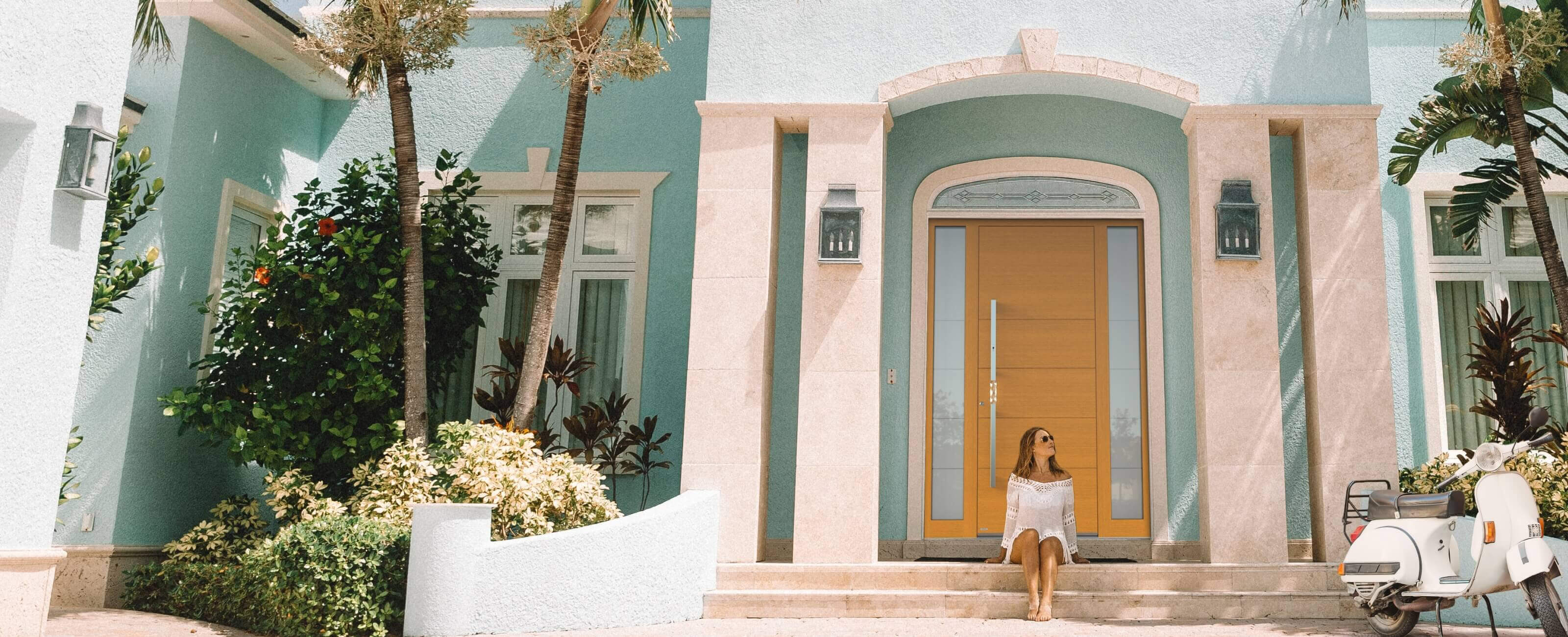 SPRUCE FRONT DOORS CREATE AN ELEGANT ENTRANCE TO YOUR HOUSE
Spruce doors
A versatile door for a state-of-the-art home or a traditional house.
A front entrance in spruce for all architectural styles of houses
The spruce front doors from Pirnar retain their characteristic wood structure and colour, whereas the colour doors palette is greatly expanded in combination with aluminium elements. This model goes very well with the natural tones of other fittings or light-coloured floor coverings. Wood is an excellent choice for any series of Pirnar entrance doors as it provides a base that can be enhanced in a classic or modern way.
Door frames made of plywood
The heart of any good door is a sturdy frame. Spruce frames are made of laminated plywood, which has a higher load-bearing capacity compared to solid wood doors, it offers high fire safety and remains stable in varying dimensions.
Harmonious knot holes for a more natural look
The natural characteristics of the tree trunk create a lively structure with tree knots of different size, direction and quantity. This gives the models an even more natural appearance.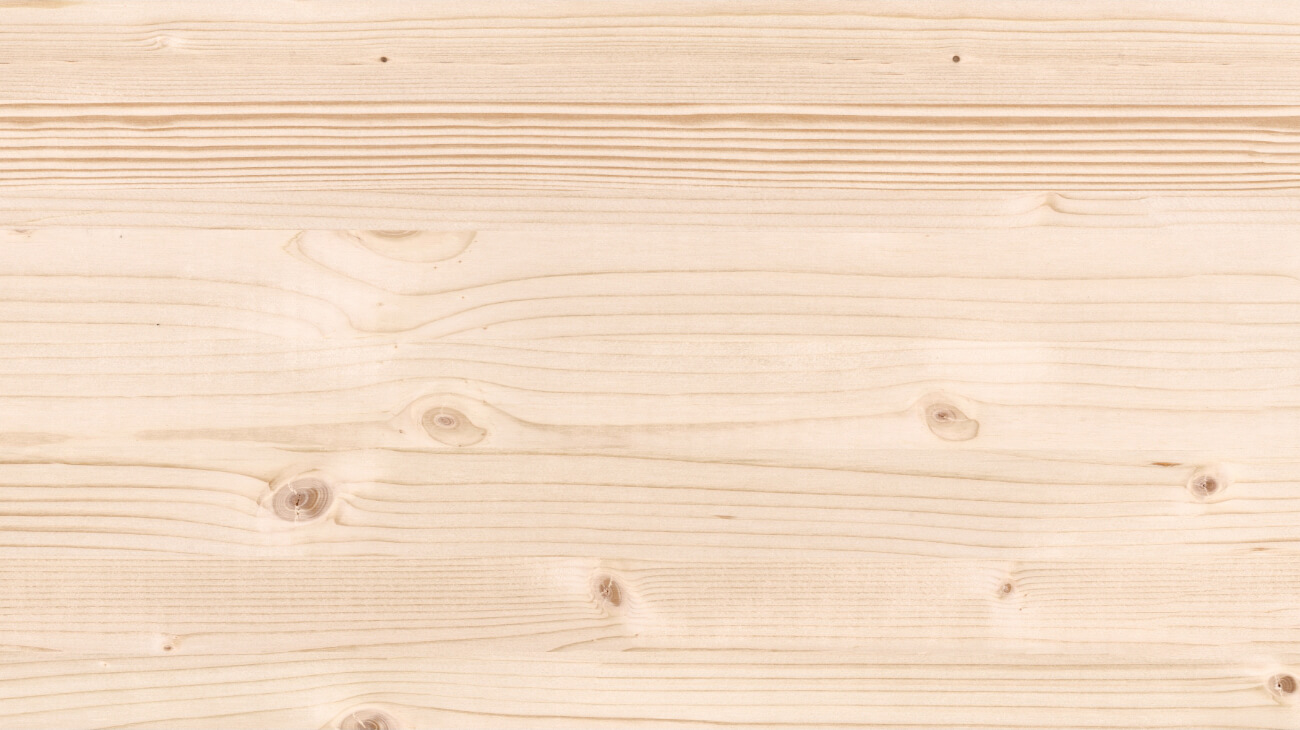 Density of spruce wood
The density of spruce wood is low to medium with a low level of elasticity. At the same time, the wood is very soft. Spruce wood is well suited for mechanical processing and turning. Very smooth surfaces can be obtained with machining.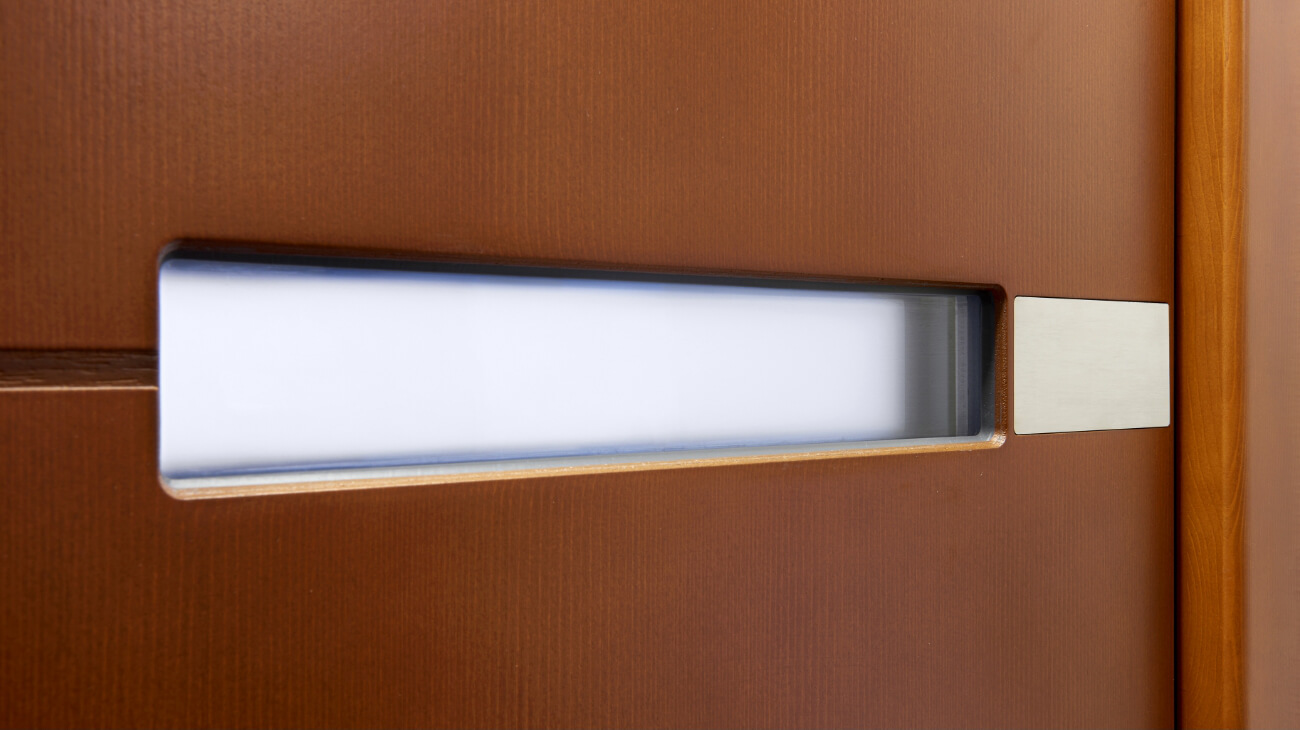 Warmth of spruce
Spruce bark is resinous reddish-brown and very coarse, and spruce wood is yellowish-white to yellowish-brown. The wood features visible edges in its rings, with a gradual progression from young to old wood. When scratched, the wood shines like silk, it smells of resin and resin deposits often appear.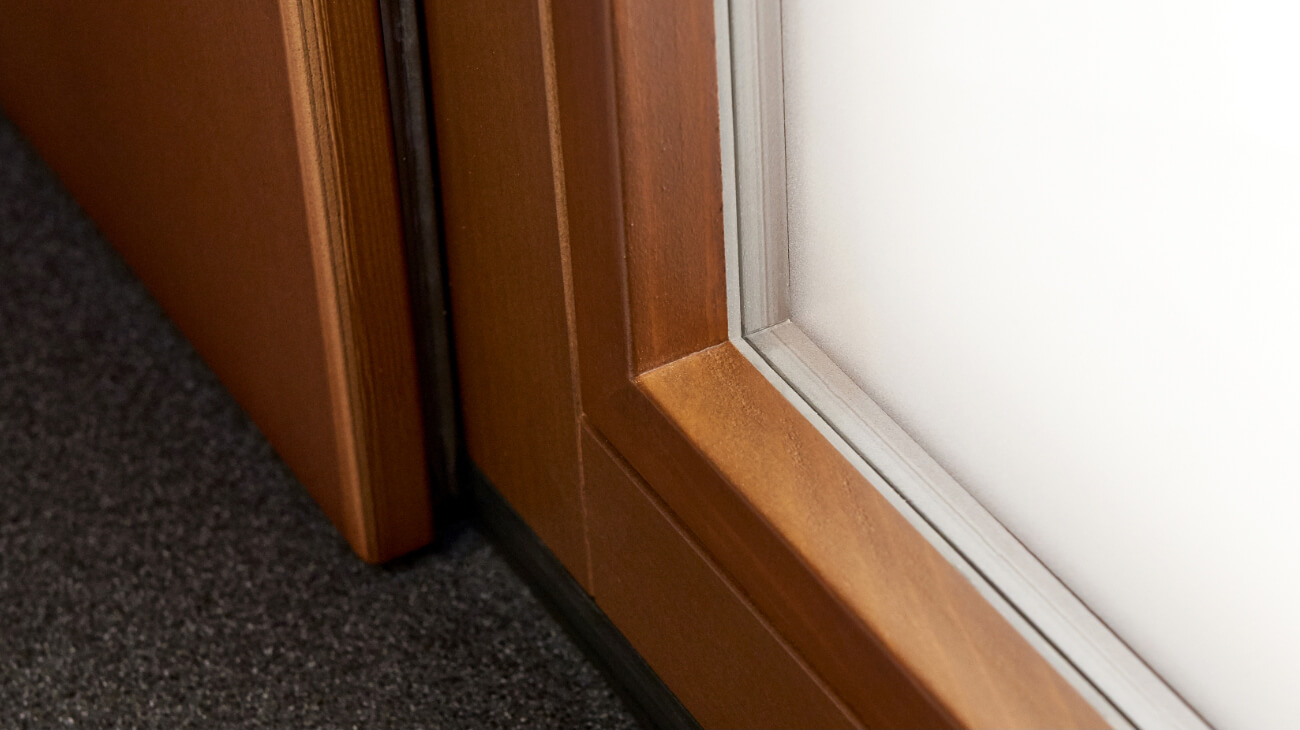 See a selection of the most beautiful spruce wood models
Spruce wood is also perfectly complemented by cold aluminium. The simple processing at Pirnar, in combination with aluminium, creates state-of-the-art entrances with exceptional design, but also beautiful traditional exterior entrances that evoke a feeling of homeliness and timelessness.
Take a look at the best pick of Pirnar models in versatile spruce.
DESIGN YOUR WOODEN FRONT DOORS
Rich choice of colours and surface treatments
Spruce is the best known and most popular choice for windows and doors because it is soft and flexible. The tree rings are usually quite distinctive and evenly distributed over the entire surface. At Pirnar, we offer a rich selection of glazes and finishes.
GLAZES

GLAZES

Glazes are resistant to non-abrasive cleaning agents and chemicals and are easy to renovate. Despite the coatings, the wood gradually releases the moisture it binds back into the environment. This means that the coatings do not crack or peel despite large temperature fluctuations. They offer improved protection, but it should be noted that they also mask the natural appearance of the wood more.

Exterior view of the entrance:

Interior view of the entrance:
NOTE: The colours are symbolic and differ from the actual shades due to screen particularities. Always match the final shade with a valid colour chart.
Own superior production of wooden doors
At Pirnar we pride ourselves on carrying out the entire manufacturing process in our own production facility. We have adapted all processes for our use, which guarantees the highest quality, a more beautiful appearance and shorter delivery times. We supply all wood from different parts of Europe and work with the most recognised and highest quality European suppliers.
European wood
Highest quality
Improved appearance
Shorter delivery time
What are the advantages of wooden front doors made of spruce?
Optimum insulative properties

Entrance doors made of wood have optimal insulative properties for sound and heat. Solid wood in itself provides very good sound and heat insulation. Pirnar's design models are further refined by the addition of various insulating materials.

DESIGN YOUR FRONT DOOR

Environmentally friendly

Wooden entrances are sustainable because they have a minimal impact on the environment during manufacture and use, and wood is also an important renewable raw material. They can be effectively renovated and maintained.

Higher quality of living

As wood is a hypoallergenic material, choosing this entrance door has a positive effect on the human respiratory system, increases the quality of living and effectively regulates the humidity in living spaces as wood is a living, breathing material.

Insulation

An important advantage of wood is its optimal sound and heat insulation. Solid wood in itself offers very good sound and heat insulation as it keeps the cold air outside and at the same time retains the warm air inside. At Pirnar, the wooden models are refined by the additional installation of various insulating materials.