What impression do your entry doors give, and what do they say about you?
The exterior doors are one of the first impressions you will make as the owner of your home, so equip your home with uncompromisingly designed Pirnar front doors.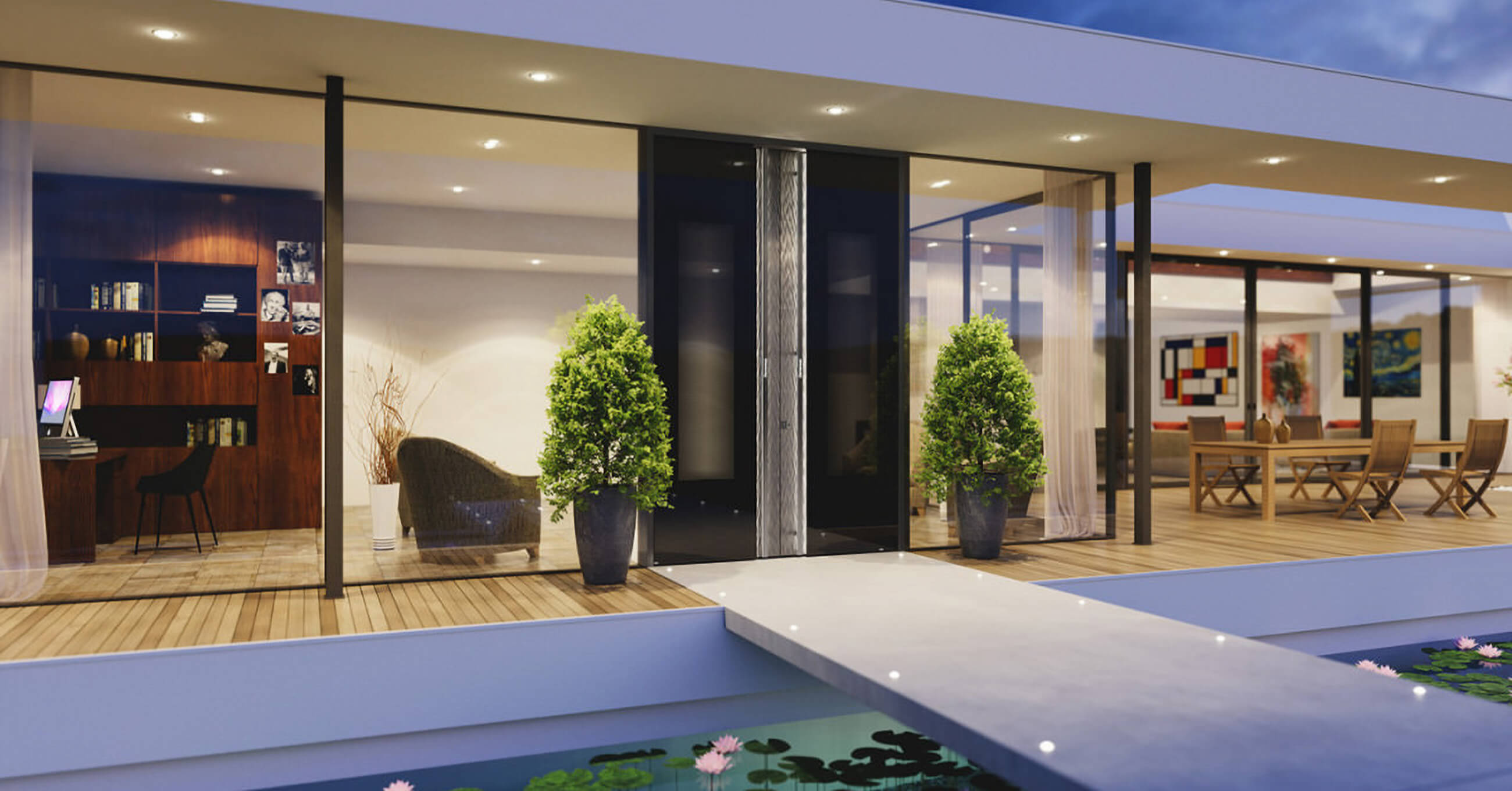 For the most part, people may not think much about their own front doors. They may not use them at all in everyday life, they only open them when someone visits them. The reality is that you often don't see your front doors and consequently don't devote much time to them. However, your luxury front doors are not there for you. They are intended for everyone else, be they passers-by or your visitors. Their appearance, color, size and shape are primarily intended to be admired and complement the style of your architecture and its luxurious and breath-taking appearance.
What your front door says about you
As many architects will tell you, they are not really just front doors, they are so much more. Throughout history, front doors have been a way of displaying someone's wealth and status. In this case, larger front doors meant more wealth, importance, or power. Today, this is true for both luxury homes and business facilities. Think about government buildings. They most likely to have tall, rustic, double-leafed doors at the main entrance. The same goes for churches, halls, libraries and all the other official buildings you can imagine. It is often said that front doors on public buildings must also be fireproof, but no one has demanded that doors should be tall, sophisticated or mighty.
Front doors are one of the first impressions you will make as the owner of your home and luxury homes are not exempt from this. In reality, luxury homes are more often under scrutiny than middle-class homes. After all, the whole purpose of such homes is to arouse admiration. When people first visit your luxury home, they will first notice a mighty entrance equipped with uncompromisingly crafted front doors. When you open your beautiful custom front doors, you secretly want them to completely surprise your guests. You want the guests to stop and admire them because they have never seen anything like it in their lives.
Colors are the first insight into the soul of your home
Believe it or not, the color of your front door plays a major role in the facade of your luxury home. With luxury homes, homeowners easily overlook the front doors and the importance of their impact on the overall look of the entrance. Whether your spacious and unique home is built on water, facing a cliff, or is nestled among picturesque mountains, your eyes often wander to the nature, as this is the original reason you bought, or built, your home there. But remember, when people enter your home, they do so through your front doors.
Colors evoke emotions. That's why interior designers take the time to create a variety of color palettes that connect the entire home and special spaces. Bedrooms are often in calm shades such as blue, grey and green because they soothe us. And that's exactly what you want to achieve in a space like this, where you need to calm your busy mind and rest for a few hours. So, it should come as no surprise that the color of your luxury front doors can have a very strong impact on your guests.
White is an extremely common front door color, perhaps even the most common. If you want to put your luxury home on display, this may not be the right color for you. White is a very pure color. When people see white doors they expect to enter a clean and tidy home.
Purple is a very sophisticated color and is often associated with the royal family. If your front door is purple, you give the impression that your home's interior is luxurious and elegant.
Blue is often used in calm environments. Blue shades on the front door can evoke a sense of confidence, which can give the impression that your guests can relax in your home.
Green is the second color often associated with soothing, but it is also often associated with wealth. If you are looking for a color that will stand out on your door, but you want it to stay elegant, a calm green color might be the best choice.
Yellow is the color that inspires joy in us and provokes our thoughts of summer, sun and warmth. If you love bold colors and hope to create a warm vibe in your luxury home with this color, treat yourself to it.
Orange can be very complicated because it is such a bold and unique color. If you're going down this path, think of the orange of Hermès, associated with luxury and grandeur.
Red is usually associated with passion and high energy. Because it's a bold color, it can show your guests that you're a bold person too. They probably expect your home to be dynamic and full of personality.
Black is both bold and classic. On the front doors, it represents a serious and formal tone. If you do not want your front doors to be too intense, soften them with various accessories.
Dimensions are important
When we talk about the entrance to a large building or a luxury home, size matters. Your home is already rich, luxurious and spacious, so you can't have a normal-sized front door. It would look almost comical. In luxury homes you simply can't have standard-size front doors. Your entrance needs to be large, whether in height or width, but having both is the best. For many, the obvious answer is to have double-leaf doors. Opening double-leaf doors allows the opening to be twice as wide and, given its larger size, they are automatically considered to be the more luxurious and glamorous front doors. Of course, we should not neglect the height, as this certainly gives the impression of mightiness.
Pirnar front doors are your solution
Pirnar entry doors redefine the meaning of luxury entrances. Size restrictions do not hinder us, and additional value is achieved by using tempered black glass and a hidden OneTouch pull handle, which excites people's minds every time your doors open.
Luxury handmade front doors are made by our experienced craftsmen, who pay special attention to the details and accessories that make your front doors truly unique. You can trust us to be able to create whatever you want at the front entrance. When we say custom-made, we mean it. Size, color, finishes, accents, handles, whatever you see, you can get it. Here are some ways you can customise your luxury front door.
Aluminium front doors
Aluminium front doors have many options for personalisation. Various patterns and motifs can be milled into smooth plates. Aluminium panels can be painted in any color according to the RAL scale, including various options of wood decors. They can match any color palette and any design aesthetic. Aluminium front doors can be minimalist and clean, but they can also be playful and funky. If this description describes your personality and the design aesthetics of your luxury home, aluminium front doors may be the right choice for you.
Wooden front doors
Another choice of material is the eternal and classic wood. You can choose between larch, spruce and oak. Of course, you can also enrich the wood with special stainless steel accessories that will add a special look to your luxury front door and with which you will be able to achieve different effects and patterns. You can paint the wood in different shades or repaint it to protect it from external influences and thus preserve its natural appearance. Such a front door in your luxury home can perfectly match any existing wood decor.
Glass finishes
Glass front doors are an elegant finish to the facade of your home, elevating it to new levels of luxury. Whether it's black tempered glass or simple decorative glass, your front door will shine on its own. Such doors are very easy to take care of, as they require almost no maintenance. All these glass coatings are suitable for the inside or outside of the front doors and can be used in any way. Like any other finish we offer, we will make sure it blends seamlessly with the aesthetics of your home.
Ultimum - for the most demanding
Our top collection Ultimum includes our most luxurious front doors that will turn your home into a stunning work of art. It's time to let your imagination run wild. Think of the most magnificent ways to decorate your home and choose your unique entrance. You have a demanding and unique style and you are ready to invest your time and money in making the perfect front door for your luxurious entrance.
We make luxury front doors that will leave their mark
We want to help you design your new luxury front door that will be everything you've always wanted. What do you want to achieve for your home? Do you want simple and clean lines, or do you want a richly decorated and pompous entrance? Whatever you want, we can make it possible for you.
Visit us in our showrooms where you will learn more about how we can help you make your dreams come true. You can see front doors in various collections in our online catalogues, and you can also order a design of the doors, free of charge. Our consultants will be happy to help you.