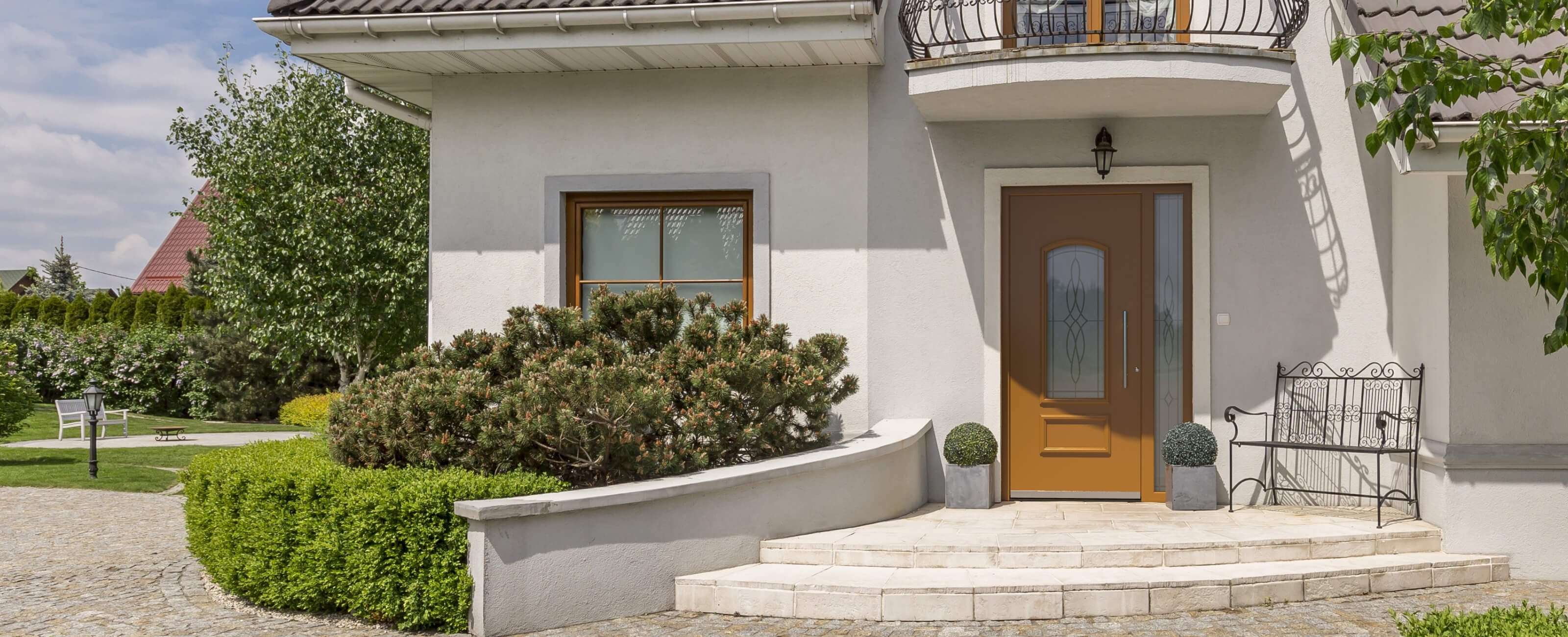 SECURE, EFFICIENT AND ELEGANT
Triple glazed front door
As the saying goes, first impressions count the most because they have a lasting effect on people. As such, you want to give your guests a warm welcome and greet them in style. An individually designed, elegant entrance door with a triple glazing is sure to have that effect. At Pirnar, we use high-quality materials and employ skilled craftspeople to create premium class external doors.
Choose your glazing´s style
Triple glazed doors join the modern glas look with contemporary functionality. Whichever glass type you choose, you can always expect high insulation and security. At Pirnar, we have our very own glazier´s workshop to construct your individual triple glazing. You can choose from different glass types like:
clear glass
classically sandblasted glass
easy to clean
Master Carré
Parsol (with or without an additional motif)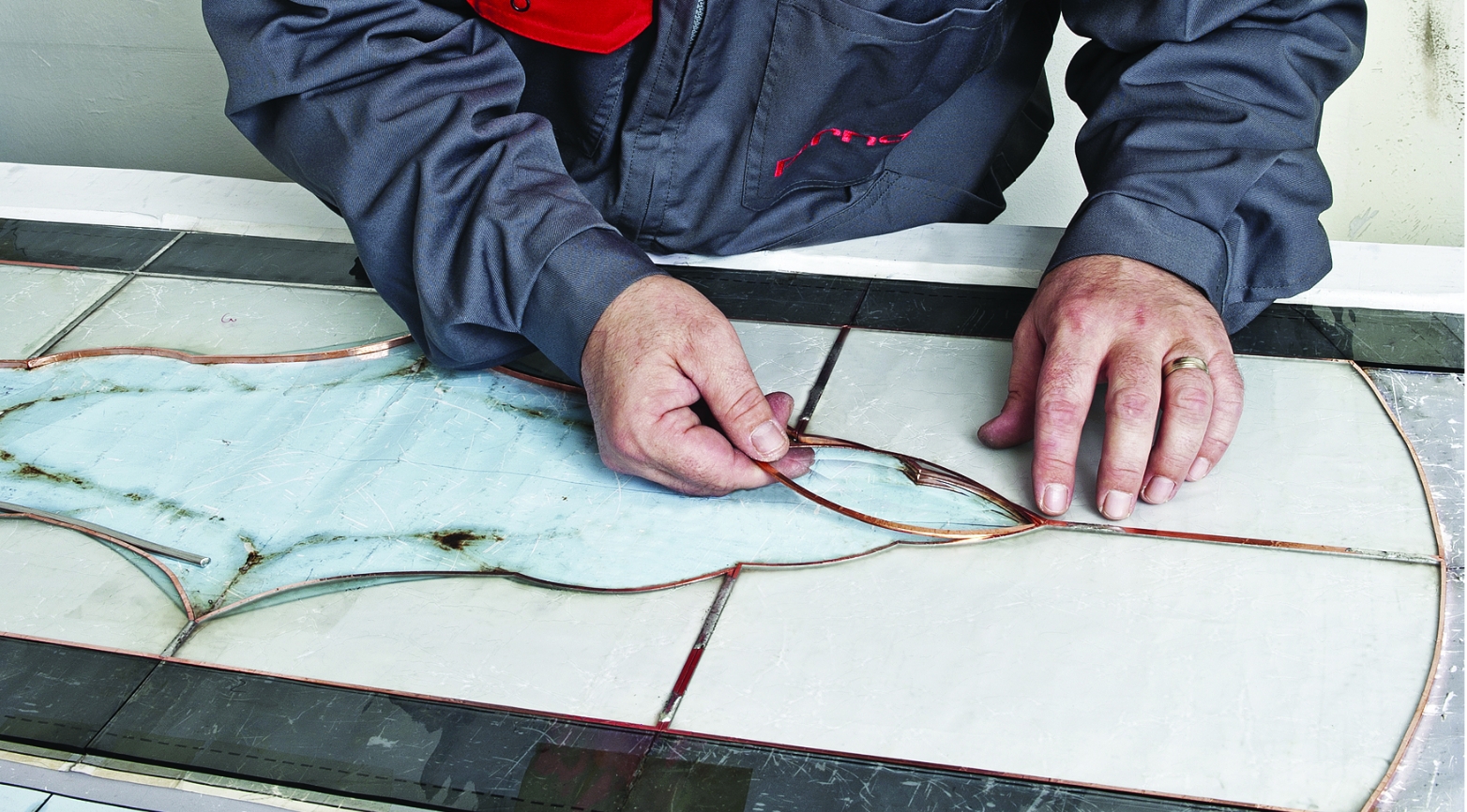 More about
glazing options
Clear glass is the classic glass option. It is secure as well as stylish but doesn´t protect your home from curious looks. On the other hand, sandblasted triple glazing makes it impossible for outsiders to take a peek into your home´s interior.
Exquisite and robust materials for triple glazed front doors
We build doors from one of three materials: wood, aluminium, or from wood-aluminium combination because uPVC doors cannot achieve the efficiency and look we expect from each our new doors.
Quality timber
Our timber comes from locally sourced trees in Slovenia which are cultivated ecologically and sustainably. We also support reforestation efforts to guarantee a permanent influx of premium timber for our doors. Our wooden doors achieve low U-values as the material is a naturally poor heat conductor. Also, wood is great for sound insulation which makes it perfect for homes located in busy streets and neighbourhoods.
Although we process all timber thoroughly our wooden doors have to be maintained regularly to guarantee their longevity.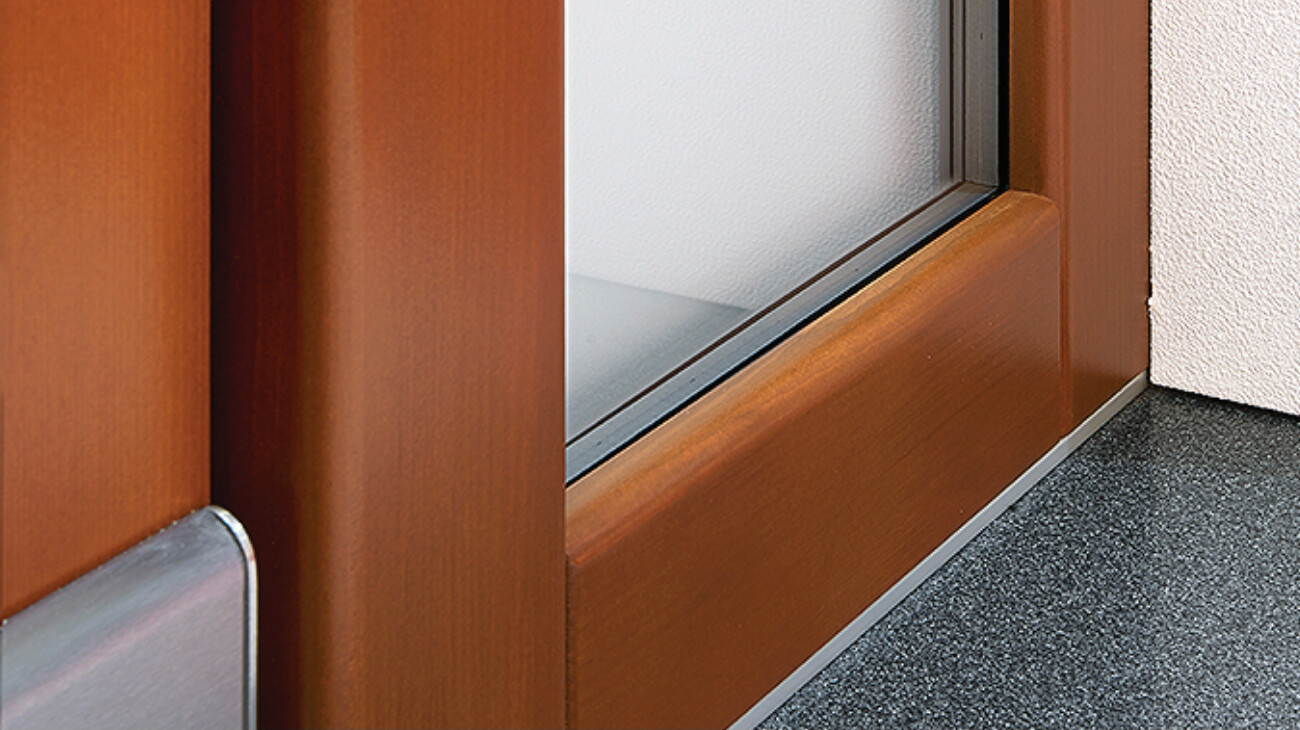 Aluminium - extremely resistant to external factors
Aluminium is especially sturdy, stable, robust, and most notably extremely resistant to external factors like wind, rain, snow, or mechanical deformation. But raw aluminium isn´t very energy efficient because the metal is a great heat conductor. To circumvent this fact, we equip our aluminium external doors with highly insulating infills. That lowers their U-values to passive house levels and gives them energy efficiency to for.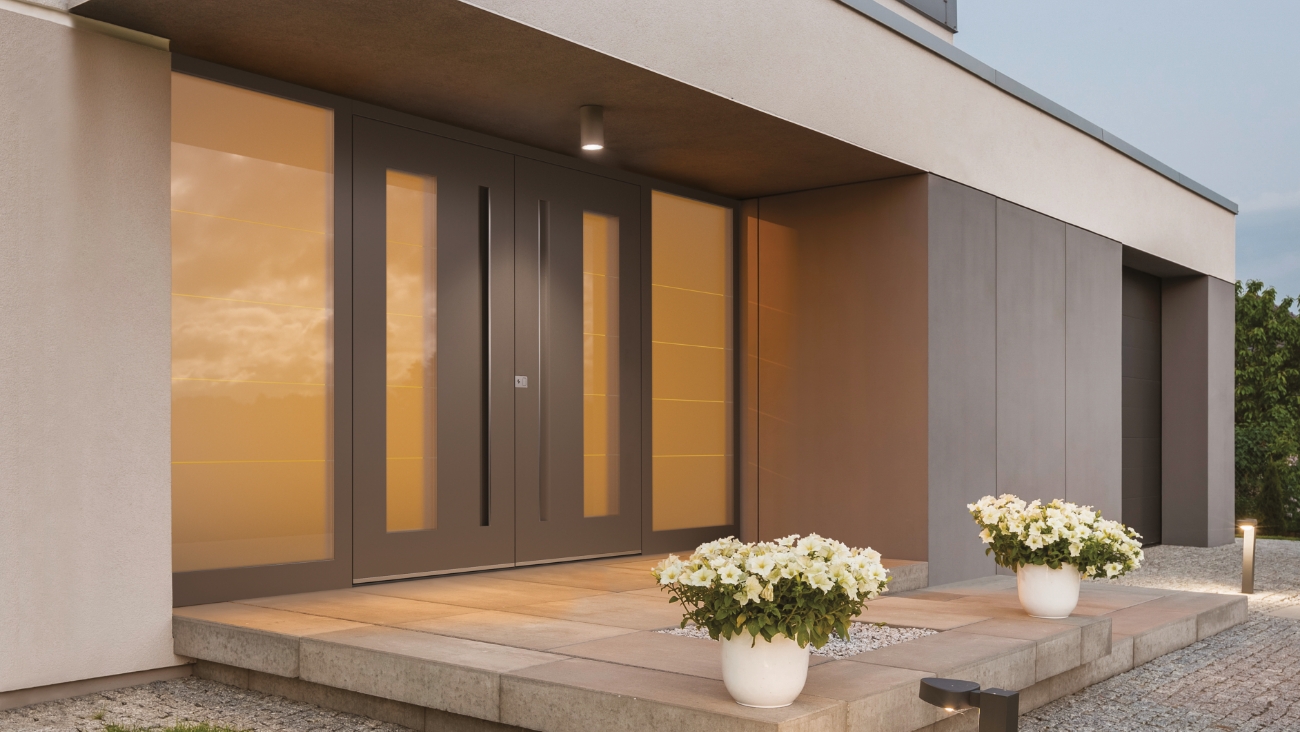 Aluminium-wood doors
Mixture of aluminium and wooden doors bring together aluminium´s sturdiness and the energy efficiency of a wooden door. Combining those features with premium triple glazing to create a door that´s built to last. The natural woodgrain has a beautiful look to give your entrance that certain something on the inside while the metal exterior fends off every challenge from wind to snow or even break-in attempts. But best materials of exterior doors ali made from aluminium or wood, as can be order at Pirnar.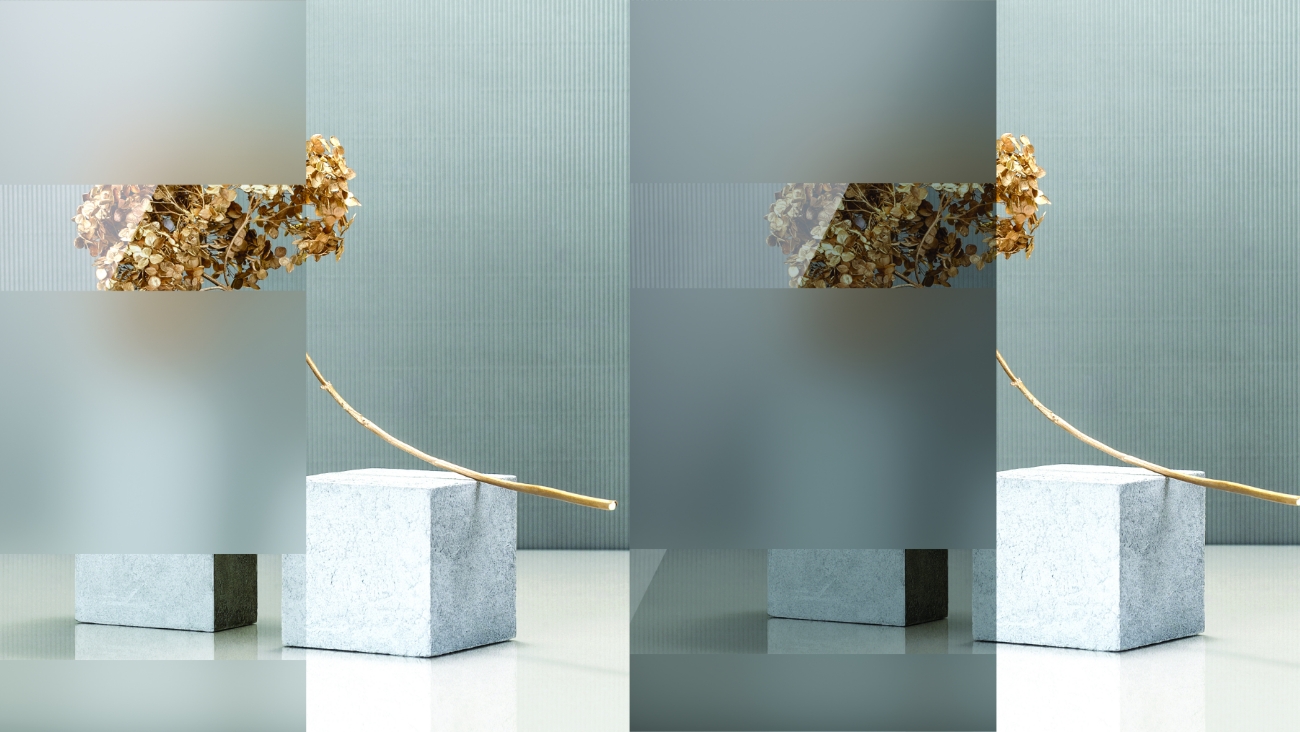 Look at our beautiful door models
You want an oak door design on the inside and a sleek metallic aluminium look on the outside? Pick one of our wooden-aluminium door models! Explore the configurator on Pirnar.co.uk to select one of our pre-finished external door models and individualize it to your liking.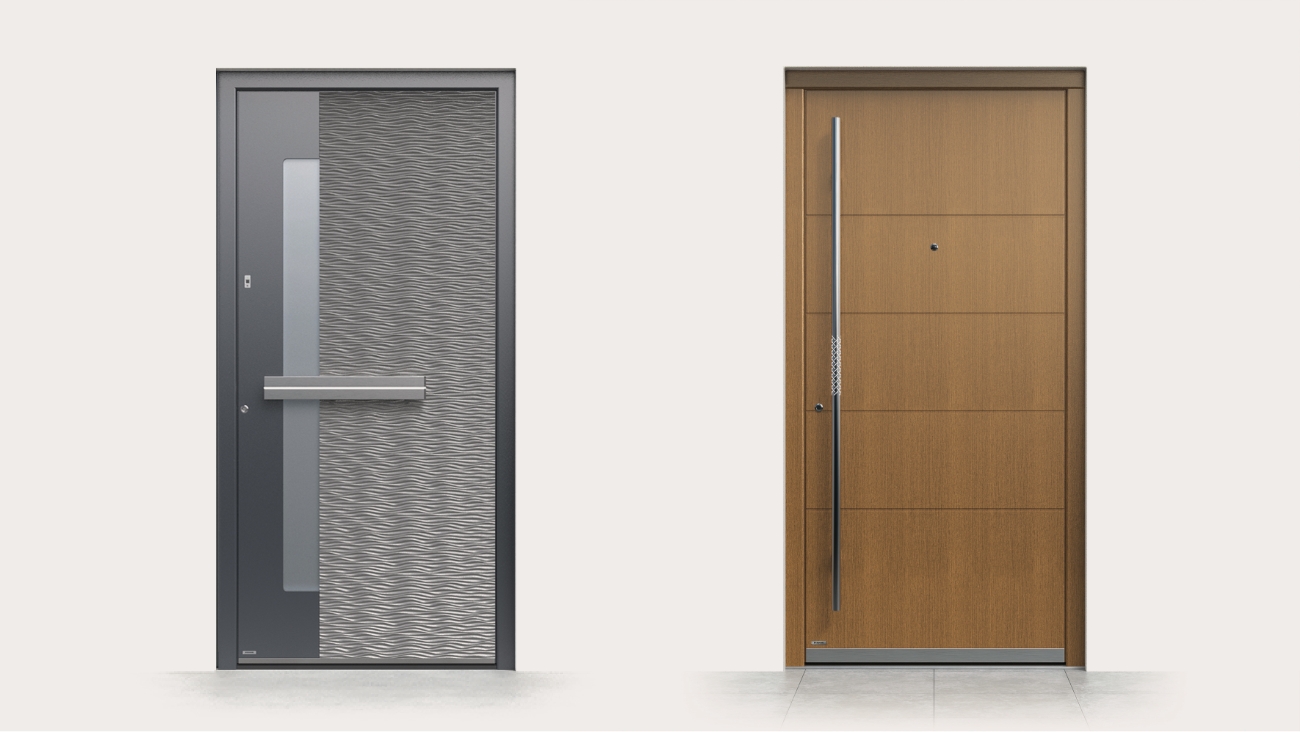 DESIGN YOUR FRONT DOOR
Further individualize your triple glazed Pirnar front door
Our extensive range of options for individualizing your entrance door encompasses various kinds of furnishings.
Door furnishing options
These include:
side panel
transom window
secure hinges
door knocker
For fans of natural light we can build custom external doors that have sidelights as well as a transom windows. You can have even more sunlight inside your entrance area without having to worry about curious looks. Additionally, those extra glass panels can be styled like your triple glazed door or designed individually to create a stylish contrast. Check also our glazed doors, half glazed doors and fully glazed doors.
To increase anti-burglary protection you can have your new door equip with reinforced hinges and elaborate locking systems. Fingerprint scanner locks make forgetting your keys a problem of the past and only allow entry to predetermined people like your family members or close friends.
One of our innovative handle options is OneTouch. This completely concealed handle extends only if a predetermined person uses the fingerprint sensor. Be on the forefront of smart home solutions with this Pirnar exclusive handle!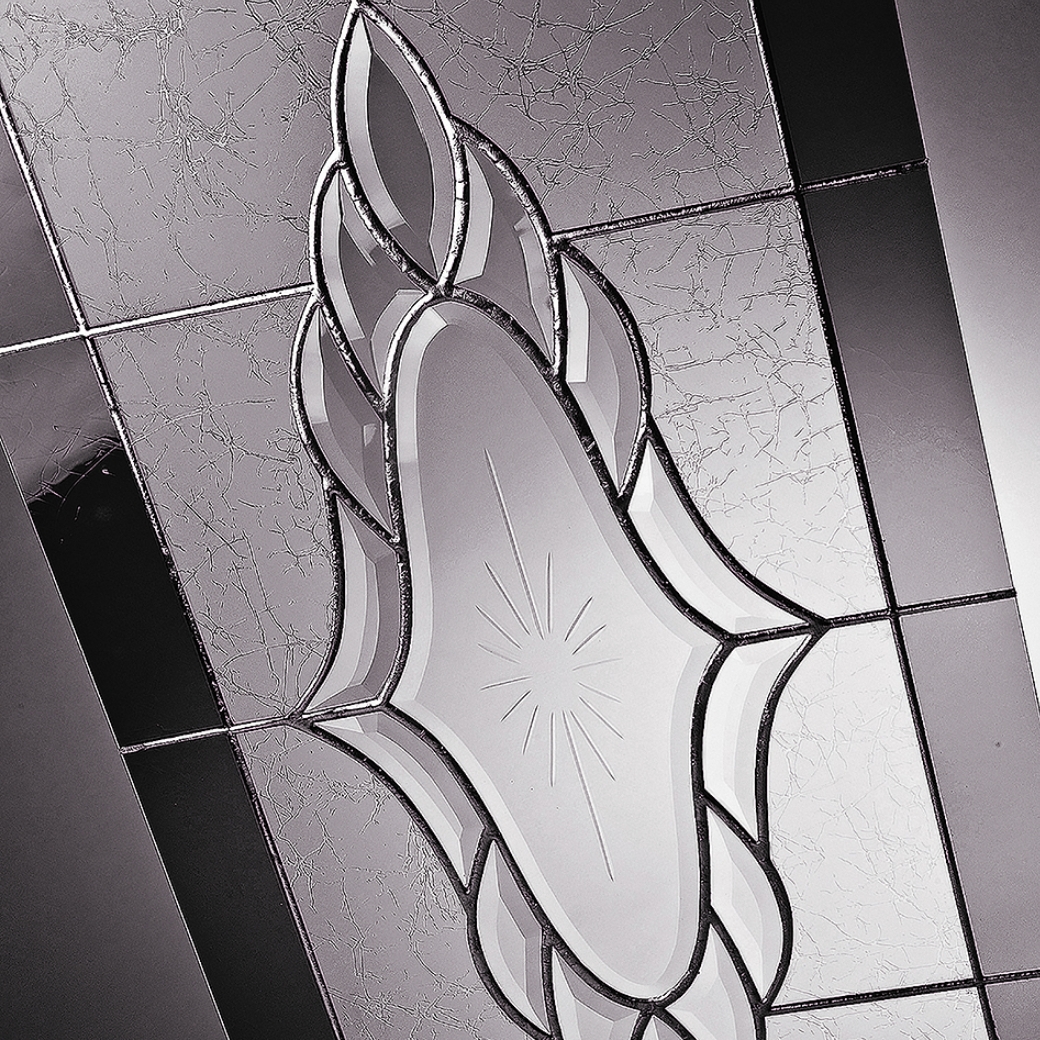 Premium triple
glazed doors
Triple glazing external doors are secure, robust, and energy efficient options for your individually designed entrance. Use our comprehensive configurator on Pirnar.co.uk and pick from our versatile range of designs to create your dream triple glazing door.