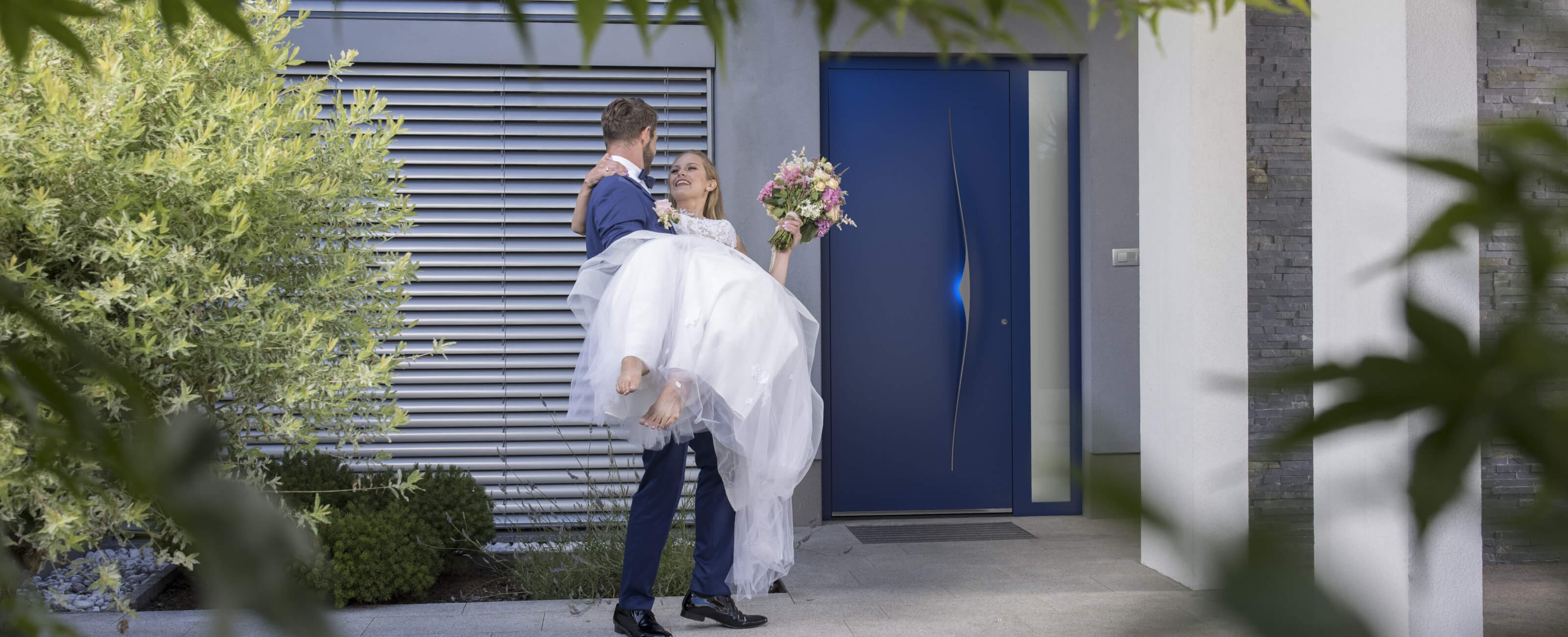 UNDERSTATED, ELEGANT AND STYLISH
Navy Front Door
If you´re looking for a coloured front door but can´t decide on which one, we have the answer for you: a navy coloured front door. It´s a great compromise as it adds a splash of colour to your house´s exterior without being too flashy or disturbing the overall architectural style. Also, it´s an interesting alternative to popular white or grey entrances that helps your home stick out of the masses.
What does the colour mean?
Navy is a deep dark blue colour, named after the uniforms of the British Royal Navy. Because of its dark tone, it can easily be combined with other colours and is thus often referred to as a neutral shade. As dark blue colours are typically associated with authorities, police and the military, the colour navy radiates a sense of importance, power and confidence. Navy also exudes:
unity
stability
intelligence
prosperity
tranquillity
peace
elegance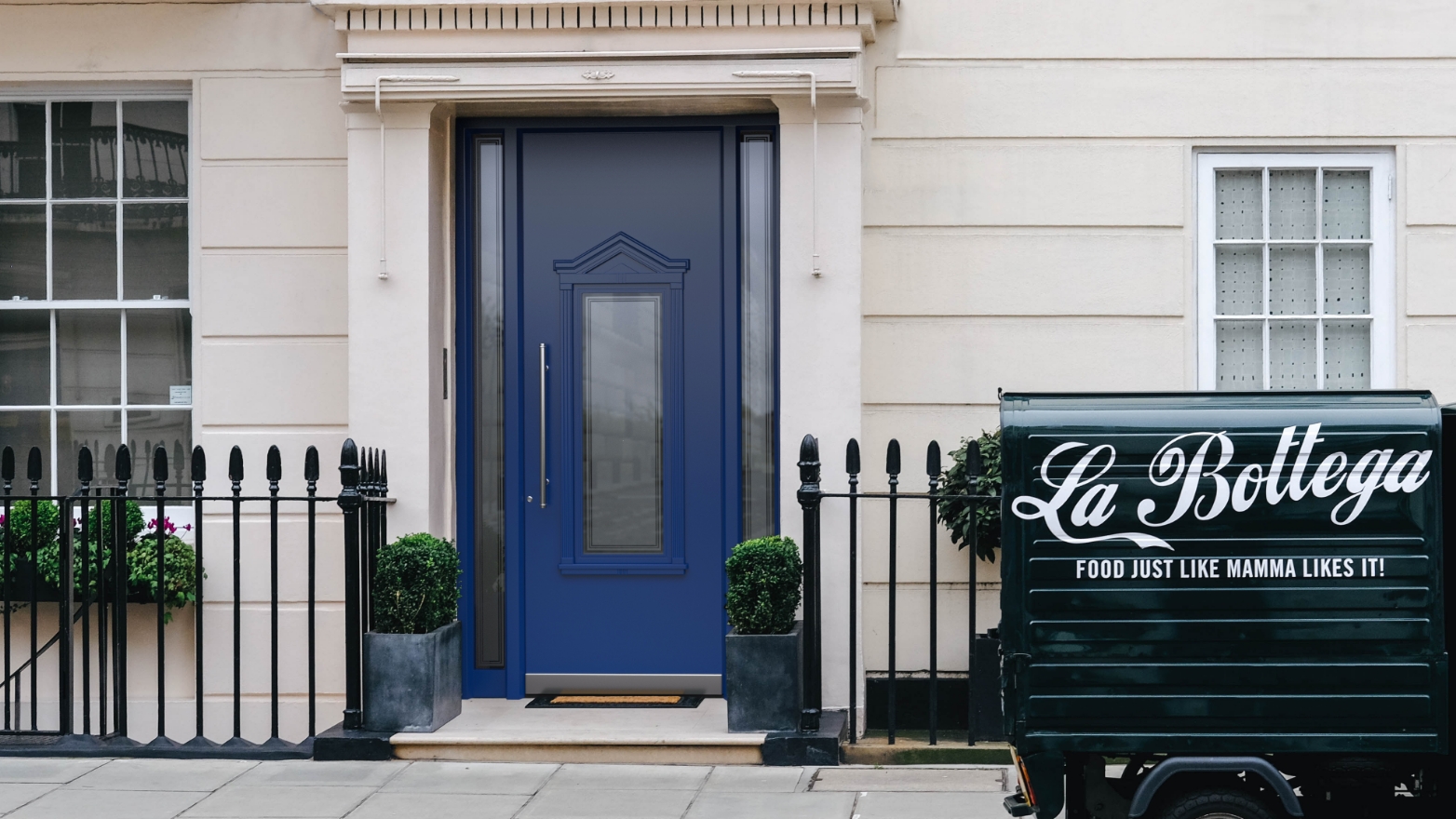 Staging a navy front door
Blue doors incorporate these meaningful symbolisms while adding to your property´s curb appeal. Houses with navy coloured entrance doors have a more confident and professional look than homes with bright teal or green front doors. They are equally subtle as grey external doors or white doors but endow your house with a nice splash of colour.
Navy front door combination options
Because of their neutral tone, navy front doors work with almost any house exterior. However, they are best emphasized when combined with light and simple facades. They can also be combined with brick walls and add great appeal to houses with wooden windows or shutters. Our Pirnar door collections have various wooden, aluminium and mixture of wood-aluminium doors for you to choose from. With our configurator, you can easily design your bespoke navy front door and add any furnishings to meet your expectations.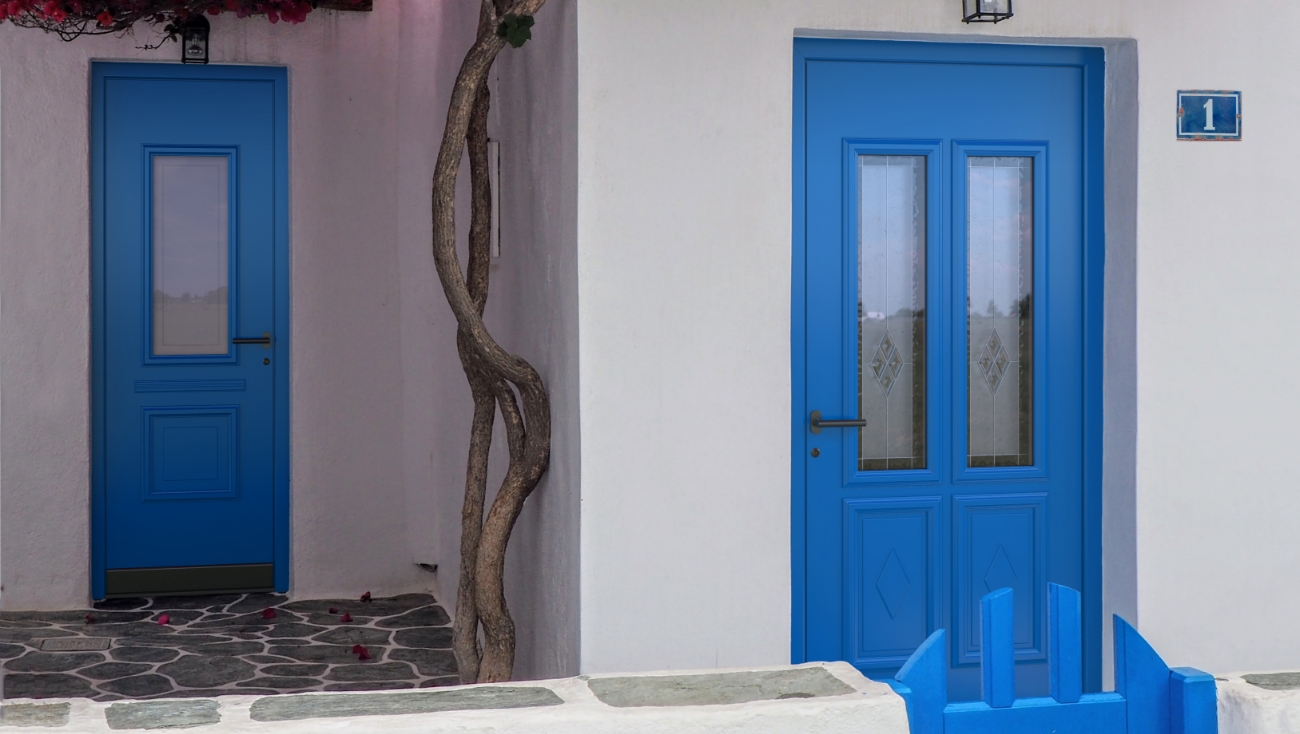 Choosing colour and material
We provide authentic traditional entrances as well as modern glazed front doors from wood or aluminium. Depending on your wishes, our talented craftsmen can also build a solid wooden front door that is painted in the most vibrant shade of navy. Our solid timber doors are protected from environmental influences with lacquers and oils. However, they do require more maintenance than our front doors. These are made of high-quality aluminium and include several processing options, insulation technologies and design possibilities.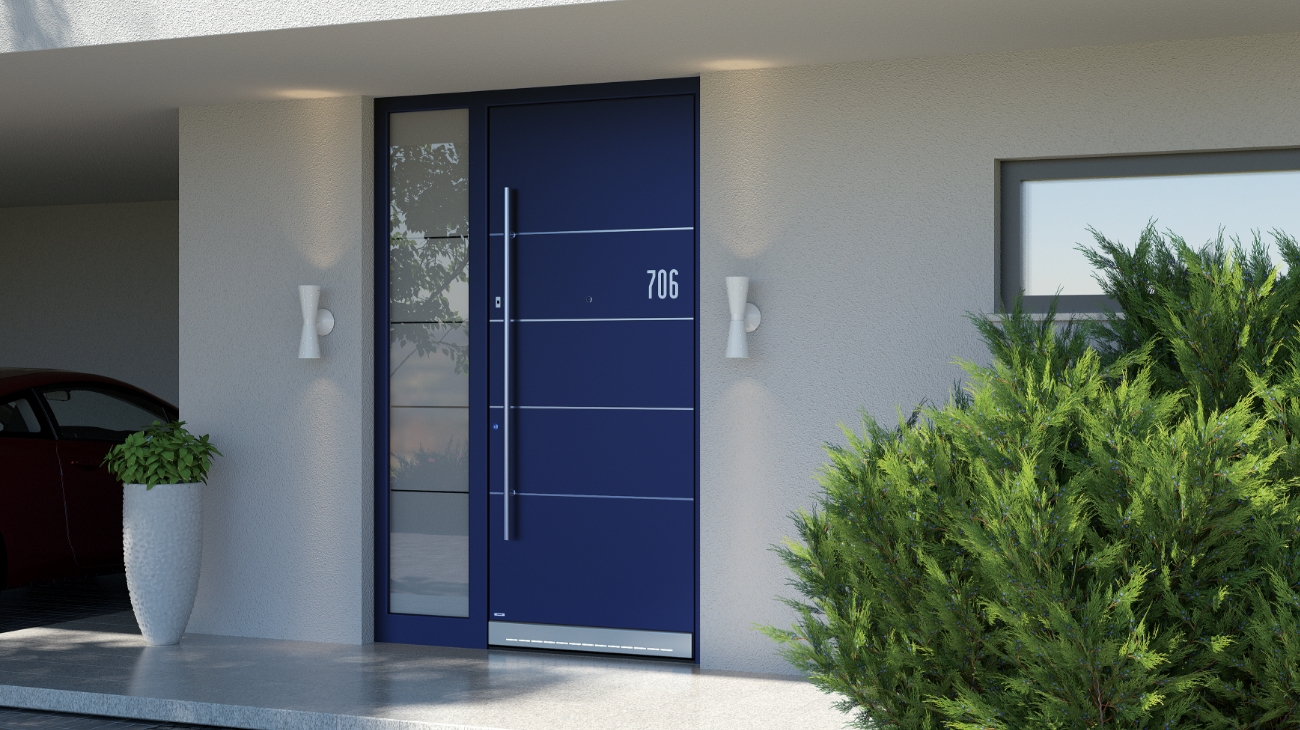 Choose the perfect shade of blue
At Pirnar, you can choose from the entire RAL colour palette for front doors to find the perfect shade of blue for your liking. Dark blue shades include:
5000 Violet Blue
5003 Sapphire Blue
5004 Black Blue
5011 Steel Blue
5013 Cobalt Blue
5026 Pearl Night Blue
This flexibility allows you to select the perfect shade of navy blue, which ranges from greyish blues to shades with a slight violet undertone. Our configurator can help you find the perfect colour that suits your aesthetic.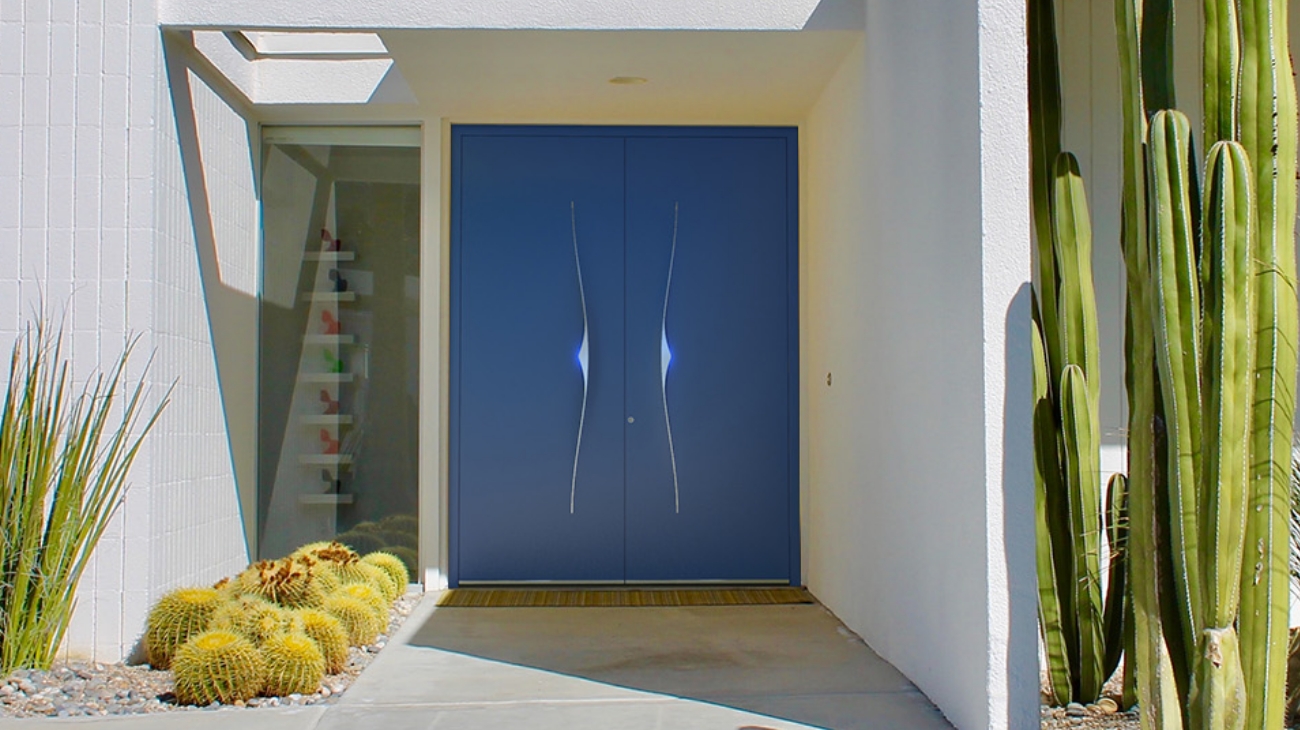 Elegance of navy front doors
Due to their air of professionalism and officiality, these alu or wooden front doors are also an elegant option for businesses and office doors. In our configurator, you can look at the selection available at Pirnar to find a perfect choice for your property.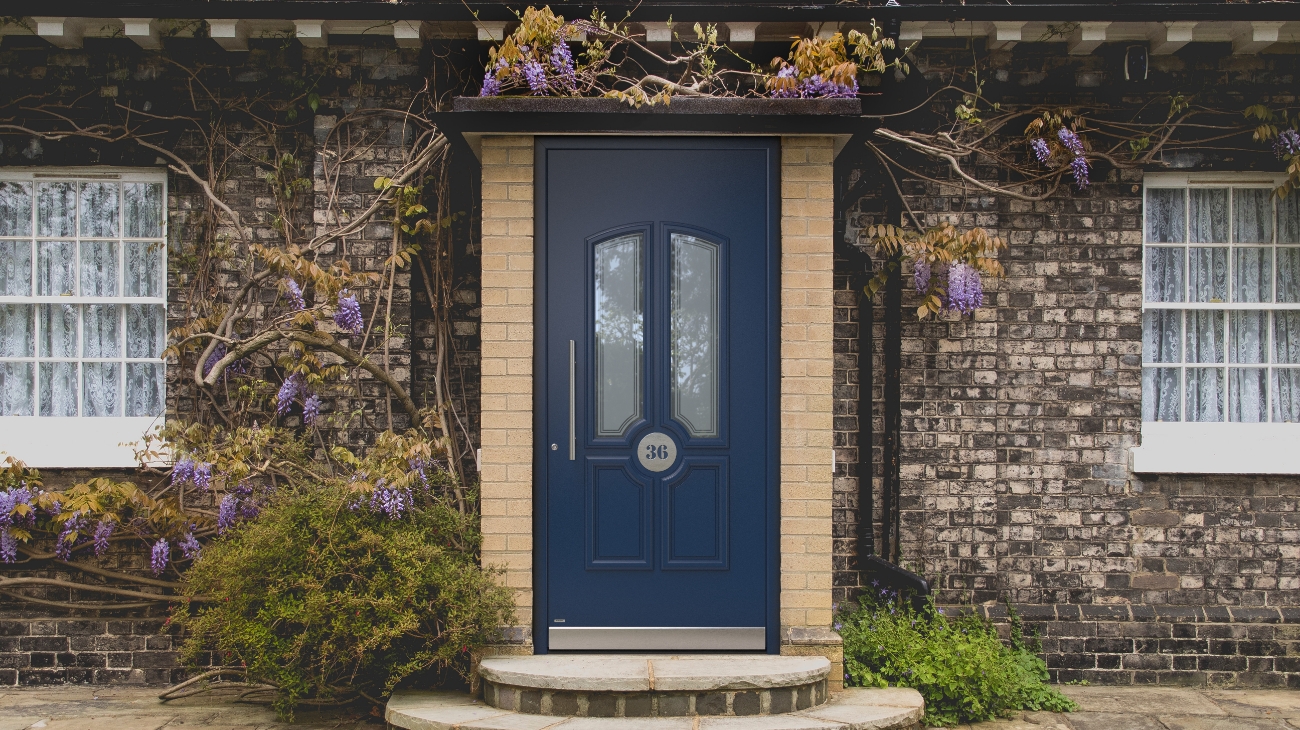 DESIGN YOUR FRONT DOOR
Adding glazing and furnishings
Our Pirnar front doors have no limitations when it comes to design and decor. Whereas front doors used to be made of one solid slab of timber, modern entrances offer endless possibilities.
Glass elements and door furnishings for your navy front door
You can add grand glass panels to your door or use intricate sidelights and overlights to allow natural sunlight into your home. Adding glass also breaks up the compact look of a solid wooden or door.
To protect your privacy at all times, select one of the many glass finishes in our configurator, for example, frosted, stained or metallic coloured glass.
Depending on different door styles, there are various door furnishings available. If you opt for a traditional wooden or alu door, you may be interested in our large variety of different knockers, letterboxes and door aprons. For customers with a modern, contemporary aesthetic, we have different stainless steel door handles and elegant locking systems to choose from.
Our talented employees and our rich history in craftsmanship allow us to make your individual vision come alive. Design your bespoke navy door in our Pirnar configurator.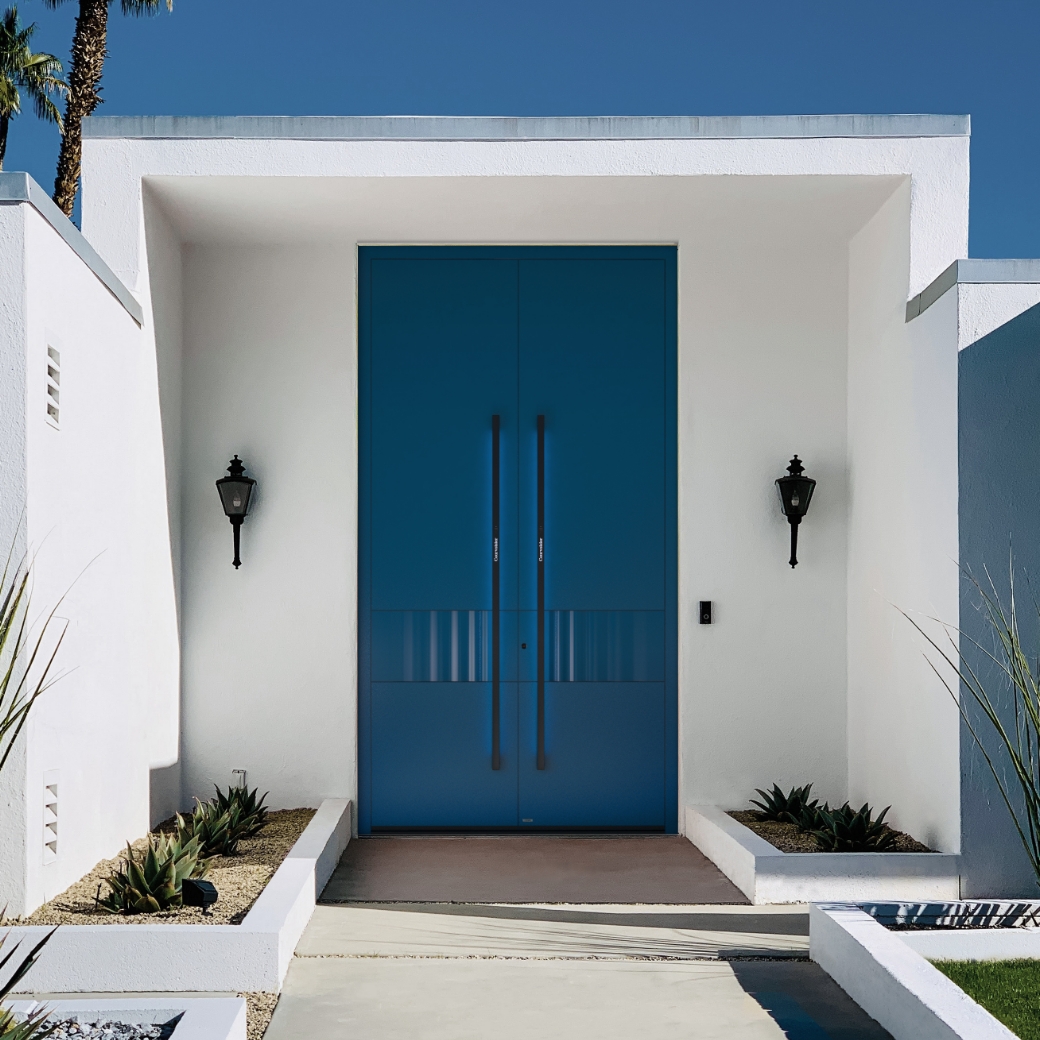 Is a navy front door
right for you?
Navy front doors radiate strength and professionalism. They have a certain air of calmness and security that transforms any property into a safe haven for its homeowners. Painting your front door with navy blue adds great significance to your home while simultaneously providing an elegant, sophisticated centrepiece of your house's exterior. Design your own navy front door with glass inserts, ornate decorations and intricate door furnishings here at Pirnar.co.uk.