RISE ABOVE THE ORDINARY
Turquoise front door
A front door painted turquoise welcomes your guests in a calm and trustworthy manner. Combine that with premium materials and innovative Pirnar furnishings, and you´ve got yourself a front door that is sure to impress. Individualise it to ideally represent your style and home in our comprehensive configurator.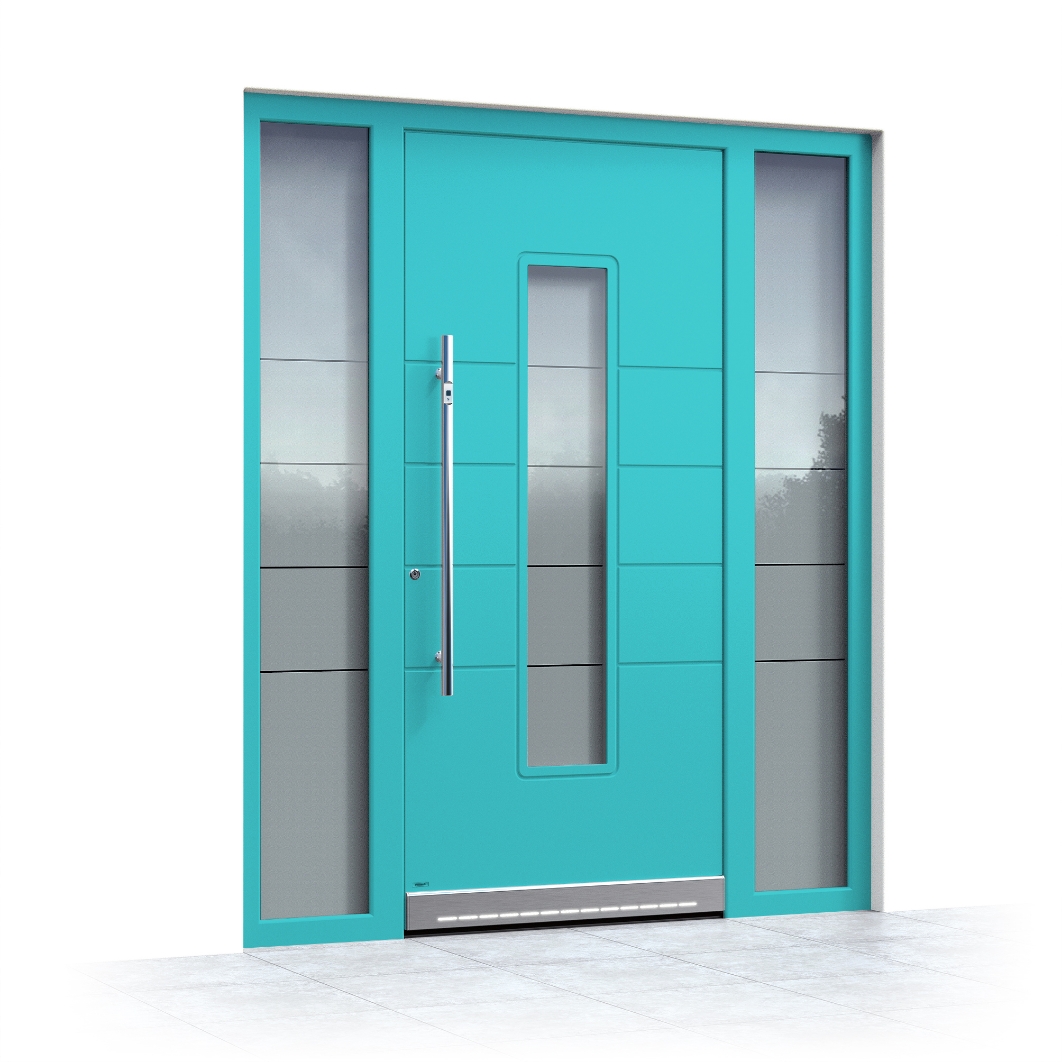 Turquoise – a special colour for unique doors
The blue-greenish door colour stems from a role model found in nature: a special type of stone that carries the colour and the same name. It is created by a chemical compound of copper or aluminium with hydrated phosphate. This colour has become more and more popular over the years.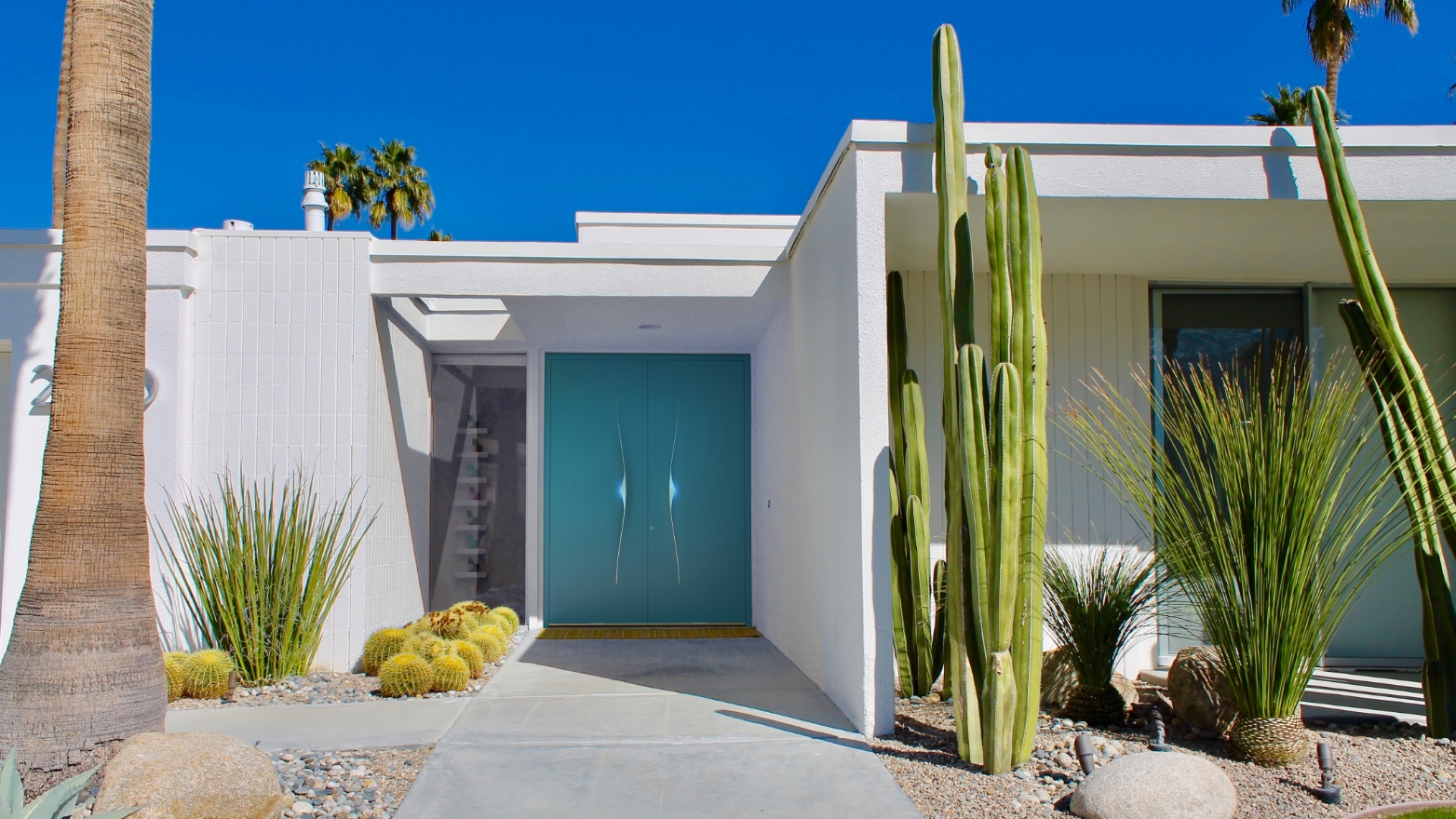 Designing your turquoise front door
At Pirnar, we give you complete control over all details when designing your dream front door. Our comprehensive configurator lets you choose furnishings, materials, security measures, and many more options to realise your vision. After picking one of our door models, you can individualise it further to fit your preferences and wishes.
Premium materials, a strong base for your exterior door
Whether you prefer a turquoise, red, green, or blue front door, the base material is an integral part of any door. At Pirnar, we don't offer uPVC front doors because it doesn't reach the quality standards we set for our premium door solutions. At Pirnar, you can choose from these three materials:
aluminium
wood
wood-aluminium mixture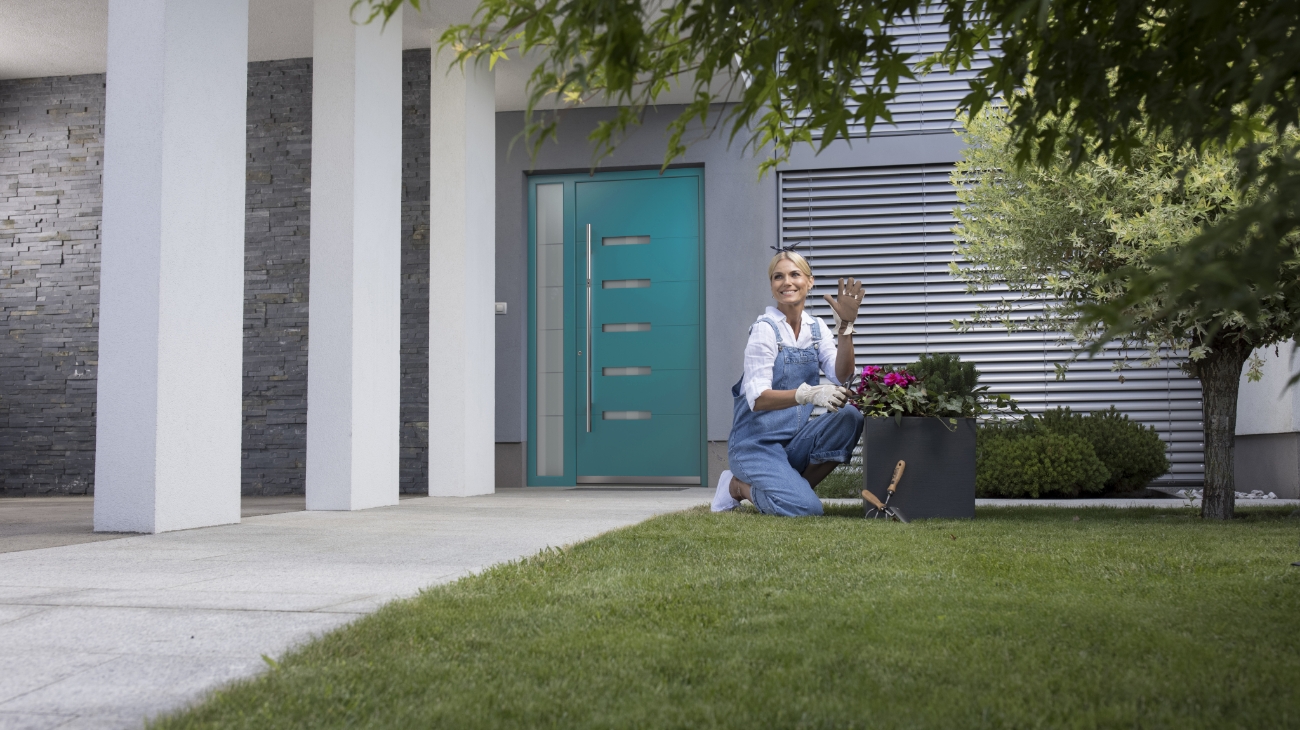 Aluminium front doors
Our aluminium front doors are so robust and sturdy that they can withstand exterior influences like the weather and intense sun exposure. Their powder coating, which we specifically developed to make it even more persistent, is also resistant to scratches and other deformations, just like the base material itself. To improve their thermal insulation, we equip our aluminium doors with special insulating infills. These decrease the doors´ U-values down to passive house levels and are able to save you money for energy in the long run.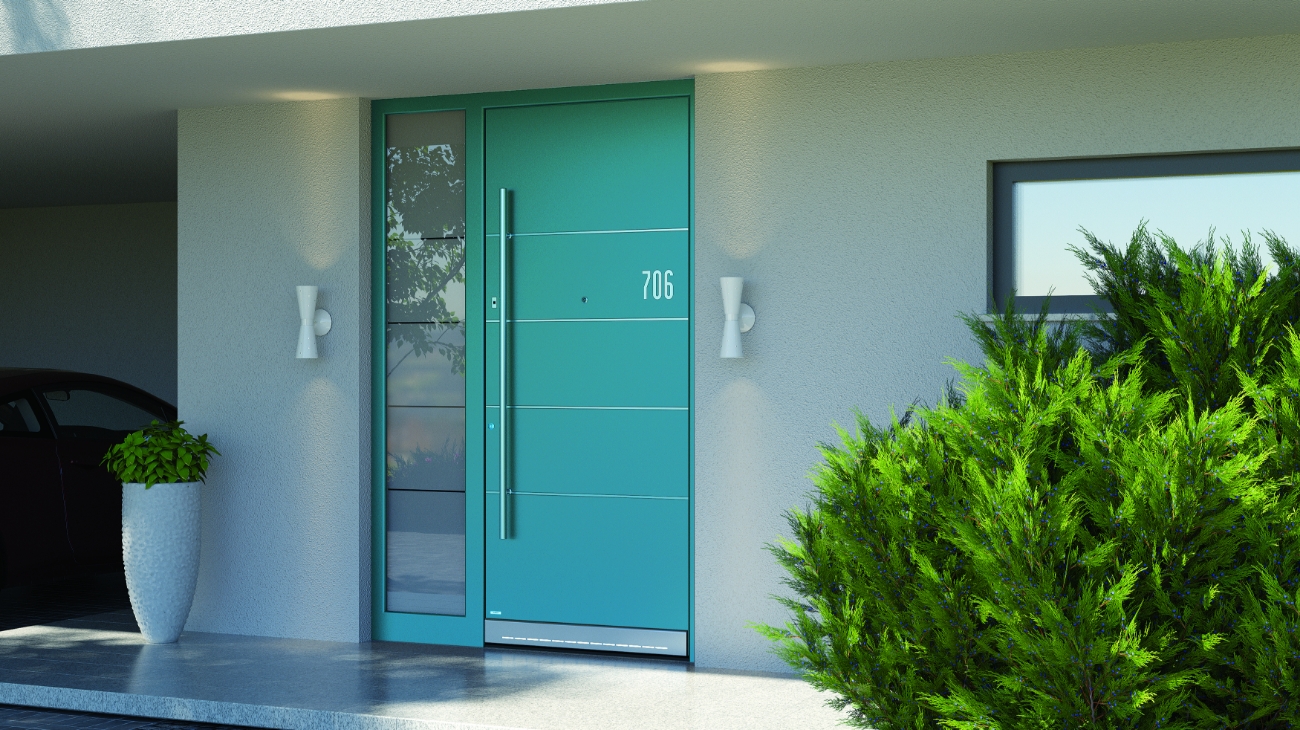 Wooden front doors
We have three wood species you can choose for your wooden entry door: larch, oak, and spruce. All three are great for building doors as they are equally sturdy. For thermal efficiency, wood has inherently great insulation capabilities because it is a poor heat conductor. This means warmth from your house´s inside won´t diffuse outside through the door and vice versa. Additionally, the natural wood grain adds stylish texture to your door´s look – if you keep it natural or have it painted lightly.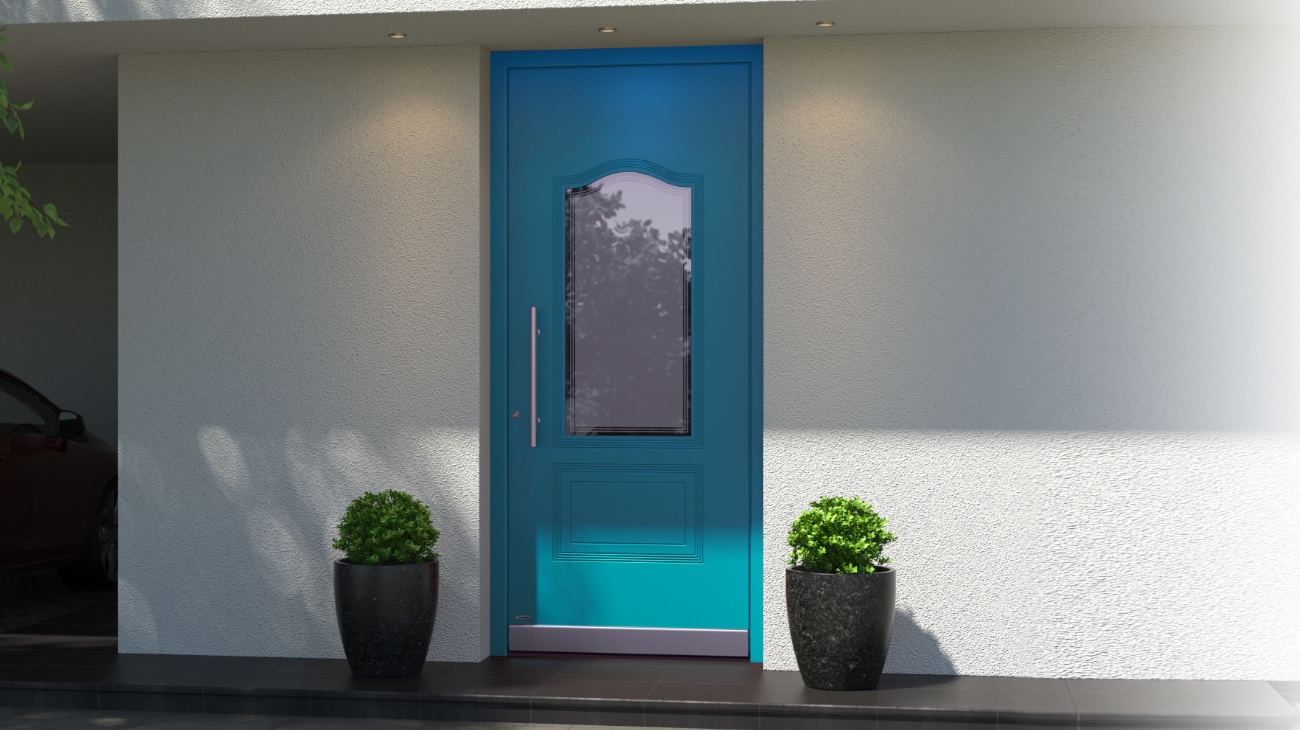 Aluminium-wood front doors
If you can´t decide on either material, then a solution is the aluminum-wooden doors that combine both materials of great quality. They can be robust and weather-resistant as any aluminium door in the market. At the same time, your entryway profits from wood´s thermal efficiency. This means excellent insulation and premium style and quality for your home while you, as a homeowner, save money on your energy bill - if you buy either wooden doors or aluminium doors.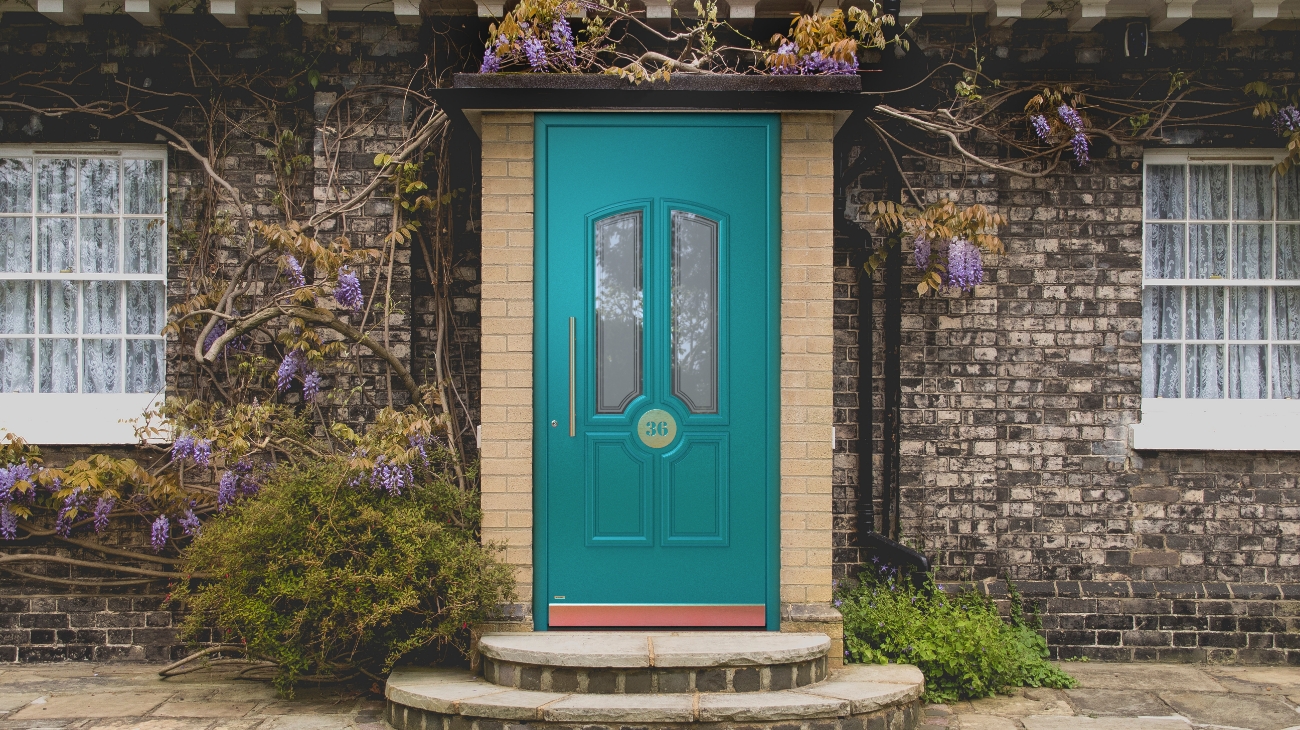 DESIGN YOUR FRONT DOOR
Design options for turquoise front door
From a design point of view a turquoise door adds a beautiful splash of colour to your home. It stands out best if your house´s facade is painted in a creamy-white shade or if you have a home with a red brick stone look. Those natural stone designs are actually a perfect match for loud front door colours like turquoise, bright red, blue, green, or teal.
Bring natural light into the mix
Many of our door models have glass inserts incorporated into their door leaf to give them an individual style. If you appreciate entrances lit by natural light, you can add sidelights and a transom window to your door. Both can be built in the size you prefer. You can choose different glass types for all glass elements.
All glass used for our Pirnar doors is made in our very own glazier´s workshop.
Clear glass is the standard and lets the most light in. Choose frosted glass variants if you are interested in less transparent glass elements. Those are available in various designs to fit your preferences. Despite their frosted design, these elements don´t create shades or dim the light coming into your entrance area.
Adding furnishings to a turquoise door
Our Pirnar front door configurator allows you to make your individualize your turquoise door. It gives you various options to design your front door´s interior and exterior. Add insulation and security measures to make it even more energy efficient. Pick one of our many doorknobs or the innovative Pirnar OneTouch system, a concealed door handle that is activated via a fingerprint sensor.
front door with transom light
front door with fanlight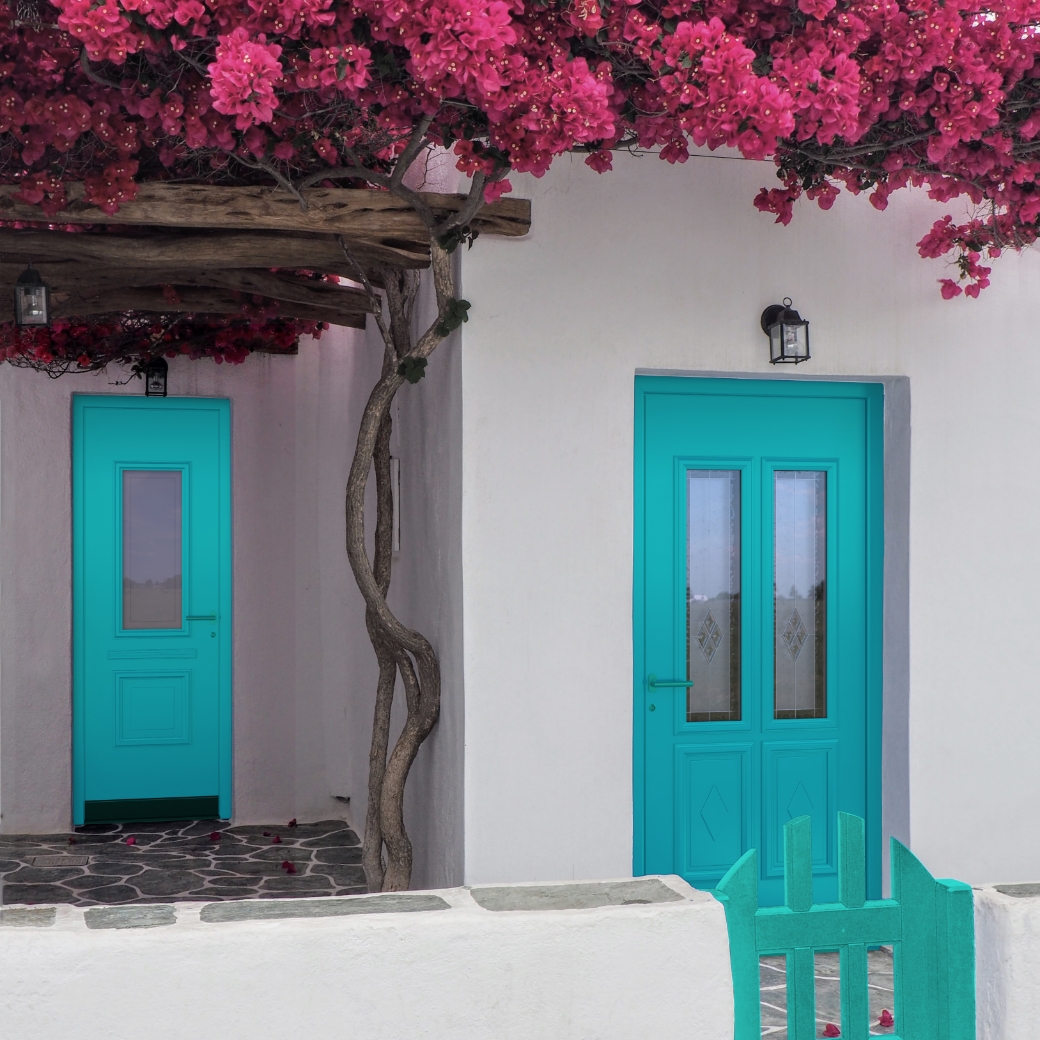 Make your turquoise
dream front door
Painting your front door turquoise is a great way to have a truly unique home. The colour is anything but ordinary and depicts you and your home as calm and worthy of trust. Combining those features with premium quality furnishings, features, and materials is the perfect setup for an impressive door. Explore our configurator to design your perfectly fitting front door.